Are Elite Tennis Techniques for You?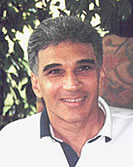 Tom Veneziano
The Wall Street Journal published a tennis article entitled, "Don't Try This at Home" (by Tom Perrotta). According to this article, tennis pros are tennis pros and you are not! Therefore you should not be emulating certain techniques used by the likes of Federer, Roddick, Sharapova, and so forth. You shouldn't hit with an open stance, attempt a swinging volley, jump off the ground, or use the buggy-whip forehand (which requires following through on the opposite side) like Nadal does.

Many people have asked me what I thought of this article. My answer: Hogwash!

Players at all levels are automatically performing many of these techniques. If players let their game develop naturally, they will begin performing many of these mechanics through the natural molding process. Recently at a junior tournament I watched one of my 12-year-old juniors execute a beautiful, instinctive, topspin volley that I had never taught him. To him it just seemed to be the right stroke for the moment!

In other situations, my students have hit the buggy-whip forehand. I do not teach this stroke, but I do allow the stroke to happen naturally if that player is so inclined. Your tennis game is based on your own style, your own mechanics and your own individual play. The top pros have developed their game this way too. This is why there is such an array of styles and techniques on the pro circuit. "One technique fits all" does not hold true for the pros. Why should it be any different for all other players? Once upon a time, the pros were "all other players!"

Let me show you what the author misses in the article. This is something that is much misunderstood in the tennis industry. Something that causes many coaches and players to teach and play with a rigid, mechanical, overly precise, cookie cutter, perfect model. Something that sends a false signal to players by squashing them into this perfect model and forcing them to live up to unrealistic expectations. Let me explain.

There are world class pros and there are junior tennis players. The misunderstanding develops when the tennis industry divides these players into two separate groups that do not connect. In other words, there is the world class pro species of tennis player and the junior species of tennis player. The world class species plays one way and the junior species plays with another style.

The world class species plays with techniques that can only be executed by this elite type player and not by the junior species or any other players. It is thought that the world class pros have painstakingly and meticulously learned each individual, precise mechanic during hours and hours of practice, working on these unusual mechanics until one day they perform them effortlessly. But these techniques are not for the junior species or any others. Hence the conclusion: Do Not Try This At Home.

Here is the problem. The pros do not meticulously work on each intricate piece of a mechanical skill in the way that people think. Their strokes actually developed as a natural result of their training as a junior and by doing what comes naturally and easiest for them. Yes, your best pros were once normal juniors with their own unique strokes and individual style. Because of the mental division between these two levels of play this concept has been lost. Juniors have the same strokes when and if they become top pros. But once juniors pass into the rarified world of pro status they are now a new species that should not be emulated. Ridiculous!

In his book, "Borg by Borg," Bjorn Borg was asked if he had a coach when he began tennis. Below is his answer:

"Not for the first three years. That's probably why I have such unconventional strokes - a two-handed backhand and so on. They say you mustn't play like I do, but I just felt right when I played like that. What is important is not the way you hit the ball, but whether or not it gets over the net. And when it does, it's marvelous to watch. If you have a stroke of your own, one that really works, and you feel right playing it, keep it, even if it isn't 'classical.' Don't try to change it."

Rafael Nadal was once quoted as saying, "People ask, 'Who did you model your game after?' I never thought like that. I just played the way I was comfortable playing."

There is no separation between pros and juniors. They are connected. The game is relative to the level of each player. The pros just look a heck of a lot better performing these funny looking strokes than most players. But pros were performing the same strokes as normal, mortal juniors.

What does this mean for you? Well, think about this. The tennis industry constantly attempts to fit you into this unrealistic model that is so difficult to accomplish that the top pros have abandoned it. Do you know why? Because to play according to the traditional model of staying on the ground, no swinging volleys, no open stances, no whipping forehands, no this, no that, etc. is too difficult and totally inefficient. It is like playing in a straitjacket! To not have any natural flow to a player's game compatible with that player's style and form is to condemn that person to mediocrity. Which is apparently what the tennis pundits want!

So my recommendation is to ignore any type of article or teaching that attempts to stuff you into some mediocre model that places limits on your individuality, your motivation and your freedom of creative expression. Great play does not develop from mediocre models and low expectations. This is not the signature of a pro. Great play develops from the freedom to express your own individual style and high expectations! This is the signature of a pro. This is the signature of a Tennis Warrior. Now hit the courts and swing away!





Tennis Warrior Archive
If you have not already signed up to receive our free e-mail newsletter Tennis Server INTERACTIVE, you can sign up here. You will receive notification each month of changes at the Tennis Server and news of new columns posted on our site.
This column is copyrighted by Tom Veneziano, all rights reserved.
Tom is a tennis pro teaching at the Piney Point Racquet Club in Houston, Texas. Tom has taught thousands of players to think like a pro with his Tennis Warrior System.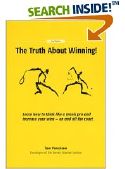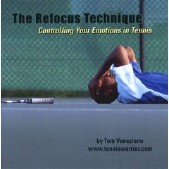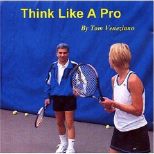 In Tom Veneziano's book "The Truth about Winning!", tennis players learn in a step-by-step fashion the thinking the pros have mastered to win! Tom takes you Step-by-step from basic mental toughness to advanced mental toughness. All skill levels can learn from this unique book from beginner to professional. No need to change your strokes just your thinking.

Audio CDs by Tom Veneziano:



---