This Moment in Tennis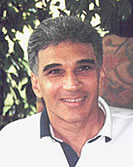 Tom Veneziano
We will begin today by performing the impossible. The impossible, that is, to our conscious minds! You may be surprised to discover that what our conscious thinking finds preposterous, our unconscious thinking finds perfectly reasonable, even necessary, when we play tennis. Now, what I am about to tell you is the true and functional reality of tennis. Fasten your seatbelt, stay objective and come along for the ride. And rigid, forced, cookie-cutter mechanics do not fit into our paradigm, so leave the conventional thinking at the gate.

First, imagine yourself playing out a point on the tennis court. The ball is flying back and forth across the net, rocketing between you and your opponent. Now think about this: When, exactly, do you determine how you will hit each shot? Have you a plan mapped out ahead of time, each precise mechanic ready and waiting to be executed? No, obviously your opponent and the ball are too unpredictable for that. The truth is, the exact mechanics of each stroke are not determined until you are just about to hit the ball. Your brain, as you are lining up to hit a shot, is calculating the ball trajectory, speed, and spin while incorporating your body position, balance, timing and a host of other intricate details. You have a few brief, fleeting moments to analyze all these things, and then you execute the stroke necessary for that particular shot. Do you really believe you are performing this mind-boggling act with a perfect, pre-planned, repeatable, robot-like stroke? I don't think so!

I know this appears impossible. You may even be wondering, "Who can be smart or quick enough to analyze instantaneously, spontaneously, on the spot like that?" The answer: You are! You perform these mental miracles every time you hit a tennis ball. How else do you explain some of the shots you hit that landed in the court? Do you think you did everything by the book? Of course not. The exact mechanics of your stroke were determined by the needs of that specific shot, in that particular moment. In other words, you figured out what to do on the fly. The pros do this too! They have an unlimited number of strokes that develop according to the moment.

In a few magical moments, you calculate, decide, analyze, and perform. How do I know this? Besides seeing it happen in my students and experiencing it myself, Rafael Nadal told me! With these new thoughts in mind, read this brief excerpt from his book (Rafa, 2011 ed., page 6):


"You might think that after the millions and millions of balls I've hit, I'd have the basic shots of tennis sown up, that reliably hitting a true, smooth, clean shot every time would be a piece of cake. But it isn't. Not just because every day you wake up feeling differently, but because every shot is different; every single one.

"From the moment the ball is in motion, it comes at you at an [infinite] number of angles and speeds; with more topspin, or backspin, or flatter, or higher. The differences might be minute, microscopic, but so are the variations your body makes - shoulders, elbow, wrists, hips, ankles, knees - in every shot.

"And there are so many other factors - the weather, the surface, the rival. No ball arrives the same as another; no shot is identical. So every time you line up to hit a shot, you have to make a split-second judgment as to the trajectory and speed of the ball and then make a split-second decision as to how, how hard, and where you must try to hit the shot back.

"And you have to do that over and over, often fifty times in a game, fifteen times in twenty seconds, in continual bursts more than two, three, four hours, and all the time you're running hard and your nerves are taut; it's when your coordination is right and the tempo is smooth that the good sensations come, that you are better able to manage the biological and mental feat of striking the ball cleanly in the middle of the racket and aiming it true, at speed and under immense mental pressure, time after time. And of one thing I have no doubt: the more you train, the better your feeling."


I could not have said it any better. Nadal's ample experience on the tennis court has taught him that all shots are unique and ever-changing, and he understands the reality behind every stroke. When he says "split-second judgment," "split-second decision" and "mental feat," he is not referring to the conscious mind. This is the unconscious thinking.

No one, not even Rafa, is smart enough to perform these intricate, rocket-fast calculations from the conscious mind. Yes, you may consciously decide to hit a topspin or a slice, down the line or crosscourt, but the exact mechanics of your stroke are instinctive, coming straight from your trained unconscious. The goal of all your practice routines is to train the unconscious to do the thinking for you: No over-thinking (consciously), just HIT! Months and months of repetition, hitting ball after ball, will train the unconscious to perform the instantaneous analysis that is impossible to the conscious mind. The greater and more consistent your training, the better the results.

Since every shot is spontaneous for the moment, calculating on the fly becomes the true and functional reality of tennis. It is not your conscious mind executing these complicated feats, but rather your unconscious mind sharpened by intense training. Spontaneity through preparation is the name of the game. All your life you have been wanting to live for the moment, well now is your chance... Embrace it!





Tennis Warrior Archive
If you have not already signed up to receive our free e-mail newsletter Tennis Server INTERACTIVE, you can sign up here. You will receive notification each month of changes at the Tennis Server and news of new columns posted on our site.
This column is copyrighted by Tom Veneziano, all rights reserved.
Tom is a tennis pro teaching at the Piney Point Racquet Club in Houston, Texas. Tom has taught thousands of players to think like a pro with his Tennis Warrior System.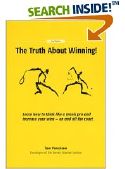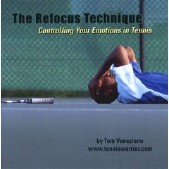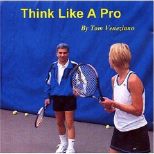 In Tom Veneziano's book "The Truth about Winning!", tennis players learn in a step-by-step fashion the thinking the pros have mastered to win! Tom takes you Step-by-step from basic mental toughness to advanced mental toughness. All skill levels can learn from this unique book from beginner to professional. No need to change your strokes just your thinking.

Audio CDs by Tom Veneziano:



---