What Are Your Tennis Lessons Teaching You?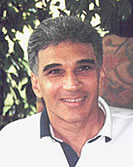 Tom Veneziano
I am standing on the sidelines, watching a young tennis player take a tennis lesson. The student, a 12-year-old boy, is being coached by a pro who uses my Tennis Warrior System. It is exciting to see the boy swinging away freely, hitting ball after ball to exhaustion. He is having a blast! First there are forehand and backhand repetitions in the deuce corner of the court, followed by another set of forehand and backhand repetitions in the ad corner. The boy's strokes are loose and carefree. The pro is yelling out simple instructions like, "Keep getting ready, come on, keep moving" and "Don't worry about your mistakes, just keep swinging!" He even gives some technical advice now and then: "Keep swinging upward for your regular shots. That's it, upward! Way to go! Keep swinging, no matter where the balls fly." But that is about as technical as it gets.

A lot of players regard this type of lesson with some suspicion. Won't the student develop bad habits? Isn't this going to be detrimental to his stroke production? After all, the instructor is giving very little technical advice and only telling the student to forget his mistakes and keep swinging. Some of the balls are landing in the court, but many are going out. Still what does the pro say? "Keep swinging! Let them fly!" Balls are soaring into the fence or even over the fence. Nonetheless, the answer is, "Keep swinging!"

Crazy, huh? Not really. This on-court lesson is designed to teach the student lessons that go much deeper than techniques or mechanics. The steady encouragement to keep going, disregarding failures, is establishing the right priority for the mental game. At the same time, the abundance of reps is improving the physical game, allowing individuality and flexibility to develop in the student's strokes.

As a matter of fact, this style of lesson is compatible with the way professional tennis players have developed their own physical and mental games. The purpose of practice sessions for all students of tennis, even the top players in the world, is to strengthen both the physical game (stroke production) and the mental game (mental toughness). For a top pro, which do you think is the most important element, perfect stroke production or mental toughness?

Before answering that, think of a few tennis champions we have known over the years. Laver, Rosewall, Borg, McEnroe, Agassi, Federer all come to my mind. Do these expert players possess the same picture-perfect strokes? Look closely at the videos of their matches. The mechanics, style, and stroke production of each pro vary greatly. Stroke production amongst them is anything but a constant. Personal idiosyncrasies abound. Yet there they are, competing at the highest level possible and winning.

So even though top pros have their own style and form, with their own brand of so-called bad habits, they still find a way to win! What is the defining factor? The one element all champions possess: mental toughness. This is the most important element. While their individual physical games are technically different, the principle of their mental game is the same.

What makes a good mental attitude? What builds basic mental toughness? Forgetting mistakes and moving on. Not letting failures, mistakes or negatives bother you, frustrate you, or make you over-think. All champions, past and present, master their reactions to failure and neutralize the effect mistakes have on them. Among the best in the world, mental toughness is a constant.

This brings up an interesting disparity. In a conventional tennis lesson, the instructor constantly harps on mistakes and failures. The student hits a few balls and misses one, so the instructor stops, makes a correction, feeds the student some more balls, corrects again, and so on. The student is forced to focus on his or her mistakes and view failure as an issue. Is this the mental attitude of a champion? No! Unknowingly, the student is receiving the wrong kind of mental training. Lessons like this, as it turns out, are what develop bad habits! The wrong message comes through loud and clear: Mistakes and failures are bad and need constant correction. Ironically, coaches who are trying to make students flawless in stroke production are making them flawed in their mental attitude. The total opposite of a seasoned pro! The pros are 'flawed' with their varying stroke production, but they are close to flawless in their shared mental attitude. Let's see what a few experts on success say about the dynamics of mental toughness over failures.

"Ever tried. Ever failed. No matter. Try again. Fail again. Fail better."
- Samuel Beckett (He wasn't exactly an expert on success... but Stanislas Wawrinka, who tattooed the quote on his forearm, certainly is!)

"Failure happens all the time. It happens every day in practice. What makes you better is how you react to it.
- Mia Hamm

"Success represents the 1% of your work which results from the 99% that is called failure."
- Soichiro Honda

And my personal favorite.

"I've missed more than 9000 shots in my career. I've lost almost 300 games. 26 times, I've been trusted to take the game winning shot and missed. I've failed over and over and over again in my life. And that is why I succeed."
- Michael Jordan

A good mental attitude dominates failures. Unfortunately, players have become so paranoid about making physical mistakes during a lesson that if they miss they quickly exclaim, "What did I do wrong? What should I do to correct the miss? What's happening?" Then their coaches fall right into the trap and begin giving reasons for the failures. Instead, coaches should explain that this is the perfect time to practice forgetting mistakes and moving on. They must allow the molding power of repetition to perform its magic, creating strokes compatible with the player's individual style and form. A coach's response to mistakes should be, "Keep swinging!" Such positive encouragement cultivates a positive mental attitude in the student. Mental toughness is always of highest priority; this, in turn, enhances the physical game. Within the Tennis Warrior System, a key phrase is "Mental Attitude First." Right from the beginning, students are challenged to forget failures and mistakes and to form mental toughness.

Common sense dictates that if you are going to develop any flaws or bad habits, these flaws had better be in your stroke production, not your mental attitude. Just like the top pros, you can win with your own individual style and physical form (flaws and all), but you will not fare well on any level with an erratic, poor mental attitude. Styles, mechanics and form are always inconsistent from player to player, but for a winning performance mental attitude must be rock-solid consistent.





Tennis Warrior Archive
If you have not already signed up to receive our free e-mail newsletter Tennis Server INTERACTIVE, you can sign up here. You will receive notification each month of changes at the Tennis Server and news of new columns posted on our site.
This column is copyrighted by Tom Veneziano, all rights reserved.
Tom is a tennis pro teaching at the Piney Point Racquet Club in Houston, Texas. Tom has taught thousands of players to think like a pro with his Tennis Warrior System.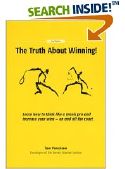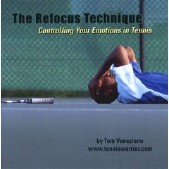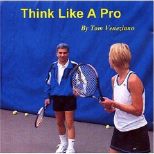 In Tom Veneziano's book "The Truth about Winning!", tennis players learn in a step-by-step fashion the thinking the pros have mastered to win! Tom takes you Step-by-step from basic mental toughness to advanced mental toughness. All skill levels can learn from this unique book from beginner to professional. No need to change your strokes just your thinking.

Audio CDs by Tom Veneziano:



---