More Tennis Reality!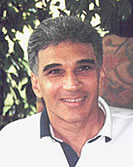 Tom Veneziano
Have you ever seen the video techniques where they show a pro, let's say Roger Federer, on one half of the screen hitting a forehand, and on the other half they show a different player performing the same stroke? The side-by-side comparison is supposed to demonstrate how the second player's technique is faulty or inefficient. In this fashion the player learning the game should change his own strokes to emulate Federer's stokes and develop better technique and form. This video teaching aid is even watched in slow motion to help capture every nuance of the stroke.

Federer does have one of the best forehands in the business. But here is the question. Why not take Rafael Nadal and put his video next to Roger's so Nadal can learn to emulate the correct forehand technique and form?

Give up? It should be obvious that Nadal has his own style and form and does quite well with his own authentic swing! In fact, with Nadal's strange looking forehand, buggy whip included, he has defeated Federer more often than Federer has defeated him. But isn't the player who is technically sound supposed to be the 'better' player? No! Although this is what conventional tennis would have you believe.

A long time ago, to help learn more about this great game, I read tennis books and magazines and watched videos that were technically oriented. But I soon discovered that the real truth about tennis is found in reading autobiographies of top pros or listening to the interviews of pros at tournaments. The information you learn is loaded with proven wisdom -- wisdom that contradicts conventional tennis methods.

Let's examine what the great tennis champion Bjorn Borg had to say, in a book entitled "Borg on Borg." This book was written in an interesting format: Borg and his coach, Lennart Bergelin, were interviewed by a group of young tennis players, and the questions and answers were recorded in the book. Below are some of the excerpts, which are loaded with important lessons that you will be hard pressed to find in standard teaching books. These astounding revelations, unfortunately, the tennis industry has yet to upgrade to.

-- "Did you have a coach when you first began to play?"
Bjorn Borg -- "Not for the first three years. That's probably why I have such unconventional strokes -- a two-handed backhand and so on. They say you mustn't play like I do, but I just felt right when I played like that. What is important is not the way you hit the ball, but whether or not it gets over the net. And when it does, it's marvelous to watch. If you have a stroke of your own, one that really works, and you feel right playing it, keep it, even if it isn't 'classical.' Don't try to change it."

-- "You are the best player in the world and lots of people try to imitate your style. It has been said you don't like to be imitated. Is that true?"
Bjorn Borg -- "I know lots of players try to imitate me and I'm not sure that's a good thing for them. I think it's better to find your own personal style, as Mr. Bergelin has said, rather than imitating someone. Playing like me might go right against the personality of the player who's trying to do it. I think it's difficult to play as I do. You have to be very quick if you have a two-handed backhand, because you have to be nearer the ball when you hit it, so you have to get to it sooner. I see lots of young people trying to put on top-spin like Vilas or myself. I have nothing against it. It might even be a good idea because it's difficult to play against opponents who put a lot of top-spin on the ball. But the most important thing is to feel at home playing your strokes. Everything else, slice or top-spin, will follow naturally. Find the style that suits you best."

-- "How long did you spend on tennis at the beginning?"
Bjorn Borg -- "For three months in the summer, I used to get up at six and go down to the courts. At ten in the evening my mother would come and fetch me! I never went home in the evening if she didn't come for me, not even to eat. I spent all day beside the courts. I watched people play and played for perhaps six hours a day myself. Even at night I felt like getting up to go and play. In winter it wasn't so easy. I could only play for about two hours a day, after school and homework and so on."

-- "Why do you face the net on your forehand?"
Bjorn Borg -- "The books say you should be sideways on when you hit the ball, but I hit it facing the net because that position is natural for me. On the other hand, for my backhand, I bend down and stand sideways on to the net. People have tried to change my forehand without success. I feel much better facing the net. That's how I learnt."

-- "What is the role of a coach?"
Lennart Bergelin -- "I am a great believer in the individual style of each player. The coach has to learn to understand the player and the way he plays, and not try to impose a style on him. That can take a very long time. But if the player takes his tennis seriously and the coach is interested in him, it's the only way to succeed. The first time I saw Bjorn play, I realized that he would become a great player. I couldn't tell just how far he would go. We couldn't expect him to become the best in the world. But I was sure he would be at least one of the ten best players."

There you have it. Lots of good information there! Borg from a young age was a dedicated and very persistent learner, developing his expertise simply by hitting tennis balls on his own for hours and hours at a time. He and his coach knew from experience that technique cannot be forced on a player, but each player should be allowed to play with his own unique style that fits his personality.

Regrettably, many players will not pay attention to this practical advice. Why not? I have come to the conclusion that most players do not believe they personally have an authentic style or form that can be developed. They believe they do not have talent like a pro. "Oh, that might work for him," they say, "but he's a pro, a talented entity, far away in the upper echelons of tennis. I'm not anywhere near that level." So, they reason, developing an authentic swing must be for other players, but not for them. This could not be further from the truth! Every player possesses their own top form, their own unique style and intrinsic genius. Players just refuse to hit the high number of tennis balls necessary to bring out whatever talent they possess. Instead, as a result of self-imposed limitations, they rely on overdone professional tennis advice to make the strokes happen for them. This is unnecessary, and even restrictive to their potential. I have taught hundreds of players how to access their individual talent if they will just be persistent and PRACTICE.

For more about the power of practice and persistence, watch this six-minute interview with table tennis champion Matthew Syed. Effort trumps talent every time!







Tennis Warrior Archive
If you have not already signed up to receive our free e-mail newsletter Tennis Server INTERACTIVE, you can sign up here. You will receive notification each month of changes at the Tennis Server and news of new columns posted on our site.
This column is copyrighted by Tom Veneziano, all rights reserved.
Tom is a tennis pro teaching at the Piney Point Racquet Club in Houston, Texas. Tom has taught thousands of players to think like a pro with his Tennis Warrior System.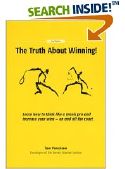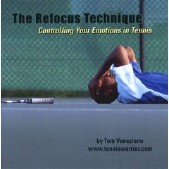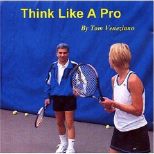 In Tom Veneziano's book "The Truth about Winning!", tennis players learn in a step-by-step fashion the thinking the pros have mastered to win! Tom takes you Step-by-step from basic mental toughness to advanced mental toughness. All skill levels can learn from this unique book from beginner to professional. No need to change your strokes just your thinking.

Audio CDs by Tom Veneziano:



---