Science vs. Tennis Reality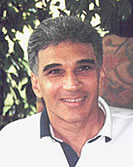 Tom Veneziano
Before you begin, you should know that I am not against science or any of the stunning discoveries science has made. The application of science to tennis has been both useful and confusing. Often the missing link to clear up the confusion is common sense. In fact, anything you learn from anyone, including myself, must be couched in common sense.

For instance, many of you know that I teach with little technical information and a lot of repetition. A tennis stroke is more about developing a feel through repetition than forcing a host of different technical skills on a player. A player should develop his own game with his own individual style, form and personality. What I often hear about this concept is, "No technical skills?! You just let players do whatever they want? What if a player chokes up on the racket and holds it on the throat?" My answer is, "I would tell that player to hold the racket on the handle." You must apply common sense procedures to the knowledge that anyone teaches you. Just because I place repetition and individuality first does not mean I cannot give a player common sense information and correct guidelines.

With this in mind, what you learn from scientific studies and the many scientific devices (like slow motion video) must be couched in common sense. Although, I must admit, applying this to science can be difficult. Mainly because science is considered so sophisticated and so exacting that the tendency is to believe, this must be right! And it often is right, but this does not mean the application to a given field is correct. And herein lies the problem!

For example, what I call the "professional model syndrome" is a source of much confusion and misapplication. To do a scientific study using sophisticated slow motion videos, you take excellent videos of professional tennis players in action. Then you watch as a pro hits the stroke this way or that way with the wrist firm or the weight forward, etc. With this "professional model" you are now supposed to do the same. A pro may hit a forehand groundstroke out in front with his wrist in a certain position and this now becomes the 'technique' you should emulate.

Not a bad idea! The problem is that scientific studies cannot measure the PROCESS by which a pro has reached that point! The video just shows the final RESULT. What science is breaking down is the RESULT of all those months and years of experience and placing it in a 'technique' category. Somehow you are supposed to take this technique and, without the process of experience or repetition, begin keeping the wrist firm or the weight forward. Sorry, but this is just not going to happen. The process of experience and repetition is what correctly prepares you to assimilate and apply that information, according to your own individual style and form.

Left out of the scientific equation is the thousands and thousands of times a pro used a poor technique or mistimed the forehand before he or she mastered it. Science cannot measure all the internal human elements that come together to develop a top-notch professional stroke. The process is too intricate, too personalized and too individualized for science to categorize. You learn a stroke by the blending of many different senses, all unique to you, to develop your feel for a given stroke. Steffi Graf was notorious for hitting the ball with her forehand farther back than most players. This may not be scientifically correct, but she had one of the most explosive forehands in the game!

You may be thinking, "But she could have been so much better if she had performed the forehand according to the scientific study." Well, maybe yes and maybe no... who knows! Consider this: if she was forced, against her natural instinct, to hit a forehand with the ball in front she might have become frustrated and quit the game of tennis! Or perhaps, since it was not her natural feel to hit that way, she would have had a horrible forehand. Again, who knows! Who cares? Science does not play the game of tennis, humans do! You might believe that science or slow motion videos of pros will help your game, but you must not eliminate the fact that the process, more than the exact technique, is the unsung hero! Use your common sense and develop your own unique game.

I remember watching a video by Vic Braden called "The Science and Myths of Tennis." In the video, Vic points out that when serving, the best height to toss the ball is approximately to the top of the racket when reaching up. According to science, tossing the ball to this height makes it easier to time the serve. If the ball is higher, then your timing would be more difficult because of the extra drop before you hit the ball. Vic then adds that the debate goes on about the correct height to toss the ball on the serve. What do the pros do? Some toss the ball lower and some toss the ball higher than the scientific mark. Again, you must add individual feel, style and form into the equation.

So there you have it, science says this is the best way and science says that is the best way... but is it? Use your common sense and trust your instincts and you will avoid science fiction!





Tennis Warrior Archive
If you have not already signed up to receive our free e-mail newsletter Tennis Server INTERACTIVE, you can sign up here. You will receive notification each month of changes at the Tennis Server and news of new columns posted on our site.
This column is copyrighted by Tom Veneziano, all rights reserved.
Tom is a tennis pro teaching at the Piney Point Racquet Club in Houston, Texas. Tom has taught thousands of players to think like a pro with his Tennis Warrior System.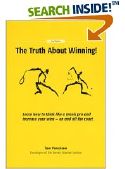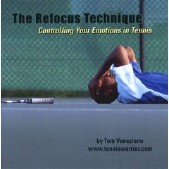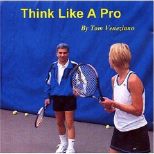 In Tom Veneziano's book "The Truth about Winning!", tennis players learn in a step-by-step fashion the thinking the pros have mastered to win! Tom takes you Step-by-step from basic mental toughness to advanced mental toughness. All skill levels can learn from this unique book from beginner to professional. No need to change your strokes just your thinking.

Audio CDs by Tom Veneziano:



---