Have you tried serve-and-volley doubles and had bad luck with it? Or, do you think following your serve to the net is beyond your ability?
Problems with serve-and-volley doubles are usually due to a common misconception that has many players a little off target in their objectives. And if you think following your serve is beyond your ability, it's probably because of the myth that you need a powerful serve to follow it to the net.
The serve-and-volley play isn't just for all-out attacking doubles. Used occasionally, as a way of mixing it up, this play should be an element in most teams' games. It's effective as a surprise on a big point. And it plagues the most important shot in the game, the service return, by forcing receivers to hit every return with one eye on your server to see whether the net rush is on or off.
The statistics leave no doubt - the key to success in the serve-and-volley game is minimizing the risk that the server will have a weak or out first volley forced from him or her on the way to the net. That's your team's vulnerable moment.
FOCUS
The receiver returns serve to the server so that the ball bounces at about the service line. Doing so forces the net-rushing server to hit up on a low first volley from that area called "no man's land." That's a tough shot, a low percentage shot that is often weak or out.
Even if the return isn't low, the server can't do much with the first volley from that far back. In fact, going for a winner from that far back is the most common cause of errors on the first volley. That's because, from back near the service line, the net is still too high and the opposition's court too narrow.
Usually you aren't in close enough to safely go for a winner until the second volley.
So, focus on that first volley. Play serve-and-volley doubles so as to minimize the risk of a weak or out first volley. That's the key to success.
Before your server hits that first volley, your team has only about a 50-50 chance of winning the point. But if he or she gets that first volley back deep, your team's chances of winning the point rocket to 75 or 80%.
THE SERVE
Does this mean that your serve must draw a weak service return? No. That answer is probably a surprise. A weak service return is usually welcome, of course, but you don't need a weak service return: you need an easy-to-volley service return. An easy-to-volley return is one within reach that you can hit at about shoulder height while passing through no man's land on your way to the net - preferably a floater.
Players who think they need a weak service return try to serve too hard. Serving too hard causes faults, and you don't get to the net behind faults. So, make sure your objective is correct: the objective of the serve-and-volley serve is to draw a floater down the center of your court.
Now, what kind of serve accomplishes that?
The first part is easy: to insure a return down the center, serve up the center. Geometry rules, as the diagram shows. A wide serve has almost twice as big an angle of return as a centered serve. Centering the serve constrains the return to within an area you can reach.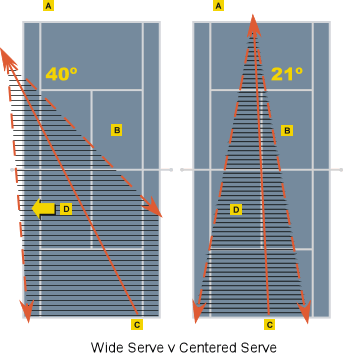 Indeed, the worst first volley is the one you don't get to hit, because you got passed by the service return. Nine times out of ten, that's your fault. Why? Because you shouldn't hit a net-rushing serve with a passing angle of return.
Therefore, don't serve at a sharp angle (especially with outward curving spin). If you do, that serve must be so forcing that it puts the receiver in just-get-the-ball-back mode. And you're likely to miss a ballistic serve like that. So, you won't get to the net often and safely behind wide serves. Serve wide just often enough to keep that receiver honest and guessing.
Now for the second ingredient of an easy-to-volley return, a shoulder high shot. How do you draw a high first volley so that you aren't forced to hit up on a low one at your feet as you pass through no man's land?
To see how, let's put ourselves in the receiver's shoes.
The receiver wants to return deep if your server stays back, and short if he or she rushes. The deep return flies high over the net, and the short return is a low shot. The receiver knows that the deep return is a setup for a server rushing the net, because it gives you a high and easy first volley. Likewise, the receiver knows that the short return is a setup for a server staying back, because it gives you a short shot to tee-off on. In fact, it would invite you to the net.
Therefore, be unpredictable. Keep the receiver guessing which kind of return to hit. Thus you require the receiver to return serve with one eye on your server to see whether the rush is on or off. You make returning serve much harder this way.
In fact, for the same reason, occasionally follow a second serve. Or hit your second serve as a first serve and follow it.
Yes, you needn't follow a hard slice or flat serve. In fact, a topspin or twist serve to the backhand in the deuce court, or to the body in the ad court, often works better. That's because most players hate these high kicking backhands, the fastest spinning shots in tennis, which acquire up to 2,000 rpm of additional topspin on the bounce to explode at the receiver as though the court drop-kicked the ball at them.
Result? Floaters!
So, your topspinning serves are high-percentage second serves that do triple-duty as change-up first serves and good net-rushing serves.
There you have it, your easy-to-volley service return.
THE FIRST VOLLEY
But you can still blow that first volley. As William Talbert wrote, "The first volley is the toughest," so don't take unnecessary chances with it.
Rarely does your rush get you all the way to the net for your first volley. Therefore, don't make this tough shot tougher by going for too much. Unless you're well into your forecourt, your first volley should be another setup shot, not a finishing shot. Its aim is to draw another easy-to-volley return. Just place the ball deep in the opposition's court - to a back-player. Depth makes this a forcing shot, so you needn't hit hard and risk hitting out.
Then continue the rest of the way to the net. You've arrived. Now you can go for winners.
TROUBLESHOOTING
What if good service returns break up your serve-and-volley game? Then try having your partner poach the service return. Try Australian Doubles and the I-Formation. Both are poaching formations that also make excellent serve-and-volley formations.
Poaching helps because your net player isn't at the same disadvantage as your net-rushing server. So, when you poach the service return, you eliminate the risk of having a weak or out first volley forced from your server on the way in.
Of course, everything said here about serve-and-volley doubles applies to serve-and-volley singles as well. Everything, that is, except the tip about poaching the service return to protect your net rushing server.
When you get the strategy and tactics right, the serve-and-volley play does work, whether it's the leading element in an all-out attacking game or an occasional variation to mix it up and pressure the service return. So, good luck with it, and may the tennis gods (the odds) be with you!
If you wish to provide a comment to the author of this Wild Cards column, please use this form. Tennis Server will forward the comment to the author.
This column is copyrighted by the author, all rights reserved.
---