Your Follow Through Leads to Consistency
By Tony Severino
Certified Instructor 4A
Professional Tennis Registry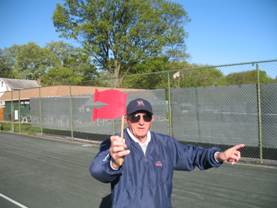 Tony Severino



"Ball control trumps power every time," so says International Tennis Master Dennis Van der Meer.

What that means is if you learn to control your accuracy, then power follows naturally as a consequence.

One sure way to develop accuracy is with your follow through. On ground strokes continue your racquet through the contact point directly towards your intended target area. Mentally hold that vision. Keep the racquet face in the vertical hitting position.

Don't be concerned with lifting the racquet over your non-dominant shoulder. It will go there on its' own when it can go no farther forward. Your follow through should extend fully outward until the arm has to go up.

The pros bring their racquets up abruptly over their non-dominant shoulder and it seems it seems as though they don't follow through at all. They do, but with a much shorter track.

There are several reasons for that: first, in the power-based game they play, they must get back to center court as quickly as possible, milli-seconds count; also, second, they invariably use modified western grips and hit with heavy top-spin, hence the racquet does seem to go straight up over the shoulder. However, it does go forward just enough to give the ball direction. There is a follow through.

Whipping through the follow through shortens the time the ball is on the racquet and tends to misdirect the ball. The difference can be likened to the difference between shooting with a pistol as opposed to using a rifle, The pistol, with its shorter barrel, is not as accurate as the rifle, which has longer contact with the missile and hence gives a surer path.

A corollary for all this is consistency.

So if you want to improve your consistency, and don't we all, play the trump card and follow through to your target area and get control of your game.




---
If you wish to provide a comment to the author of this Wild Cards column, please use this form. Tennis Server will forward the comment to the author.



Wild Cards Archives:
1998 - 2003 | 2004 - Present
If you have not already signed up to receive our free e-mail newsletter Tennis Server INTERACTIVE, you can sign up here. You will receive notification each month of changes at the Tennis Server and news of new columns posted on our site.
This column is copyrighted by the author, all rights reserved.
---