Paul's Racket
By Tony Severino
Certified Instructor 4A
Professional Tennis Registry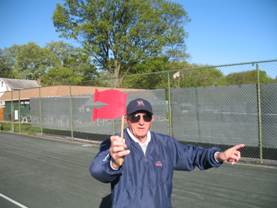 Tony Severino

Did you know Paul, that sainted man, was really a closet tennis player? Really!

How do we know that? By what he said.

"The good that I would do, that I do not, but that which I would not, that I do."

If that isn't a tennis player's lament, then you tell me.

Sort of an esthetic way of saying "coulda, shoulda".

The truth is that maxim shows he shared our problem, so he must have spent time on-court when not out there preaching. Probably gave tennis lessons on the side as well.

How does this apply in the present day?

Picture this. A clear, mid-morning day, the sun beaming above. The doubles team lofts a high lob.

The opponents shake their heads and look to each other. The ball bounces untouched between them and bounds off the back screen. More head shaking.

As you know, there are only two yellow things up there; one is the sun, the other is the ball. If the non-dominant hand were raised to remove the sun from the picture, it leaves just the ball.

That would be good.

I admit during an unthinking moment or two I've swung blindly at the sun -- and hit the ball. That was good.

However, I have also swung in desperation at the obscured ball -- and fanned the sun.

It happens.

But using that non-dominant hand to block the sun leaves a reasonably good shot at the overhead. That would be good.

Let's go back to my friend and student, Ozzie. Oz is an ardent student of the game -- well he tries.

Recalling the System Five approach in responding to a neutral ball coming at you; keep the ball in play, rally, and wait for an easier shot to go for the point.

On a neutral ball, Oz tries an under-spin drop shot, and misses. In doubles the optimum response to a neutral ball is down the middle and deep. That would have been good.

Oz not only needs to practice his drop volley but to work on his mental game, which is the most important thing that he should do.

That would be good.

We could go on and on -- with serving into the sun, poaching, return of service and a few things more.

That would be good too.

But you get the idea. I'm sure Paul would agree.

Wouldn't it be great if one day an archeologist dug up Saint Paul's old tennis racquet.

That would really be good.






---
If you wish to provide a comment to the author of this Wild Cards column, please use this form. Tennis Server will forward the comment to the author.



Wild Cards Archives:
1998 - 2003 | 2004 - Present
If you have not already signed up to receive our free e-mail newsletter Tennis Server INTERACTIVE, you can sign up here. You will receive notification each month of changes at the Tennis Server and news of new columns posted on our site.
This column is copyrighted by the author, all rights reserved.
---