Player-to-Player
By Tony Severino
Certified Instructor 4A
Professional Tennis Registry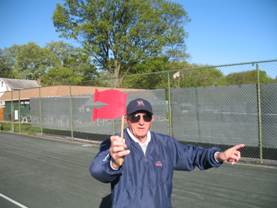 Tony Severino

Ever get the feeling in a tennis match you are running up the down escalator?

As the Red Queen tells Alice in Through The Looking Glass, "It takes all the running you can do to keep in the same place. If you want to get somewhere you must run twice as fast as that."

Is that how you feel, you have to run twice as fast as you can just to stay in the game? Is that your tennis game? Wonder what you have to do to win a point or two?

C'mon, you're not that bad a player, so what can the problem be?

You know tennis is a three part game; physical, mental and emotional. You know the strokes well enough, so that probably eliminates the physical problem.

Could it be your mental game? Maybe thinking too much? Perhaps just getting the ball back consistently would help. Eighty percent of the points in tennis are lost, so why not play to the percentages and let your opponent do the honors.

Another thought, probably more to the point, your emotional approach to the game. Maybe too anxious about losing. Playing to not lose, which is a losing game.

Are you angry with yourself for not succeeding? Why? Calm down; enjoy the game. The other guy or gal may be just that good. You can go to school on their game and congratulate them afterwards, and make a good friend.

The great American sports writer, Grantland Rice, probably said it first in his motivation poem "Alumnus Football." He writes:

"For when the One Great Scorer comes to write against your name--
He marks--not that you won or lost--but how you played the game."

I like Arthur Ashe's view better: "sometimes a defeat can be more beautiful and satisfying than certain victories. The English have a point in insisting that it matters not who won or lost, but how you played the game."

Where does all this leave us?

This is not to advocate being a perennial good loser. Not at all, but which of us is batting a thousand playing tennis? I'm not, for sure. But if you are consistently losing, help is available.

Be motivated? Motivation alone is just wishful thinking. You're motivated just being there. Play the game as best you can and be pleased with the result?

Neither one is good enough, the aforesaid notwithstanding! One must improve!

One of several simple approaches to that is right here at your computer. USTA's web site has a feature called "Player-to-Player." Players wanting help with a particular tennis problem write in asking for guidance. Responses come from numerous coaches, teachers and instructors, including myself (as "Tony From Haddonfield"), who address the problem and offer their advice.

Most often it is perceptive and enlightening, even for me, coming from experienced colleagues, teachers and players.

The web site address is:
http://www.usta.com/Improve-Your-Game/Player-to-Player/PlayerToPlayer/

Change the selected year, since this year, 2012, hasn't progressed that far. There's plenty of good advice in 2011's archive and earlier years also.

If you're losing more than winning, then maybe you should tune to Player-to-Player to see what goes on. There must be something in the archives to catch your fancy.

And if you're one of those people constantly winning, why don't you pick on someone your own size!




---
If you wish to provide a comment to the author of this Wild Cards column, please use this form. Tennis Server will forward the comment to the author.



Wild Cards Archives:
1998 - 2003 | 2004 - Present
If you have not already signed up to receive our free e-mail newsletter Tennis Server INTERACTIVE, you can sign up here. You will receive notification each month of changes at the Tennis Server and news of new columns posted on our site.
This column is copyrighted by the author, all rights reserved.
---