Kim Clijsters: A Triumphant Career in Two Acts
By Vince Barr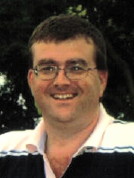 Vince Barr
When you think of professional tennis players (male or female) from the country of Belgium, who comes to mind? The first person on my list is obviously Kim, but I also think of her countrywoman and chief rival of Justine Henin. If you followed pro tennis in the last two decades, you might recall the career of Filip Dewulf. On the current men's tour, Xavier Malisse splits his time between the singles and doubles tours, most frequently with fellow Belgian Dick Norman though he played with a total of 10 (!) different partners in 2012 alone. Dewulf won only two singles titles in his career and his best finish in a grand slam event was as a semifinalist in the 1997 French Open to Gustavo Kuerten, who went on to win the title there that year. DeWulf peaked at a singles ranking of # 39 in late 1997. Malisse reached as high as # 19 in August, 2002 in singles (he is currently ranked # 63 in singles as of the end of the 2012 season) and in doubles reached # 25 in the summer of 2011.

Clijsters won a total of 41 singles titles on the WTA Tour. For her career, she recorded a 523-127 career record in singles matches for a winning percentage of 80.5%. She also went 131-55 in doubles matches throughout her career as well. She spent 20 weeks as the world's top-ranked player and won $24.4 Million in career prize money. In the 12 full years that Kim played on tour, she was consistently ranked in the Top 50 for 11 of those 12 years (1998 - 2011) and on six of those occasions; she finished in the top 5. Clijsters also did not have a year-end ranking in 2007 upon her first "retirement" and she missed the 2008 season while having her daughter; so there was no year-end ranking then, either. In 2007, Kim only played in 5 tournaments from January to April that year and got to the semifinals of the Australian Open where she lost to Maria Sharapova. By the time she ended her year in late April with a Round of 16 loss in Warsaw, Poland, she was the 4th-ranked player in the world. She did not play competitively again until she returned to the tour in Cincinnati in August, 2009, where she lost to Safina in the quarterfinals, 6-2, 7-5. She was not given a ranking for the end of the 2012 season since she announced her second (and final) retirement earlier that year.

Clijsters captured a total of four grand slam singles titles (2005, 2009 & 2010 U.S. Open and the 2011 Australian Open). She also was a runner-up in a grand slam event four times (2001 & 2003 French Open, 2003 U.S. Open and the 2004 Australian Open). Most notable about those last three grand slam singles titles was the fact that she did that after becoming a first-time mother in early 2008. Margaret Smith Court is the only other mother who played women's professional tennis who also won three grand slam singles titles after giving birth to a child. With Kim's 2009 U.S. Open victory, she became the first wild card to win a major and the first mother to win a slam event since Evonne Goolagong Cawley who won the 1980 Wimbledon singles crown after having had a child. Because winning a major after having a kid is so rare, her performance in slams upon her return will obviously become a great part of her legacy.

Kim's first event in her illustrious career was in Belgium in the city of Koksidje the week of August 11, 1997, when she was just past her 14th birthday (by two months). That small enclave is located on the North Sea Coast in the province of Flanders. In the 32-woman draw, she made it to the quarterfinals where she lost to Luciana Masante, 6-3, 0-6, 2-6. She won a total of $245 and 1.75 rankings points. It was her only event of that year. In 1998, she played four events, three of which were in Belgium and won two of them. Her first foray into international tennis competition (i.e., a tournament outside her native Belgium; I am not referring to the players she played, most of who were non-Belgians) happened in Israel at the end of 1998. Despite having to qualify at Ramat Hasharon, she again reached the quarterfinal round and lost to Justine Henin. This was the start of their epic rivalry, which I will discuss later in this article. The match with Henin was very competitive after what might have been first set "jitters" by Clijsters in a 1-6, 6-7 (3) loss to her countrywoman. Henin came into the match with a WTA ranking of 294 while Kim ended that year after that match with a ranking of 409. It would be the last time she ever placed outside of the Top 50 with a year-end ranking in any year for which she had a year-end ranking.

Her best year on tour, at least when viewed by the number of singles titles she was able to acquire, was either 2003 or 2005 when she won a staggering total of 9 singles championships. Forced to choose between the two years cited, I'd have to go with 2005 as her best year simply because that year also marked her first grand slam singles title at the U.S. Open (over Mary Pierce, 6-3, 6-1). That year, she also accomplished a rare achievement: winning back-to-back titles at Indian Wells (over Lindsay Davenport, 6-4, 4-6, 6-2) and Miami (over Maria Sharapova, 6-3, 7-5). What is most interesting to me about those two particular titles is the fact that she had to win seven matches (the equivalent of a grand slam title) in two successive weeks since there was a 128-player draw in each event with no bye. Kim also matched the accomplishment of sweeping Indian Wells and Miami that had last been achieved by Steffi Graff in 1989. Also in 2005, she won the U.S. Open Series title and, as a result of winning the U.S. Open title, won $2.2 Million (the $1.2 Million winner's check plus a $1 Million bonus as U.S. Open Series champion). It was the largest single women's winner's check up to that point in time. In her 2003 run of 9 singles championships, she also won the year-end WTA Championship. For her career, Kim won the year-end event three times (2002, 2003 and 2010). In the 2002 event, she managed to defeat Chanda Rubin, Justine Henin and both Williams sisters en route to the title.

Her best surface, as measured by number of titles won in her career, was hard courts, where she won 24 of her 41 singles titles. If you add in the number of indoor hard court titles (7) to that figure, you get 75.6% of her career titles (i.e., 31 out of 41). Kim's best showing for her career, was in the Australian Open, where she won the title in 2011, lost in the finals in 2004 to Justine Henin (3-6, 6-4, 3-6) and made it to the semifinal round on five other occasions (2002, 2003, 2006, 2007 and 2012). Her career record at the Australian Open was 43-9 (82.7% winning percentage).

Clijsters got to the French Open finals on two occasions, losing both times. In 2001, she lost to Jennifer Capriati 6-1, 4-6, 10-12. In 2003, she lost to Justine Henin, 0-6, 4-6. The 2001 line score might be a bit confusing (i.e., a 12-10 score in the 3rd and final set), but back then, the French Open did not use a tiebreaker to decide the match. They have since changed the rules as you can tell by looking at the 2010 final (where Francesca Schiavone defeated Samantha Stosur 6-4, 7-6 (2). For her career, Kim went 23-7 at Roland Garros for a winning percentage of 76.7%. At Wimbledon, Kim compiled a record of 29-9 for a winning percentage of 76.3%. She reached two semifinals there (2003, 2006) as well as two quarterfinals (2001 & 2010) but did not appear in a final. Her most successful event there was during her debut at that storied venue (1999) where she won six matches, but three of them were in qualifying and did not count as part of her official WTA statistical record. That year, she reached the Round of 16 where she lost to Steffi Graff in straight sets, 2 & 2.

Clijsters' greatest success came at the U.S. Open where she won three of her four slam singles crowns (2005, 2009 & 2010). Not surprisingly, her record there was the best of any other slam as she went 38-6 (86.4%). One interesting fact about her amazing performance there was the fact that she did not lose a single match there for a period of five years. How is that possible given the fact that she only won three times? Injuries played a part of the story as well as her first retirement (she did not play in that tournament in 2006-2008, inclusive) and she did not play there in 2004, either. So, from 2003-2010, she won 27 out of 28 matches and compiled a winning streak of 21 consecutive wins there. She lost in the 2003 finals to Justine Henin, 5-7, 1-6 and then did not lose again until her second round match there in 2012 to Laura Robson, 6-7 (4), 6-7 (5). But that 2012 match should have a virtual asterisk since she was battling injuries and had a three-month break in competition (between Miami in late March and s'Hertogenbosch in mid-June). She played that grass court warm-up, then Wimbledon (lost in the Round of 16 to Angelique Kerber) and the Olympics (lost in the quarterfinals to Maria Sharapova) before ending her career at the U.S. Open.

There are a couple of things that absolutely astonish me about Kim's career. First, taking about two years off from competitive tennis and then winning a major about 6 weeks after coming back? I don't care how much a person trains or watches their diet or does any number of the things you have to do to succeed on the women's tour. The players are constantly getting better while you are away. They are more fit than you are, especially if you have had to rebuild (and repair) your abdominals from the stress and strain of having a child. The last I checked, you need strong abdominals in your service motion as well as a great amount of strength in your legs to generate any sort of power on your serve. Second, being able to maintain playing at such a high level after giving birth to a child for several years is a very rare achievement. Kim won a total of three major singles titles after having had her daughter. The players she beat were pretty good players in their own right. In the 2009 U.S. Open final, Kim beat Caroline Wozniacki, who was ranked 9th at the time, 7-5, 6-3. In the 2010 U.S. Open final, she destroyed Vera Zvonareva, who was ranked 8th at the time and that match wasn't as close as the 6-2, 6-1 score indicated! She had to fight for her 2011 Australian Open title, taking the match to the limit before prevailing against China's Li Na, who was ranked 9th in a match that went 3-6, 6-3, 6-3 for her 4th and last major title.

I watched her comeback in Cincinnati back in 2009 and I could not believe my eyes. It did not look like this was a player who had taken over two years away from professional, competitive tennis. She beat Marion Bartoli in her first match back on tour in straight sets, 4 & 3. Then she throttled Patty Schnyder 4 & 0 and overcame Svetlana Kuznetsova in three sets, 6-4, 4-6, 6-2. She could have won that match in straight sets but was battling unforced errors, which is not unusual considering how much time she was away from the tour. She explained that she was doing better than she expected but the errors were coming from the fact that she was really out of rhythm and trying to regain her "court sense" again. While she lost to Safina in the quarters, Dinara was just relieved to get through the match (with a 6-2, 7-5 win) and suggested that if it went three sets, she would not have prevailed.

After Cincinnati, she went to Toronto, lost in the Round of 16 and showed up in Flushing Meadows, NY as an extremely dangerous wildcard that no one wanted to play. And by the way, that 2009 U.S. Open title also featured wins against both of the Williams sisters. Ask yourself: how often does that happen in a major where the winner has to beat both of those women? The WTA does not keep those kinds of statistics, so to answer that question definitively, you would have to look through the draws of every major played since both Williams sisters debuted on the tour to see if the winner had to play both of them. While I am not about to say that it has never happened before, I think that if it has, it hasn't happened all that often.

Tennis needs its rivalries to increase as well as maintain interest in the game. I don't think that there is much argument for the greatest women's tennis rivalry to be the one between Chris Evert and Martina Navratilova. Certainly, the one between Steffi Graff and Monica Seles was shaping up to be a great one. Those two players met a total of 15 times with Steffi winning 10 of them. Unfortunately, Seles was never able to completely rebound (in my opinion) from the on-court stabbing she had to deal with in the early 1990s. Monica won four of the 10 matches with Steffi before her injury and managed to win only one other one against her greatest rival afterwards. So we'll never really know how good that one could have been had Monica not been stabbed. For brief periods of time in recent years, the Lindsay Davenport - Martina Hingis rivalry was a really good one as well. Lindsay took the career head-to-head series with 14 wins against 11 losses. But I think the Clijsters - Henin rivalry was one of the best in the last 30 years. In fact, it might even be in the Top 3. Why? Because of what both players brought to the rivalry, on and off the court.

What makes a great tennis rivalry? There are several aspects to consider. First, contrasting playing styles seem to enhance interest; e.g., a serve-and-volley vs. baseline game. That did not apply in this particular rivalry because both players hung out on the baseline, only approaching net when they had to or to deliver a drop volley. However, Kim made things interesting there by developing a tendency to slide on fast surfaces and nearly do a split while reaching a hard-to-get shot. I would have been interested had the WTA kept detailed statistics on that kind of shot in terms of how effective it was in Kim repertoire. For instance, when she did the "splits", did she win a lot of those points or did the other player return those volleys for winners on the next point? We'll never know. One thing I do know is that Kim was the only player I knew of who consistently employed that strategy on points that she probably would have otherwise lost.

Another factor that enhances rivalries is meeting frequently in important matches and this rivalry had that. Justine won most of their encounters in slam matches, 5-3. Henin also prevailed in most of the finals they played, 7-4. She was especially dominant on clay where she rarely lost to her countrywoman, 5-1. Kim had the upper hand on hard court, winning most of those matches, 9-4. The series was mostly even on grass courts, though Justine had a slight advantage of 3-2 in those encounters. But after Kim returned from first retirement, she did not lose to Henin and won the last three matches that they played each other. The spreadsheet below details their complete rivalry history on the WTA Tour. Slam matches have been highlighted for convenience.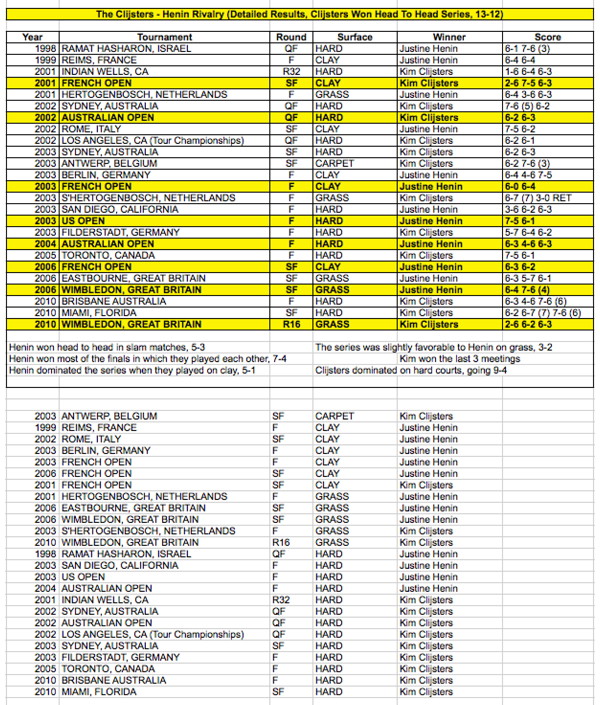 Justine inexplicably walked away from the tour after a Round of 16 loss in Berlin in May, 2008. She was the first #-1 ranked player to retire during a season. The fact that she was the reigning French Open champion and she retired just a few weeks before she would have begun defense of that title was mystifying. Henin later admitted that she was just feeling burned out by the constant grind of the tour, which is completely understandable. One thing that was not mentioned and may have been a factor was that Kim was no longer playing at that point. I find it very curious that shortly after Kim announced that she was returning, Justine also started preparing for a comeback. Justine admitted that Kim's successful comeback inspired her to attempt a return to the women's tour. Of course, Justine's results after her return paled in comparison to Clijster's. I'm sure that injuries also played a part of Henin's aborted comeback as her 2010 season ended after a Round of 16 loss to Clijsters at Wimbledon. She only played one other tournament in her career, ending it for good with a Round of 32 loss at the Australian Open in 2011.

Their rivalry was also enhanced by geography. Both players were from the same small European country of Belgium. In fact, their hometowns (Bilzen, Clijsters; hometown and Liege, Henin's hometown) are less than 24 miles apart. Further, they were just a year apart in age, almost literally, as Justine was born on June 1, 1982 with Kim's entry into the world occurring on June 8, 1983. That both players would choose to pick up a racquet to play tennis, let alone have the talent and ability to do so on the world's biggest stage is nothing short of incredible. I'm not a mathematician, but I would think that the odds of all those factors combining to result in two of the more talented women's professional players is incredibly slim (i.e., two players coming from the same small European country, less than 30 minutes apart and within just over a year in terms of age difference). Henin should be eligible for the hall of fame in 2016, one year before Kim's probable enshrinement since Clijsters played in 2012 while Henin did not play that year.




---
If you wish to provide a comment to the author of this Wild Cards column, please use this form. Tennis Server will forward the comment to the author.



Wild Cards Archives:
1998 - 2003 | 2004 - Present
If you have not already signed up to receive our free e-mail newsletter Tennis Server INTERACTIVE, you can sign up here. You will receive notification each month of changes at the Tennis Server and news of new columns posted on our site.
This column is copyrighted by the author, all rights reserved.
---