Across The Net With Vince Barr:
The Todd Martin Interview
By Vince Barr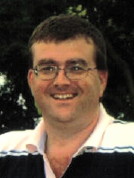 Vince Barr
If you were following men's professional tennis in the 1990s, especially in the United States, you might remember former touring pro Todd Martin. He was part of the "Greatest Generation" of American men's tennis players -- part of that group who arrived on tour in the late 1980s and early 1990s. Unfortunately, his career was somewhat eclipsed by those of his peers, such as Pete Sampras, Andre Agassi, Jim Courier and Michael Chang who were winning most of the majors in the early to mid-1990s.

While Martin did not win a grand slam singles championship in a career that lasted from 1990-2004, he did make it to the finals of the 1994 Australian Open (losing to Pete Sampras in straight sets, 6-7 (4), 4-6, 4-6) and the 1999 U.S. Open, where he lost to Andre Agassi in 5 closely-contested sets (4-6, 7-6 (5), 7-6 (2), 3-6, 2-6). However, he achieved a career-high ranking of # 4 in the world as of the September 13, 1999 rankings. Back then, there were three American men ranked in the top 10 (Agassi at # 1, Sampras at # 3 and Martin at # 4) and 11 total men in the Top 100, with # 84 bringing up the rear in Justin Gimelstob. That kind of performance by American men seems kind of quaint these days, doesn't it? (more on that particular issue later).

Mr. Martin earned a total of $8.254 million over the course of his 14-year career and captured a total of eight singles titles, none of which were a grand slam singles championship or a Masters 1000 event. However, he did partner with James Blake to win the 2002 Western & Southern Open men's double championship in Cincinnati, which remains a 1000 event on the ATP Tour Calendar. His overall win / loss record was a respectable 411-234 for a 63.7% winning percentage in singles. He was also one of those rare singles players who made a concerted effort to also play in many doubles tournaments when he was able to do so. From 1993-98, excluding his injury-riddled year of 1997, he averaged 26 doubles matches per year in addition to an average of 71 singles matches. That means he was probably one of the hardest-working men on the ATP Tour considering that, during a given tournament, he was likely playing nearly every day when he was playing both singles and doubles. To average a total of 97 matches per year (both singles and doubles) for a five-year stretch in the middle of his career is almost unheard of among today's players. In late April and early May, 1996, Todd also achieved a career-high doubles ranking of # 30 while also maintaining a Top-20 ranking in singles (at # 19) at the same time, which is also quite an accomplishment. In doubles play, he went 100-85 (54.1% winning percentage) with five doubles titles and five doubles finalist appearances.

However, one of the things he is probably most remembered for is his play at the U.S. Open. More specifically, the length of his matches there because he was often scheduled to play at night. Sometimes, his matches did not end until well after midnight and he earned a reputation in New York City as the "King of Late Night." He compiled a U.S. Open record of 33 wins against 15 losses in singles play. Because neither the ATP nor ITF keep statistics about when certain matches start, it is impossible to say with certainty exactly how many of those 48 U.S. Open matches started in the evening. However, one thing that can't be argued about his career is the simple fact that, of those 48 U.S. Open matches, 29 of them (60.4%) went either four or five sets. So, if you happened to be at Flushing Meadows during the Open and came across one of his matches, you expected that you would get your money's worth and he usually did not disappoint!

As if all that were not enough, he also found time to spend two years at Northwestern University and played tennis for the Wildcats prior to turning pro in 1990. For those of you who might not know, Northwestern has earned a reputation as the Ivy League school of the Midwest. Unlike many schools, Northwestern's admissions policy is fairly strict. You've got have a significant amount of intellectual firepower just to get into the school! Todd was an integral member of the 1995 Davis Cup winning squad and I personally saw him team with Pete Sampras in the 1997 Davis Cup semifinals in Washington, D.C. against the Woodies from Australia and lose in four closely contested sets (6-3, 6-7 (5), 2-6, 4-6). Overall, he had an 11-8 record in Davis Cup singles and 3-6 in doubles.

I had the chance to sit down and talk with Martin last October when he was in Surprise, AZ for the Cancer Center Treatment of America's Tennis Challenge with Michael Chang, Jim Courier, John McEnroe, Tracey Austin and Martina Navratilova. I was grateful that Todd was extremely generous with his time, and we talked for close to half an hour, which is rather unusual for an athlete to give someone in the media that much of their time (especially after they just played a match).

Start of the interview

Let's start out talking about your coaching relationship with Novak Djokovic. You briefly coached him for awhile, then he went on to win the 2011 Australian Open, which was his second grand slam singles championship. What things were the two of you working on while you were together and how did he benefit from your tutelage?

"I worked with him for almost a year, so it wasn't all that brief. In terms of what I was able to do for his career, you'll have to ask him. My primary objective in working with him was to get him to hit the ball. He beat people on his athleticism and defensive skills rather than being a better tennis player. Obviously, he hits the ball beautifully and can overpower people, which he has shown. So, he is a better tennis player than most of the other guys. Part of that focus was for him to be intentional with his pace. He had a habit where he got into a rhythm where the ball went back and forth at the same speed and if you do that long enough, people get comfortable and they develop a rhythm off that."

Are you coaching anyone out there now or would you like to be coaching anyone on tour?

"I have a junior development program in Jacksonville, FL. So I am helping out local juniors; I do a little bit of work with some professionals who are in more of a transitional phase of their careers and I have an affiliate program that allows me to travel and help out other development programs across the country. As part of that effort, those other programs send small groups of players and their coaches to Jacksonville to work out with my kids."

Is this just with the U.S. juniors or are kids from other countries involved who may be based in the U.S.?

"We just started (in late 2012) so for now, it's just with kids from the U.S., but eventually, there will be kids coming here from other countries to work with us as well."

You are in a great position to comment on the state of American tennis. There has been much angst expressed in the media over the dearth of American men coming up through the ranks, especially on the heels of Andy Roddick's recent retirement. You were part of a unique generation of American guys who dominated the tour in the 1990s and we don't have that now. What happened to the sport in the U.S. and is this truly a crisis or are people simply over-reacting to the influx of European players who are now dominating the sport?

"I think a lot has to change. I think we need to start demanding more of the kids, not more of their time. I'm talking about things like their focus when they are playing. I think our instruction needs to improve. I think we need to learn how to make the sport of tennis more affordable for our athletes to play. More important than anything else, in my opinion, is the simple fact that we need to attract more of the better young athletes to our sport at a younger age, rather than losing them to other sports."

I have to ask you about your record at the U.S. Open. You had a record of 33 wins against 15 losses in singles play at Flushing Meadows. Of those 48 matches, 29 of them (60.4%) went either four or five sets. A good example is your match with Carlos Moya in the Round of 16 back in 2000 where you fell behind two sets to love but came back to win it, 6-7 (3), 6-7 (7), 6-1, 7-6 (6), 6-2 in a match that took 4 hours and 17 minutes to play. Were you a person who liked to play from behind meaning that you tended to play your best tennis when you were in a hole? Or was just that a function of an unusual combination of the players you played there and the individual match-ups you were presented with?

"I learned early in my life that just because you are losing, doesn't mean that you're going to lose the match. I learned that in two different ways: one, by experiencing winning from losing positions and two, by losing from winning positions. I was taught from a young age, as cliche as it is, it's not whether you win or lose, it's how you play the game. I also learned that your focus, and attitude and effort have to be at the top every day at every moment in order to compete successfully. Far be it for me, who was not the most athletic, not the most talented guy around to just pack it in if things weren't going my way. I didn't have the luxury of doing that because there was no telling when my next opportunity to do well was going to come."

OK, Todd, let's not sell yourself short here. You were a pretty good player in your own right!

"I'm not going to say that I wasn't (very good - laughing). But I was not a prodigy. I was a guy who toiled through every level of the game to get to the point where I was eventually very successful. If that's the course your career has to go, meaning that you're the tortoise rather than the rabbit; you know, the tortoise plods along and that was more my style."

What did you tell yourself mentally when you were behind in order to get back into the match?

"If you're talking about tactics, that depends on who you're playing, how you're feeling and what the score is at any one moment of the match. But the general message is if I can win one point, I can win two. If I can win two points, I can win a game. The approach is to be as logical as you can be at that moment. I didn't necessarily think all that logical when I was in a match but look, when you're down two sets to love and you win the third set, you're only down a set and you've got some momentum on your side. If the score is one set all and you lose the third set, you are still down one set and the other player has the momentum. But you certainly would not pack it in, then. So why in the world would you not give it the old "college try" until the end of the match when you come to the net and your opponent says something like "bad luck" as a consolation for your loss?"

You played Pete Sampras 22 times in your career and won only four times. Was he your toughest opponent?

"(Laughing) I think he was everyone's toughest opponent. He was dominant most of his career. The matches I remember most against Pete are where we played against each other in the finals as opposed to quarterfinals or other rounds. Honestly, most of those matches were ones I didn't want to remember! (laughing again)."

But you did beat him four times, so what stands out in your mind about your wins over him that was different than in all the other matches that you lost against him?

"I beat him twice at his peak; once in the finals at Queen's Club in 1994 and in the semifinals at Memphis in 1995. At Queens, I beat him 7-6 (4), 7-6 (4) and there was no give in his game at all. It was just a match where, at the most critical points, I came up with the shot that I needed to. In Memphis, I was down a set and a break (4-6, 7-6 (6), 6-4) and in the second set, I think I was down 6-2 in the tiebreaker or maybe it was 5-1 and then I came back and won it. I also beat him, I won't say badly, but a couple of times in a more straight-forward manner down in Australia (the 2001 Australian Open, Round of 16, 6-7 (2), 6-3, 6-4, 6-4; and in 2002 in Adelaide, 3-6, 6-3, 6-4) later in our careers. But I would say that there were a handful of matches where Pete just manhandled me. There were those two matches where I beat him without really having to rise to the occasion at the critical moments of the match (talking about his wins over Pete in Australia) and there were a lot of matches that were really, really competitive and he was just the better tennis player than me. Not just physically. Because he was such a talent, people tended to discredit what a competitor he was. He looked like he was loafing his way through matches but when it got to be 4-all in a set, deuce; the guy on the other side of the net knew exactly what he was going to do and it was really intimidating, especially considering the number of times I had to play him in my career. He was a really trusting and committed competitor; he really trusted his own instincts and his skills to rise to the occasion when he needed to. Because he was graceful and explosive and he had two weapons that were really special, I just don't think he ever gets credit for how good he was. I think the same thing about Roger Federer. These guys (Sampras and Federer) are unbelievable competitors; they just don't wear it on their sleeves and it really worked really well for Pete and it's working well for Roger, too."

I wanted to ask you about that doubles match you played with Pete in the semifinals of Davis Cup back in 1997 in Washington, D.C. I had the opportunity to be at the match and was there for the whole weekend. You guys were playing the Woodies (Todd Woodbridge and Mark Woodforde) and actually won that first set, then lost the next three (6-3, 6-7 (5), 2-6, 4-6). We won that tie anyway the next day, 4-1, but I always wanted to know what happened in that match and never had the chance to ask anyone involved about it until now with you here.

"Yeah, I remember that match pretty well. Correct me if I'm wrong, but I think we were up a set and a break and things were really, really going well. One of the primary reasons that things were going well, which was usually the case when playing with Pete, (was because) he was playing awfully well. As good as the Woodies were, they really didn't have an answer for someone like Pete when he was on. I had a feeling, and that match stays in my mind fairly well, which I think Pete shared my sentiments as well, that he was going to push things and see how well he could play, as an individual. His play probably went down a little bit and keep in mind that this was doubles, so how he played affected the dynamic of the team. I had been out for six months prior to the U.S. Open that year because of elbow surgery, and you know, that might have been the next competition I played in (it was) after I came back. So, I wasn't in a place where my tennis, from an individual standpoint, was good enough to hang with the Woodies, so, more than ever, I needed that dynamic with Pete taking over the match for it to work."

Vince's note: Good memory, Todd! He did miss about six months in the calendar, from mid-February 1997, after he lost in the semifinals of Memphis to Michael Chang, 6-3, 4-6, 4-6, to the U.S. Open in late August. He beat Jim Courier in four sets in the first round of the Open, 3-6, 6-3, 6-4, 6-2, then lost to Jonas Bjorkman in straight sets in the Round of 64, 5-7, 4-6, 0-6. While I've never had elbow surgery; it is not all that difficult to imagine that having that kind of surgery would not be something one would tend to forget, ever!

There was another one of your doubles matches that I was present for, and that was your pairing with James Blake in 2002 when the two of you won the doubles title at the Western & Southern Open in Cincinnati over the tandem of Max Mirnyi and Mahesh Bhupathi, 7-5, 6-3. I talked to Blake about that last year (in 2011) and he said it was one of his best moments that he can remember on tour. Talk about your experiences from that win.

"You know, that was a great experience for a couple of reasons. One, that came a couple of years after I started struggling with my singles game on the ATP Tour. You know, it was nice to feel like we were making our way through a draw, singles, doubles, it didn't matter. James and I had spent a lot of time on court, together, earlier in his career, late in my career, so that was really rewarding as well. The unheard of benefit in it all was that when you win a title in Cincinnati, you don't have to pay ATP dues anymore! (laughing) So, I'm an alumni member for the rest of my life (laughing again). But seriously, we played awfully well; we played a lot of good doubles teams. I think that when you can take guys, who are really good singles players, and they can play doubles and they get into a rhythm, it's nice to actually play the doubles guys because you can get good looks at their games as well."

What are some of your thoughts about Andy Roddick's career; obviously, he just retired (after his 2012 U.S. Open Round of 16 loss to Juan Martin Del Potro, 7-6 (1), 6-7 (4), 2-6, 4-6).

"Andy's career was remarkable."

People always qualify it because he ran into Federer too many times and play the what if game; how good could he have been if he never had to play a guy like Roger..."

"That's hogwash! Yeah, he had to play Roger a lot, but so did everybody else. Back in my day, everybody had to run into Pete. Let's not bog ourselves down with bad luck, birth year and so on. Andy had a great career, regardless of how many slams he won, how many slams he was in the final of. He dominated the game from an American standpoint on the heels of Sampras, Agassi, Courier and Chang. That was just a huge mantle to take on, coming into the game after all those guys and inevitably being compared to them, and he did it well. In spite of being ahead of the game and then seeing these guys catch up and pass him, he kept at it. I don't ever remember seeing Andy "cry" on the court (i.e., complaining about his bad luck or whatever, not literally breaking down in tears) where he was not 100% up for a fight. From that competitive standpoint, that's what I respect most about him. When you talk about the (International Tennis) Hall of Fame; was he famous? Yeah. Hugely. So, if it really is a hall of fame, he should be in there, miles ahead of 80-90% of the people who are already in there. If it is a hall of success, he's probably one of those guys who's really worth considering and should be still in there."

How did your doubles play improve your singles game?

"I played doubles as much as I could, early in my singles career because I needed to take any job I could get (and he said this, seriously, without joking!) and for the rest of my career, I probably played somewhere between 25 to 50% of the tournaments I played in; usually closer to 25%. In my opinion, I don't think doubles helped my singles game on a week to week basis. Now, when I was struggling in my singles career towards the end of my time on the tour, it was really good for me to play doubles from a mental standpoint. I think that the extra bit of competition, in a different environment, with less pressure (because I wasn't usually trying to defend a lot of doubles points in a given event) helped me to be a little bit more relaxed. I was the kind of player where if I was in rhythm, I was in rhythm. I didn't need to play every day (like I would have had to do in playing both doubles and singles at a given tournament) in order to retain that level of confidence. The reason for that was because I grew up only playing six hours per week for three days a week. So, I was used to not having a racquet in my hand and I could retain that confidence and rhythm even if I wasn't playing every day. But there were times where I was struggling in my singles and went out, just to have an experience in doubles. And that was where doubles probably helped me the most as it gave me an opportunity to take a mental break. I don't think that playing doubles gave me any revelation from a tactical standpoint that I could employ in my singles career. I'm not saying it never helped my singles game; it's just that most of the time, I wasn't looking to get anything out of my doubles play other than to enjoy a less pressurized competitive format in the sport that I love most. Any specific benefits to my singles play as the result of playing doubles was merely incidental and infrequent, if that makes sense."

What are your thoughts about Kim Clijsters? She also announced her retirement as well.

"Before anything gets said about any aspect of Kim's career, for those of us who know her, she is one of those people who is truly a way better person than she'll ever be or was a tennis player. It makes me thrilled for her that she has kids, because she is unbelievable with kids. I don't know of anyone who could not be happy for her when she did come back after having her daughter, having the success that she did, winning those two slams; if you look just at the tennis, I love the story behind her success. Once she had a more tangible perspective in her life, she was able to succeed past the moments that usually got the better of her, earlier in her career. That speaks to balance, it speaks to the fact that life does go on during bad times, good times, after all the time on the tour is done. And I just don't think that the general public, or rather, real tennis fans, understand that as much because there's life and then a few steps down from there, there's this (having your own family). I'll be the first to admit that this job (playing tennis for a living) was a lot more fun than almost any other job in the world. But just like everybody else, we also have a responsibility to have good priorities above and beyond our job."

What do you miss most about being a professional athlete?

"Any of us who were successful, have competitiveness burning inside us. And to find something that's pretty pure, you know, with performance-enhancing drugs, there's ways to get around the "pureness" of the game, but for me, I always viewed it to be a really pure form to satisfy my competitiveness. I miss that and the simplicity of it. You sort of map out what you need to get better at, which you have been doing since you were pretty young and work towards those objectives every day. And we were experts; so, as much as anything, even when we had average rankings, we still had access to even greater experts. When you get into other realms of competitiveness, like business, it's harder to figure out what exactly do we need to get better at in order to succeed. With tennis, it was always very simple, I won't say easy, and I liked that."

The last time the American Davis Cup captaincy came open, the choice was between you and Jim Courier. After he is done with it, do you want to still have a chance to captain the American squad? You already have a presence in junior tennis, so what does your future look like in terms of your ongoing engagement with the sport?

"Tennis is my 60-hour a week occupation. It's a non-decision for me. I've committed to this sport because it is what I enjoy and also because I think it can be really beneficial in the lives of children and I'd like to play a role in that. When it comes to the Davis Cup, being a realist, Jim's going to do this job for several years and by the time he's done, there will be another group who will be younger and will be more in tune with the generation that will be playing on the team. So I would suspect that I'd almost "age-out" of the opportunity by the time it becomes a real opportunity, if that makes sense. If I didn't feel that way, I would certainly consider it."

End Of Interview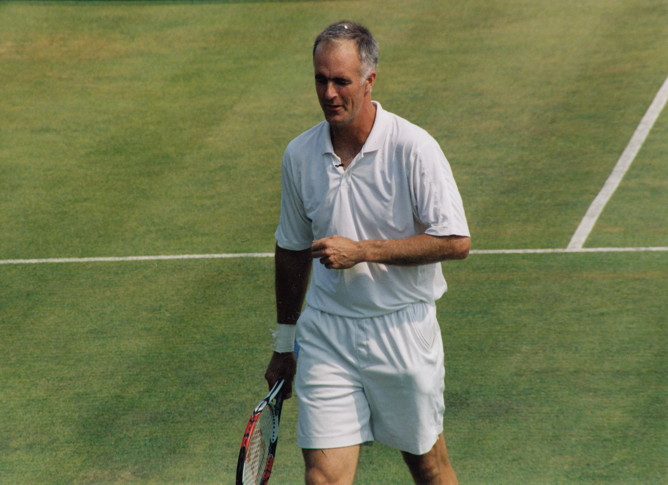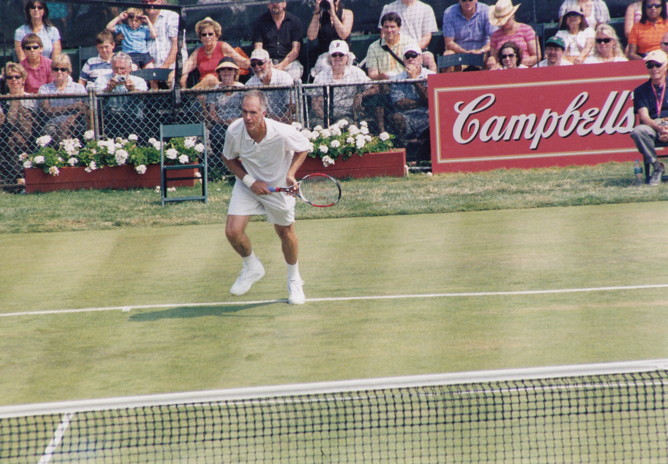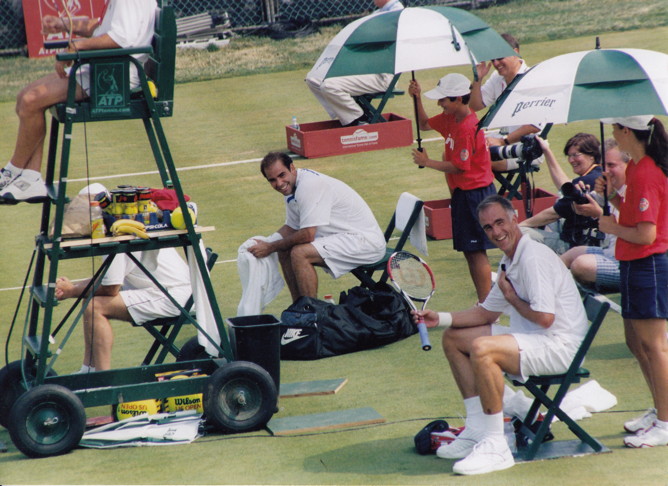 About the photos: I took all four of these photographs in Newport, Rhode Island, in July, 2007, when I was at the International Tennis Hall of Fame watching Pete Sampras get enshrined there. Todd played an exhibition doubles match against Pete and both players were "miked up" so you could hear what they were saying to each other. In one of the photos, which featured both Sampras and Martin sitting down for a changeover, you can see that both players are laughing. What prompted the exchange was someone in the crowd getting on Martin's case for not playing as hard against Pete as he should and he retorted that he just didn't want to ruin Pete's weekend by inflicting a repeat of their 1994 final at Queen's Club in London, just prior to Wimbledon. He also wanted to publicly "apologize" for beating him there in straight sets, 7-6 (4) 7-6 (4). The reason everyone was laughing was because it was a very rare event for Martin to beat Sampras. In their 22 head-to-head matches, Todd was able to only win 4 of them (18.2% winning percentage). It was one of those "tongue-in-cheek" moments between friends that happened to be shared with the 2,000 or so spectators who gathered after the induction ceremonies to watch them play an exhibition match. I had great seats behind the baseline; a little up from the court surface, which allowed me to take some great pictures with my 70mm zoom lens. Personally, I was just glad that the pictures did not turn out to be blurry and it gave me great appreciation for the cat-like reflexes professional tennis photographers employ to deliver all those amazing pictures you see in the major publications where you can sometimes read the logo on the tennis ball! Mine were not that good, obviously, but I thought that you might enjoy some action shots from their match.




---
If you wish to provide a comment to the author of this Wild Cards column, please use this form. Tennis Server will forward the comment to the author.



Wild Cards Archives:
1998 - 2003 | 2004 - Present
If you have not already signed up to receive our free e-mail newsletter Tennis Server INTERACTIVE, you can sign up here. You will receive notification each month of changes at the Tennis Server and news of new columns posted on our site.
This column is copyrighted by the author, all rights reserved.
---