Who Are The Pure Clay-Courters?

Ray Bowers
Players and fans worldwide know that clay-court tennis differs in various ways from the game on hard courts. On clay the ball is slowed considerably in bouncing, while on paved surfaces the bounce is usually faster and higher. Moving to net is thus riskier on clay, as the opponent in back court has extra time to reach the ball and prepare for the reply. Meanwhile strong serving is comparatively less helpful on clay, as the surface neutralizes the serve's velocity and the effect of slice (sidespin). Defensive play is helped on clay, attacking play on hard. Shoe traction is poor on clay, favoring the player experienced in moving on it. These differences become exaggerated at high levels of the game, especially in men's tennis, and as a result two populations of male pros seem clearly recognizable--players whose strengths are best suited for (1) clay-court play and (2) hard courts, respectively.
Members of the second group--the hard-court players--tend to rely on very powerful serves and attacking styles of play. They are more willing to take the ball early, on the rise, and more willing to move to forecourt. Typically the forehand is the primary ground weapon, and hard-courters often employ the one-handed, sliced backhand. In contrast, the clay-courters are more patient in their forehand attacking and are better able to deliver strong ground strokes with good consistency--i.e., avoiding errors. Their ground strokes, forehand and backhand, are regularly delivered with heavy topspin as well as pace. (Too soft an offering invites domination by opponent.) Clay-courters tend to have very good court mobility, enhancing defensive play. Clay players are comfortable sliding their feet into ground strokes, minimizing effort in stopping. They are content when operating far behind the baseline, where their heavy artillery can sometimes produce big effects. Some are highly skilled in using the drop shot, where the clay bounce helps keep the ball low and short, and in winning the ensuing cat-and-mouse exchanges. The clay-courter's net game may be solid, but he prefers to win points patiently, often from deep.
Our sketch, above, is certainly overdrawn. But we can explore numerically our general observation--that there are two distinct populations of players--by comparing results of the higher pros on the two surfaces. We use tournament results of the 21st century (years 2001-2004) to calculate each player's strength on clay and on hard courts, respectively. Our clay data are taken from the French Open and the three Master's Series clay events (Monte Carlo, Italian, and German Opens). Hard-court results are from the Australian and U.S. Opens and two leading outdoor hard-court events (Indian Wells and Key Biscayne). We give extra weight to the Slams (ratio 5:3) and to more-recent results.*
Our results agree fairly well with intuition. Listed just below are those members of the current ATP top 100 (entry system) whose clay-court success has most surpassed their hard-court success. Note that we are not showing the best or most-successful clay players but rather the ones whose strengths are most slanted toward the clay-court (and comparatively less slanted to the hard-court) game.
Verkerk (Netherlands)
Ferrero (Spain)
Robredo (Spain)
Mantilla (Spain)
Kuerten (Brazil)
Saretta (Brazil)
I was surprised that the player atop our list--the player most favored on clay over hard-- turned out to be a 6-3, 200-pounder from The Netherlands, a player best known for his extremely powerful serve. But Martin Verkerk, now 25, considers his backhand also a prime strength, and deems that his best surface is "clay and slow hard courts" (quoted from ATP material). Our data on Verkerk are somewhat thin, coming mostly from tournaments in 2003. But the message is strong. In the big clay events of 2003, Verkerk accumulated a W-L record of 9-3, including a final-round appearance at Garros. Meanwhile his W-L record in our sample of hard-court events of 2003 and early 2004 was 2-5. (If we add in the other two Masters Series outdoor hard events of 2003, Canada and Cincinnati, his hard-court record becomes 3-7.) His propensity for clay is thus evident. His performance in lesser events shows the same tendency.
Our runner-up, with score not far behind Verkerk's, was last year's Garros champion, Juan Carlos Ferrero. His high position as a clay specialist is also surprising, as the Spanish 24-year-old is a fine contender on hard courts as well. But his hard-court championships have been rare, while The Mosquito has achieved a steady stream of triumphs on clay. His excellent court speed and relatively thin physique seem well adapted to the clay game.
We note that five of our six purest clay performers are from Spain or South America--regions where most youths learn the game on clay. Five of our second six** are also from these places. World #4 Guillermo Coria almost dropped out of our second group by recent strong results on hard courts at Indian Wells, which reduced the extremity of his score calculated here.
What about the other extreme? Who are the members of the ATP top 100 whose successes on outdoor hard courts have most surpassed their performances on clay? Our answer again begins with a mild surprise--a former champion and twice runner-up on clay at Roland Garros, but nevertheless a player who now plainly registers as a hard-court performer.
Agassi (U.S.)
Hewitt (Australia)
Roddick (U.S.)
T. Martin (U.S.)
Blake (U.S.)
Srichaphan (Thailand)
Watchers of Andre Agassi in the last few years know that Andre's court tactics are now in the pattern of the archetype hard-courter, described earlier. Though he remains a strong clay player, his remarkable success in his favorite realm in recent years produces a substantial margin over his clay results. Lleyton Hewitt, too, is perhaps a surprise as runner-up here, as Lleyton's speed--comparable to Ferrero's or Coria's--would seem to point to clay-court strengths. Probably it is that Hewitt's relative inexperience on clay fails to equip him against the top clay players on their favored surface.
Four members of our six are from the United States, clearly mirroring the high proportion of hard courts in that country. Our second six*** are more diverse geographically, including Escude of France, Safin of Russia, and Nalbandian of Argentina. Note that Pete Sampras and Pat Rafter, who are not listed here because they are no longer in the ATP top 100, accumulated results in 2001 and 2002 that would place them near the top of our hard-court-advantaged list here. Note also that Roger Federer, the current World #1, scores very high on both surfaces. But in comparing his clay and hard-court scores, he clearly rates on the hard-court-preferred side of the curve though not to extreme.
An interesting confrontation between archetype performers of the opposite groups took place at Indian Wells last month, telecast by ESPN. Hard-courter Andre Agassi and clay-courter Guillermo Coria had met four times previously. Andre won their three meetings on hard courts including last year's Australian and U.S. Opens. Guillermo won their only encounter on clay, at French Open 2003. Now at Indian Wells, Agassi played his patented style, hammering away with crisp, flattish drives to the sides from hitting positions close on the baseline. Coria showed his superb court mobility, along with firm and consistent topspin drives from both sides. Agassi's greater physical strength translated into stronger serving, especially in his second serve, and greater groundstroke penetration, which generally forced Coria to the defensive. Typically Agassi returned serve from on or slightly inside baseline, Coria from well behind. Wonderful shotmaking by Coria kept matters close, but Andre finally prevailed 6-4 7-5, thus continuing his success on hard courts over the Argentine star. It was a picture demonstration of the differences between the modern clay-court and hard-court styles.
The results of our calculations largely conformed to expectation in pointing out those players who most prefer clay and those who most prefer outdoor hard. But how justifiable is it to deem the two populations to be distinct, where most players fall into one or the other group? Or is it more accurate to envision a continuum of strengths and styles, where most players fall into a middle range along a spectrum of difference?
We can obtain a qualified answer by plotting a bar graph showing how the scores of our player population are distributed. Please see the below plot of data showing distribution of scores for the ATP top 50. Clay-court scorers are toward the right, hard-courters to the left. We detect two distinct humps either side of neutral, divided by a seeming valley. Thus the graph appears to support our notion of two somewhat exclusive populations--one skilled on clay, the other in hard-court tennis. (The valley is not seen in graphing the ATP second 50, probably because scores of these players on the separate surfaces are not large and thus the differentials tend to be smaller--i.e., clustered more closely around zero.)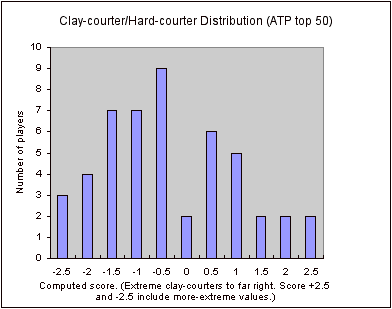 OUTLOOK IN WOMEN'S TENNIS
Injuries continue to sideline many of the top women. Wrist trouble forced the withdrawal of Kim Clijsters just prior to Pacific Life Open at Indian Wells. Justine Henin-Hardenne and Lindsay Davenport remained the only contending superstars in that event, both of whom reached the final round without losing a set, Henin then winning. The luster of women's tennis seemed to depend on the return of the wounded warriors, especially the Williams sisters. The sisters played in the Nasdaq-100 at Key Biscayne this week, but both Henin and Davenport skipped the event.
The recent dominance of Henin-Hardenne over the others may prove short-lived, but it is assuredly pronounced. Though her physique seems slender, Justine generates amazing power, blending pace and spin with remarkable control. Her picture backhand remains superb, but it is now her second-best groundstroke, as her forehand is absolutely punishing from anywhere on court.
The remarkable progress of the young Russian women remained evident at Indian Wells, where teenager Kuznetsova--the only player to have won a match from Henin this year--again played well. The Russians made a good run in overcoming an early American lead in total matches won. But matters turned to favor the Americans in the semi-finals of the singles, where Davenport advanced over Dechy and Myskina lost to Henin. Meanwhile Kuznetsova-Likhovsteva failed to pick up a win in the doubles final. The Russian women thus finished one victory behind the U.S.
The Russians took the early lead at Key Biscayne, placing seven women into the third round of singles against the U.S.'s six. With Myskina scratched and with the Williams sisters still in the singles and Navratilova-Raymond in the doubles, the Americans at that point seemed likely to repeat their margin at Indian Wells.
The month of April will bring the women's early clay events in Europe and the United States. First round of Fed Cup takes place in the month's third week, though none of the favorites--last year's semi-finalists Belgium, France, Russia, and U.S.--will meet head-to-head. The Williams sisters have been named to the American squad.
MEN'S TENNIS OUTLOOK
Early April brings the second round of Davis Cup. Just a month ago, the Swedish squad seemed strong and deep enough to be likely winners over the Americans in their forthcoming meeting at Del Ray Beach. But Joachim Johansson faltered in the qualifiers at Indian Wells, and none of the Swedish stars reached the final sixteen of that event. But four Americans (besides Agassi) did so, and Roddick and Blake reached the last eight. Then at Key Biscayne American Vince Spadea upset Safin in early play. Thus Captain McEnroe's choice of the four-man playing squad became unusually difficult. He picked Mardy Fish to join Roddick and the Bryans. The Swedish foursome is Bjorkman, Enqvist, Soderling, and Joachim.
Meanwhile Roger Federer seems likely to win two singles matches in Switzerland's meet with France, but the French should win the other two singles and the doubles. (Swiss doubles pair Allegro-Federer won only one match at Indian Wells, while Clement-Grosjean of France upset the Bryans and went on to win the tournament.) In the other two coming Cup meetings, Spain and Argentina should be safe on home-country clay against European opponents, though Netherlander Verkerk's 2003 successes on clay suggest trouble for the Spanish hosts.
The clay season in Europe and the U.S. will commence immediately after Cup weekend. The month will include the year's first clay-court Masters Series event, Monte Carlo Open, won last year by The Mosquito. We offer the following rank-order of favorites for the clay season. Our list comes from the data used in the analysis discussed earlier. These are the players of the ATP top 100 who show the best clay success independent of results on any other surface.
Ferrero
Federer
Kuerten
Coria
Verkerk
Robredo
Moya
Costa
Our highest-ranked artist, Ferrero, has been sidelined recently with chicken pox, so that second-ranking Federer seems likely to claim some new clay-court triumphs. Gustavo Kuerten's third-place score here stems mainly from the early years of our study. Fourth-ranked Coria announced his current readiness by a strong recent showing at Indian Wells and in early play at Key Biscayne. There remain hosts of others capable of defeating a front-runner who is at less than his best.

Last year the European clay events prior to Garros were not seen on U.S. television except in places where Tennis Channel was available. It appears that the same condition will prevail in 2004.

--Ray Bowers
Arlington, Virginia

FOOTNOTES

* Using the twelve clay-court tournaments held during 2001-2003 and named above, we take each player's best six results and calculate from them a weighted average score. Similarly, from the 14 hard-court events (through Indian Wells 2004), we obtain a weighted average of each player's best seven. Performance in a given tournament is measured by how far the player advances, adjusted for (1) sets won and lost, (2) tiebreak sets lost and won, and (3) strength of last opponent as shown by the opponent's success in later rounds.

** Here is our second six of extreme clay-courters
7. Ancic (Croatia)
8. Zabaleta (Argentina)
9. Blanco (Spain)
10. Horna (Peru)
11. Coria (Argentina)
12. Portas (Spain)
*** Here is our second six of hard-courters.
7. Escude (France)
8. Bjorkman (Sweden)
9. El Aynaoui (Morocco)
10. Dent (U.S.)
11. Nalbandian (Argentina)
12. Safin (Russia)



Between The Lines Archives:
1995 - May 1998 | August 1998 - 2003 | 2004 - 2015
If you have not already signed up to receive our free e-mail newsletter Tennis Server INTERACTIVE, you can sign up here. You will receive notification each month of changes at the Tennis Server and news of new columns posted on our site.
This column is copyrighted by Ray Bowers, all rights reserved.
Following interesting military and civilian careers, Ray became a regular competitor in the senior divisions, reaching official rank of #1 in the 75 singles in the Mid-Atlantic Section for 2002. He was boys' tennis coach for four years at Thomas Jefferson High School for Science and Technology, Virginia, where the team three times reached the state Final Four. He was named Washington Post All-Metropolitan Coach of the Year in 2003. He is now researching a history of the early pro tennis wars, working mainly at U.S. Library of Congress. A tentative chapter, which appeared on Tennis Server, won a second-place award from U.S. Tennis Writers Association.
Questions and comments about these columns can be directed to Ray by using this form.
---