Wimbledon 2005 Review

Ray Bowers
With essentially all the superstar women on hand, Wimbledon 05 promised a long-awaited treat--a meeting of the American former champions, the Belgians Henin-Hardenne and Clijsters (both of them understood to be again healthy), and the array of recent intruders from Russia. The lustre of the women's entry list, along with general recognition that few if any males had much chance against Roger Federer on grass, turns our heaviest attention here to the women.
HENIN-HARDENNE AND SERENA DEPART
Of our seven pre-tournament female elites, two--the recent champions of Australia and Garros--departed in the first week from Wimbledon 05.
I watched part of Justine Henin-Hardenne's first-round loss to Eleni Daniilidou. Justine was the heavier server and hitter, showing a backhand slice with excellent bite. Henin was also the better mover, the more aggressive in moving to forecourt, and the more skilled when there. At times she played at a level consistent with a tournament winner. The cause of her downfall was evident to everyone--too many errors. Justine committed 48 unforced errors, 21 in the final set, against only 15 by Eleni, only 6 in the final set. Perhaps the problem was Justine's current unfamiliarity with the grass-court bounce. Eleni, now 22, looked much trimmer than in past seasons, and her fine backhand overspin drive was solid, with good penetration. Now 22, it seemed that the high promise of her teen-aged years might now be at hand. Indeed, she would win twice more this week before losing to Mary Pierce.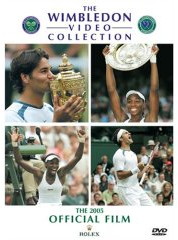 Meanwhile Serena Williams--bothered by leg injuries, lack of recent activity, and the prospect of facing sister Venus in the fourth round--managed to win two matches, both three-setters. Against her third-round opponent, American Jill Craybas, Serena's only advantage seemed her ability to punish Jill's service offerings. Gradually Serena righted herself, but Craybas also got better, showing good mobility and stamina in the longer rallies. Serena, who looked heavier than she did several months ago, managed to reach tiebreaker in the second set and seemed ready to equalize matters as darkness loomed. But Serena's manner between points betrayed that her tiredness went far beyond the ordinary, and Jill wisely resolved to extend every point, sapping Serena's remaining stamina, winning the tiebreaker and the match.
THE TENNIS NATIONS (1)
Rain interrupted play during only one session of the first week, so Middle Sunday became an off day at the grounds. The Russian women led in the tally of match wins to date. Inasmuch as the Russians also had the most players still in the tournament, it seemed likely that they would stay ahead.
Russia, 32.0 match wins
USA, 26.0
France, 17.5
SECOND MONDAY: DAVENPORT d. CLIJSTERS, 63 67 63
It was the first match-up pitting two of our elites. Three weeks earlier at Garros, Lindsay had convincingly defeated Kim after losing the first set. It seemed likely that on grass Davenport should have even greater advantage, but it also seemed possible that the faster surface might help Kim equal Lindsay's penetration of shot.
If the grass helped Kim's penetration, it was not obvious. Lindsay's often flat forehand and backhand rockets dominated through most of the play. Kim hit firmly, typically using considerable topspin to enhance control. (Her officially reported serving velocities were almost identical with Lindsay's.) But as the points and games unfolded, Clijsters was increasingly forced well behind baseline, unable to attack. Kim's defensive skills produced some wonderful, long points, but most of them were eventually won by Lindsay. The tall American volleyed extremely well in winning 24 of 32 points at net, usually in forays following forcing ground strokes. Kim won the second set in a tiebreaker, but otherwise Lindsay was in command.
FIRST-SERVING IN WOMEN'S TENNIS
In developing her first-serve technique and in using it in competition, the player must make several trade-offs. In her first-serving she must decide (1) between velocity and spin, (2) on how closely to aim for the corners, and (3) on how much absolute energy to generate. All involve comparisons between probable reward and risk. Is there a way to measure how well these trade-offs are chosen?
The official statistics usually provide three percentages, expressed as decimals--the player's first-serve in-court percentage, her winning percentage when first-serving (excluding faults), and her winning percentage in second-serve points. We can measure how well a player makes trade-offs in first-serving, as follows. We first take her winning percentage in first-serving and subtract from it her winning percentage when second-serving. This interim value shows her premium (or pay-off) for getting a first serve into court. It is then multiplied by her first-serve in-court percentage.
Here were the leaders among the survivors through four rounds--the four players who maximized their first-serve effectiveness with respect to second-serve weakness under the above calculation.
1. Pierce, .1659
2. Davenport, .1622
3. V. Williams, .1404
4. Kuznetsova, .1384
Mary Pierce throughout her four matches showed a very good first-serve in-court percentage and a good premium in first-serve winning percentage over second. Davenport's in-court percentage was not as high as Mary's but her premium was higher. Kuznetsova's in-court percentage had been low in her first three matches and was even lower in the Monday quarters, at 47%, but the rewards for her aggressive first-serving that day were high--she won 79% of first-serve points vs. only 46% of second. Of the Monday losers, the smartest first-server in her risk-taking was Elena Likhovsteva, who placed only 51% of her first-serves in court but won 61% of these points while winning only 26% of her second-serve points.
The data also argue that Clijsters, against Davenport, should probably have taken greater risks in delivering her first serve. She won only 59% of her first-serve points against 51% of her second. An opposite was Elena Dementieva, who in her first two matches was so unsuccessful in her second-serve points that she would have been better off using her first serve all the time.
SECOND TUESDAY: SHARAPOVA d. PETROVA, 76 63
It ended in straight sets but it was not easy. The defending champion faced several tight moments when things nearly swung to her opponent. Nadia Petrova showed the heavier serve along with mobility and overall shot-making prowess essentially equal to Maria's. Sharapova disdained the net position, declining to come forward even on shortish balls. Maria survived the first-set tiebreaker narrowly by summoning her best heavy hitting when it counted most, refusing to submit to caution. Perhaps the difference could be glimpsed during the moments between points, when Maria retreated for private fist-clenching and renewal of concentration, determination, and courage. Nadia in contrast seemed to wilt whenever she misfired. Overall, except in her mental strength Maria's performance did not seem of championship calibre.
VENUS WILLIAMS d. PIERCE, 60 76
Set one was dismal for the recent Garros runner-up. Mary seemed unable to avoid errors in her heavy hitting. Venus seemed never better in her own artillery, supported by her fine court mobility which often neutralized Mary's firepower long enough for Mary's error to occur. The second set was closer, essentially even. Both players traded all-out strokes, trying to hold off the other's pressure and inflict damage of her own. Many points were short, settled by a fine first-strike delivery off opponent's serve return. The score in the tiebreak reached six points all, eventually ten-all amid some spectacular, extended points. Mary lost several set-point opportunities to equalize the match. The tiebreaker ended at point 22, when Mary sailed out her attacking shot after a neutral serve-return by Venus.
DAVENPORT d. KUZNETSOVA, 76 63
There were endless fireworks in the first set in this match-up of two strong hitters. Svetlana exploded into every serve and ground-stroke, matching the artillery of Davenport. More often than not, it was Kuznetsova who found the openings for ground-stroke winners. Neither player surrendered to caution as the heavy-hitting persisted to six-games-all. It was Svetlana who faltered in the tiebreaker, won by Lindsay 7-1 amid a flurry of errors by her younger and less-match-toughened opponent. Then to start the second set Lindsay raced to an early lead, which she never relinquished.
Both players had very high first-serve and very low second-serve winning percentages, but as usual Svetlana's first-serve in-court percentage was low, at 51%, compared with Lindsay's 69%. Svetlana was the third of our pre-tournament favorites to depart. The other four would advance to become the tournament semi-finalists.
NET PLAY IN TODAY'S TENNIS
The wearing of the grass after the first week verified that the net game was being employed far less regularly than was the case years ago. The area of grass just in front of service line--the place used by old-style serve-and-volley artists for stopping and changing direction--was now only slightly damaged. But the area just in front of server's position at baseline was badly chewed, the result of servers landing just inside court prior to their initial change of direction.
The official statistics from the quarter-final matches depicted a glaring difference in net attacking between the men and women. Data from the women's singles showed one "net approach" for every 7.58 points played. Whereas in the men's matches, the ratio was one net approach for every 2.89 points. Are the male pros more aggressive in coming forward because of greater physical strength and athleticism?
SEMI-FINAL: V. WILLIAMS d. SHARAPOVA, 76 61
Matters began with a wicked serve-return by Maria to a corner--the kind of rocket that almost always leads to a winning point for Maria. But now, Venus was there--reaching and rifling back a reply of her own that produced just the opposite outcome. The first game became extended and Maria had some chances to win it, but when the game ended in Venus's favor and the players changed ends, the only points won by Maria had been errors by Venus.
After that, there was never doubt that Venus was the stronger, faster player, certainly the harder hitter, the more athletic in changing direction. Maria played well and maintained her usual excellent focus. Her forcing game was as good as ever, except that Venus was often able to turn it aside. Thus, only Venus had enough power to create openings consistently and exploit them when they occurred. Hanging on to await opponent's errors is not Maria's style, and indeed on this day any time she slowed the pace of an exchange, Venus's artillery simply took over. Atop everything else, Venus ended up with fewer errors than Maria.
It had been a long time since seeing Venus play this well. My belief that she could only beat the other top players by using her strong net game had been mistaken. Venus made a net approach early in that first game, but Maria answered with a rocket directly at a helpless Venus at net. After that, there were only a handful of net approaches by either player. Maria's second-serve winning percentage was higher than her first, apparently reflecting ineffectiveness in her first serve.
In the other semi-final, Lindsay Davenport narrowly defeated Amelie Mauresmo, whom I had watched only briefly. Amelie proved the tournament's most persistent net-attacker. The official stats showed her at net 43 times in defeating Myskina in the quarters, winning 70%, and 43 times in her quarter-final loss to Davenport, winning 53%. Extending our earlier observation, we find that in the semi-final and final-round matches, the women produced one net approach for every 4.66 points. In contrast, the males produced one for every 3.39 points--not a large difference.
FINAL: VENUS WILLIAMS d. DAVENPORT, 46 76 97
Lindsay at first seemed to be trying to outsteady Venus, with little success until Venus suddenly yielded a service break with double-faults and errors. Lindsay made it a double-break with some fine hitting to lead at 5-2. It seemed that Venus was bothered by Lindsay's pace whenever Lindsay delivered at full velocity. Venus regained one of the breaks behind several rockets to the corners, but her spurt ended and Lindsay served out the first set.
Lindsay broke serve in game 11 of set two, so it only remained to serve out matters. But Venus put forth her best tennis of the day, breaking back at love. Both players were now hitting harder and more consistently, with Venus seemingly the advantaged in the longer rallies. Her ability to dig out and rip back opponent's blows in the corners, seen thoughout the tournament, again changed the outcomes of critical points. Her early trouble in timing Lindsay's velocity was now gone. In the tiebreaker ending the second set Venus pushed to an early lead, which she never relinquished.
Lindsay broke again for the lead in set three, 4-2. But a double-fault by Lindsay at 40-15 produced a seeming descent to caution by Lindsay, who shortly surrendered the game and service break. Until now the crowd had been moderate in its applause, but now it was awakening.
Lindsay returned to the court after injury treatment (her upper leg was bandaged). With Lindsay now moving stiffly, Venus's advantage in mobility was now extreme. But in game 10, serving to reach five-games-all, Venus double-faulted to give Lindsay a match point. Again caution was unkind to Lindsay, and Venus--playing air-tight, forceful tennis behind her wonderful court coverage--managed to survive. The gallery was now assuredly into matters, perhaps as animated as in the Venus-Maria match-up.
With no tiebreaker in effect and Lindsay clearly having leg trouble, the final outcome seemed in little doubt. Venus survived moderate pressure to hold serve in game 12, and a few minutes later Venus broke though and then served out the match. She was convincingly the stronger player at the end. Lindsay kept good mentality until the finish, so that a bad run by Venus might have turned around the outcome.
It seemed to me that it came down to Venus's superior mobility and, of course, her mental strength in staving off imminent defeat several times. These things overcame trouble in her second-serving, which included ten double-faults and an 8-mph disadvantage in average velocity. Lindsay meanwhile showed little interest in attacking net--the stats showed only 13 net approaches against 34 in her semi-final against Mauresmo. Winners and unforced errors were about equal, though there seemed perhaps a few too many errors in neutral situations. Still, it was a memorable final in its drama and duration--certainly a wonderful achievement for Venus after her recent years in the shadows.
TENNIS NATIONS (2)
Although it was an all-American singles final, it was the Russian women who claimed the greater number of match victories during the tournament. The Russkayas led in both singles and women's doubles. The American women led slightly in the mixed.
1. Russia, 40.5
2. U.S., 37.5
3. France, 24.5
MEN'S CHAMPIONSHIP
Of the three male players who seemed plausibly capable of defeating the two-time defeniding champion, Roger Federer, all three had trouble in the early going.
I wrongly thought that Rafael Nadal, who defeated Roger in capturing Garros a few weeks before, would have only moderate difficulty in adjusting to the grass surface. Rafael's second-round opponent was Gilles Muller, 22, who I watched defeat Andre Agassi in an evening match here in Washington last summer. Gilles had shown little success since, but now against Nadal, Gilles was once again no ordinary player. Listed at 6-5 and 183, with his slicing left-handed serve he outscored Nadal in aces. He was at net 55 times, winning 65%, while Nadal was there 19 times, winning 58%. Rafael was uncomfortable in his court movement, and never adjusted to the grass bounce, playing without his usual aggressiveness in stroking. It added up to a four-set win for the tall Luxembourger.
Also in second-round trouble was the Wimbledon 04 runner-up, Andy Roddick. His opponent was a survivor of the qualifying tournament, Daniele Bracciali, 27, who had scored a first-round win over strong server Ivo Karlovic. Bracciali showed solid ground strokes and serve, along with good grass-court skills. Being pushed to five sets by Bracciali was probably uncomfortable for Andy, but it probably helped prepare him for the later rounds.
Marat Safin had outplayed Federer at his best at Australian Open 05. Marat now faced a difficult third-round opponent--Feliciano Lopez, 23--a rare Spanish player whose best Slam results have been on Wimbledon grass. Feliciano is a lefty server, 6-2, comfortable in coming to net and executing short volleys once there. Now, against Safin, Feliciano won 55 of 61 first-serve points (90%), and he outscored Marat in aces 14 to 6. Safin never broke Feliciano's serve. Watching from the stands was Rafael Nadal, who emitted a nice smile when his doubles partner claimed his straight-set victory.
Meanwhile Federer defeated his early opponents without difficulty. With only Roddick remaining of our pre-tournament prime challengers, the likelihood for a Federer triumph was now strongly odds-on.
TENNIS NATIONS (3)
In contrast to the two-headed race among the women, a total of nine nations remained within eight match-wins of the leader in the men's race, as of Middle Sunday. Here were the three leaders.
Czech Republic, 16.5 match wins
USA, 13.5
France 12.0
The Czech lead reflected early success in both singles and doubles. Good strength remained in doubles, but all the Czech males had now been eliminated from the singles. Five other nations each had two survivors among the final sixteen of singles. But only U.S. was close enough and had enough strength in doubles for hope of overtaking the Czechs. The Bryans seemed capable of matching or exceeding further Czech wins in men's and mixed doubles, while Andy Roddick seemed likely to score additional singles victories.
SECOND WEEK: FEDERER d. HEWITT, 63 64 76
Roger Federer's path to the final was scarcely easy, but Roger made it look so. His consummate ability in every phase of the game seemed never more evident, as he gradually raised his play to fit the increasing ability of each opponent, seemingly using each occasion to prepare himself for the next.
His semi-final opponent, Lleyton Hewitt, had defeated Feliciano Lopez in straight sets, showing as usual excellent placement and velocity in serving, ground strokes that were firm, accurate, and wonderfully error-free, and superior court speed. In extended exchanges, no matter how well Feliciano played, it always seemed that Lleyton would not be the first to miss. But Lleyton had been beaten by Roger in their last seven meetings.
The exchanges were breathtaking in their speed and beauty. Roger and Lleyton went at it full throttle, ripping away with forehands and backhands to the corners, slices and angles to the sidelines, wonderful serving by both. Both played so well that the decider often was a quarter-inch of racket angle, a few milliseconds in racket timing, a momentary slip of the footgear in changing direction.
But Roger was a bit better in everything, even in his defensive play and court mobility thought generally to be the domain of Lleyton. Somehow Roger's straight-set win--indeed his entire path to the final--seemed predestined.
RODDICK d. GROSJEAN, 36 62 61 36 63 and d. JOHANSSON, 67 62 76 76
After playing Bracciali, Andy seemed to improve rapidly. His opponent in the quarter-finals, Sebastien Grosjean, showed strengths and tactics something like Hewitt's. Sebastien added a savage right-handed forehand unleashed with sidespin to opponent's backhand--an "inside-out" delivery capable of ending points or opening the way to net.
Against Grosjean, Andy persisted in coming to net when offered marginally attackable balls despite some early failures in doing so. Overall his net play was very strong, showing good quickness close-in--apparently the result of months and years of work on what had been an obvious weakness. Andy's overhead was, as always, superb, and his serving and stroking seemed almost error-free. It was another good test, like the match with Bracciali, and the result was another five-set win for Andy.
The Roddick-Johansson semi carried a brute force element in the serving and stroking; Both men moved reasonably well, but mobility seemed less important. It mostly came down to consistency--avoiding errors while not letting up on the pressure. For the first eleven games, Andy seemed the stronger in his holding of serve, but there were no breaks. Rain then stopped the proceedings until next day, Saturday.
Thomas won the first set upon resumption. Andy answered by winning set two, and then set three in a tiebreak by score of 12 points to 10. Both men delivered devastating first serves and excellent second serves. Both delivered consistent power from either side. Perhaps Thomas's was the more penetrating backhand, Andy's the heavier forehand. I had seen Thomas play consistent serve-and-volley tennis on one past occasion, but on this day Andy was somewhat the more adventurous in coming forward.
The fourth set reached six games all with no breaks of serve, and in the tiebreak the first ten points went to whoever was serving. Then Andy returned a Johansson serve softly. The ball hit the net cord and barely fell over. It was the only point lost by server during the tiebreak, but it was enough to give Andy the fourth set and the victory. It was an unfortunate way to end the occasion, and, to my chagrin, the episode probably offers an argument against using tiebreakers.
Almost unheard of were Andy's serving percentages--75% first-serves in-court, 79% first-serve points won, and 72% second-serve points won. He delivered 19 aces with zero double-faults. His first serve averaged 9 mph faster than Thomas's, his second-serve 13 mph faster. He committed a third fewer errors than Thomas. It seemed that Andy's serve, indeed his entire game, was asssuredly ready for Roger.
MEN'S FINAL: FEDERER d. RODDICK, 62 76 64
Surely tennis history has never seen a grass-court player greater than Roger Federer. The matter remains yet open to argument. But now, following Roger's masterful capture of his third consecutive Wimbledon at age 23, the near-perfection in Roger's game in every aspect of grass-court tennis has become indisputable.
Where does the seeming effortless power come from? When he chooses, Roger can produce superior velocities off both forehand and backhand while also imposing severe topspin to the ball. The topspin provides control, keeping his blazing missiles inside the lines, and adds to opponent's problems in making his return. Slow-motion replays seem to show that the early path of Roger's racket during the stroke and also the angle of his racket face are both fairly flat to the trajectory of the incoming ball. This changes shortly before impact, when upward motion of the racket increases, extending through a high follow-through. Roger's strong forearm and wrist contribute to the upward snap.
But just as important in defeating Andy Roddick in the July 3 Wimbledon final were Roger's wondrous mobility, his defensive skills, and especially his ability to counter-attack off Andy's efforts to force play. Courageously, Andy tried to counter by coming to net rather often--a correct tactic in my opinion. But Andy won only 45% of his net points before Roger's multi-dimensioned countering ability and Andy's own inadequacy in producing superior volleys and half-volleys off Roger's difficult offerings. Roger too came to net fairly often, confirming that he could command that dimension if some day it becomes necessary. Roger's winning percentage in net-approaching was 68%.
Andy lost serve twice in the first set. In set two Andy broke early and managed to hold serve several times thanks to his own big serving. But Roger broke back, and then played magnificently in the set-ending tiebreaker, ending it quickly. Andy, frustrated, contributed an uncharacteristic racket slam into the ground. After a short rain delay, set three began erratically for Roger, but he stayed on serve and his superb passing shots produced the needed break of serve toward the end.
It was Roger's his first Slam title of 2005, the fifth in his young career. His demonstrated superiority over all rivals makes him a clear favorite to dominate any event he enters during the summer, including U.S. Open 05.
TENNIS NATIONS (4)
During the second week, the American males overtook the early lead of the Czechs. At the finish the U.S. had recorded the most match victories both in singles and mixed, while Czech Republic led in the men's doubles.
1. U.S., 20.5
2. Czech Republic, 17.0
3. Australia, 15.5
COMING NEXT
Salivation should soon begin toward Fed Cup action this coming weekend, July 9-10. In semi-final action, U.S. will face Russia on indoor clay in Moscow. Officially nominated for the U.S. team are Venus Williams and Lindsay Davenport, for the Russians Myskina and Dementieva. In the other semi, Spain will visit France on outdoor hard courts. The French officially nominated team includes Mauresmo, Pierce, and Dechy.
The Davis Cup quarter-finals will follow the next week. Wimbledon 05 offers suggestions as to likely outcomes in the Argentina-Australia match-up on Sydney grass. Australia's Hewitt reached the Wimbledon semis and presumably should win two singles matches in Cup play. Argentina's Nalbandian reached the final eight and Coria the final sixteen, so both should be favored to win one singles match. In doubles, the Argentine pair Etlis-Rodriguez reached the third round--better than any all-Aussie pair. But Australian player Huss won the men's doubles (with Moodie of South Africa). Will Philippoussis or Huss be available and used?
Best wishes to all for a great tennis summer.



Between The Lines Archives:
1995 - May 1998 | August 1998 - 2003 | 2004 - 2015
If you have not already signed up to receive our free e-mail newsletter Tennis Server INTERACTIVE, you can sign up here. You will receive notification each month of changes at the Tennis Server and news of new columns posted on our site.
This column is copyrighted by Ray Bowers, all rights reserved.
Following interesting military and civilian careers, Ray became a regular competitor in the senior divisions, reaching official rank of #1 in the 75 singles in the Mid-Atlantic Section for 2002. He was boys' tennis coach for four years at Thomas Jefferson High School for Science and Technology, Virginia, where the team three times reached the state Final Four. He was named Washington Post All-Metropolitan Coach of the Year in 2003. He is now researching a history of the early pro tennis wars, working mainly at U.S. Library of Congress. A tentative chapter, which appeared on Tennis Server, won a second-place award from U.S. Tennis Writers Association.
Questions and comments about these columns can be directed to Ray by using this form.
---