Forecasting L.A. and Shanghai

Ray Bowers
The year-ending ATP (men's) and WTA (women's) "championship" events are always interesting. Both feature round-robin competition among the year's top performers--a format that produces wonderful match-ups from the outset. What happens on-court cements the year's individual rankings and often determines the #1 player--the year's champion.
The women's (WTA) event will be in Staples Center, Los Angeles, starting November 8. The men's (ATP) will run November 12-20 in Shanghai. In both cases, eight singles entrants will divide into two four-player groups for round-robin play, where two from each group will survive for the semi-finals. Both events will also include doubles.
FORECAST LOS ANGELES
Injuries have plagued the top ranks of women's tennis all year. Absent from L.A., for example, will be Serena Williams, who won Australian Open 2005 but played seldom thereafter. Also sidelined for much of the year was Justine Henin-Hardenne, who won Garros 2005. Her year-to-date point total is enough to qualify for L.A., but a reinjury to her hamstring in early October suggests that a withdrawal (or a sub-standard performance at L.A.) seems possible. We therefore severely mark down her chances to win the tournament. Venus Williams also seems a possible candidate for withdrawal, not having competed since a knee injury in September. Meanwhile Sharapova has been troubled by a right pectoral strain and has withdrawn or retired from several recent events.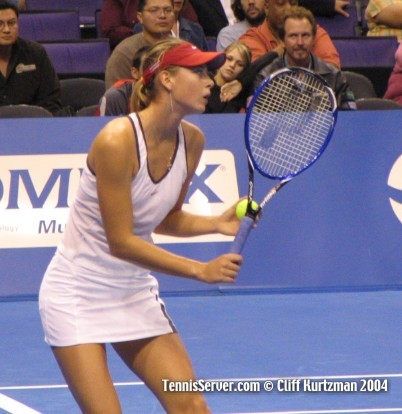 Maria Sharapova will be fighting injuries and her opponents as she tries to defend her 2004 title at the WTA Tour Championships.
Photo by Cliff Kurtzman.

Because of the possible withdrawals, we expand our scrutiny here to include two additional players, the ones next in line to become substitutes in L.A. We then sort out our ten candidates using a formula that has been helpful in the past-- (1) we count each player's match wins against other members of our top-ten elite group and then (2) subtract total losses to all opponents. Shown here is the rank order from the formula--i.e., elite wins minus all losses, starting with the championship event one year ago (through October 30, 2005).

Kim Clijsters, 12 - 7 = plus 5
Justine Henin-Hardenne, 10 - 5 = plus 5
Lindsay Davenport, 11 - 10 = plus 1
Mary Pierce, 7 - 12 = minus 5
Venus Williams, 6 - 11 = minus 5
Maria Sharapova, 6 - 12 = minus 6
Amelie Mauresmo, 10 - 17 = minus 7
Elena Dementieva, 7 - 22 = minus 15
Nadia Petrova, 2 - 22 = minus 19
Patty Schnyder, 3 - 23 = minus 20

Note that possible rustiness in recently sidelined players is less of a consideration than in pure knock-out tournaments. The round-robin scheme allows a player to survive an early loss, especially if the loss is a split-setter. Occasionally a player losing twice in the round-robin still qualifies for the semis. (Ties in the round-robin standings are broken by W-L record in sets.)

Very recent results show which players are probably at their peak. Most of the late tournaments have been indoors, including Tier One events in Moscow and Zurich. Subsequent to U.S. Open in September, Lindsay Davenport climbed into first place in the year-to-date point standings, having won Zurich and remaining undefeated entering November. Kim Clijsters regained the lead in late October, with Lindsay likely to regain it in the final tune-up this week in Philadelphia. Mary Pierce won in Moscow. Most of the others (Mauresmo, Dementieva, Schnyder, Petrova) have been competing regularly. Henin-Hardenne and Venus Williams have been largely inactive and lost ground in the official rankings. This was also true of Sharapova to a lesser extent.

Either Davenport or Clijsters will end the year #1 in the points standings. The two will be placed in opposite round-robin groups, so they will not meet until the semis at the earliest. It seems to me almost certain that both will be playing in the Saturday semis. Very likely a head-to-head match between the two, whether Saturday or Sunday, will decide the tournament and the year's crown.

Their head-to-head results in 2005 confirm that they are almost equal. Lindsay defeated Kim in split-setters at both Garros and Wimbledon. But Kim won at Indian Wells in their only hard-court meeting this year, also in a split-setter. By the narrowest of margins, my choice to prevail is Clijsters, based on Kim's primacy in our calculation and also her success in winning the most recent Slam, U.S. Open.

Offered here are what seem the current odds to win the singles at L.A.

Clijsters, Davenport, each 5-2
Pierce, V. Williams, Sharapova, each 10-1
Henin-Hardenne, 15-1
Mauresmo, 25-1
Dementieva, Petrova, Schnyder, each 50-1

Four pairs will compete in the doubles. There have been many partnership changes among the top doubles players this year. Last year's overall champions, Ruano Pascual and Suarez, won Garros 05 but a hip injury to Suarez then broke up the pair. Since then Ruano Pascual and veteran Martinez have been successful partners, although Conchita now has wrist troubles. Raymond-Stosur won U.S. Open 05 and both remain healthy. I pick the Spanish pair to prevail.

The year-ending women's event began in 1972. It has always been held in United States except in 2001 in Munich. It will move to Madrid next year after four consecutive years in Staples Center. Overall prize money this year is an impressive $3 million. Last year, Maria Sharapova defeated a wounded Serena Williams in the final match, ending a fairy-tale year for the tall teen-ager.

FORECAST SHANGHAI

The new Qi Zhong facility in southwestern Shanghai may itself stir as much interest as the Masters Cup tennis. The futuristic Centre Court seats 15,000 and has many sky-boxes. The convertible roof consists of eight segments, which open or close like a flower. Because of the season it seems likely that the roof will be closed during much the forthcoming play, making this at least partly an indoor event. Each seat has an individual heating/air conditioning outlet. Facilities for players and media are lavish. The court surface is of hard plastic, said to be fast. Eventually the grounds will have three other indoor stadia and a total of 40 tennis courts, 14 of them indoors, along with a golf course and residences. Funding is by the Shanghai municipal government and the Qi Zhong Company. The facility will host Masters Cup for the next several years, the event having moved from Houston, host in 2003 and 2004. The $4.45 million prize money this year is eyepopping.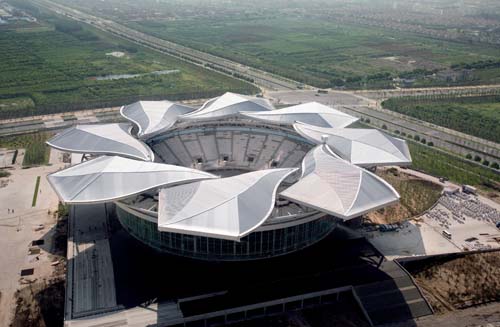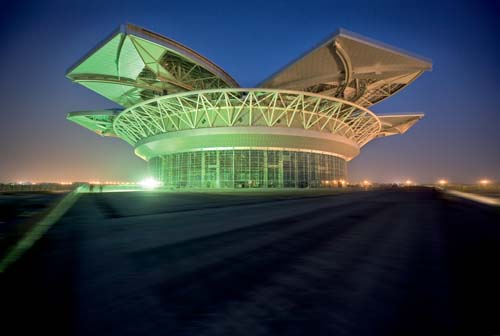 Views of Qi Zhong Stadium.
Photos by John Gollings and courtesy of ATP.

This year's eight-player singles and eight-pair doubles fields are nearly set, though an important Masters Series tournament, the Paris indoors, remains in progress. The singles favorites in Shanghai will be Roger Federer and Rafael Nadal, the leaders in the ATP point standings, though Roger sprained a foot in practice and has not competed for several weeks. The next six in the year-to-date points race will also qualify. (Marat Safin, who earlier qualified by winning Garros 05, has had knee trouble of late and recently withdrew from the event.) Several uncertainties remain besides the results at Paris. Will Andre Agassi's back trouble allow him to compete? Will Lleyton Hewitt remain in Australia for the birth of his child?

Listed here are ten Shanghai candidates--the current eight leaders plus Nalbandian and Gonzalez, the players who seem most capable of penetrating upward as a result of Paris or qualifying as a substitute. (Several others are also close behind the first eight and still have a chance to rise.) Our ten are here sorted by the same scheme we used for the women--total wins against other members of the group minus total losses to all players (elite wins minus total losses), starting with Masters Cup 04.

Roger Federer, 24 - 3 = plus 21
Rafael Nadal, 6 - 10 = minus 4
Lleyton Hewitt, 7 - 12 = minus 5
Andre Agassi, 4 - 12 = minus 8
Ivan Ljubicic, 8 - 20 = minus 12
Andy Roddick, 6 - 18 = minus 12
David Nalbandian, 3 - 17 = minus 14
Fernando Gonzalez, 1 - 21 = minus 20
Guillermo Coria, 2 - 27 = minus 25
Nicolay Davydenko, 2 - 28 = minus 26

Federer's extreme margin in our calculation is almost beyond plausibility. He won both Wimbledon and U.S. Open this year, while his only losses during 2005 were to Safin in Australia, to Gasquet at Monte Carlo, and to Nadal at Garros. If Roger's sprained foot is healthy, it is unimaginable that he not reach the final four at Shanghai. After that--as the winner of the last two Masters Cups and the player most renowned for raising his game in the late rounds of events--he should be a strong favorite against any opponent.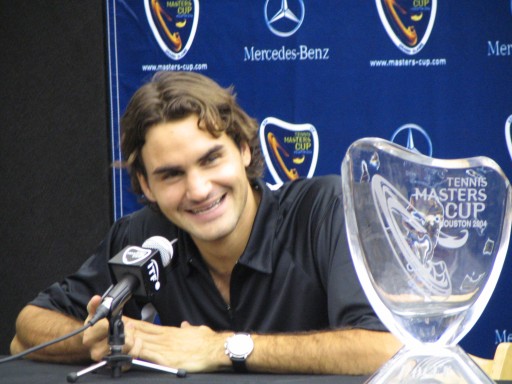 Roger Federer is heavily favored to reprise his 2003 and 2004 Masters Cup titles.
Photo by Cliff Kurtzman.

Nadal will be in the opposite round-robin group. Clay is unquestionably Rafael's best surface, but his improving success on hard courts has also been impressive. On hard surfaces this year he (1) carried Hewitt to five sets at Australian Open 05, (2) carried Federer to five sets in the Miami final, (3) defeated Agassi to win Canadian Open, and (4) recently defeated Ljubicic to win the Madrid indoors.

Ljubicic is an interesting contender, currently #8 in the points race. Ivan defeated both Agassi and Roddick on a California hard court in Croatia's Davis Cup win early in the year. But his tournament record thereafter was undistinguished until an October surge when he won consecutive indoor events in Metz and Vienna, and then reached the final in the Madrid indoors. He holds two head-to-head wins in 2005 over Davydenko, the player just ahead of Ivan in the rankings.

Hewitt, Agassi, and Roddick should play well at Shanghai, but their combined W-L record against Roger starting last year in Houston is 0-9. Gonzalez, Coria, and Davydenko seem impossibly doomed by the evidence from our formula.

Here are current odds for winning Masters Cup 05, as they seem to me.

Federer, even
Nadal, 4-1
Hewitt, 10-1
Agassi, Roddick, Ljubicic, each 15-1
Nalbandian, 50-1
Gonzalez, Coria, Davydenko, each 100-1

MASTERS CUP DOUBLES

The format for doubles at Shanghai is the same as for singles, featuring two round-robin groups. The ATP standings will determine the entries, except that Huss-Moodie are assured admission as the Wimbledon 05 champions.

It appears that the Bryan twins will be in the same round-robin group as the excellent North American pair Knowles-Nestor. Both are hard-hitting twosomes, wonderfully aggressive, and both should reach the semis. Meanwhile in the opposite half, Bjorkman-Mirnyi should prove too powerful to be denied. As to the final champion, I like the styles and the strengths of Knowles-Nestor and the Bryans, which are both righty-lefty combinations. Guessing, it seems to me that Knowles-Nestor will be an eyelash ahead on the fast Qi Zhong surface behind Daniel Nestor's strong serving and returning.

The L.A. and Shanghai events will both be carried daily on ESPN-2 television. A spell of wonderful tennis-watching should be just ahead.



Between The Lines Archives:
1995 - May 1998 | August 1998 - 2003 | 2004 - 2015
If you have not already signed up to receive our free e-mail newsletter Tennis Server INTERACTIVE, you can sign up here. You will receive notification each month of changes at the Tennis Server and news of new columns posted on our site.
This column is copyrighted by Ray Bowers, all rights reserved.
Following interesting military and civilian careers, Ray became a regular competitor in the senior divisions, reaching official rank of #1 in the 75 singles in the Mid-Atlantic Section for 2002. He was boys' tennis coach for four years at Thomas Jefferson High School for Science and Technology, Virginia, where the team three times reached the state Final Four. He was named Washington Post All-Metropolitan Coach of the Year in 2003. He is now researching a history of the early pro tennis wars, working mainly at U.S. Library of Congress. A tentative chapter, which appeared on Tennis Server, won a second-place award from U.S. Tennis Writers Association.
Questions and comments about these columns can be directed to Ray by using this form.
---