Player of the Year 2005

Ray Bowers
Sometimes our Tennis Server Player of the Year is the year's male or female champion. But often we choose a different player--one whose achievements during the year seem, while perhaps narrower, of surpassing substance and historic dimension.
THE WOMEN PROS IN 2005
Once again, injuries seriously depleted the cast of top women during most of the year. The phenomenon especially plagued the year's Slam-winners. Serena Williams, who won Australian Open brilliantly, Justine Henin-Hardenne, who won Garros, and Venus Williams, Wimbledon champion, all spent large parts of the year on the sidelines. Kim Clijsters, who missed much of 2004 with bad left wrist, returned to excellent success in spring 2005 and then captured U.S. Open. Kim finally faded at the year-end event in Los Angeles, where she had been favored.
The year's points champion--the year-end #1--was Lindsay Davenport, but she too faltered at Los Angeles, where Mauresmo defeated Pierce in the final match. Elena Dementieva became an interesting candidate by leading Russia to its 3-2 victory over France in the Fed Cup final. Elena defeated both Mauresmo and Pierce in singles, and joined Safina to win the doubles. (Elena lost to Venus in July but was otherwise undefeated in Russia's three Cup engagements during the year.)
In our quest for 2005 Player of the Year, none of the females seem ahead of the three males next to be discussed. For the record we give a slight edge to Clijsters over the other women for her successful comeback, with Dementieva narrowly next.
But it seems clear that there are three nominees from the men's side all of whom bring superior credentials for 2005.
ROGER FEDERER
Two years ago we honored Roger Federer for his spendid performance at age 21 in winning Wimbledon 2003, his first Slam triumph. On that historic grass Roger displayed a range of perfection rarely seen in recent decades, combining all-court shotmaking and mobility with a level of net play especially unusual nowadays. Then last year, 2004, Federer again became our Player of the Year, having swept through to win three of the four Slams plus the year-ending Masters Cup, showing all the brilliance and variety promised in the previous year.
This year, 2005, has been only slightly less lustrous for Roger, who captured both Wimbledon and U.S. Open and finished far ahead in the year's points race. That he is current men's singles champion is simply beyond argument. During the year Roger's W-L record was 81-4, where he captured 11 tournaments including two Slams and four Masters Series tournaments. Until losing in the final at Shanghai, he had been undefeated in 24 consecutive tournament finals. Rarely is a year's male champion more dominant.
Even his few losses attested to Roger's greatness. In matches that now seem among the year's finest, Roger lost to Marat Safin in a five-set semi at Australian Open, to rising star Rafael Nadal in a four-set semi at Garros, and to David Nalbandian in five sets in Shanghai, where Roger required support for an injured ankle that had sidelined him for more than a month.
A significant added credit in my mind was Roger's occasional doubles activity in 2005 as partner for fellow Swiss player Yves Allegro, 17. The payoff came in late September, when the pair Allegro-Federer produced a victory in Davis Cup doubles against Britain, defeating Andy Murray and Rusedski and thereby establishing Switzerland's World Group status for 2006.
IVAN LJUBICIC
European star Ivan Ljubicic, 26, penetrated the year-end top ten in singles for the first time. But by far his surpassing achievement was his remarkable Davis Cup record in leading Croatia to its first Cup championship.
Ivan's Davis Cup run began on a California hard court in early March with singles victories over U.S. top-tenners Roddick and Agassi and a doubles victory (with team-matc Ancic) over the Bryan twins. Ivan's three wins spelled a stunning team victory for Croatia over the favored hosts by margin 3-1 in meaningful matches, where the clinching win over Roddick required five sets. The winners talked cautiously of a possible Cup triumph in 2005.
The circumstances of the win over the Americans were almost identically repeated in Croatia's next victories, over visitors Romania in July and Russia in September, respectively. In all three cases, a Ljubicic win produced a 1-1 team tally after the first day, an Ancic-Ljubicic doubles win gave Croatia a 2-1 lead the second day, and a Ljubicic win in the opening match of the final day clinched a Croatian win by 3-1. Ivan's run of success in almost single-handedly producing all three team triumphs attracted worldwide notice.
Things at first unfolded identically in the final show-down at Bratislava, Slovak Republic, in December, when a Ljubicic singles win again produced a 1-1 first-day split and when a Ancic-Ljubicic win placed Croatia ahead 2-1 on day two. Again, Ivan was scheduled to play the fourth match. His opponent was pleasant, hard-hitting Dominik Hrbaty, whom Ivan had beaten in all five of their adult pro meetings. But nothing is certain in sports, certainly not in Davis Cup tennis.
It would have been the year's singular achievement--capture of all four Cup meetings in a championship year practically single-handedly by one player, a 12-0 individual record in Cup play, all in meaningful matches. But instead, Ivan's five-set loss to Hrbaty in Bratislava created a 2-2 team tally and left the critical contribution for Mario Ancic. Mario then defeated Slovak player Mertinak in straight sets to complete the Croatian victory, with team-member Goran Ivanisevic serving on the sidelines.
RAFAEL NADAL
Rafael Nadal burst on the international tennis scene at age 18 last year, 2004, when he broke into the world's top fifty despite a difficult ankle injury, ending the year by spearheading Spain's Davis Cup triumph with a fine win over Roddick. Rafael's explosive arrival continued in 2005, when he established himself the world's clay-court champion, winning early-year events in Latin America, then winning the big spring tournaments at Monte Carlo, Barcelona, Rome, and Garros, and continuing his success into the summer on European clay. Rafael also scored well on hard courts. He forced Hewitt to five sets at Australian Open, took Federer to five in the final at Miami, won Canadian Open in August, defeating Agassi, and won Madrid indoors in October, defeating Ljubicic. Foot troubles prevented his playing at Shanghai for an anticipated meeting with Federer. He finished second in the year's points race to Roger, well ahead of Hewitt and Roddick.
What especially distinguishes Nadal is the ferocity of his game--heavy artillery both from the left-handed forehand and two-handed backhand, backed by extreme court speed and a supercharged court temperament that probably disturbs an opponent's concentration. He seems to delight in his muscular physique and in demonstrating his freshness by vigorous activity during changeovers. The extra energy spent in these displays may have cost him the fifth set in Miami, however, where Federer was clearly the fresher at the end, probably because of Roger's better energy conservation throughout the match. But for most watchers, Rafael's wonderful play, his unusual garb, his animalistic confidence, and his boistrous energy proved fascinating--a marked contrast, whether or not welcome, to the composure of the champion.
Nadal's triumph at Garros came in his first appearance at that event. His overall W-L record for 2005 was 79-10. Subsequent to his only loss on clay all year, in April, his all-surface record was 55-4. He entered the doubles in many tournaments, usually with a partner from his own country, recording a 19-11 doubles record. He was loyal to Davis Cup participation, winning two singles in helping Spain remain in World Group by defeating Italy in September.
But if Rafael at age 19 is a wild one even for modern tennis, the brute force of his power-hitting from back court along with his proven ability to defeat high-quality opponents is indeed impressive--perhaps unmatched by anyone at his young age in recent decades. For 2005, his was a fresh intrusion, a roaring statement that captivated the tennis world.
PLAYER OF THE YEAR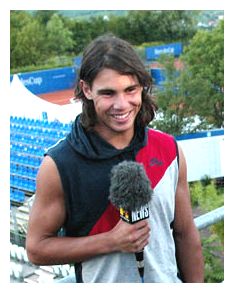 Rafael Nadal - Tennis Server
2005 Player of Year
(photo courtesy ATP)
Who should become our Player of the Year--(1) the year's male champion, (2) the prime hero of Davis Cup 2005, or (3) the younger, rising star who commanded the clay and whose impact on tennis fandom was huge?
Especially for making the salient single achievement of the year in pro tennis--the winning of Garros in his first try--but also for the uniqueness and force of his impact on those who watch and enjoy international tennis, our Player of the Year for 2005 is Rafael Nadal. There should be many great years ahead for this sizzler. Perhaps he will be the one, beyond Agassi, to break the barrier that nowadays commonly divides the hard-court and the clay-court champions.
TENNIS NATION OF THE YEAR
Of the several team competitions among the nations, foremost is Davis Cup, won in 2005 by Croatia. Slovak Republic was second, and Russia and Argentina tied for third. Meanwhile Russia's women won Fed Cup 2005, defeating France in the final round by score 3-2. The fifth match was the decider, the doubles, where Demetieva-Safina defeated Pierce-Mauresmo in split sets. In World Team Cup--the men's event held annually on clay just before Garros--Germany closely defeated Argentina in the final round, where the key match was Tommy Haas's victory over Gaston Gaudio. In Hopman Cup--the men's-women's mixed team event in Australia in January--the winner was Slovak Republic when both Hantuchova and Hrbaty defeated Argentine singles opponents in the final round. Argentina reached the final by defeating all three opponents in the round-robin phase, in each case obtaining the winning margin by winning the mixed doubles.
It was also interesting to tally singles and doubles wins by nation at each major tournament. On the women's side, the Russian contingent won the most matches at all four Slams and also at most of the Tier One events. The only exceptions were Czech success at Charleston, a three-way tie among U.S., Italy, and Russia at Zurich, and a French triumph at the WTA year-end event in Los Angeles. After winning three individual singles Slams in 2004, the Russian women won none in 2005. But by dominating in the match-win counts at the big tournaments as well as in winning Fed Cup, the Russkayas made clear that they were again the leading nation on the women's side for 2005.
Sorting out matters among the men is harder. The U.S. males led in the match-win counts at three of the Slams, while Spain narrowly outdueled Argentina for top place at Garros. Of the nine Masters Series tournaments, Spain led in five, U.S. four, and Argentina one, while Argentina with Nalbandian and Gaudio claimed the most wins at Masters Cup in Shanghai. The Russian males showed good success in other respects, including a close loss to eventual champion Croatia in their Davis Cup semi-final. (Two of Croatia's three wins came in five sets.) A fine achievement was Russian Marat Safin's triumph at Australian Open 05, though Marat had a frustrating year thereafter and was unable to help in the late-year Cup effort. Marat dropped from #4 to #12 in the year-end rankings. But several young Russian players moved up in the rankings during the year--Davydenko, age 24, climbed from #28 to #5 at year's end, Andreev, age 22, from #49 to #27, and Tursunov, 23, from #86 to #59. Youzhny, 23, meanwhile slipped from #16 to #43.
Thus for the second straight year, we make Russia our choice as Tennis Nation of the Year.
One oddity intruded while preparing this column. Several years ago it was noticeable that very few top women's doubles pairs consisted of two players from the same nation. The trend still seems strong. In the 2005 year-end rankings, only four of the female top sixteen doubles teams but ten of the male top sixteen are same-nation pairs. Should we look to biological, social, circumstantial, or statistical explanations for the difference?
Best wishes to all for year-end celebrations worldwide and for the new year ahead. Remember--it's not too early to start thinking about Australian Open 06.



Between The Lines Archives:
1995 - May 1998 | August 1998 - 2003 | 2004 - 2015
If you have not already signed up to receive our free e-mail newsletter Tennis Server INTERACTIVE, you can sign up here. You will receive notification each month of changes at the Tennis Server and news of new columns posted on our site.
This column is copyrighted by Ray Bowers, all rights reserved.
Following interesting military and civilian careers, Ray became a regular competitor in the senior divisions, reaching official rank of #1 in the 75 singles in the Mid-Atlantic Section for 2002. He was boys' tennis coach for four years at Thomas Jefferson High School for Science and Technology, Virginia, where the team three times reached the state Final Four. He was named Washington Post All-Metropolitan Coach of the Year in 2003. He is now researching a history of the early pro tennis wars, working mainly at U.S. Library of Congress. A tentative chapter, which appeared on Tennis Server, won a second-place award from U.S. Tennis Writers Association.
Questions and comments about these columns can be directed to Ray by using this form.
---