Doubles at Legg Mason 2006

Ray Bowers
Sixteen pairs made up the doubles draw at Legg Mason Classic 06, played here in Washington. Heading the field were the Bryan brothers--career Grand Slam winners, currently best in the ATP standings, and favorites to win here. Also present were an interesting array of other pairs drawn from the upper levels of the game. I resolved to watch as many as possible of the fifteen matches in the doubles tournament, looking for how the doubles game is played today.
AN EARLY CHECK ON WOMEN'S DOUBLES
While waiting for the men's action to begin, I watched part of a women's match in the USTA Circuit tournament being held here concurrently. The event is just one level below WTA tour tournaments and is comparable to the Challengers in men's tennis. Later in the week I also watched other segments of the women's doubles here.
I was previously aware that the one-up, one-back style is widely used in women's tennis, but I was surprised at how completely this is so. Of the perhaps one-hundred doubles points that I watched among the women, I saw no serve-and-volley play whatever. All servers remained on baseline after both first and second serves.
The accompanying tactics are well developed and are not very different from doubles by non-experts, though the skills of the female pros are far greater. The net player is highly active, ready to poach aggressively, and the back-court player is ready to cover the court left open by her unsuccessful poacher partner. There is impressive power hitting by everybody, and occasionally during points a back-court player will move forward to join partner at net. A typical point will start with baseline-to-baseline cross-court exchanges between the serving player and receiver, where net players of both pairs look for chances to poach, often quite aggressively.
The women's doubles that I saw at the Challenger level may not fairly represent doubles at the level of today's top female pros. But it is unquestionably not the doubles of Marble, Navratilova, or Billie Jean King.
THE MALE PROS
The ATP pros played a very different game. In watching eleven men's doubles matches through this week of blazing heat, ten in their entirety, I witnessed only one match where a server sometimes did not directly follow his serve forward. Indeed, serve-and-volley tennis was squarely in vogue among the men, essentially for all first and second serves, where taking command of net behind serve was a universal objective. Thus many points followed the classic sequence of serve, cross-court low return (firmly struck), a first volley or half-volley by server, either defensively across court or more aggressively to an open angle or hard at receiver's partner.
A typical situation often developed--serving pair close to net, receiving pair deeper, perhaps on or slightly inside baseline. What next ensued was power hitting by the deep pair against relatively patient volleying by the pair at net where the object was to keep opponents moderately deep and await opportunity for a finishing coup. Topspin lobs sometimes broke the sequence, which if successful might reverse the pairs in their roles of offense and defense. Too-soft volleying or well-struck low shots from back might produce cat-and-mouse play, including severely angled, softish volleys, with all four players ready to step in and apply a finisher. Probably there was slightly less inclination of the back-court pair to risk stepping forward than was seen several years ago.
Still very much in use was the I-formation, where server's partner crouches below net level on line between server and receiver about half-way from service line to net. The formation sometimes produced immediate point-ending putaways by the croucher. There is much room for variation in how both server and croucher feint and initially move. Some pairs used the I-formation routinely, other pairs primarily in critical points, a few not at all, especially where partners were not used to playing together.
Strong serving remained important to success. Aggressive play by partner at net, whether in the I or in conventional starting position, depended on delivery of a moderately forcing serve. It seemed to me that strong serving counted in determining point outcomes as much in doubles as singles. I saw no player simply roll in an easy serve, whether second serve or first.
Serve-returners must, as always, keep the ball away from opponent at net. I was surprised by how often returner's partner lined up at the baseline alongside receiver--essentially forfeiting a chance at aggressiveness but taking away his own vulnerability to opponent's first volleys. This tactic seemed in use nearly half the time, sometimes only in receiving first serves.
In short, doubles tactics among the male pros seem about the same as seen several years ago in attending year-end doubles championships in Hartford.
FISHER-PHILLIPS d. SRICHAPHAN-UDOMCHOKE, 62 61
The doubles skills of the Australian and American pair, Fisher-Phillips, including aggressive net attack, deceptive ball placement, and teamwork in court covering, badly outclassed those of the Thais. Srichaphan seemed intent on outhitting opponents in pace. The result was a few winners but a larger number of errors by Paradorn. Udomchoke's physical smallness was a minor handicap, while Fisher and Phillips seemed ideally balanced as a pair, committed to full use of their talents for aggressive doubles play. The band of Thai supporters with their noise-makers soon became subdued but reappeared loyally when Paradorn held serve to win the sixth game of the second set.
MAHUT-MULLER d. HUSS-MOODIE, 64 67 10
This was a gathering of three tall, strong, aggressive hitters, all well-schooled in the doubles game, plus one player of average size, Huss, who seemed dwarfed. Moodie may have been the best player of the evening, but he had battled through a long singles three-setter a few hours earlier. Huss gave a disappointing and seemingly subpar performance in the first set but held up better in the second. After losing a one-sided Match-Tiebreak game in lieu of a third set, the Wimbledon champions of 2005 departed from the tournament in its first evening. Mahut and Muller both seemed very comfortable at this high level of competition, meshing their movements and tactics nicely despite not having played together in 2006. Mahut has shown good doubles success this year, while Muller brought his strong lefty serve.
HANLEY-ULLYETT d. COETZEE-HRBATY, 61 75
The manifold doubles skills of Kevin Ullyett seem not fully appreciated in the tennis world. Kevin at 5-10 and 170, seems tiny among the large people in most pro doubles matches, but his quickness, surprising power, excellent racket control, and aggressive instincts make him one of the top doubles artists of the past decade or so. This evening was no exception. His partner, Aussie-born Paul Hanley, seems an excellent complement to Kevin, equally comfortable in aggressive doubles play with probably somewhat extra zip in the serving and overhead duty. The two showed themselves extremely adept in using the I-formation, especially with Ullyett's super-quickness from the crouching position at net. Hrbaty served strongly and had by far the greatest power from the ground as well. But at the end it was Dominik who faltered badly in his last serving game to surrender the second set and the match.
GOLDSTEIN-THOMAS d. CLEMENT-GROSJEAN, 64 75
Paul Goldstein is about the same height and weight as Ullyett and is only slightly below Kevin in his doubles craftsmanship. Partner Jim Thomas, at height 6-4 and age 31, brings a dominating serve and overhead presence with very good volleying skills, including poaching ability, quick eye-hand reactions, and forceful inclinations. Clement plays top-level doubles frequently with Llodra and other partners. Here, he showed extreme quickness, excellent footwork and footspeed, fine general all-around play, more spectacular though perhaps no more solid than partner Grosjean. With the score five-games-all in the second set, Thomas ended both the eleventh game and the twelfth game with fine poaches.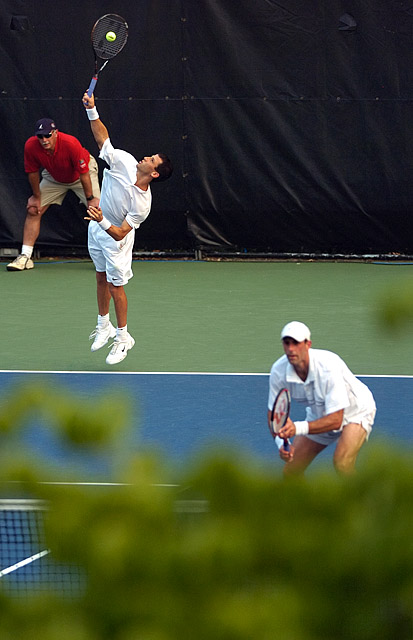 Goldstein-Thomas

Clement-Grosjean
DELGADO-LEACH d. DAMM-PAES, 63 64
The four players represented four continents. The European-Asian pair, fourth-seeded here, found themselves dismissed in the first round. Both Martin Damm and Leander Paes have been among the world's top doubles artists for years. Rick Leach was too before retiring several years ago. Rick's left-handed serve was the least imposing of the four on display here, but generally Leach played the solid game expected from a player of his former stature. The big surprise for me was the excellent play of Paraguayan Ramon Delgado. Ramon had been knocked out of the singles a few hours earlier on this 100-degree-Fahrenheit day.
But there was nothing tired in Ramon's doubles. I especially admired his awkwardly delivered but deceptive serve, which seemed to find the corners and lines regularly. The match produced many gallery-pleasing points, sometimes with all four men at net. Paes, who is a mercurial player, played this night with excellent concentration, helping Damm compete in this highly attractive match.
KUNITSYN-TURSUNOV d. GIMELSTOB-HENMAN, 76 64
When I saw how well Tim Henman was playing at the outset, I thought that the Gimelstob-Henman combination might go far in this tournament. Tim was returning his first-volleys showing superb hands, then volleying with wonderful control and firmness against even the heaviest offerings of the opponents. Tim's partner was Justin Gimelstob, who I had seen play an almost perfect doubles match on this same court a year or two ago. On that occasion, Justin in the deuce court returned nearly every serve successfully, often with plenty of zip.
But on this evening Justin's serve-return was not the same. Probably the difference was in the power of Tursunov's highly forcing serve-deliveries, and the spinning, firm offerings of Kunitsyn. Henman too had trouble with Kunitsyn's high-bounders sent to Tim's backhand in the ad court. And as his serve-returning deserted him, Justin's overall game too suffered. There were some fine points by the English-speakers, but they lost the first set in a 28-point tiebreak game. (In the deciding point, Tursunov created an overhead out of a floater near the baseline, passing Gimelstob and Henman at net.) The second set ended in game ten, when Tursunov returned a Gimelstob serve behind Henman at net, untouched.
Overall it was an impressive display of power in serving and stroking by Tursunov, which made the difference in the outcome, though Dimitri kept matters interesting with many errors. There was no I-formation play by either pair, little variety in the pounding by both pairs.
ERLICH-RAM d. FISHER-PHILLIPS, 61 64
There are many reasons why Jonathan Erlich and Andy Ram rank among the world's top pairs. Both are right-handers at 5-11. Ram is the younger at age 26 and has somewhat greater pop in his serving, stroking, and volleying. Erlich, 29, who returned serve from the deuce court, was for me the more impressive, in his instinctive ability to deliver the proper shot according to the immediate situation. Both are economical in their production, able to produce excellent velocities with seemingly little effort. They are ready to attack with excellent quickness, but they are also willing to play out points patiently, keeping the pressure on opponents with sustained and controlled aggressiveness, whether at net or in back court. The match thus produced many extended rallies, where the Israeli pair's superior shot-making abilities assured their win. Fisher-Phillips seemed to have little chance after the first few games, though they made the second set close.
KUNITSYN-TURSUNOV d. DELGADO-LEACH, 64 63
A few hours earlier on this Friday evening, Tursunov had shown himself clearly superior to Tim Henman in singles, having battered away at hapless Tim with rocket serves and forehands. The barrage resumed in the evening doubles, Dimitri showing little inclination to hold back his firepower for his challenges of the next day. Occasionally the Russian-living-in-America tried some touch play from midcourt or forward, and on every such occasion he produced wondrous racket control, dazzling the watchers. Also occasionally, his penchant for bashing hurt his team, but the finality of his overhead, volleys, and first serves once again allowed little hope for his opponents.
On this occasion partner Kunitsyn was probably the better player, however, as he showed excellent ability in all aspects of the doubles game, including a knack for covering court left open by Dimitri in his rovings. Opponents Delgado-Leach made most points interesting and kept the score close most of the way, but the Russian edge in firepower was too great.
BRYANS d. GOLDSTEIN-THOMAS, 62 67 10
This quarter-final ended the Friday evening program in the main stadium. I arrived from the Russian victory outside and joined the excited full-house crowd watching Mike Bryan comfortably held serve to reach second-set tiebreaker. It was clear that the Bryans were the crowd favorites, even though Paul Goldstein had grown up locally. All three had been teammates at Stanford. Goldstein-Thomas won the tight tiebreak behind some fine net play by Paul.
It was now time for a third set, except that ATP rules called instead for the Match Tiebreak game. Previously I had thought that in such a situation, the crowd would roast the procedure--unhappy at being denied another full set of doubles action and being sent home early. But in this case, there was no murmuring--indeed there seemed an air of pleased anticipation at what lay ahead. Perhaps for the current world's champions the abbreviated scheme was slightly unfair, but in order to win this match they were going to have to produce their best tennis, do so immediately, and with almost no margin for mistakes.
The Bryans did just that. From the start of the Match Tiebreak, they turned on their brand of high-pressure error-free tennis, moving to an early 7-2 lead and closing out matters a few moments later. Their superb approach and volleying skills were immaculate.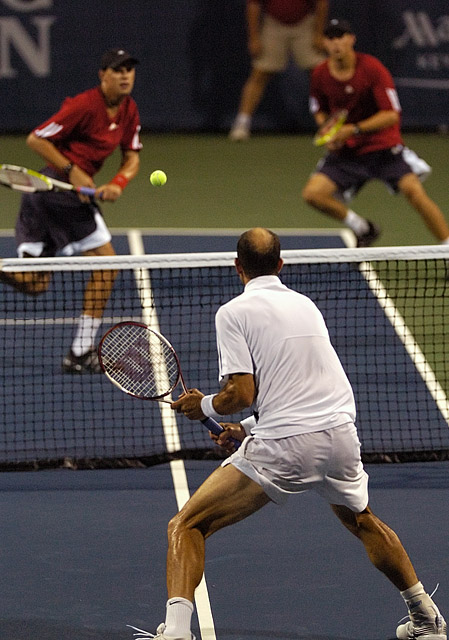 The Brothers Bryan (Red) and Jim Thomas
HANLEY-ULLYETT d. ERLICH-RAM, 64 76
It began spectacularly, Kevin Ullyett displaying a run of unbelievable shot-making largely accounting for all four winning points in the breaking of Erlich's serve in the first game. It would be the only break of serve of the entire match.
Ullyett's excellent play persisted, and although Erlich-Ram kept the score close, they were unable to produce the kind of sustained pressure seen earlier in the week against less-aggressive opponents. Hanley-Ullyett relied almost exclusively on the I-formation when serving, a tactic which gave their opponents much difficulty. Watching from behind baseline, I found it interesting to watch the well-timed feinting by the crouched player and sometimes by server in his first steps. Meanwhile the Southern Hemisphere pair proved very strong in withstanding net position against Erlich-Ram's firing from back court.
BRYANS d. KUNITSYN-TURSUNOV, 60 63
It quickly became evident that the Bryans, having been stretched by Goldstein-Thomas the previous evening, were now seeking red meat. Meanwhile the Russian pair showed themselves completely unready. Perhaps it was Tursunov's having played both singles and doubles throughout the torrid week, including two matches the previous evening and an embarrassing singles defeat ending just an hour before the doubles start. It looked as if Dimitri's mind was still in the singles, where Andy Murray had extracted the sting from Dimitri's rocketry.
In the opening game Bob Bryan held serve at love, showing a 133-mph first serve (roughly equaling Tursunov's usual prime offerings) and a 114-mph second. The run continued in game two, Dimitri serving, the Russians losing all four points amid two net errors by Kunitsyn and a double-fault. The first set ended not much later, the Bryans showing total superiority in their net play and giving away nothing. The twins allowed no court openings, made no errors, were ruthless in their appetite to crush anything weakly offered. Many of Dimitri's high-risk rockets came back even faster. Both Tursunov and Kunitsyn in their dismay produced horrible errors. They even tried one-up, one-back tactics with Kunitsyn serving (with some, albeit brief success).
Ahead by a service break in the second set, the twins eased up a bit in their velocities, probably wanting to give the excellent gallery some entertaining tennis. But danger lies in the new rules. With Bob serving at 5-3, the twins suddenly slipped behind 15-40--i.e., one point from losing their service-break advantage. But the Russians failed to return any of Bob's next three serves, and the demolition was mercifully over.
PRO DOUBLES SCORING
I now firmly agree with using No-Ad scoring in pro doubles. During the tournament it seemed to me that as prospects for service breaks became stronger, games and points became vastly more interesting. At score 15-30 or even 30-all, for example, the close watcher recognizes that the serving pair is in substantial jeopardy--facing not only the usual dangers at such scores but also the pressure to avoid a treacherous one-point game-decider. As I gradually adjusted to the rule, I found myself grasping the heightened danger to server with every losing point.
The scheme also added intrigue as pairs chose which partner would take responsibility for returning serve in the game-ending point. Meanwhile both pairs had to decide what formation, serve placement, and tactics to use for the decider.
A final plus also was evident. Once a pair achieved a service break, the greater likelihood of breaking back under No-Ad helped make the rest of the set more interesting than under traditional scoring.
As to use of the Match Tiebreak game in lieu of a third-set tiebreaker, previously I joined everyone else in wholeheartedly disliking the idea. But now my feelings are close to neutral. Even though I was greatly interested in the matches and enjoyed watching them, sitting in oppressive heat I found myself feeling glad in knowing that any third set would be decided fairly quickly.
I remain convinced that the role of doubles specialists is a natural and desirable thing in pro tennis. Winning in singles is so demanding that the quality of play is bound to be compromised if players play both singles and doubles in a given week. Watching Erlich-Ram, Hanley-Ullyett, and the Bryans this week fully reinforced my view that pro doubles can be enormously fascinating for its own sake. I admired Tursunov's determination to see through in his commitments to both singles and doubles amid the terrible heat. But the Saturday night crowd was not well served by his play on that occasion. The presence of Henman, Srichaphan, and Tursunov made the doubles more interesting, I agree, but it would have been better if they had skipped singles this week.
Although even the most one-sided match produced some interesting tennis, it was evident that the higher-ranking pair almost always became the winner, usually in two straight sets. The seedings held up almost perfectly, despite use of the above innovations which should have helped the lesser pairs.
SINGLES AND DOUBLES FINALS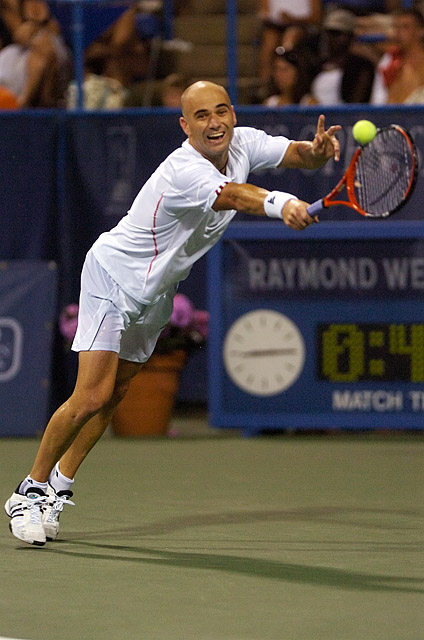 Agassi was a first round loser to qualifier Stoppini

Pre-tournament marketing focused heavily on the coming of the top American singles artists Blake, Roddick, and Agassi, who as a group won only one match. The successful singles performers--Murray, Safin, Moodie, Tursunov, and Clement--provided high-quality tennis certainly worthy of the event. Arnaud Clement, who played well over his ranking here in 2005, surpassed himself this year in winning the singles tournament behind brilliant court speed and shot-making tactics, along with plenty of intestinal fortitude. Those attributes, seen all week, became magnified in his final-round win over Murray, score 76 62.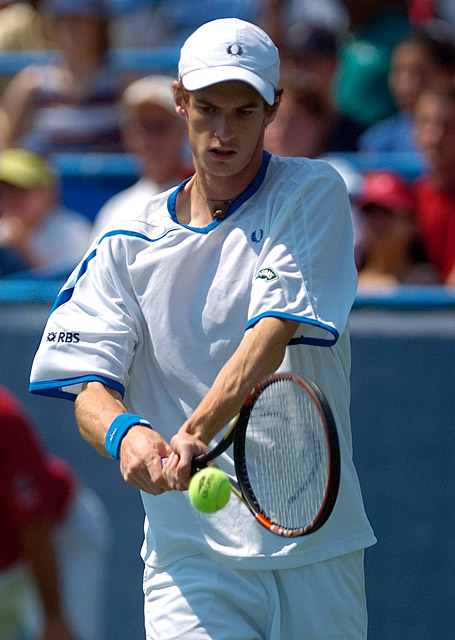 Andy Murray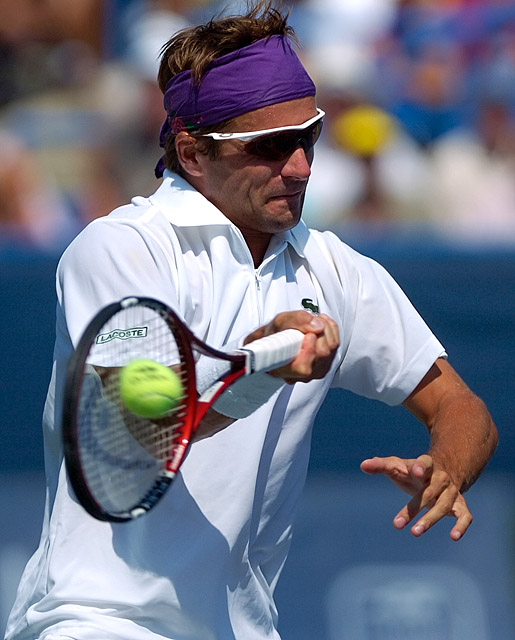 Arnaud Clement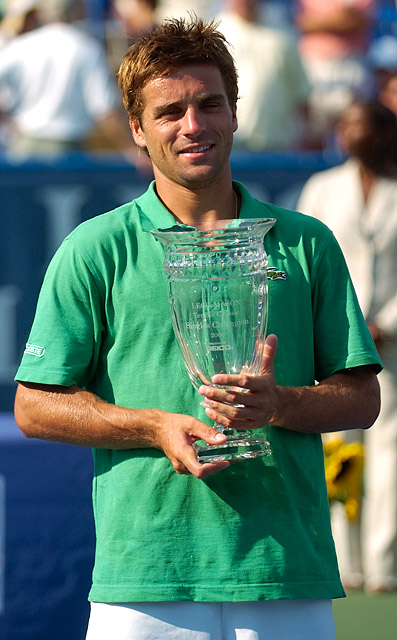 Singles Champion Arnaud Clement!

I did not watch the noon Sunday doubles final, where the Bryans defeated Hanley-Ullyett by 63 57 10 (score 10-3 in Match Tiebreak). The pattern duplicated that seen through the week where the brothers won the first set comfortably, then lost momentum, and finally became ruthless in closing out matters.
Hanley-Ullyett

Doubles Champions Mike and Bob Bryan

There has been much talk of a "Doubles Revolution" to improve attention to doubles this summer, and also talk of the U.S. Open Series, designed to enhance the tune-up circuit prior to the Open. I wonder why doubles seems to have no part in the point system used for awarding money bonuses at the end of the U.S. Open Series circuit.

The four highest-seeded doubles pairs at Legg Mason are all entered at Toronto this week, along with Tursunov, whose partner will be Marat Safin. Best wishes to all for a terrific tournament in Canada, both singles and doubles.

--Ray Bowers
Arlington, Virginia, U.S.A.



Between The Lines Archives:
1995 - May 1998 | August 1998 - 2003 | 2004 - 2015
If you have not already signed up to receive our free e-mail newsletter Tennis Server INTERACTIVE, you can sign up here. You will receive notification each month of changes at the Tennis Server and news of new columns posted on our site.
This column is copyrighted by Ray Bowers, all rights reserved.
Following interesting military and civilian careers, Ray became a regular competitor in the senior divisions, reaching official rank of #1 in the 75 singles in the Mid-Atlantic Section for 2002. He was boys' tennis coach for four years at Thomas Jefferson High School for Science and Technology, Virginia, where the team three times reached the state Final Four. He was named Washington Post All-Metropolitan Coach of the Year in 2003. He is now researching a history of the early pro tennis wars, working mainly at U.S. Library of Congress. A tentative chapter, which appeared on Tennis Server, won a second-place award from U.S. Tennis Writers Association.
Questions and comments about these columns can be directed to Ray by using this form.
---