Predicting U.S. Open 06
by Ray Bowers
with photography by Pablo Sanfrancisco

Ray Bowers
The surely historic quest for greatness involving the two megastars of the current men's game soared in their final-round meeting at Wimbledon 06. Both Roger Federer and Rafael Nadal then took a month off for rest and recovery, whereupon both returned to the pro tennis wars in August, first at Toronto and then Cincinnati. Neither tournament produced a head-to-head meeting of the two.
In Canada Rafe won two matches and then lost to rising Czech hitter, Tomas Berdych. Roger meanwhile won the tournament but with uncharacteristic difficulty. All four of his later opponents--Tursunov, Malisse, Gonzalez, and Gasquet--carried Roger to three sets, and all equaled or outplayed Roger for significant stretches. Especially impressive was Richard Gasquet. In capturing the first set of their final, Richard showed heavy topspin and solid consistency from both sides, excellent court movement, and occasional attack--a pattern very much like Nadal's. But after the first set, Roger cut out his own unforced errors while Richard weakened slightly.
In the following week in Cincinnati, it was Roger who departed early, losing in the second round to Andy Murray. With his serve badly off form, Roger seemed unable to raise his game at critical times--his usual pattern in winning close matches. Afterwards Roger complained that two Masters Series tournaments should not be held on consecutive weeks--a major handicap for players reaching the late rounds in the first event. Meanwhile Nadal won three matches in Cincinnati but then lost to veteran Juan Carlos Ferrero in two tiebreak sets.
But if the dominance of Federer and Nadal in men's tennis has waned slightly, the two certainly remain the game's super-elites. Of the last six Slams, Roger has won four and Rafe two, and they are unquestionably the favorites to reach the final of the forthcoming Open. Although there are many potential opponents able to produce equally high performances for a set or perhaps longer, all matches at the Open will be best-of-five sets. Any upset of either front-runner at his best is thus highly unlikely.
Over a dozen other stars form a tight group somewhat behind the leaders in their chances at the Open. This tier includes several rising young stars (Gasquet, Murray, Berdych, and Baghdatis, all age 21 or under) along with established stars who have done well in predictor events (Ljubicic, Nalbandian, Blake, and Roddick). There is a surprisingly heavy representation from Spain and South America, regions that placed three of the final four at Cincinnati.
The draw having been announced today, we look in turn at each of its four quarters.
FEDERER'S QUARTER
Federer typically starts tournaments well below his best, so that the possibility of an early upset (as happened in Cincinnati) may be greater than supposed. There is no serious challenger to Roger in the upper half of his quarter, however. The Berdych-Blake winner in the lower half will pose some danger, but Blake has been slumping badly in August and Berdych posted a first-round loss at Toronto last week. Roger has the defense to defang Tomas and the offense to prevail comfortably.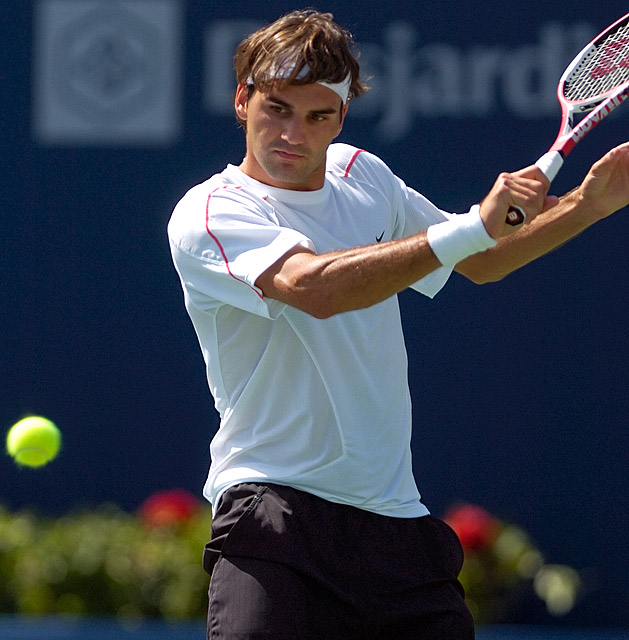 Roger Federer
SECOND QUARTER
Nalbandian and Davydenko, the two high seeds of this quarter, showed a combined W-L record of 1-4 at Canada and Cincinnati this month. Clearly, Tommy Haas should advance over Nalbandian in the upper half of the quarter. In the lower half, both Gonzalez and Murray have performed well on the hard courts, Murray having defeated Federer in Cincinnati and Gonzalez seriously pressing Roger the week before. Murray's forthcoming margins in defeating both Gonzalez and Davydenko will be narrow, but Andy's run should end against Haas, who has also played well this summer.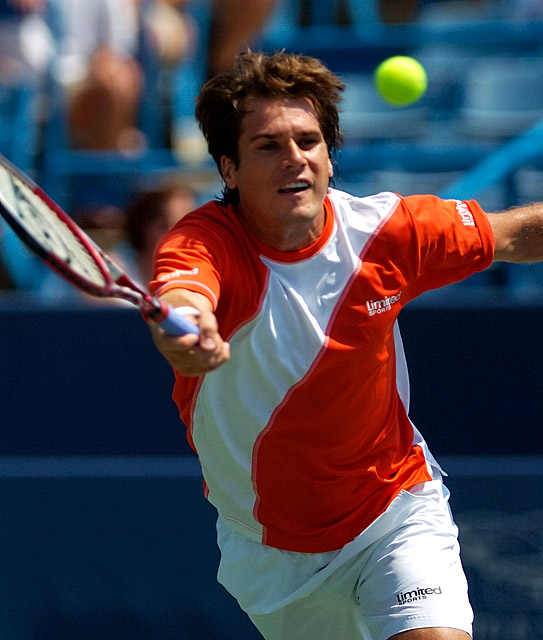 Tommy Haas
THIRD QUARTER
Andy's Roddick's performance in capturing Cincinnati makes him the clear favorite in this section. The strong, attacking ground game built upon Andy's strong serving seen at Cincy revealed Roddick at his best, for the moment surpassing the level of his championship season in 2003. Can Andy sustain his performance at this level?
A third-round threat will be the winner of Agassi against Baghdatis. Andre's summer season produced no victories, but perhaps the Open will bring forth a last summoning of his best. But even if Andre plays at the highest conceivable level, the savagery of Roddick's weaponry will be insurmountable.
The lower half of the quarter provides two early match-ups across the tennis generations. Novak Djokovic--age 19 and performing at the level of Murray and Gasquet--must survive Lleyton Hewitt. Meanwhile Gasquet, 20, must surmount Ljubicic. Guessing, I choose the two older stars. The newcomers are rising fast, but both Lleyton and Ivan have shown signs of regaining their best. Then for their fourth-round show-down, Ivan's summer record places him well ahead of Hewitt.
Thus the quarter-finals will pit Roddick against Ljubicic. Andy's successes against Ljubicic have been few. But despite his remarkable record in Davis Cup, for whatever reason Ivan has never passed the third round in seven tries at the Open, nor indeed at any Slam until this year. Meanwhile Andy, who has reached the Open final in the last three years, is now at his best.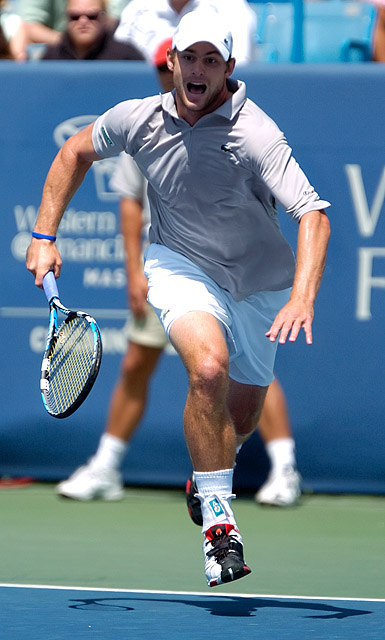 Andy Roddick
NADAL'S QUARTER
There are some worthy foes ahead for Rafael, but it is hard to see any of them defeating the 20-year-old from Mallorca in best-of-five-set competition on hard courts in hot weather. Rafe faces some excellent possible opponents in the early rounds--Monfils, Malisse, Nieminen, Acasuso--whose roles will be to toughen Rafe for the greater tests ahead. His likely quarter-final opponent, Tommy Robredo, stands fifth in the year-to-date point standings and defeated Ljubicic recently in Cincinnati. Tommy is a fine hard-court player, with W-L record of 11-5 at Flushing Meadows. But Nadal has won all three of their most-recent meetings, all in straight sets, including on indoor hard courts in Madrid.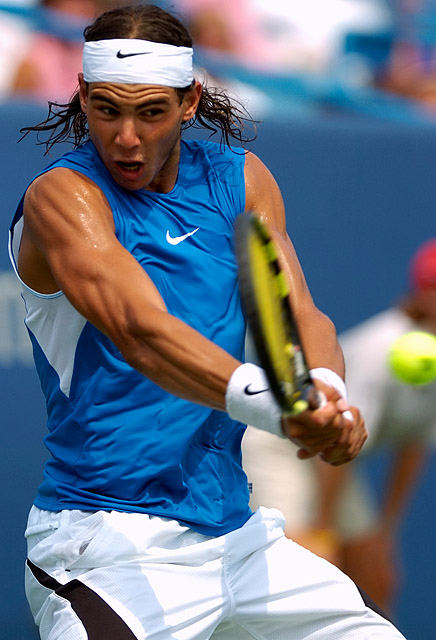 Rafael Nadal
SEMIS AND FINAL
Federer has defeated Haas in their last six meetings, although the sequence includes a tough five-setter at Australian Open 06. Acknowledging that a victory for Tommy is not wholly impossible, Roger is the highly likely winner.
Nadal against Roddick is less clear, as the two have not played since 2004 when Nadal was not yet prominent. The record stamps Rafe the favorite, especially as Andy's serve, his finest weapon, is likely to be neutralized by Nadal's returning skills.
Thus we should be treated to yet another Federer-Nadal show-down, repeating the final round match-ups at Garros and Wimbledon 06. Given the slightly greater derailing of Rafael's success this summer, the nod must go to Roger. Thus Roger should capture his third career win over Rafe against six losses. Almost surely, it will be another classic, well worth retaining in anyone's library of great matches.
WOMEN'S SINGLES
Once again, the outlook for the women's event at the Open is obscured by uncertainties pertaining to fitness and injury. It seems an endless phenomenon.
THE BIG THREE
The record of 2006 to date establishes three women ahead of all others in their chances at New York. Deservedly the favorite will be Amelie Mauresmo, champion of Australian Open and Wimbledon 06. Amelie has not played since Wimbledon, however, and withdrew from planned Fed Cup play in July with a groin injury. Also inactive since Wimbledon has been Justine Henin-Hardenne, this year's winner at Garros, who faded badly in losing the Wimbledon final to Mauresmo after winning the first set. Justine has also shown tiredness in other events subsequent to her extended illness two years ago. Both Mauresmo and Henin are competing this week at New Haven.
Our third triumvir is Maria Sharapova, 6-2 and still a teen-ager at 19. Maria won the Tier One in San Diego in early August, defeating Clijsters in straight sets. One week later at Carson, outside Los Angeles, she won three matches before losing to Dementieva. She then withdrew her entry at Montreal, citing fatigue, and did not enter New Haven. Now, presumably refreshed after her strenuous summer, she should be a strong performer at the Open, where she was a semi-finalist last year.
Kim Clijsters, who won the Open last year, would have been a fourth member of our top group, except that her recent wrist injury will keep her sidelined. Kim and the above threesome were the four semi-finalists at Wimbledon in early July. There, Henin defeated Clijsters, while Mauresmo beat Sharapova in split sets. Amelie's victory in the final over Justine establishes our unofficial current rank order at the top.
RETURNING CHAMPIONS
Three superstars return from injury-related absences. All three are strikers of extreme power. As a group they have provided the Open champion in six of the last seven years. If one of them can recapture her strength of a year or two ago, she would assuredly belong at the level of our top group.
Probably the most likely to do so is Serena Williams, who won four matches in her return at Carson, though in losing to Jankovic she seemed out of trim and easily tired while her father talked of her knee pain. Meanwhile Venus Williams has been absent since Wimbledon, where she lost closely to Jankovic while contributing 12 double-faults. Lindsay Davenport, who had been sidelined since early spring with back trouble, returned in California, where she lost her first match to Australian player Stosur.
NEXT ECHELON
Not far behind the first-named three leaders is an array of Russian stars, including Dementieva, Safina, Kuznetsova, and Petrova. All four are big, strong, and athletic, all have been seemingly healthy throughout the summer, and all save Safina are playing this week at New Haven, apparently in good readiness for the Open. A week ago at Carson, Dementieva defeated Sharapova enroute to a final-round win over Jankovic, who had beaten Serena.
Also prominent in our second group is Martina Hingis, age 25, who in 1997 at age 16 won three Slams including U.S. Open. Her return to competition throughout 2006 has been among the year's most intriguing stories. She now ranks seventh in the WTA year-to-date standings amid the army of bigger hitters now in the women's game.
The world's premier teenager after Sharapova has been Nicole Vaidisova, now 17 at 6-1, who ranks #11 for 2006-to date. Nicole reached the semis at San Diego in early August and won two matches at Montreal before withdrawing with shoulder trouble. Serbian-born players Ana Ivanovic, 18, and Jelena Jankovic, 19, complete this rung of candidates. Both finished the summer strongly, Jankovic reaching the final at San Diego, defeating Serena and extending Dementieva, and Ivanovic winning the last Tier One event prior to the Open, at Montreal, defeating Safina and Hingis.
MAURESMO'S QUARTER
The top quarter of the draw should produce an intriguing third-round meeting of Serena Williams and Ana Ivanovic--the current game's most dangerous former champion and one of its most promising young stars. Whoever prevails in this duel will be an extremely dangerous fourth-round opponent for the tournament's first seed, Amelie Mauresmo. It is definitely not a comfortable prospect for Amelie. If she survives that hurdle, then her probable opponent in the quarter-finals, either Hingis or Safina, would then be only slightly less dangerous. Still, Mauresmo should prevail. Amelie has reached the quarter-finals at the Open in each of the last six years.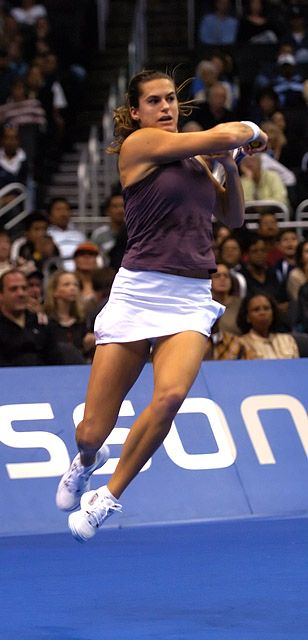 Amelie Mauresmo
SHARAPOVA'S QUARTER
Sharapova's draw is clearly more favorable than Amelie's, although last year's runner-up, Mary Pierce, now 31, hits with equivalent power and could be a dangerous fourth-round opponent. But an advance to the quarter-finals over Pierce and then a win for Maria over the survivor of Myskina, Petrova, and Golovin seems assured.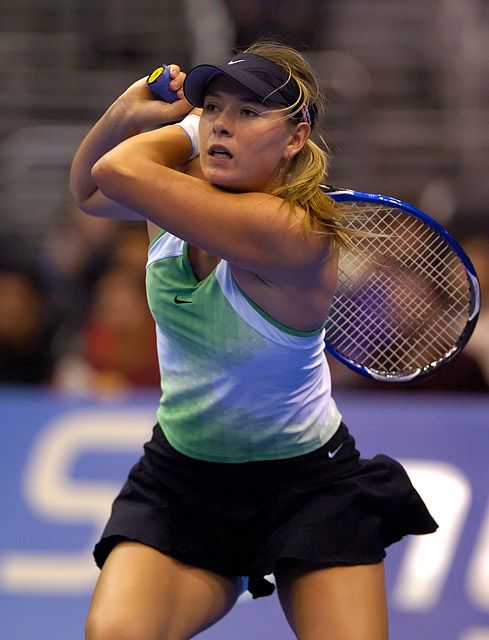 Maria Sharapova
THIRD QUARTER
Russians Kuznetsova and Dementieva are the high seeds at opposite halves of this quarter. Svetlana, just 21, must survive the winner of teenagers Jankovic and Vaidisova, while Elena must overcome Venus Williams and then the winner between rising stars Kirilenko and Gronefeld. The stage seems set for some surprises, and a break-through for Vaidisova seems more likely than any other outcome.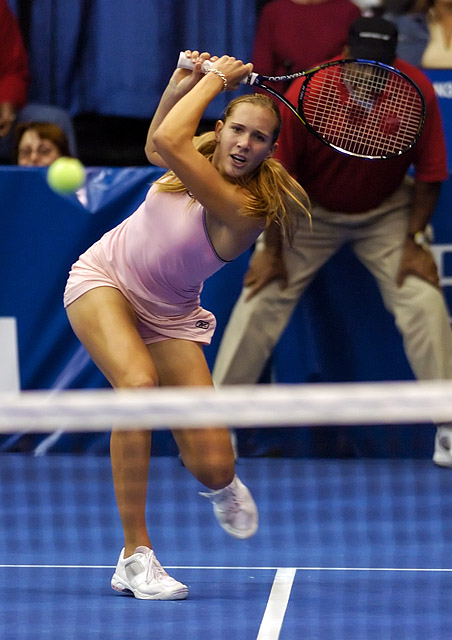 Nicole Vaidisova
HENIN-HARDENNE'S QUARTER
There is no player in either half of this quarter able to stand with either Lindsay Davenport or Justine Henin-Hardenne at full strength. The readiness of both superstars is being tested this week at New Haven, where Lindsay defeated two early-round opponents, Srebotnik and Schiavone, by comfortable scores. Henin won her first match in straight sets. But the greater uncertainties raised by Lindsay's injury troubles and her longer absence from competition obliges choosing Henin the favorite here. It is not a confident choice. Lindsay has reached the quarters at the Open for the last nine years, and she has lost in the quarters only twice in this period, including in 2005.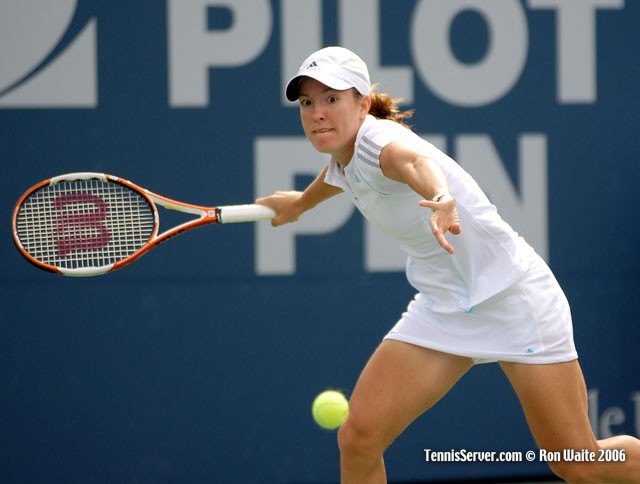 Justine Henin-Hardenne (photo by Ron Waite)
PREDICTING THE SEMIS AND FINAL
With a full day of rest after each match through the Open quarters, questions of Justine's stamina should be irrelevant. She should certainly prevail over Vaidisova in the semis.
Thus, for Mauresmo to win the tournament, she would have to defeat Sharapova and Henin in turn. That is exactly what happened at Wimbledon 06. Given the murkiness of nearly all evidence arising since then, picking Amelie to capture the forthcoming Open is irresistible.
Amelie's margin over Henin is not great. Justine won the first set in their Wimbledon final before fading, having played a heavy lead-in schedule in the months preceding the tournament. Now, in contrast, she is fresh. But in my opinion, it will be Mauresmo's third Slam triumph of 2006, a remarkable turn for a player now age 27 with no preceding Slam triumphs and only one runner-up Slam finish.
Could it become the greatest-yet Open?
--Ray Bowers
Arlington, Virginia, U.S.A.



Between The Lines Archives:
1995 - May 1998 | August 1998 - 2003 | 2004 - 2015
If you have not already signed up to receive our free e-mail newsletter Tennis Server INTERACTIVE, you can sign up here. You will receive notification each month of changes at the Tennis Server and news of new columns posted on our site.
This column is copyrighted by Ray Bowers, all rights reserved.
Following interesting military and civilian careers, Ray became a regular competitor in the senior divisions, reaching official rank of #1 in the 75 singles in the Mid-Atlantic Section for 2002. He was boys' tennis coach for four years at Thomas Jefferson High School for Science and Technology, Virginia, where the team three times reached the state Final Four. He was named Washington Post All-Metropolitan Coach of the Year in 2003. He is now researching a history of the early pro tennis wars, working mainly at U.S. Library of Congress. A tentative chapter, which appeared on Tennis Server, won a second-place award from U.S. Tennis Writers Association.
Questions and comments about these columns can be directed to Ray by using this form.
---