Garros 07 Review
by Ray Bowers
with photography by John Meaney

Ray Bowers
Main-draw play began Sunday, May 29. Rain disrupted much of the first week, interrupting play often and causing scheduling backups. The delays and the cold, damp, and often windy conditions frustrated the players and the watchers, but matters were back on schedule by the second week. As always, the level of play was breathtaking. Even in matches where the scores appeared one-sided, points were typically well-contested amid confident hitting and excellent movement by the players. A favorite dared not arrive without his or her best game.
Strong serving was a large asset in all matches, typically setting the early pattern of dominance in points. All players were good movers, but some were clearly better than others in reacting quickly, arriving in time for good shot preparation. The art of retrieving was only a moderate asset, as most players were excellent at winning points after gaining strong advantage. The ability to deliver consistent weight of shot and the ability to avoid error were, as always, critical: Every player had to find his or her correct zone of risk, balancing aggressiveness with safety. As is typical on clay, conditions favored the player more inclined to patience. Drop shots were sometimes effective, opening up an opponent to his or her weakness in forecourt. In critical late stages of matches, mental strength and physical stamina sometimes proved determinative. In short, it was clay-court tennis at the highest level.
The tournament produced relatively few upsets. Three members of the men's Final Four as well as both semi-finalists and the tournament champion were the players so picked by our computer. Seven of the women seeded to reach the Final Eight indeed did so, and indeed the champion was the pre-tournament favorite. Many more matches were settled in straight sets than in any of the six previous years of this century. In the tally of singles and doubles matches won by nations, the Spanish males and the Russian females were the winners, as expected. In second place were the French males and U.S. females.
WOMEN'S TOP QUARTER
At opposite ends of this quarter were past Garros champions Justine Henin and Serena Williams. Justine, who had beaten Serena in most past meetings on clay, now advanced through the early rounds with the greater dispatch, but Serena showed flashes of her past athleticism and power. They met in the final match of the quarter.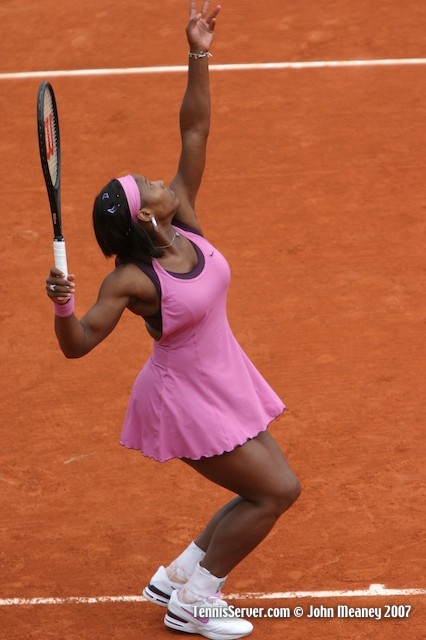 Serena Williams.
Serena, often a slow starter, lost serve to begin their meeting. Serena gradually eliminated the bad errors as the games next unfolded, and Justine stepped up her own forcefulness. Henin closed out the first set, upholding that opening break of serve. To start set two, with Justine now at championship form Serena again yielded serve by misplaying several backhand slices. Returning to her heavy game, Serena fought back to two-games-all. But after that, amid many brilliant points, most of the errors came from Serena. Matters ended at score 64 63 after a dismal final game by the American. Although both players had been brilliant in stretches, Serena's performance had been up-and-down, Justine's consistently strong.
SECOND QUARTER
Repeating the pattern of the top quarter, the two favorites at opposite ends of the second quarter both advanced to their expected meeting. The two protagonists were rising stars now reaching for greatness--Jelena Jankovic, 22, and Nicole Vaidisova, 18. Enroute to their meeting Jelena lost a set in defeating Venus Williams, while Nicole won her four matches in straights. Again, as in the top quarter, it was the taller and larger player, Nicole, who drove the flatter and more potent ground strokes, and again it was her opponent, Jelena, who showed better avoidance of error, producing less than half Nicole's total of unforced errors, albeit with plenty of punch and better court movement. Matters became tense when Jelena failed to convert four match points, but finally her good defensive skills set the stage for two deciding errors by Nicole.
Nicole Vaidisova.
THIRD QUARTER
Here again, the two favorites succeeded in reaching their predestined meeting. Arriving without loss of a set was Svetlana Kuznetsova, who won U.S. Open in 2004 and is still, amazingly, not yet 22. Lana had been runner-up in the recent Tier One events at Rome and Berlin. Her opponent, Ana Ivanovic, age 19 and three inches the taller at 6-0, had beaten Kuznetsova in the Berlin final by narrow margin.
Svetlana Kuznetsova.
Ivanovic's superior weight of shot quickly became evident. The Belgrade-born teenager captured the first set by score 60 and the final set by score 61. In between, Svetlana managed to squeeze out the middle set by score 63, but at the end there was no doubt that the stronger player had prevailed. Ivanovic led in aces and also in average first-serve and second-serve velocity each by ten miles per hour.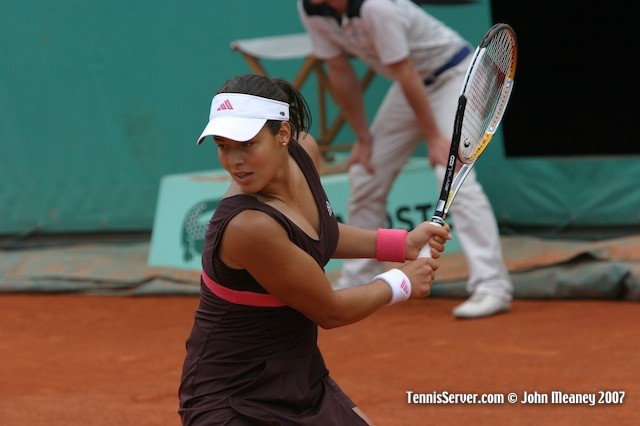 Ana Ivanovic.
BOTTOM QUARTER
At the time of the draw this had seemed the weakest quarter, where the favorites were Maria Sharapova, who had been out with shoulder trouble, and Amelie Mauresmo, whose recent return from appendicitis had produced few wins. Amelie indeed became the only member of the tournament's high seeds to depart before the quarters, losing in the third round to the fine 20-year-old lefty from Czech Republic, Lucie Safarova. Meanwhile Sharapova narrowly avoided elimination by clay-court artist Patty Schnyder, who held two match points in their extended third set. The difference in the very tense closing moments was Maria's fearlessness in continuing her aggressive albeit risky hitting. Maria then completed her path to the Final Four by defeating Moscow-born Anna Chakvetadze, 20, a crafty but not overpowering player.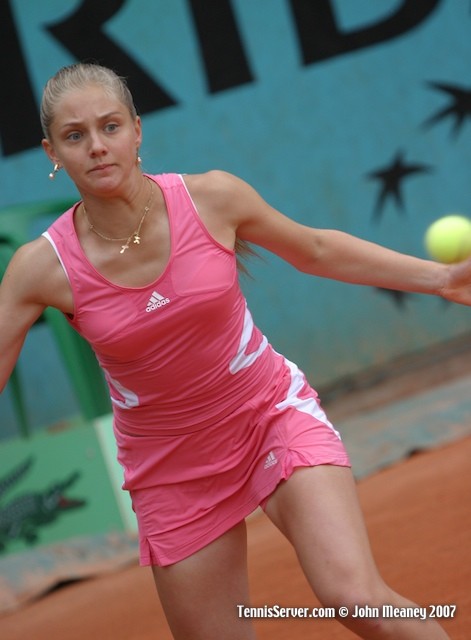 Anna Chakvetadze.
SEMIS -- IVANOVIC d. SHARAPOVA 61 61, HENIN d. JANKOVIC 62 62
Ana Ivanovic outserved, outstroked, and moved better than Sharapova from start to finish. Maria persisted in her high-risk, big-hitting game, but after nearly every successful winner came an unhappy error by Maria. When Ana claimed the initiative, which was often, Maria's mobility was usually inadequate to answer her opponent's barrage. The demolition was total.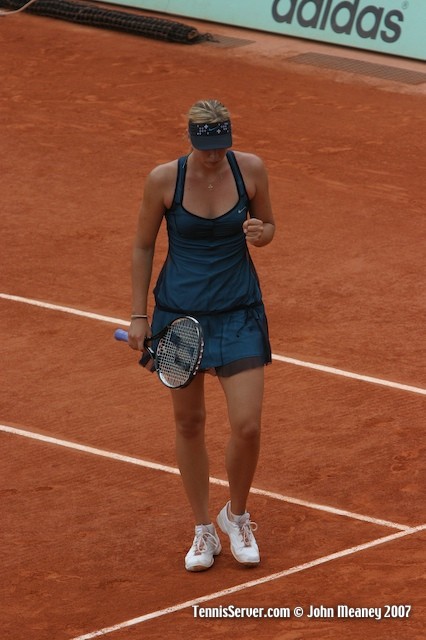 Maria Sharapova.
The Henin-Jankovic semi was slightly more competitive, but Justine showed her superiority from the outset and never relinquished it. The defending champion played at close to her best, hitting with pace equal to Jelena's with greater overspin. Jelena played solid, tight tennis, with a good balance between aggressiveness and safety. But with Jelena on the attack, Justine's magnificent court movement and counter-punching ability fairly often defeated or neutralized matters. Meanwhile it was Justine more often the attacker. It seemed that Jelena's only hope was that Justine would contribute excessive errors, but this happened only in a few stretches. Both sets ended in dismal serving games by Jelena. Like Ivanovic earlier, Henin showed superb concentration and will.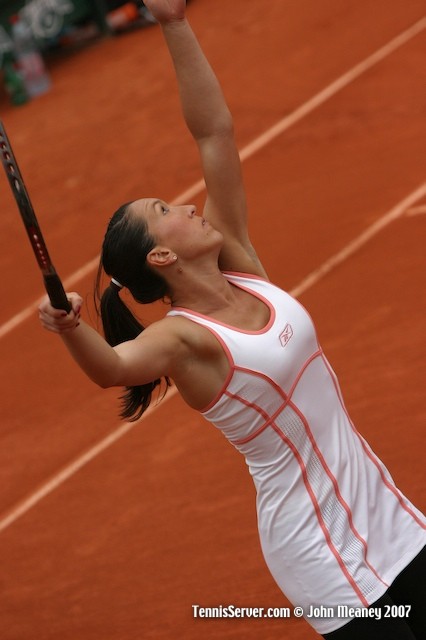 Jelena Jankovic.
FINAL -- HENIN d. IVANOVIC 61 62
A nervous-looking Justine lost the opening game, double-faulting at Ad Out. Not surprisingly it was Ivanovic who delivered the greater power with lesser effort at the start, and Ana took the lead on her own serve in game two at 40-love.
Ana's nightmare then began. Her service toss seemed awry, her big ground strokes became grossly inaccurate, her movement seemed awkward. In short, her wonderful play of two days before was completely absent. Meanwhile Justine, displaying her familiar hard-hitting style with strong overspin and merciless consistency, won six straight games to capture set one. By the time the courtside clock showed the one-hour mark, the game score was 61 51. Justine then yielded the courtesy game and Ana promptly reciprocated, ending matters.
It was a terribly disappointing sequel to Ana's wonderful performance throughout the tournament. That her recovery from the debacle will be rapid cannot be doubted. For Justine, her fourth Garros crown assures an esteemed place in tennis history.
MEN'S SINGLES -- FEDERER'S QUARTER
Tommy Robredo provided this quarter's principal surprise by advancing without loss of a set to a quarter-final meeting with Federer. Tommy's most dangerous victim was Filippo Volandri, an extremely strong clay-court player who had defeated higher-seeded Ljubicic in the previous round. Tommy indeed won a set from Federer, the only player to do so prior to the tournament's final round. But Roger, who throughout the early rounds attacked more regularly than expected, turned on his big game to sweep sets three and four. It appeared that Roger was tuning himself for aggressive play in a likely final-round meeting with Nadal.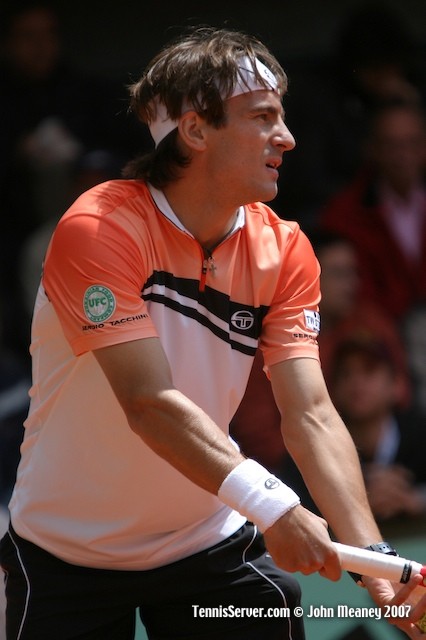 Tommy Robredo.
Ivan Ljubicic.
SECOND QUARTER
This was a delicious quarter, headed by Chilean Fernando Gonzalez and Russian star Nicolay Davydenko, both strong performers on clay or hard surfaces. The quarter also contained familiar Argentine stars Canas, Nalbandian and Chela plus an unusual number of younger players whose best surface was clay, among them Monaco, Gasquet, Acasuso, and Almagro. Also on hand was Paris-born Gael Monfils, 20, who at height 6-3 possessed outstanding speed and power along with wonderful fluidity--tools that seemed to promise a career among the game's elite.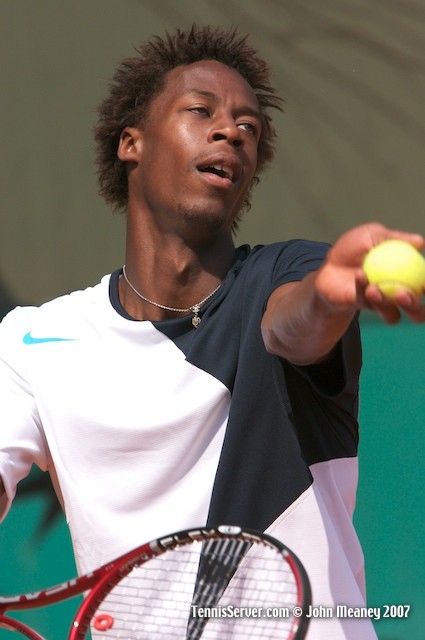 Gael Monfils.
Our computer picked Gonzalez to win this quarter over higher-seeded Davydenko. Fernando had recorded a W-L record of 6-0 at Rome and Hamburg aside from two losses to Nadal. But the often unpredictable Chilean star now proceeded to lose his first-round match in straight sets to Radek Stepanek. I did not watch the match but the statistics seemed to tell the story. Stepanek recorded 29 winners against only 7 by Gonzalez and won 24 of 36 points when at net, where Gonzalez won only 5 of 14.
One after another the others faltered. Chela lost to Monfils, who lost to Nalbandian, who lost to Davydenko, all in four-set battles. Close attention went to Guillermo Canas, who had twice defeated Federer in 2007 and now moved impressively through four rounds. But in the championship match of the quarter, Guillermo was beaten by an at-his-best Davydenko, who showed the far more penetrating weaponry. The official tally showed 25 winners for Davydenko, only 5 for Canas (excluding service aces).
THIRD QUARTER
The highest-seeded player in the quarter was Andy Roddick, who proceeded to lose in the first round to a potent Igor Andreev. The Moscow-born star, now returned from knee injury, revealed a superior forehand, which produced many winners unanswerable by the American. Andreev was extremely agile in stepping around his backhand in time to unleash killer forehands to the lines. Igor also out-aced Andy, 8 to 5. After beating Roddick, Andreev produced three more victories enroute to his meeting with Novak Djokovic, who headed the opposite half of the quarter.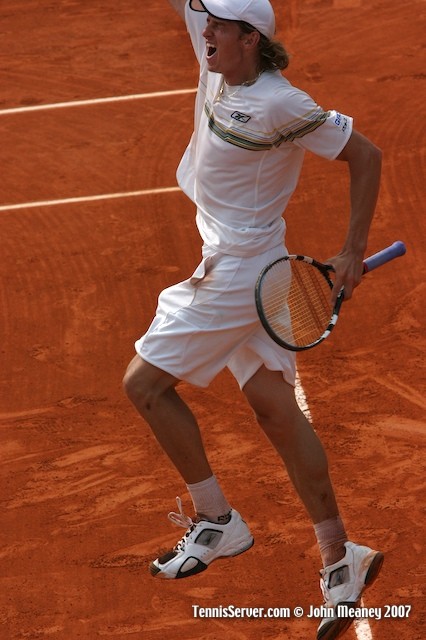 Igor Andreev.
Djokovic, now barely 21, had been tested by Olivier Patience. But throughout his journey through four rounds, Novak showed the firm hitting, mobility, and mental strengths seen throughout most of the year to date. Against Andreev, Djokovic seemed to have learned from Roddick's difficulties. His hitting seemed more aggressive than Andy's, and by running Igor often to his forehand sideline Djokovic made it difficult for Andreev to step around his backhand. Novak's straight-set victory was convincing.
NADAL'S QUARTER
Rafael marched through all five rounds with relentless efficiency. As in the past, his heavy ground strokes created difficulties for his opponents, both in their energy and in the height of the bounces produced by their heavy overspin. Meanwhile, Rafa's ability to reverse an opponent's pressure by racing to the corners and ripping back severe replies seemed at its very best. One opponent, Lleyton Hewitt, who had taken a set from Nadal several weeks earlier at Hamburg, now managed to reach tiebreaker in the third set but was otherwise badly dominated. Nadal seemed clearly the most likely tournament champion.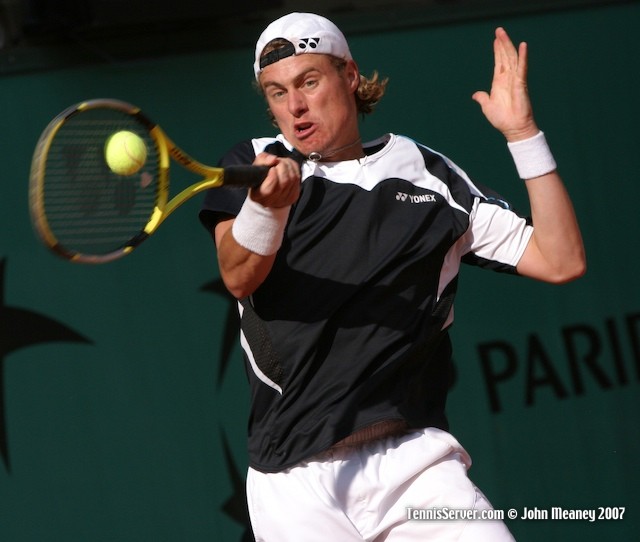 Lleyton Hewitt.
MEN'S SEMIS -- FEDERER d. DAVYDENKO 75 76 76, NADAL d. DJOKOVIC 75 64 62
Both men produced screaming ground strokes and both answered with wonderful defense and counter-attack, where Davydenko's sizzling play persistently pressed Roger. Neither had much use for drop shots or even for net attacking, preferring to seek sharp angles and keep opponent moving. Nicolay held the advantage midway in all three sets by the margin of a service break or more. But if Davydenko repeatedly put Federer in serious trouble, the speedy Russian was never able to exploit his situations of advantage. Often when points mattered most, it was Roger's first serve that produced a winning quick point.
Perhaps the first set was key. Midway in the set, Roger was several times within a point or so of falling behind by two service breaks. But he managed to survive these moments and, as he afterwards remarked, he always remained confident of his ability to equalize by breaking serve.
In the second semi-final it was Rafael Nadal at his best--huge energy in every delivery, relentless heavy overspin from both sides, superior movement often in deep court, all with a ferocity and concentration surely intimidating to most opponents. Rafa's opponent was Novak Djokovic, age 20 and height 6-2. Djokovic was now recognized as the game's newest superstar, having won this spring's hard-court tournament at Miami, where he defeated Nadal in two straight sets, and now having reached the Garros semis.
The first two sets were ferociously contested. Djokovic's powerful ground game essentially equaled Rafa's in its penetration, accuracy to the sides, and excellent avoidance of error. Many of the exchanges were extended in length, both players driving each other into the deep corners and both often able to regain parity by means of superb movement and forceful hitting. The young Serb's was the higher-risk, more-attack-oriented strategy, where his winners exceeded Rafa's in the first set by 7-1. Compared with the Davydenko-Federer semi-final played just before, both players showed more emotion, the play seemed of higher order, and he crowd was more highly engaged.
Djokovic's physical and mental strengths eroded somewhat in the final set, allowing Rafa to claim the early lead and hold it throughout. The official statistics showed that the number of Nadal's unforced errors in that set was, amazingly, zero.
Both players deserved high marks. The gallery appreciated the dazzling play of the challenger, and the ability of Rafa to meet such strong pressure and eventually prevail in straight sets was just as impressive.
FINAL -- NADAL d. FEDERER 63 46 64 64
The afternoon was mostly sunny amid temperatures in the low 80's, warmer than earlier in the tournament. All watchers understood that this was the year's most important match. A Federer win would be historic--a critical step toward a classic Grand Slam. Our computer prediction made Rafael the favorite. The warm and dry (i.e., fast) conditions seemed to me to favor the more potent server and the expected attacker--i.e., Federer. But commentator John McEnroe pointed out that the higher and speedier bounces would probably make Roger's favorite attacking shots difficult to execute. Indeed, Roger's recent clay-court win over Nadal had come at Hamburg, where the clay surface is usually deemed slower than at Garros.
Watchers wondered whether Roger would play aggressively from the outset, believing that relentless attack offered his best chance of winning. But Roger played cautiously in the early going, apparently holding back as both players had trouble consistently finding the court. Gradually Roger increased his attacking, albeit very selectively, and it became Rafa who had more trouble in holding serve. Roger enjoyed five break points in game six and three more in game eight but failed to win any of them. The set's only service break came in game seven in favor of Rafa, who was now making Roger hit many high backhands, typically at armpit height, reducing Roger's power.
Set two was Federer's behind a first serve that now found the court with its usual regularity. Roger was now attacking often and well, his strong bolts to the corners producing weak replies, errors, or finishing opportunities at net. (Roger won 13 of 17 points at net in this set.) Roger's attacking accounted for the only service break of the set, in game seven, when Roger won two of his four points on Nadal passing-shot errors. But the third set went to Nadal, the lone service break coming in game three when Rafa twice won points with Roger at net. Both men returned to careful play to start set four, where Nadal won a 23-shot rally to save a break in game two. Receiving serve in the next game, Nadal stepped up the pressure at 15-all and was rewarded by a failed drop shot reply by Roger and a fine backhand angled winner. Roger attacked successfully on the next point at 15-40 to reach 30-40 but then missed a critical approach shot. It was the only service break of the fourth set, leaving it for Nadal to hold serve four more times. Rafa did so, playing confidently with almost no errors, relentlessly producing even-higher-bouncing rollovers while mixing in occasional attacks. Roger was unable to mount sustained answer. Rafael closed out the final game at love.
It was not an especially memorable match in its conduct. There were too many errors especially by Roger, too few of the exhilarating exchanges seen in most matches throughout the tournament, perhaps too little risk-taking in many of the rallies in recognition of the fine defensive abilities of both opponents. Federer's aggressive intentions failed amid his excessive errors. Surely a large factor was Rafa's relentless high-bouncing pressure against Roger's backhand and his sometime strong play when Roger attacked. Federer produced his top game only sporadically, while Nadal kept getting stronger as matters went on, approaching his best tennis at the end. Two statistics told the story: (1) Roger committed 60 unforced errors against Nadal's 28, and (2) Federer won only 1 of 17 break-point opportunities.
There will be no Grand Slam for Federer in 2007. Roger remains the world's second-best on clay, and he will be the strong favorite to capture Wimbledon, where his attacking strengths will be most effective. But for the moment, Rafael comfortably leads in the 2007 year-to-date points race and promises a strong challenge at Wimbledon and during the summer.
--Ray Bowers
Arlington, Virginia



Between The Lines Archives:
1995 - May 1998 | August 1998 - 2003 | 2004 - 2015
If you have not already signed up to receive our free e-mail newsletter Tennis Server INTERACTIVE, you can sign up here. You will receive notification each month of changes at the Tennis Server and news of new columns posted on our site.
This column is copyrighted by Ray Bowers, all rights reserved.
Following interesting military and civilian careers, Ray became a regular competitor in the senior divisions, reaching official rank of #1 in the 75 singles in the Mid-Atlantic Section for 2002. He was boys' tennis coach for four years at Thomas Jefferson High School for Science and Technology, Virginia, where the team three times reached the state Final Four. He was named Washington Post All-Metropolitan Coach of the Year in 2003. He is now researching a history of the early pro tennis wars, working mainly at U.S. Library of Congress. A tentative chapter, which appeared on Tennis Server, won a second-place award from U.S. Tennis Writers Association.
Questions and comments about these columns can be directed to Ray by using this form.
---