Wimbledon 07 Perspective

Ray Bowers
The interminable rainshowers that afflicted Wimbledon 07 vindicated the decision to build a convertible roof over Centre Court, to be ready in 2009. The backup of unplayed matches forced compression of the schedule toward the end, allowing insufficient rest between matches especially among the men, where matches were best-of-five sets. Noteworthy was the efficiency of the grounds-crew workers in covering the surface almost instantly upon every stoppage of play.
At the outset the green turf was magnificent to the eye. As the matches unfolded the expected brown and bare spots began to appear, especially just behind the baseline, though overall the grass seemed to hold up better than in years past. Rough areas just in front of the serving positions seemed to invite bad bounces, but players seemed no more disadvantaged when balls landed there than elsewhere. The surface appeared to produce slower and higher bounces than in year's past, encouraging the trend favoring back-court play seen in nearly all matches. Sliced backhands were widely seen, typically bouncing low, where opponents found it difficult to execute replies that were both forcing and within court. The brown places once seen in the volleying areas were largely absent.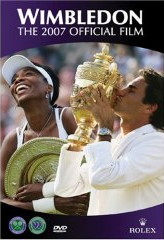 FIRST TWO ROUNDS

There were few extreme reversals of form early on. The eight prime seeds, both men and women, all reached the third round except for Andy Murray, seeded #8, who withdrew prior to start-of-play because of an injured wrist. The early count of matches won by nation produced a surprise, however, where the leading nation on the men's side was France. After two rounds of singles, the French males showed a total of 17 wins, the Spanish 10, the Americans 8. (In contrast, at Wimbledon 06 one year ago the French males scored only 7 wins in two rounds.) Still, it seemed plausible that the Americans behind Roddick, Blake, and the Bryan brothers could eventually catch up.

Meanwhile among the women, after two rounds of singles Russia led with 15 wins, followed by France with 10 and U.S. with 8. Although the Williams sisters remained in both singles and doubles, the Russian margin seemed already too great to overcome.

MIDDLE ROUNDS

The highest-seeded eights began to falter in the third round. Out was Fernando Gonzalez, loser to unseeded Serb player Tipsarevic in five sets. Second-ranked Rafael Nadal had serious trouble against Swedish player Soderling, who produced a flattish rocketry well tailored for the dampish grass. Nadal's overspin bludgeons, in contrast, lacked the high bounces that made them troublesome on slower surfaces. Rafa narrowly squeezed out a long fifth set in a match having eight rain delays and extending over three days--five if you count the Saturday warm-up--and marked by antagonistic behavior by both opponents.

The top eight women had even greater difficulty. Jankovic and Chakvetadze went out to lower-seeded players, and defending champion Amelie Mauresmo, seeded fourth, lost to heavy-hitting Nicole Vaidisova, 18, of Czech Republic. Vaidisova was the more-dominating player in most points, while Amelie largely retreated to the defensive, feeding Nicole a diet of low-bouncing sliced backhands. Amelie led in the first-set tiebreaker, six points to three, but then lost the next five points and the set. Mauresmo equalized by winning set two but then was regularly outserved, outstroked, and outplayed at net by the confident and strong teenager.

Extreme theater came on Second Monday, when a severely cramping calf muscle nearly forced Serena Williams to retire from her fourth-rounder against Daniela Hantuchova. With Serena almost entirely immobile, Daniela took the lead in their second-set tiebreaker. A rainshower then interrupted play, giving Serena badly needed time for recovery. Upon resumption Serena was less hampered in moving and was able to produce superb serving and all-out power with every strike, while Daniela seemed to melt away. It was a memorable victory for the American against all logic.

Serena had a full day for recovery on Tuesday. Her anticipated quarter-final showdown with Justine Henin came on Wednesday. Earlier on that day, July 4, her now-unheralded sister Venus faced off against Maria Sharapova.

VENUS WILLIAMS d. SHARAPOVA, 61 63

Sharapova's serving had been wobbly in recent months, probably intensified by her shoulder trouble. The high winds on this date scarcely helped matters, especially in view of Maria's very high ball toss. Maria contributed four double-faults in the fourth game, thereby yielding the match's first service break.

But the larger story on this day was the return of Venus Williams's power game, accompanied by almost perfect avoidance of error and the American's amazing defensive mobility. Again and again in the two years since her championship in Wimbledon 05, Venus's rocketry had been wildly inaccurate, often amassing large numbers of unforced errors. Further, she had faced troubles in her matches earlier in the week--close calls against two unseeded opponents.

But on this day, it was the Venus of old--striking with abandon and precision, her defenses wholly resistant to Sharapova's penetrating thrusts. Maria, who was almost helpless throughout the first set, answered better in set two, when in her serving games many points became breathtaking baseline exchanges, often corner-to-corner. In one game the score went to deuce thirteen times. But when Venus was serving, the demolition was as complete as in the first set. The inevitable break of Maria's serve came in game seven. It was hard to believe that Venus had ever played better.

HENIN d. SERENA WILLIAMS, 64 36 63

This was the match that, one week earlier, seemed the one most likely to produce the tournament champion. Now, Serena wore heavy tape over her troublesome left calf and also taping over the left hand area--a part employed in executing her backhand two-hander. Throughout the match, however, Serena's movement and her stroking seemed normal or nearly so. Justine, who was slightly the inferior in serving and stroking power, played aggressively and won points in varied ways--firm backhand down-the-liners, biting backhand slices, firm volleys, attacks against second serves, aces, and forcing serves. A single break of serve, in game nine, gave Justine the first set, but she lost the second set amid several dismal errors in serving game eight.

Justine moved to a 5-1 lead in set three, narrowly but steadily outplaying Serena. But her play abruptly faltered as Serena regained one of the service breaks. It seemed that Justine was starting to fail under the pressure of the situation, while Serena was loudly forcing herself to her own very best tennis. It was remindful of Justine's loss to Serena in the final round at Miami 07 this year after holding a match point. Now, as Serena threatened to break Justine's serve in game nine, Justine shouted with anger berating her coach in the stands. But the highly uncharacteristic outburst seemed to help, as Justine next produced an amazing drop-shot winner and reclaimed her high level in time to close out matters safely.

It had been close, but it was Justine's first-ever nonclay victory over Serena. The difference on this day seemed to be Justine's willingness to stroke aggressively even though outgunned, along with her ability to press Serena in so many varied ways. Serena afterwards said that a left-thumb injury impaired her two-hander somewhat.

THE NATIONS

After play on Second Wednesday the men had completed three rounds of singles and two of doubles, the women one additional round of singles. Also completed was the first round of the mixed doubles.

On the men's side, the French males, who placed three players in the last sixteen of singles, still led in matches won. The margn was considerable and although the second-place Americans could still look for wins ahead by Roddick and the Bryans, the unexpected French lead seemed safe. Here was the match-win count from the completed rounds.

France, 24.5
USA, 15.5
Spain, 12.0

Meanwhile the Russkayas were ahead among the women, though the American females, lifted by the unexpected success of Venus Williams, were surprisingly close.

Russia, 25.5
USA, 20.0
France, 15.5

THURSDAY

After Wednesday's high drama, Thursday seemed quieter. Full of confidence, Venus Williams comfortably defeated Kuznetsova, again swinging fully and covering the corners and net magnificently, as against Sharapova the day before. As expected, European teenagers Ivanovic and Vaidisova played evenly, where Vaidisova--the more aggressive hitter most of the way--faltered in the late moments of the third set.

On the men's side, Baghdatis prevailed over a seemingly dispirited Davydenko who appeared to hurry in order to end his misery ahead of an impending rainshower. But there was no shortage of motivation among Lleyton Hewitt and Novak Djokovic, who battled away ferociously, point after point, both blasting away from the baseline with full power. The points and games were tense throughout, the younger player showing the slightly greater power and consistency, Hewitt at times the slightly higher level of aggressiveness. Djokovic prevailed in four sets despite an apparent back or abdominal injury requiring trainer attention.

NADAL d. YOUZHNY, 46 36 61 62 62

Mikhail Youzhny has always been a tough customer when healthy, renowned for close wins in critical Davis Cup play. His tightly controlled stroking usually keeps matters close against high-ranked opponents, and he is capable of seizing the attack abruptly and closing out points with great skill. His flattish but firm shots are well suited to grass. Having defeated Nadal in their last two meetings, including at U.S. Open 06, Youzhny presented a dangerous opponent for the Mallorcan superstar.

Now, less than 24 hours following his marathon struggle against Soderling, Rafael fell behind by two sets, his preferred defensive style creating few problems for Mikhail. Rafa now stepped up his aggressiveness, trying to press his opponent at least slightly with every shot. Meanwhile Mikhail's back trouble--seen in his recent retirement from a tune-up event in Netherlands--necessitated a sequence of visits from the trainer and plainly bothered Mikhail's stopping of movement and, occasionally, his shotmaking. The scoreboard turned decisively in Rafa's favor, last year's runner-up winning the last three sets fairly comfortably. Probably both factors contributed to Nadal's victory--Rafa's raised level of play and Mikhail's injury.

FRIDAY

Friday was rain-free, but strong, gusty winds hampered the action. Venus Williams continued her strong and athletic play, taking the early lead and maintaining it throughout against Ivanovic. Marion Bartoli, 22, who had beaten Jankovic and Krajicek in three-setters, now did the same against Justine Henin. Among the men, Federer, Nadal, and Djokovic made their way into the semis in accord with pre-tournament expectations, though the last had to fight through a close fifth set to defeat Baghdatis. Nadal's won efficiently over a Berdych uncomfortable amid the wind, bad bounces, and Rafa's usual medicine.

GASQUET d. RODDICK, 46 46 76 76 86

It looked like a sure win for Andy Roddick, ahead by two sets and a service break. The American had been holding serve easily, was showing some excellent court mobility in turning his opponent's drop shots into winners, and was producing some excellent net play. But Andy's volleying briefly faltered, allowing Richard Gasquet to draw even in the third set and turning the match. Richard's renowned backhand one-hander, which had been somewhat erratic, took fresh life, again and again producing down-the-line rockets untouchable by Andy. Andy's main advantage, his superior serving, fell off slightly, while Richard's sizzling groundstrokes began finding the chalk lines repeatedly. Roddick had been the winner in his last 18 tiebreak games, an almost incredible achievement, but in the tiebreakers ending the third and fourth sets it was Richard who moved ahead and stayed ahead. As the fifth set unfolded the dominating player in most points was Richard, who took to dropping back in replying to Andy's high-kicking second serve. Andy tried hard to answer Gasquet's superiority in the rallies, but his own skills at net were too limited, and he never seemed able to react well to Richard's potent down-the-line backhanders.

WOMEN'S FINAL - VENUS WILLIAMS d. BARTOLI, 64 61

One by one, the eight highest-seeded women players had all departed. A majority of them had been victims of the two women who still remained--the tall American Venus Williams and a stubby French 22-year-old, Marion Bartoli. Venus had in turn beaten three members of the prime eight--Sharapova, Kuznetsova, and Ivanovic, all in straight sets. Bartoli had beaten the #1 and #3 seeds, Henin and Jankovic, both in split-setters. Marion's success had been wholly unexpected, as just two weeks earlier she had lost to Henin 61 63 in the semis at Eastbourne. In judging the strengths of the two, every advantage seemed to lie with Venus--size and strength, speed and agility, experience. Most of all was the evidence of her three late wins over prime seeds, where she had shown the long-missing control over her power game.

Once again it was Venus at what seemed her career best. In the first set she scored 18 winners, only 8 unforced errors. The plucky Bartoli did what she could. After losing the opening three games she scrapped back to equalize at three-games-all. Then in spells during the second set, Marion's two-handed forehand and backhand regularly forced Venus from side to side in the pattern that had worn down and eventually beaten Henin. But even in these intervals Venus's greatness in moving to the sides and answering with rockets of her own usually defeated Marion's bids. The French player repeatedly shook her head after a run of her own brilliant forcing play yielded no reward. After long exchanges where Venus did most of the running, Bartoli often seemed just as winded as Venus.

It was Venus's fourth Wimbledon crown, her sixth career Slam triumph. Her transformation in the second week of Wimbledon 07 from a frustrated, error-prone player into a reincarnation of the champion she had been years before will remain a lasting memory.

MEN'S SEMIS AND FINAL

The men's semis proved tame after the fireworks earlier in the week.. The two losing players, Gasquet and Djokovic, both showed effects from their recent ordeals. Richard Gasquet came to the court only 18 hours after his long five-setter with Andy Roddick. Now, against Federer, Richard played with his recent brilliance in a strong first set. But after that Richard clearly weakened as Roger clamped down relentlessly. Meanwhile Djokovic managed to win the first set from Nadal, but amid the young Serb's intensifying foot and back troubles along with Rafa's usual stiffening as matches lengthen, the outcome became inevitable.

Thus another Federer-Nadal final-round meeting loomed. A year ago in the same venue, Federer had been the winner, in four sets. Presumably Nadal, who is nearly five years younger than Roger, had closed the gap somewhat since then. Undoubtedly Rafa's grass-court senses had improved, especially amid his narrow escapes against Soderling and Youzhny earlier in the week.

FEDERER d. NADAL, 76 46 76 26 62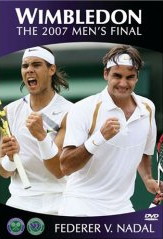 It gradually became evident that this was becoming an epic struggle--probably the most significant match yet in what may be the sport's greatest-ever rivalry. After a slowish opening, both men thereafter consistently produced their very best, aggressive tennis. Meanwhile the rivals alternated in winning sets, the outcome uncertain until the last moments. There were few moments for relaxation.
The play was a wonderful amalgam of traditional net-forcing tennis and today's emphasis on sizzling power. Sometimes Nadal employed his singular, spin-laden power groundstrokes, but often the moment called for him to employ flatter, higher-velocity rockets--closer to.the trademark of his opponent. Both men were at net far more often than customarily. It was all-out tennis, with no holding back, where the formula was extreme varieties of extreme spin alternated with fullest power amid defensive play of the highest order by both men.
It has long seemed apparent that to beat Rafael, Federer must play aggressively and with little restraint. To win, he must regularly force play to the limits of his serving and stroking ability, seeking to unleash attacking approach shots always with the intention of coming forward. Against Rafa, there must be no stretches for coasting, for conservative play.
Roger's aggressive strategy failed badly early on, in game five of the first set, when Roger was passed at net several times and also errored on an approach shot, thereby surrendering a service break. I wondered whether Roger would become discouraged with the failed strategy, especially when he was passed again in the next game when Rafa successfully defended his own serve. My answer came on Roger's serve in game seven, when Roger resumed his persistent attack, including a successful serve-and-volley ploy.
The excitement of the fifth set was ultimate. Rafa had been treated for knee pain earlier but now seemed at full strength, holding serve with relative comfort. Early in the set, Roger twice fell behind 15-40 while serving, but although he seemed on the ropes, the champion managed to survive both crises. Soon afterwards, in game six, with little warning came the service break in Roger's favor. The game ended in a magnificent point settled by a Federer rocket to Rafa's backhand sideline. Game seven was the crusher--Roger won all four points, three on aces and one on a second-serve spinner that Rafa could not return.
Over the full match, the two were close in most respects with one large exception. Federer scored a total of 24 aces overall, Nadal only one. Again and again, Roger obtained critically needed points by his strong serving. Oddly it was the loser, Nadal, who had the more non-ace winners and the fewer unforced errors. But for both men, the total of winners greatly exceeded unforced errors. The official statistics showed Federer at net twice as often as Nadal, though Rafa had the higher winning percentage at net.
It was Roger's fifth straight Wimbledon crown, equaling the achievement of Borg. Those who were there, and those worldwide who also watched, were privileged on this date.
TENNIS NATIONS
There is little question that France was the most successful nation at Wimbledon 07, where Bartoli, Gasquet, Clement-Llodra, and Santoro-Bremond all reached the semi-finals of their events or better.
In the count of matches won, the French males outscored the men of every other nation, breaking the traditional U.S. pattern of success in this realm. The French triumph was broadly based--Gasquet contributed 5 singles wins, Mathieu and Tsonga 3 each, Monfils and Roger-Vasselin 2 each, seven other players 1 each. The all-French pair Clement-Llodra added 6 wins in capturing the men's doubles championship (beating the Bryans in the final), and Santoro contributed 4.0 as his half-share of eight match-wins in men's and mixed doubles.
France, 33.0
USA, 20.5
Spain, 16.0
Czech Republic, 16.0
The Russian victory among the women was by smaller margin than in recent events.
Russia, 29.0
USA, 25.0
France, 19.5
CORRELATIONS
As in 2006, late-round outcomes at Wimbledon resembled those reached at Roland Garros immediately preceding. This year Federer and Nadal were the finalists at both Wimby and Garros, and Djokovic was a losing semi-finalist in both. The detailed calculations will probably show an overall close correlation between the two events, as the late rounds have strong effect in the math. It seems that the low correlations regularly seen in 2005 and previously may be no longer typical. Are we seeing numerical confirmation that the playing conditions on Wimbledon grass are becoming more like those on other surfaces?
Acknowledgements are owed to ESPN2 and NBC for their magnificent televised pictures of the action.
--Ray Bowers
Arlington, Virginia



Between The Lines Archives:
1995 - May 1998 | August 1998 - 2003 | 2004 - 2015
If you have not already signed up to receive our free e-mail newsletter Tennis Server INTERACTIVE, you can sign up here. You will receive notification each month of changes at the Tennis Server and news of new columns posted on our site.
This column is copyrighted by Ray Bowers, all rights reserved.
Following interesting military and civilian careers, Ray became a regular competitor in the senior divisions, reaching official rank of #1 in the 75 singles in the Mid-Atlantic Section for 2002. He was boys' tennis coach for four years at Thomas Jefferson High School for Science and Technology, Virginia, where the team three times reached the state Final Four. He was named Washington Post All-Metropolitan Coach of the Year in 2003. He is now researching a history of the early pro tennis wars, working mainly at U.S. Library of Congress. A tentative chapter, which appeared on Tennis Server, won a second-place award from U.S. Tennis Writers Association.
Questions and comments about these columns can be directed to Ray by using this form.
---