Preview U.S. Open 07
by Ray Bowers
with Photography by Pablo Sanfrancisco and John Meaney




Ray Bowers

Good predictors of outcomes at U.S. Open are the summer Masters Series tournaments in Canada and Cincinnati. The Montreal tournament in early August pointed to four prime favorites for the Open. A week later, the Cincinnati Masters gave a different picture, where of the Big Four only Roger Federer validated his candidacy. Instead, another familiar player, generally overlooked of late, displayed unanticipated credentials.

PRELUDE: MONTREAL 07

The two contenders behind Federer and Nadal in the rankings slugged away for over two hours, trading rockets from back court in their first-ever head-to-head meeting. Andy Roddick and Novak Djokovic both seemed at their best--Andy having won the tournament in Washington the previous week, his 20-year-old opponent in his first action since a quarter-final appearance at Wimbledon. It was quarter-final Friday at Montreal, August 10.

On this day the margins between Roddick and Djokovic were small but obvious. The points were fought with pace and ferocity, both players ready to move forward to punish any weak offering by opponent. But in every department of the game--serving, returning, volleying, court movement, avoidance of error--Djokovic was the better player. His edge was most evident in his backhand stroking, especially in delivering passing shots, and also in volleying. An important key was his ability to deny Andy his usual total of aces and other short points in serving. Djokovic d. Roddick 76 64.

On the next day, Saturday, Djokovic faced Rafael Nadal. It was Nadal's first hard-court tournament of the summer following his runner-up appearance at Wimbledon. Now, Djokovic showed himself a level above Nadal both in firepower and mobility. Rafael's artillery indeed carried the greater topspin, but the usual weight seemed absent, and too often his deliveries landed shallow, scarcely beyond the service line. Djokovic comfortably reached nearly everything, often early enough to step forward and deliver flatter and higher-velocity replies. When Rafa managed to push Djokovic to the corners, the young Serbian displayed impressive defensive skills. Most of the time Novak's shots were more aggressive than Rafael's--closer to the lines and more potent--and his edge in serving aces and in second-serve effectiveness was even more marked. Djokovic d. Nadal 75 63.

The Serbian youth next faced Roger Federer in the Sunday final. The excellent defensive ability of both men was strongly evident, blunting the offensive weaponry of both. Thus the tendency became to engage in prolonged rallies of heavy hitting, the players moving one another about the court but generally avoiding high-risk bids for immediate winners. If the edge in serving effectiveness went to Roger by a narrow margin, Novak's flair for getting into play many of Roger's strongest serves was also evident. Many extended points were dazzling in spectator appeal, sometimes ending in an ultimate strike most often by Djokovic. But most points were decided by errors, often by Roger. In the final tiebreak game, it was Roger who failed to produce his best. Djokovic d. Federer 76 26 76.

It seemed evident that Djokovic and his three late victims--Roddick, Nadal, and Federer--were now the prime favorites for U.S. Open 07.

PRELUDE: CINCY 07

Often the champion of the previous week promptly loses his first-round match in the next week's tournament. Thus it was that Djokovic in his initial match in Cincinnati became victim of the glowworm syndrome, beaten in straight sets by veteran Carlos Moya. Also immediately out was Nadal, who trailed Juan Monaco and then retired in the second set, hampered by right-knee and left-arm troubles. Indeed, five of the top eight seeds--all but Federer, Roddick, and Davydenko--lost their first matches. And Roddick would exit one round later, beaten by the tough Spanish player David Ferrer.
Carlos Moya (top) was defeated by Lleyton Hewitt, while Andy Roddick (bottom) lost to Ferrer in the middles round at Cincinnati.
Meanwhile James Blake struggled against teen-aged Sam Querrey. But there was no first-set spell of error-making by James in his subsequent semi-final meeting with Davydenko, who had beaten Ferrer. Points were fiercely contested, but the American was slightly superior to the slender Russian both in his weight of artillery and in his athletic mobility. Blake d. Davydenko 62 64.
Probably the tournament's best match was the semi-final between Lleyton Hewitt and Roger Federer. Lleyton, now 26--nowadays less feisty perhaps but very well focused--on this Saturday afternoon played at a level remindful of his years as world champion, 2001 and 2002. After a slowish first set, won by Roger, Lleyton captured the second in a tiebreaker and then stayed even in the third. The play was fiercly contested, Hewitt and Federer alternating in the forcing role, each pushing his opponent to the limits of his mobility. If the narrow edge in firepower was Federer's, the edge in consistency was most often Hewitt's. Roger plainly tried to turn up matters in repeated efforts to pull ahead, but again and again Lleyton came up with superb replies. Lleyton faltered only in the deciding tiebreak game, when his wonderful play vanished amid a run of dismal errors. Federer d. Hewitt 63 67 76.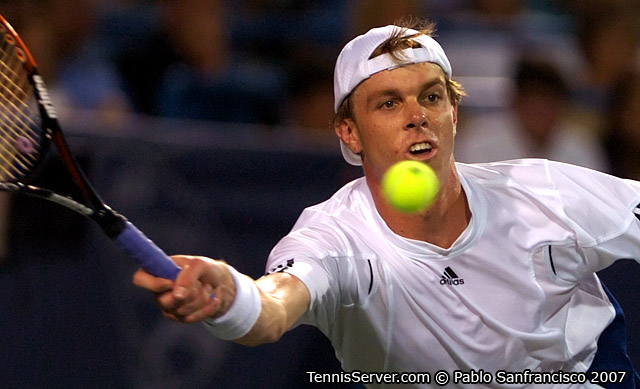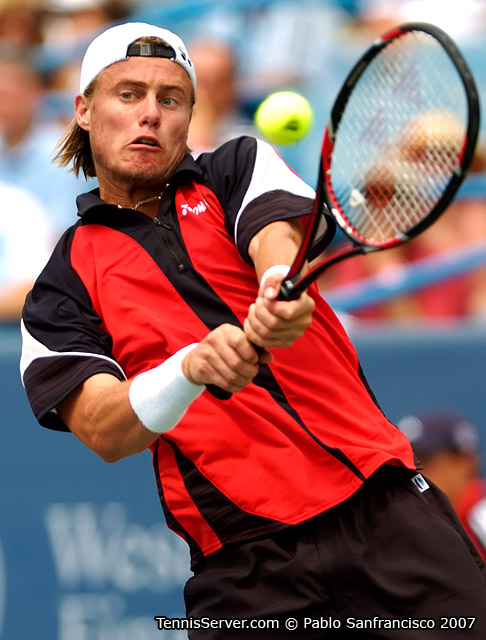 Sam Querrey (top) narrowly fell to James Blake, while Lleyton Hewitt (bottom) lost an extraordinarily close match to Federer in Cincinnati.
The magic of James Blake faded in his Sunday final against Federer. Both men played somewhat raggedly, but Roger never seemed in danger of losing. Federer d. Blake 61 64.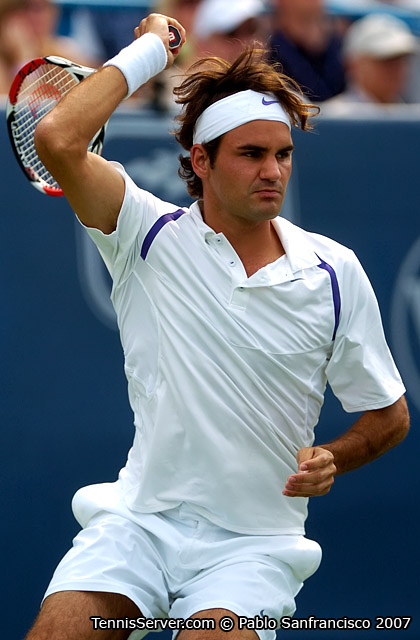 Roger Federer (top) defeated James Blake (bottom) at the W&SFG Masters final in Cincinnati.


Comparing their performances against Roger, clearly it was Hewitt, not tournament runner-up Blake, who had been the second-best player in the tournament. Lleyton's strong earlier play in Montreal and Washington argued that he too belonged in our prime group in his prospects for New York. Our calculations, noted below, would give further verification. As to Roger Federer, although his winning margins were sometimes tight, by reaching the final in Montreal and then winning in Cincinnati, little doubt remained that Roger was yet ahead of the others, in a class by himself.

NEW YORK 07

The that picture emerged from the summer events, sketched above, accords fairly well with detailed calculations predicting performance at the Open by weighting results at a wider sample of predictor events. (See footnote on the calculations.) Here are the six players identified in the calculations as most likely to win the tournament, along with the calculated odds.

Federer, even odds
Nadal, 3-1
Djokovic, 6-1
Roddick, 21-1
Davydenko, 38-1
Hewitt, 125-1
all others, 200-1 or longer

Shown next are the four quarters of the draw along with the raw scores from our predictive calculations. My predictions follow the raw scores.

ROGER'S QUARTER

Federer 6.45, Roddick 3.65, Gasquet 2.45, Berdych 2.24, Ferrero 1.94, Mathieu 1.70. The draw was unlucky for Andy Roddick, who lost to Federer in their last eight meetings including in the final of U.S. Open 06. More than most courts elsewhere, the Open's fast surfaces help Andy, but Roger's dominance seems absolute. In earlier rounds Berdych could stop Roddick, and Gasquet could extend Federer. But the unquestioned, heavy favorite here is Federer.

SECOND QUARTER

Davydenko 3.30, Blake 2.42, Haas 2.49, Murray 2.31, Baghdatis 1.82, Canas 1.62. This seems a weak quarter, offering opportunities for the second level. But Davydenko should move past rusty Murray or slumping Canas. (Canas beat Federer twice early this year.) Blake at his best can beat anyone here, as seen against Davydenko in Cincinnati. But James's best has been seen only occasionally of late. The choice is Davydenko.

THIRD QUARTER

Djokovic 4.58, Hewitt 2.72, Youzhny 2.38, Robredo 2.16, Moya 1.61. Hewitt's fine play at Cincinnati is reinforced in the calculations by his strong year elsewhere. He and Djokovic are in the same half of this quarter. When they met in last year's Open, Hewitt won, but Djokovic won in this year's Wimbledon. The choice here is Djokovic, to defeat first Hewitt and then, more easily, Youzhny. Djokovic.

BOTTOM QUARTER

Nadal 5.35, Ferrer 2.47, Gonzalez 2.35, Ljubicic 1.71, Chela 1.70, Safin 1.50. If Rafael is physically at his best, his relentless pressure should inexorably defeat anyone here. Nadal.

SEMIS AND FINAL

Federer is almost certain to defeat Davydenko in their semi-final. Meanwhile--though Novak Djokovic is a magnificent young player--Nadal if in full health should reverse the verdict in Montreal in this best-of-five-set struggle. Thus yet another Federer-Nadal final will arise, where the large advantage will go to Roger on the fast courts in Queens. With his victory, Federer will regain first place in the year-to-date points race, an honor held by Nadal in the months since Garros, and another year-end finish at #1 will be close at hand for this great athlete.

WOMEN'S SINGLES

As usual, the outlook for the women's singles rests on injury-related uncertainties. The summer entry lists in California and Toronto were badly depleted by injuries, but only Mauresmo among the superstars is missing from the official draw for the Open. Six prime candidates stand out with reasonable prospects of winning the crown. Another six have outside chances.

THE BIG SIX

Justine Henin (estimated odds 3-1). Justine, now 25, was runner-up at the Open last year. The slender, smallish athlete with the superb court sense and mighty will currently leads in the 2007 year-to-date points race, having won Garros 07 and the just-completed Tier One in Toronto, in both cases without loss of a set. Her final-round match in Toronto with Jelena Jankovic featured many long, ferocious exchanges, where both players hit out with full groundstroke power, shot after shot, almost always directed to force opponent's movement. Jelena had never beaten Henin in six meetings, though five of them required three sets. At Toronto the Serbian star again played well enough to win, but Justine produced too many sparkling deliveries when needed. Justine's stamina seemed OK--she showed signs of tiredness only momentarily toward the end. Her absence from competition since Wimbledon should give her the long-term reserve of rest that she sometimes seems to need. A former U.S. Open champion, in 2003, she must be deemed the tournament favorite.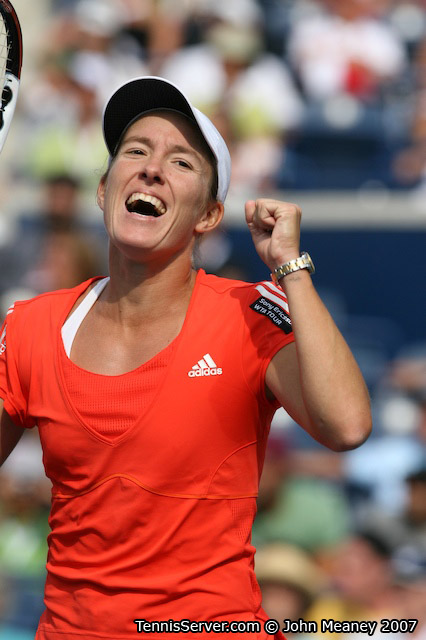 Justine Henin (bottom) defeated Jelena Jankovic (top) 76(3) 75 in the Rogers Cup finals in Toronto.
Maria Sharapova (odds 5-1). The defending Open champion, Maria, still just 20 at height 6-2, seemed close to her best in winning the Tier One at San Diego in early August and her first three matches at Los Angeles the next week. But a jarring leg or back injury in practice caused her to withdraw from LA, and she has not competed since. The relatively fast surface at the Open should enhance her aggressive, hard-hitting style, and the good traction should also be to her benefit.
Ana Ivanovic (odds 8-1). Ivanovic won six matches at Garros 07 before losing in the final to Henin, then won five matches at Wimbledon, losing to Venus Williams. It was an impressive run for the 19-year-old six-footer. In August Ana won the tournament in Los Angeles impressively, defeating Petrova and Jankovic, but she then lost her first match at Toronto--like countryman Djokovic an apparent victim of the glowworm syndrome.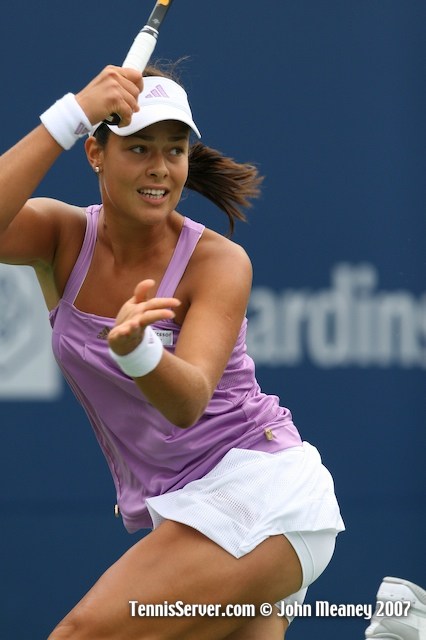 After winning in Los Angeles, Ana Ivanovic lost her first round match in Toronto to Yan Zi 63 61.
Jelena Jankovic (odds 10-1). Comparisons between the two Belgrade-born superstars are inevitable. Ivanovic is larger and hits with heavier sustained weight. Jankovic has the better speed and control in her court movement. Jelena, who at 22 is the older, made a strong run at U.S. Open 06, reaching the final four. Her upward surge continued into 2007, but she lost her second match at San Diego this summer, then lost to Ivanovic in three sets at Los Angeles. But she reached the final at Toronto, losing to Henin in two close sets, thereby retaining her #2 place in the year-to-date points race.
The greatest uncertainties entering the Open again surround the sisters Williams, both of them having been sidelined of late. Too often in the past, the chances of one or both in Slams have been underestimated because of preceding periods of inactivity. Both have excelled at U.S. Open in the past, where Venus has been champion three times, Serena twice.
Venus Williams (odds 6-1) is probably the lesser mystery. Her stunning triumph at Wimbledon 07 at age 27 was among the biggest surprises of recent tennis history, having followed an extended period marked by grievious spells of error-making by Venus. The errors persisted in her first three Wimby matches. But in her last four matches the world saw the Venus of old, who battered her opponents with relentless power and spoiled their own attacking with superb mobility and defense.
After Wimbledon, Venus won two singles matches in the U.S. loss to Russia in Fed Cup, beating Petrova and Chakvetadze. She then lost closely to Chakvetadze at San Diego, but she then withdrew from Los Angeles and Toronto with right-knee trouble. If the knee holds up, a return by Venus to the form of Wimbledon as the tournament progresses is entirely plausible. A double-triumph--Wimby and the Open 07--would be the tennis story of the year, perhaps decade.
Serena Williams (odds 8-1). Serena has been sidelined for long periods over the past two years, but she has competed in all three Slams of 2007 to date. She won Australian Open 07, destroying Sharapova in the final round, and then lost quarter-final matches to Henin at both Garros and Wimbledon. She also won the Tier One tournament at Miami, beating Henin. A thumb injury on the left hand has kept her out of competition since Wimbledon. Thus the picture for Serena is essentially the same as Venus's, but where Serena's longer period of recent inactivity--and Venus's better showing at Wimbledon--accounts for Serena's longer odds.
SECOND TIER
There are a dozen or so other stars not terribly far behind the leaders, each capable of pushing any member of the Big Six to the limit on occasion. But to win the tournament, a member of this second tier would have to defeat two or perhaps three members of the Big Six, an improbable scenario. Here are six whose chances seem best.
--Kuznetsova (odds 50-1). Always dangerous, U.S. Open champion in 2004, age just 22.
--Chakvetadze.(odds 50-1). Rising fast at age 20 with well-rounded game. Won at Stanford but retired sick at Toronto.
--Petrova (odds 80-1). Lost closely to Ivanovic at Los Angeles and Henin at Toronto.
--Golovin (odds 100-1). Good mover and hitter at age 19. Lost to champion Maria in two tiebreak sets U.S. Open 06. Beat Kuznetsova and stretched Jankovic at Toronto 07.
--Vaidisova (odds 100-1). Age just 18. Tall and strong, closing on the top ten. Sidelined with mono since Wimby.
--Bartoli (odds 100-1). Closing on top ten at age 22. Finalist at Wimby 07.
PREDICTING THE QUARTERS OF THE DRAW
Henin and Serena Williams are at opposite ends of the top quarter. To reach their probable meeting in the tournament quarter-finals, Henin must surmount Safina, Serena must surmount Bartoli. Both favorites should succeed. Then, having beaten Serena in their last two meetings, Justine should be the survivor. Henin.
The second quarter is even more heavily loaded, featuring three members of our Big Six. Ivanovic and Venus Williams must face each other enroute to a probable quarter-final meeting with Jankovic. The first match-up is almost unpredictable, where my guess is that Venus will fall short of her best, enabling Ana to advance. Then against Jelena, Ana should repeat her three-set win at Los Angeles. Ivanovic.
In the third quarter two veterans--if players in their early twenties can be veterans--should meet in the concluding match of the quarter. There are difficult hurdles for Petrova, however--first Krajicek and then Hantuchova. Kuznetsova's path is easier, though an intriguing match-up with Hingis is likely. (Hip and back troubles have spoiled Martina's second year of comeback.) Kuznetsova and Petrova have met four times in the past, Kuznetsova--the younger player--having won three times including once this year. Kuznetsova.
The bottom quarter is Sharapova's, with Vaidisova in her path along with yet-more-dangerous Chakvetadze afterwards. If she is fully healthy Maria's path seems open, given Vaidisova's recent inactivity and Chakvetadze's less explosive game. Sharapova.
In their tournament semi-final, Henin is the strong choice to defeat Ivanovic, whom she demolished at Garros this year. The hard surface at the Open should help Ana, but Justine's mental strengths and her greater experience should counter-weigh amply. Meanwhile Sharapova should prevail over Kuznetsova in the second semi. The margin will probably be small, but Maria's mental toughness argues against her losing.
Thus Sharapova and Henin should meet on final-round Sunday. Justine has impressive credentials, including having beaten Maria in three of their last four meetings, all on hard courts in 2006 and 2007. In a match likely to feature frequent breaks of serve, Henin should claim her second U.S. Open--the seventh Slam triumph of her career.
--Ray Bowers
Arlington, Virginia
From correlations data over the past seven years, we obtain the following values for weighting results at various predictor tournaments in order to predict results at U.S. Open 07.
U.S. Open 06, 13.12%
Australian Open 07, 11.80%
Indian Wells and Miami 07, each 11.18%
Monte Carlo, Rome, Hamburg 07, each 4.82%
Garros 07, 5.04%
Wimbledon 07, 10.84%
Canada and Cincinnati, each 11.18%
total 100.00%
To convert the resulting raw scores to odds for each player, a calibrating factor is needed. This is obtained by determining that Federer's chances for winning the Open are 50%. (This is the overall probability reached by deeming Roger the favorite in his seven successive matches by the following probabilities: .98, .96, .94, .92, .90, .85, and .80.)



Between The Lines Archives:
1995 - May 1998 | August 1998 - 2003 | 2004 - 2015
If you have not already signed up to receive our free e-mail newsletter Tennis Server INTERACTIVE, you can sign up here. You will receive notification each month of changes at the Tennis Server and news of new columns posted on our site.
This column is copyrighted by Ray Bowers, all rights reserved.
Following interesting military and civilian careers, Ray became a regular competitor in the senior divisions, reaching official rank of #1 in the 75 singles in the Mid-Atlantic Section for 2002. He was boys' tennis coach for four years at Thomas Jefferson High School for Science and Technology, Virginia, where the team three times reached the state Final Four. He was named Washington Post All-Metropolitan Coach of the Year in 2003. He is now researching a history of the early pro tennis wars, working mainly at U.S. Library of Congress. A tentative chapter, which appeared on Tennis Server, won a second-place award from U.S. Tennis Writers Association.
Questions and comments about these columns can be directed to Ray by using this form.
---