Developing Consistency And Confidence In Your Serve

Mike Whittington
Do you have the confidence to step up to the baseline and hit a variety of serves regardless of the score? Since the serve is the most significant shot in tennis, it is important to gain control over it and feel comfortable when the heat is on during a tight match. It is amazing how some players can develop an aggressive forehand or backhand yet never be able to use it to its full potential simply because they are starting with a weak serve. Here is a little drill that will put some pressure on you in practice and allow you to develop confidence as you compete against yourself.
The object of the drill is to play a set against yourself using only a first serve. Play one set from the deuce court and one from the ad court. If you are a new player and have difficulty preventing double faults, simply getting the serve anywhere in the box counts as a point for you. Without switching sides, serve again and award a point either to yourself or an imagined opponent. For instance, if you get your first serve in, you're up 15-love. Missing the second serve makes it 15-15. It might sound easy but you can put certain hitting areas up to increase the difficulty.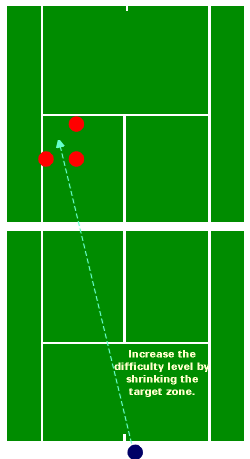 Let's say you are a solid player with a relatively good serve. Your problem happens to be that you can't get your serve into the backhand on big points. Place cones in the center of the service box to divide the box into a forehand and backhand side, then only award yourself points when your serve lands in the backhand side. As you become more proficient, progressively make the target area smaller to increase difficulty. (See the graphic at the right). You can even add spins to the mix. I recently had a collegiate player who wanted more kick on his serve. He played a serving set against himself but each serve had to hit the back fence in the air to win the point. Now that makes you concentrate!
As you can see there are several variation to this drill. The thing I like most is you don't need anyone else to do it and it still helps you with the most important shot in the game. It's also just about impossible to conquer as long as you keep increasing the difficulty. My collegiate player lost 6-3! As you develop more and better serves using this drill you will start carrying the confidence gained into match play and confident serves leads to confident points!




Hardscrabble Scramble Archive
If you have not already signed up to receive our free e-mail newsletter Tennis Server INTERACTIVE, you can sign up here. You will receive notification each month of changes at the Tennis Server and news of new columns posted on our site.
This column is copyrighted by Mike Whittington, all rights reserved.
At the time at which he wrote this column, Mike Whittington was a USPTA pro in Fort Smith, Arkansas, where he served as director of tennis at the Hardscrabble Country Club.

---