The warm-up is to WARM UP!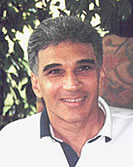 Tom Veneziano
When preparing to play tennis WARM UP YOUR STROKES SLOWLY! Sounds simple doesn't it? Yet, most club players warm up too fast and attempt to consistently hit winners. All good athletes, ballet dancers, and even race horses warm up slowly, but club players go out and beat on the ball in the warm-up! Here is a simple plan that you can execute within 10 minutes to warm up properly.
For a few minutes warm up the eyes. Do not worry if the balls you hit go in or out, just keep your eye on the ball and WARM UP YOUR EYE TRACKING SYSTEM.

Next, for more controlled ball placement in a match try to consciously aim the ball at your opponent with increased accuracy. WARM UP YOUR BALL PLACEMENT.

And last, begin moving a little faster to run down a few more balls. WARM UP YOUR MUSCLES.
Too many players immediately run fast, hit the ball much too hard, and attempt to hit winners consistently in the warm-up. When I confront them about hitting hard and hitting winners they usually tell me, "Well that is the way I am going to play." I quickly tell them they are not playing a match, they are WARMING UP! The truth is, they have trouble slowing down their strokes because it throws off their timing. Can you slow down your strokes and still maintain your timing? I can tell you one thing, it will be great practice to try. In a match, you must learn to play at different speeds, depending on the circumstances. The warm-up is a perfect opportunity to see if you can control the ball at slower speeds.
The next time you play, WARM UP SLOWLY and give your eyes, mind, and body a chance to work itself into improved timing and rhythm. You will be surprised at the difference it will make in your match play.
The WARM-UP is to WARM UP! I am not quite sure why many players cannot get that, but it seems to be a universal malady. Do not be guilty of attempting to win the warm-up. Save it for match play!



Tennis Warrior Archive
If you have not already signed up to receive our free e-mail newsletter Tennis Server INTERACTIVE, you can sign up here. You will receive notification each month of changes at the Tennis Server and news of new columns posted on our site.
This column is copyrighted by Tom Veneziano, all rights reserved.
Tom is a tennis pro teaching at the Piney Point Racquet Club in Houston, Texas. Tom has taught thousands of players to think like a pro with his Tennis Warrior System.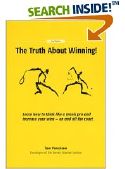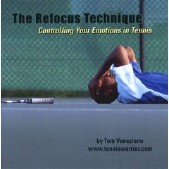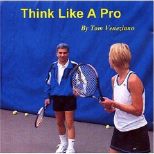 In Tom Veneziano's book "The Truth about Winning!", tennis players learn in a step-by-step fashion the thinking the pros have mastered to win! Tom takes you Step-by-step from basic mental toughness to advanced mental toughness. All skill levels can learn from this unique book from beginner to professional. No need to change your strokes just your thinking.

Audio CDs by Tom Veneziano:



---