A Mental Technique To Improve Your Volleys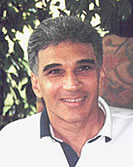 Tom Veneziano
Many times when teaching I can adjust the thinking of students and thereby affect their stroke production. This quick tip on volleying can improve your volleys without making any major changes in your stroke.
Would you like to improve your volley without consciously changing any technical skill? The next time you volley, do not think in terms of hitting a winner. Instead, think in terms of consistency and control. Simple, isn't it? It may be, but do not assume you think correctly when hitting volleys. I have been teaching a long time and just about every player tries to go for too much pressure on every volley they hit. I call it playing in the "hit-winners" mindset. Subconsciously they think they should win the point NOW every time they touch the volley.
Most players at the net are so filled with anxiety they overplay everything. The next time you are volleying use a "consistent" mindset and watch the difference. Think in terms of just getting the ball back, moving it around, and not necessarily hitting a winner. Of course, when you have a high short ball you can go for a winner, but relax, slow it down, and you will be surprised how much more consistently you will play, even when hitting winners!!!
Winners do not win matches - CONSISTENCY AND CONTROL DO!
What effect does this type of thinking have on the technical strokes? Simple, when you try to play with a "consistent" mindset not a "hit-winners" mindset, you stop swinging the racket. This will automatically begin improving your block volleys. Most players over-swing at the net. This is an excellent mental technique to help you learn a block volley and surprise your friends with the quick improvement. Try it, you'll like it!



Tennis Warrior Archive
If you have not already signed up to receive our free e-mail newsletter Tennis Server INTERACTIVE, you can sign up here. You will receive notification each month of changes at the Tennis Server and news of new columns posted on our site.
This column is copyrighted by Tom Veneziano, all rights reserved.
Tom is a tennis pro teaching at the Piney Point Racquet Club in Houston, Texas. Tom has taught thousands of players to think like a pro with his Tennis Warrior System.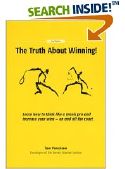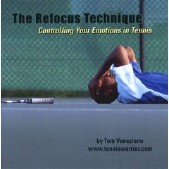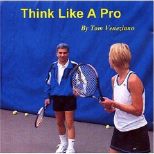 In Tom Veneziano's book "The Truth about Winning!", tennis players learn in a step-by-step fashion the thinking the pros have mastered to win! Tom takes you Step-by-step from basic mental toughness to advanced mental toughness. All skill levels can learn from this unique book from beginner to professional. No need to change your strokes just your thinking.

Audio CDs by Tom Veneziano:



---