Failing successfully!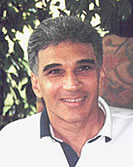 Tom Veneziano
Playing instinctive and spontaneous tennis is your key to better play. In order to play instinctively you must learn to put yourself on automatic. What stops most players from doing this? The answer...FEAR! FEAR of missing, FEAR of mistakes, FEAR of failure. This is true for everyone, even professionals. Fear of missing is a battle we all must overcome. If you would like to play on automatic and win the battle of fear here's a few pointers.
First, practice going for your shots in your practice matches whether you miss, fail, or lose. In other words, give yourself the freedom to go for your shots. Stop trying to mentally control every little move you make... let yourself go. Just do it!
Second, if you're going to adopt this attitude you must not fear missing. You cannot give yourself the freedom to go for your shots if you are spending all of your time trying NOT to fail. Give yourself the freedom to go for your shots and if you miss...accept it. Failure is part of success. In fact, failure and success are the same...the only difference is success gets up and keeps going.
You must learn to deal with your failures by taking responsibility for them. One of the main reasons this is so difficult is because most players do not practice dealing with their mistakes properly. They're too busy being angry or rationalizing their mistakes, instead of just accepting them and moving on. What do you do?
If you ever hope to play instinctive and automatic tennis you must consistently practice these two mental habits.
Give yourself the freedom to go for your shots.

Learn to deal with your mistakes and failures by accepting them and moving on.
Simply said - GIVE YOURSELF THE FREEDOM TO GO FOR YOUR SHOTS AND IF YOU MISS...ACCEPT IT!



Tennis Warrior Archive
If you have not already signed up to receive our free e-mail newsletter Tennis Server INTERACTIVE, you can sign up here. You will receive notification each month of changes at the Tennis Server and news of new columns posted on our site.
This column is copyrighted by Tom Veneziano, all rights reserved.
Tom is a tennis pro teaching at the Piney Point Racquet Club in Houston, Texas. Tom has taught thousands of players to think like a pro with his Tennis Warrior System.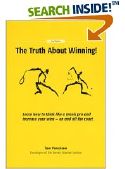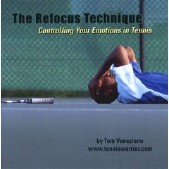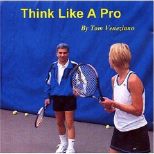 In Tom Veneziano's book "The Truth about Winning!", tennis players learn in a step-by-step fashion the thinking the pros have mastered to win! Tom takes you Step-by-step from basic mental toughness to advanced mental toughness. All skill levels can learn from this unique book from beginner to professional. No need to change your strokes just your thinking.

Audio CDs by Tom Veneziano:



---