Percentage thinking - selecting the correct thought!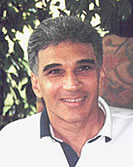 Tom Veneziano
I'm not talking about percentage play, but percentage thinking! What's the difference? Well, percentage play is the ability to select the highest percentage shot that gives you the best opportunity to win over the long haul. For instance, in singles your best percentage play from the baseline is a crosscourt shot. Why? Because the net is lower and the court is longer when you choose to hit crosscourt. Therefore, the percentages say you will hit more balls into the court by hitting crosscourt, reducing the chance of missing the shot. By the way, human nature has a big problem selecting percentage shots with any consistency. Percentage play does not seem to be compatible with the impatience of human nature and the "all or nothing" mentality! Players are constantly playing in the "hit winners" mind-set.
What is percentage thinking? It's similar to percentage play, but strictly deals with THOUGHT. Percentage thinking is the ability to select the highest percentage THOUGHT that gives you the best opportunity to win over the long haul. For example, when you make a mistake you have two choices: one, let it bother you, or two, forget it and move on. Two choices! You can always make a choice good or bad. Percentage thinking dictates that you must select number two, forget your mistakes and move on. Doing this will give you the greatest opportunity to win over time.
You will have many opportunities on the tennis court to make decisions that are crucial to the outcome of your matches... crucial! You must learn percentage thinking to win with the strokes you possess today. Some of those correct percentage thoughts are:
Do not allow mistakes to bother you.
Do not allow self-doubt to sneak into your mind.
Do not over-think your failures.
Do not change your game when you are winning.
Do not panic when you have a run of mistakes.
Do not panic when your opponent has a run of good shots.
Do not become over-confident when you have a big lead.
Do not think you cannot win when you are about to lose.
Do not think you have already won when you are about to win.
Do not think you are the only one who is nervous.
Do not think winning at tennis is all about great tennis strokes.
Do not think losing at tennis will ruin the rest of your life!
This is just a partial list, but it will help you tilt the mental odds in your favor and win a higher percentage of your matches. And you can do it with the EXACT STROKES you possess today.
JUST CHANGE YOUR THINKING!



Tennis Warrior Archive
If you have not already signed up to receive our free e-mail newsletter Tennis Server INTERACTIVE, you can sign up here. You will receive notification each month of changes at the Tennis Server and news of new columns posted on our site.
This column is copyrighted by Tom Veneziano, all rights reserved.
Tom is a tennis pro teaching at the Piney Point Racquet Club in Houston, Texas. Tom has taught thousands of players to think like a pro with his Tennis Warrior System.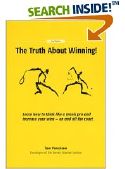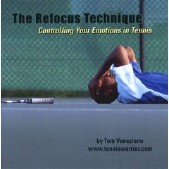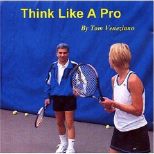 In Tom Veneziano's book "The Truth about Winning!", tennis players learn in a step-by-step fashion the thinking the pros have mastered to win! Tom takes you Step-by-step from basic mental toughness to advanced mental toughness. All skill levels can learn from this unique book from beginner to professional. No need to change your strokes just your thinking.

Audio CDs by Tom Veneziano:



---