Volleying on the move!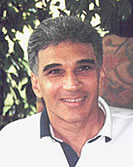 Tom Veneziano
When hitting a transition volley while moving to the net, do not stop and set up to hit your volley. Instead learn to move THROUGH the volley. That's right, move into the volley rather than standing still and balanced waiting for the ball to come to you. I know you may have been taught differently, but that is NOT what the good pros are doing. The pros move toward the ball and lunge into it as they hit and keep moving. They do NOT set up and wait for the volley to come to them as is commonly taught. I'm not sure where this notion came from about stopping, setting up and then hitting before moving again, but I would forget it and let your body go for it!
I guess staying still and balanced as you hit appears to make sense. But how about being on the move and balanced? What is wrong with that? You are moving and balanced all the time when you walk or run! The same is true for the transition volley to the net. With practice you can move and also stay balanced, identical to walking and running. The benefits of learning to do this are enormous.
First, you will close in on the ball by getting to it sooner. As a result the ball will move back to your opponent quicker, giving them less time to hit their shot. When players have less time to hit their shot they will make more errors. And second, you will have more natural fluency in your movement rather than coming to a screeching halt to hit your volley. More fluency is compatible with automatic, spontaneous and instinctive play. You know I like that part!
The next time you are advancing to a volley do NOT stop and set up... keep moving! You will be surprised how much better this feels and how your feet will automatically move into the correct position. How do I know this will occur? Simple, I have taught this technique to thousands of players over the years and it works! Besides, why would you not want to emulate what the pros are doing?



Tennis Warrior Archive
If you have not already signed up to receive our free e-mail newsletter Tennis Server INTERACTIVE, you can sign up here. You will receive notification each month of changes at the Tennis Server and news of new columns posted on our site.
This column is copyrighted by Tom Veneziano, all rights reserved.
Tom is a tennis pro teaching at the Piney Point Racquet Club in Houston, Texas. Tom has taught thousands of players to think like a pro with his Tennis Warrior System.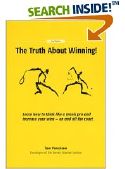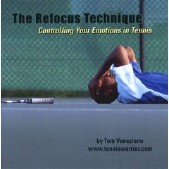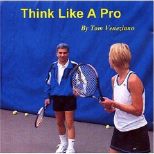 In Tom Veneziano's book "The Truth about Winning!", tennis players learn in a step-by-step fashion the thinking the pros have mastered to win! Tom takes you Step-by-step from basic mental toughness to advanced mental toughness. All skill levels can learn from this unique book from beginner to professional. No need to change your strokes just your thinking.

Audio CDs by Tom Veneziano:



---