The follow-through misconception!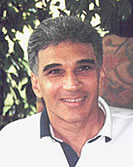 Tom Veneziano
I often hear players on return of serve say, "I missed, I should have followed through." Does the follow-through make the ball go in the court? If you have read my material you will know the answer to that question is no! The racket face placed on the ball properly is what makes the ball go in the court, not the follow-through. The other day I was giving a lesson when my student missed and said, "I need to follow through." I said, "You need to follow through, but that does not make the ball go in the court." She said, "Well, then what in the world am I following through for?!"
The follow-through is to add topspin to the ball and can add power to a shot. Adding topspin can help bring the ball into the court, but the upward follow-through for topspin does not make the ball go in the court. Again, the position of the racket face does. You could have a beautiful follow-through with exceptional topspin, but if the racket face is too open the ball will sail out-of-bounds. On the other hand, if you return serve with no follow-through, but the racket face is correct, the ball will land in the court! Haven't you ever seen a pro return serve with just a block shot?
Now, should you eliminate your follow-through? Of course not! You should continue to follow through on your strokes, but if at times you have to block the ball to get it back...so be it! This is all part of the game.
CAUTION! DO NOT READ BEYOND THIS POINT IF YOU CANNOT HANDLE THE TRUTH.
Stop blaming your mistakes in a match on no follow-through, no knee bend, or any lack of technical skill. Instead, blame yourself for not practicing with massive repetition so that when the time comes you will understand how to place the racket face so well that you can hit the ball with DIFFERENT strokes and from DIFFERENT positions on the court! Repetition is the chariot of genius.



Tennis Warrior Archive
If you have not already signed up to receive our free e-mail newsletter Tennis Server INTERACTIVE, you can sign up here. You will receive notification each month of changes at the Tennis Server and news of new columns posted on our site.
This column is copyrighted by Tom Veneziano, all rights reserved.
Tom is a tennis pro teaching at the Piney Point Racquet Club in Houston, Texas. Tom has taught thousands of players to think like a pro with his Tennis Warrior System.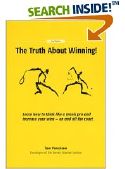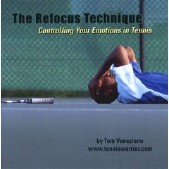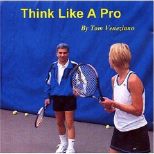 In Tom Veneziano's book "The Truth about Winning!", tennis players learn in a step-by-step fashion the thinking the pros have mastered to win! Tom takes you Step-by-step from basic mental toughness to advanced mental toughness. All skill levels can learn from this unique book from beginner to professional. No need to change your strokes just your thinking.

Audio CDs by Tom Veneziano:



---