Don't depend on your coach!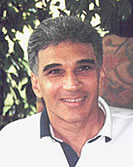 Tom Veneziano
Have you ever heard the phrase, "It's what you do when no one is looking that determines who you really are." Well, it's what you do when your coach is not looking that determines your tennis game! Players simply rely too much on their coach and not enough on themselves to improve their game. They take a lesson, go out and play a couple of times, then come back for another lesson, leaving it up to their pro to straighten out all their problems!
You must understand that what you do in your practice is what determines your progress, NOT what magic words are imparted to you by your coach. This was one of the reasons why I shifted my teaching toward massive repetition and minimum technical skills. Players do NOT practice enough on their own. My lessons are only the foundation and training ground for intense practice, practice, practice! Most players love the Tennis Warrior System and come back week after week for more. I train all players exactly like I would train a pro, but I gear the training toward the player's own level of play and tailor my instruction for the players needs. This system works! And it gives a player a hint of what pros have gone through to learn the game.
Practice is much more important than the lesson itself - just as in playing a musical instrument or any sport. And that's coming from a tennis pro who has talked to many professionals in other areas of life! Remember a lesson is usually only one to two hours a week. Do not rely on a lesson for major improvement in your game. And if you are taking a conventional lesson where massive repetition is not the main ingredient, improvement will be much slower or maybe not a all!!!
Learn to practice on your own and remember repetition, repetition, repetition is the name of the game. You will separate yourself from the pack regardless of what level you play. I learned many years ago that if you would like to improve your game, simply find out what most players are not doing and then do it yourself. Most players do NOT practice with that much intensity or with that much frequency... do you?



Tennis Warrior Archive
If you have not already signed up to receive our free e-mail newsletter Tennis Server INTERACTIVE, you can sign up here. You will receive notification each month of changes at the Tennis Server and news of new columns posted on our site.
This column is copyrighted by Tom Veneziano, all rights reserved.
Tom is a tennis pro teaching at the Piney Point Racquet Club in Houston, Texas. Tom has taught thousands of players to think like a pro with his Tennis Warrior System.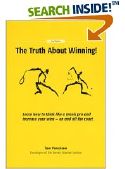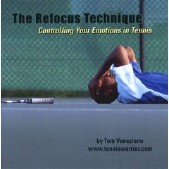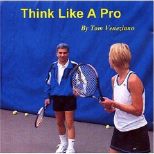 In Tom Veneziano's book "The Truth about Winning!", tennis players learn in a step-by-step fashion the thinking the pros have mastered to win! Tom takes you Step-by-step from basic mental toughness to advanced mental toughness. All skill levels can learn from this unique book from beginner to professional. No need to change your strokes just your thinking.

Audio CDs by Tom Veneziano:



---