The Roddick ballistic serve!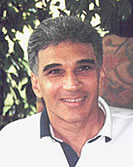 Tom Veneziano
Would you all like to know how Andy Roddick developed his fantastic serve? Do you think he achieved that serve by concentrating strictly on all the technical skills? Or do you think he developed his super serve through conventional mechanical procedures?
Well surprise, surprise! In an article in the London Sunday Times, Roddick revealed his secrets on how he developed his devastating cannonball serve.
Read and learn!
"One day I was practicing and got really mad," Roddick recalls.
"I just stepped up to the line and took a wicked swing at it without really going through the proper motions, and it went in, and I did it again and it went in again, and it was pretty hot, and the rest is history.
"I started doing it that day, then I used it in a tournament and it worked well, felt good. It's completely natural. There's not a lot of thought put into it."
"I get asked all the time how I get so much power in my serve, and I feel like an idiot because I never have an answer. It just happens. I've no idea where it comes from."
"But since that day, it's just always there for me, the one thing I can rely on."
"I just do whatever pops into my mind. I go with my gut. And I don't imagine it or think about it technically; I just do it."
As the article continues: From that day to this, his service action remains the same. And with that action he can serve flat, or kick the ball high and wide, or into the body, or slice it out of reach.
MY COMMENTS
Roddick has the best serve in the world with not a shred of technical skills in sight. I thought pros were supposed to go out and meticulously work on every mechanical part of their serve! :)
Tennis strokes are based on 'feel' NOT mechanics. Now, I'm not advocating going out and learning the serve exactly like Roddick. Everyone is different! You may need a few simple procedures. However, when you practice your serve remember until you have a 'feel' you do not own that stroke...that takes repetition, repetition, repetition! Just because you can mechanically execute a serve does NOT mean you have a serve...you MUST develop a 'feel'. Once again, a 'feel' is an identification with a stroke or serve as a whole unit, not its individual parts. Develop a 'feel' on your serve like Roddick and you too will "just do it"!!!



Tennis Warrior Archive
If you have not already signed up to receive our free e-mail newsletter Tennis Server INTERACTIVE, you can sign up here. You will receive notification each month of changes at the Tennis Server and news of new columns posted on our site.
This column is copyrighted by Tom Veneziano, all rights reserved.
Tom is a tennis pro teaching at the Piney Point Racquet Club in Houston, Texas. Tom has taught thousands of players to think like a pro with his Tennis Warrior System.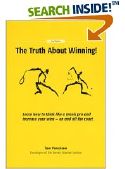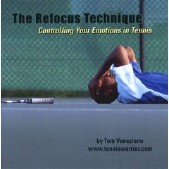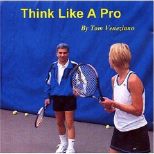 In Tom Veneziano's book "The Truth about Winning!", tennis players learn in a step-by-step fashion the thinking the pros have mastered to win! Tom takes you Step-by-step from basic mental toughness to advanced mental toughness. All skill levels can learn from this unique book from beginner to professional. No need to change your strokes just your thinking.

Audio CDs by Tom Veneziano:



---