Myth - You should stay anchored to the ground when you hit most of your shots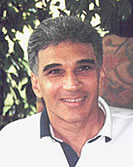 Tom Veneziano
Truth - Staying anchored to the ground may be good for golf, billiards, weightlifting, and fishing, but it does not work well in tennis. I love giving lessons to players who have been told over and over again to stay on the ground when hitting their shots. I love to see the expression on their faces when I say, "I do not care if you jump off the ground or not, whatever it takes to make the shot, just let your body go!" Most of my students feel like a huge burden has been lifted off their shoulders. Now they can relax, play tennis, and jump off the ground if they wish.
The pros jump off the ground on most of their groundstrokes, especially their power topspin shots. Jumping off the ground is a natural result of letting go and offers three important benefits:
1) more power, 2) improved fluency, and 3) better balance.
More Power

In jumping up, the upward burst of force adds power to your groundstrokes. Staying on the ground loses that extra power that can be beneficial in match play. Watch the pros jump off the ground as they hit harder and with more topspin on their groundstrokes.

Improved Fluency

If you hit a ball and let your body come to a screeching halt, you will lose the fluency of motion in that particular shot. If you let yourself go and your body leaves the ground, the natural result will be a more fluid shot. Contrary to popular belief, jumping off the ground maintains fluency, it does not destroy it. If jumping off the ground destroys fluency, then why would the pros be jumping all over the place on many of their shots?

Better Balance

This follows the same principle as improved fluency. If you come to an abrupt stop while you are hitting the ball, you will have a difficult time regaining your balance after the shot. If you let yourself go and jump off the ground when hitting the ball, your balance will be more natural and much easier to maintain.
Here is the bottom line. The pros jump off the ground because they know instinctively that it is beneficial. You should do the same. Play without forcing yourself to stay on the ground and, as a result, jumping will occur naturally and instinctively. You will be playing and thinking like a pro!



Tennis Warrior Archive
If you have not already signed up to receive our free e-mail newsletter Tennis Server INTERACTIVE, you can sign up here. You will receive notification each month of changes at the Tennis Server and news of new columns posted on our site.
This column is copyrighted by Tom Veneziano, all rights reserved.
Tom is a tennis pro teaching at the Piney Point Racquet Club in Houston, Texas. Tom has taught thousands of players to think like a pro with his Tennis Warrior System.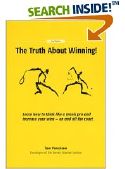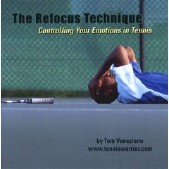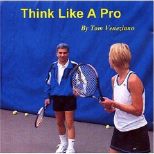 In Tom Veneziano's book "The Truth about Winning!", tennis players learn in a step-by-step fashion the thinking the pros have mastered to win! Tom takes you Step-by-step from basic mental toughness to advanced mental toughness. All skill levels can learn from this unique book from beginner to professional. No need to change your strokes just your thinking.

Audio CDs by Tom Veneziano:



---