The correct way to "go for your shots"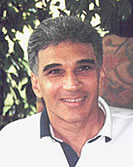 Tom Veneziano
'Going for shots' is a mental attitude. It's the freedom to not worry about failing when you're hitting; it is not caring when you are in the process of hitting your shots. In other words, you're relaxed. A good example of this attitude would be when your opponent's serve is long and you yell "out" as you hit one of the best returns of the match. Since the ball was served long, you did not care one whit if you made it or not. As a result, you automatically melted into the ideal mental performance state. You were relaxed and simply went for the shot.
Do not confuse the mental attitude of going for your shots with physically hitting every ball with power. That is not what I mean by going for your shots. It is a relaxed mental attitude that takes confidence and months of practice. Pounding the ball into oblivion is NOT going for your shots. You can be hitting a slow, medium, or hard shot and be going for your shots. It is a mental attitude, not any particular way of hitting.
If you have the ability to hit hard and keep a high percentage of balls in play, by all means go for it. Notice I said high percentage. Do NOT go for your shots if you are selecting low percentage shots that you can only make a small percentage of the time. To keep trying the same low percentage shot over and over and over again and calling it 'going for your shots' is incorrect. You must continue to play within the boundaries of the game you possess. Going for your shots does not mean to play with reckless abandonment. It's playing with controlled abandonment.
The control part is playing within your boundaries and the abandonment part is adapting a relaxed, carefree mental attitude when hitting. Sometimes slow, sometimes medium pace, and sometimes hitting hard but always with a relaxed, automatic mental attitude that is the signature of a champion.



Tennis Warrior Archive
If you have not already signed up to receive our free e-mail newsletter Tennis Server INTERACTIVE, you can sign up here. You will receive notification each month of changes at the Tennis Server and news of new columns posted on our site.
This column is copyrighted by Tom Veneziano, all rights reserved.
Tom is a tennis pro teaching at the Piney Point Racquet Club in Houston, Texas. Tom has taught thousands of players to think like a pro with his Tennis Warrior System.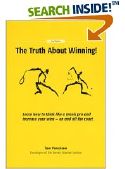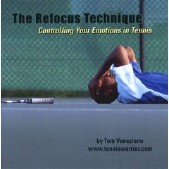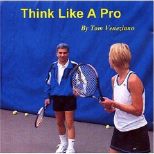 In Tom Veneziano's book "The Truth about Winning!", tennis players learn in a step-by-step fashion the thinking the pros have mastered to win! Tom takes you Step-by-step from basic mental toughness to advanced mental toughness. All skill levels can learn from this unique book from beginner to professional. No need to change your strokes just your thinking.

Audio CDs by Tom Veneziano:



---