The Opposite Phenomenon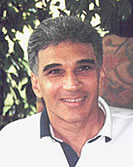 Tom Veneziano
Often players do the opposite of what they are supposed to do in order to solve problems in their match play. This opposite phenomenon consistently occurs on tennis courts throughout the world. Players actually sabotage themselves simply by thinking incorrectly! Make no mistake about it, thinking is a powerful tool, in fact ONE thought can make you or break you.
Let me illustrate by giving you two quick examples.
EXAMPLE ONE
Did you ever notice that after your opponent hits two or three balls back to you, you inevitably overplay each succeeding ball? By the time the fourth or fifth ball comes back it does not matter if this is the right ball (easy set up) to hit a winner, you pulverized it anyway. What causes this miscalculation? There are two reasons. First, the more times the ball comes back over the net, the more you think you will be the one to miss. As a result, you become impatient and nervous and attempt to end the point as soon as possible. Second, the more the ball keeps coming back, the more you think you have done something wrong! Again, you become impatient and nervous and go for the gold too soon, leaving you with an unforced error.
This incorrect thinking causes players to lose many, many points. Just because the ball keeps coming back does not mean you have done something wrong. I refer you to Tennis 101. Player A hits ball to player B and player B tries to hit it back. This is the object of the game. It's supposed to come back! Instead of trying to constantly put the ball away, do the opposite. Learn to be more patient and less nervous and wait for the right shot before attempting a winner.
EXAMPLE TWO
You are having a tough day at the courts, your timing and rhythm are off and you are not playing well. What should you do? Oddly enough the solution most players choose is to rear back and hit the ball harder! Inevitably they dig themselves in even deeper. The correct solution is to do the opposite. You should slow it down and try to re-establish your timing and rhythm, skillfully working yourself back into the match. As your timing begins to improve, then you can speed up your shots again. Hitting the ball harder when you are in a slump does not make sense. If your timing and rhythm were off at your normal speed, why would it be any better when your blasting the ball? Learn to think right about this situation and save yourself a lot of frustration.
Well, there you have it --- two match-play problems solved by thinking the opposite.
1. Don't think you have done something wrong when the ball comes back to you more than two or three times.
2. Don't hit harder when you are in a slump, instead slow it down and re-establish your timing and rhythm.



Tennis Warrior Archive
If you have not already signed up to receive our free e-mail newsletter Tennis Server INTERACTIVE, you can sign up here. You will receive notification each month of changes at the Tennis Server and news of new columns posted on our site.
This column is copyrighted by Tom Veneziano, all rights reserved.
Tom is a tennis pro teaching at the Piney Point Racquet Club in Houston, Texas. Tom has taught thousands of players to think like a pro with his Tennis Warrior System.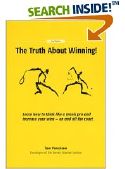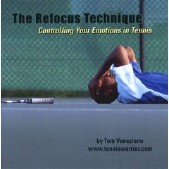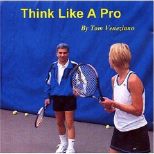 In Tom Veneziano's book "The Truth about Winning!", tennis players learn in a step-by-step fashion the thinking the pros have mastered to win! Tom takes you Step-by-step from basic mental toughness to advanced mental toughness. All skill levels can learn from this unique book from beginner to professional. No need to change your strokes just your thinking.

Audio CDs by Tom Veneziano:



---