So, you don't like losing!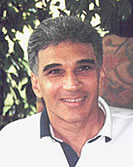 Tom Veneziano
I have taught players from all competitive levels not to dwell on past failures, but to keep moving forward, to always look ahead and never look back.
I teach them that bad cycles will occur, so they should stay relaxed, wait for the cycle to change and the tide WILL turn... if they keep the right mental attitude.
I give them phrases like, "the next shot is more important than the last mistake." Or, "in order to be good I have to make mistakes."
I prepare them for the inevitable frustrations that will happen while they are learning and playing tennis. Does it work? Yes, most of the time, but sometimes the overwhelming negatives are just too much for the players' emotions. As a result, they begin to analyze their foibles incorrectly. They whine, "All my practice and look at what I have done! I couldn't even make an easy shot. I'm such a horrible player." Their focus goes off course; they drown in a flood of negatives. Usually all this drama begins because they are losing, NOT necessarily because they are playing poorly.
Let me tell you what tennis coach Robert Lansdorp saw in Maria Sharapova when she was only 14 years old. Even while she was suffering a devastating loss, throughout the entire match she continued to go for her shots again and again and again. Coach Lansdorp recognized this as the number one quality for a great player. You, too, should remember that if everything falls apart in your game you can grab onto this one principle and ride out the storm!
In an article in Tennis Life Magazine (June 2005), the writer Alix Ramsay states: "By the time [Sharapova] was 14 and losing in her first professional tournament ... Lansdorp knew he was onto something good. Mopping up the tearful teenager after she had been roughed up by an older, more experienced girl on the slow clay court, Lansdorp tried to convince Sharapova and Yuri [her father] that everything would work out all right in the end. Sharapova was going to make it."
Lansdorp said, "I saw right there, the way she played: she played without fear. She wasn't good enough that day because she would miss a ball, her shots weren't accurate enough, but she had no fear of hitting it. She would never hold back or be afraid to lose. Every great champion, they have that when they walk on the court: they have no fear. They hate to lose but they are not afraid to lose."
Did you catch the irony? Sharapova just got destroyed in a match and Coach Lansdorp thinks she is unbelievably fantastic and is going to make it!!! What is this all about?
Before I go on, let me tell you something about Robert Lansdorp. He coached and was instrumental in the careers of Pete Sampras, Tracy Austin and Lindsay Davenport. I believe he may be someone we just might want to pay attention to! Maria Sharapova was brought to him at the age of 11 because she had potential. Someone got that one right!
Did you notice that after Sharapova lost the match, Lansdorp did not say, "she is missing too much, that's the big problem here. I have to straighten all of that out." To Lansdorp, missing was irrelevant. Instead he keyed in on the fact that she had no fear of hitting the ball and no fear of losing! HE TOTALLY IGNORED THE LOSS!
Let me put this into simple terms for you. The most important principle to master is, "No fear of losing!"
Of course Lansdorp will go back to the drawing board and improve Sharapova's consistency and accuracy, but that was not his main focus after the devastating loss. His focus was her MENTAL ATTITUDE.
In Lansdorp's mind she was a winner not because she won or lost a match, but because she lost with the correct mental attitude. This is the stuff of champions!
Champions do not win all the time - they just NEVER give up trying! Maria Sharapova never quit in that match; she just kept swinging and swinging and swinging. To this day she is still swinging. In fact, she swung her way to a Wimbledon and US Open title!
Now wipe the frown off of your face, get back on the courts and keep fighting...I don't care how many times you lose! THAT is the stuff of champions.



Tennis Warrior Archive
If you have not already signed up to receive our free e-mail newsletter Tennis Server INTERACTIVE, you can sign up here. You will receive notification each month of changes at the Tennis Server and news of new columns posted on our site.
This column is copyrighted by Tom Veneziano, all rights reserved.
Tom is a tennis pro teaching at the Piney Point Racquet Club in Houston, Texas. Tom has taught thousands of players to think like a pro with his Tennis Warrior System.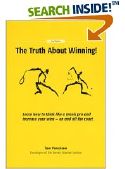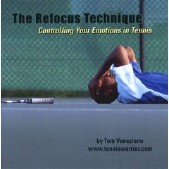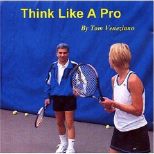 In Tom Veneziano's book "The Truth about Winning!", tennis players learn in a step-by-step fashion the thinking the pros have mastered to win! Tom takes you Step-by-step from basic mental toughness to advanced mental toughness. All skill levels can learn from this unique book from beginner to professional. No need to change your strokes just your thinking.

Audio CDs by Tom Veneziano:



---