Owning that extra intangible inch!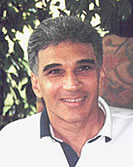 Tom Veneziano
Tennis is a game of inches! One inch wide of the sideline - the point is lost! One inch inside the sideline - the point is won! One inch below the net tape - the shot is missed! One inch above the tape - the shot is in play! Hit the ball one inch sooner - it reaches your opponent sooner! Hit the ball one inch later - it reaches your opponent later!
The conundrum is that tennis is a game where seemingly insignificant moments can and will decide a match!!! And only slight adjustments in your game make the difference between victory or defeat.
Not only is tennis a game of inches physically, it is also a game of inches mentally. Make a decision one more time to forget your mistakes and move on and the match could be yours! Make a decision one more time to keep the pressure on and it could be the deciding edge. Make a decision one more time to keep fighting when the chips are down and you could walk away with the trophy!
Do you try to own that extra physical or mental inch? You should! World class competitors have an intense desire to own that extra intangible inch that catapults their game on to victory. No matter how insignificant the moment appears, top competitors must own that extra inch! Most other players brush the moment off as non-essential.
Knowing that tennis is a game of inches is the beginning of your owning that extra intangible inch. You must think in terms of subtleties. If you are losing, instead of making major changes to your match strategy, learn to make subtle changes.
For example:
As a NOVICE you are playing a match and hitting a number of balls over the net, but you are still hitting the net too many times. You should make a subtle change. Tell yourself to hit the ball a few feet higher over the net more often. This will decrease the number of balls hit into the net and increase your consistency! When you increase your consistency your opponent must now hit more tennis balls.
As an INTERMEDIATE player you may be under pressure by hitting too many shots to your opponent's forehand. The subtle change, of course, is to hit more balls to their backhand! It's simple, but this strategy could completely devastate your opponent. You could turn a losing 0-6 first set into a winning 6-0 second set!
As an ADVANCED player you could be hitting approach shots 10 feet from the baseline and your opponent is whizzing the ball past you at the net. You may determine, "I'm never coming up to the net again" or "I guess I better go for the baseline on my approach shots." But instead you could just increase your depth a few feet and test the results. You subtly changed the distance between you and your opponent and Voila!... The balls that were landing a few inches in could now begin landing a few inches out...your advantage!!!
If you are WORLD CLASS player Michael Chang playing the great serve-and-volley specialist Stefan Edberg in the finals of the 1989 French Open you must also make subtle but powerful changes. In his book, "Holding Serve" on page 48 Michael Chang explains his strategy against Edberg. This excerpt clearly lays out the winner's edge:
"Stefan didn't serve hard, choosing instead to take a little off his serve and kick it in with topspin deep into my backhand corner. While his kick serve moved through the air, he moved with catlike quickness. Stefan closed to the net faster than anyone in the game; he seemed to be a step quicker than any other player I had confronted before. To counteract his quickness, I had to return serve a split second earlier and have him volley from his ankles instead of waist-high. Matches were won and lost by such a small difference."
Michael won that match 6-2 in the fifth set to become the youngest player ever to win a Grand Slam tournament in the history of men's tennis. He was 17 years old. He also was the youngest player ever to rank in the Top 5 and the youngest male to ever win a match at the U.S. Open. He was fifteen years old.

As great a player as Michael Chang was he still had to concentrate on making simple changes to win the history-making French Open title.

From novice to top professional the axiom remains the same: Physically and mentally, tennis is a game of inches! Not one of the changes I mentioned in this lesson is earth-shattering, sophisticated or complicated. No, on the contrary, the changes are simple and subtle, yet significant and sensationally successful!



Tennis Warrior Archive
If you have not already signed up to receive our free e-mail newsletter Tennis Server INTERACTIVE, you can sign up here. You will receive notification each month of changes at the Tennis Server and news of new columns posted on our site.
This column is copyrighted by Tom Veneziano, all rights reserved.
Tom is a tennis pro teaching at the Piney Point Racquet Club in Houston, Texas. Tom has taught thousands of players to think like a pro with his Tennis Warrior System.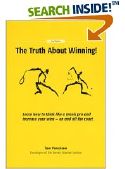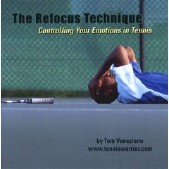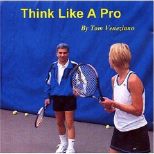 In Tom Veneziano's book "The Truth about Winning!", tennis players learn in a step-by-step fashion the thinking the pros have mastered to win! Tom takes you Step-by-step from basic mental toughness to advanced mental toughness. All skill levels can learn from this unique book from beginner to professional. No need to change your strokes just your thinking.

Audio CDs by Tom Veneziano:



---