Emil And The New Guys In Town
by Theodor Grossman
El Prado, New Mexico
"I'm not sure how things will go this year. There are a number of younger players in the division this time around." That was Emil Johnson speaking. Emil turned 95 this season. The "younger players" are 90 years old. It was April 7, 2003. The sport: tennis. The venue: Mission Hills Country Club, Palm Springs, California. The event: The United States Tennis Association National Hardcourt Championships for Men 90 years and older.
I met Emil the day before the tournament began. He had flown to town from St. Petersberg, Florida, where he lives in a Presbyterian care facility. Amy Barsen, Emil's grand-daughter, had accompanied him to the club along with her two daughters, Emil's great-grand-daughters, Ana, 9, and Sara, 11, where they were scrutinizing the draw. " It looks like Ken Beer won't be here," Emil said in a quiet voice. "He's very good for his age." Beer, a frequent entry in the tournament in years past, turned 100 this season. It was Beer and Johnson, who in 2001, were the subjects of a CBS TV special report, and appeared that same year on the front page of the Wall St. Journal in a special article covering their achievements. It is said that Johnson, who had suffered a heart attack in his early 90's, when questioned by a friend what he did to get back on the tennis court in spite of his doctor's advice, said, "I got another doctor."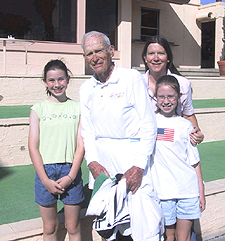 Emil Johnson with great-grandaughters Ana and Sara, and grandaughter, Amy Barzen.
Johnson was the special story this year. He was the oldest entry in the tournament. His singles record was jeopardized by the newcomers. And his doubles record with his long-time partner, Roland Sharer, was also on the line. For the record, Johnson was the National Singles Champion on all surfaces (hard court, clay court, grass court) in the year 2001. Last year he won the National Championship on clay and grass. A man who obviously loves competition, Johnson entered the Senior Olympics 10 years ago and set the record for the long jump in the 85 years and older division. Sharer, accompanied to this event by his grand-daughter, was expansive about his family and tournament record with Emil Johnson. "I'm blessed with 2 daughters, 4 sons, 14 grandchildren and 14 great-grandchildren with one more due in July." Sharer, 93, told me that he and Johnson had won all the national titles in doubles in 2001.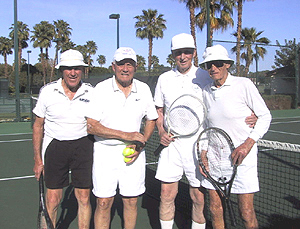 l. to r. Ed Baumer, John Shelton, Roland Sharer, Emil Johnson. Baumer-Shelton def. Sharer-Johnson 7-6, 1-6, 6-4.
The scene was set. The grass, manicured. And flowers, everywhere. Petunias, begonias, snapdragons, geraniums, in raised beds bordering walkways and roads. Palm trees swayed lightly in the breeze. The "plock-plock" of tennis balls being hit from one side of the court to the other resounded all around us. The 20 hardcourts, 4 claycourts and 2 grasscourts were full. The "90 and overs" were allowed to begin their singles at 8 A.M. in order to avoid the heat of a later time. Steve and Abby Solomon, who have run this tournament, for the past 4 years, were summoning players for their matches.
Emil Johnson, now 5'-8" tall and weighing 145 pounds, stood in the shade near the tournament desk. He wore a hearing aid and glasses, though he doesn't use his glasses when he plays tennis. He extended a bony hand and reached up to scratch behind his ear. He leaned, with a small hint of unsteadiness, to one side, propping himself up with his tennis racket. The skin of his legs, hands and face evidenced his years. Drawn tight against his lean frame, there was a transparent quality to it. 'Age spots' showed. Emil stood silent. He, like the other players, was dressed in white shorts, shirt, and tennis shoes. Emil's shirt was long-sleeved…protection against the hot sun. A small, floppy-brimmed hat covered his head.
"Johnson and Lurie" called Abby. "Court number 5" she said, pointing to the court next to the clubhouse, indicating that the two players should play their match there. They made their way to the court with short cautious steps. The umpire flipped a coin to determine who would serve first and the players took to the two-toned green court. High fences covered with dark green windscreen material surrounded the court on three sides. Spectators sat along the fourth. It was very warm. The sun shone full in a cloudless blue sky. The court surface, hard and hot with absorbed heat, took its toll on the soles of feet and tired legs. The affair lasted two hours.
Johnson defeated Bill Lurie of San Pedro, CA, in this encounter, the second round, 7-6, 2-6, 6-4. In the third round, the semi-finals, Johnson finally met his match in one of the "young guys" David Carey of Asheville, NC. Carey then became the eventual champion by defeating another newcomer, Vern Hughes of Laguna Beach, CA, 6-4, 7-6. Johnson, not one to bow out whimpering, prevailed over Whitelaw Reid for the third place trophy. Trophies for these national championship events are miniature, metal plated tennis balls, gold for the champion, silver for the runner-up, and bronze for third place. It was bronze for Johnson and Sharer in the doubles.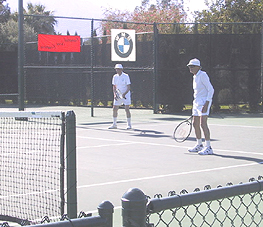 l. to r. Sharer, Johnson on court against Francis Gay and Charles Hurme.
But the whole gathering shone brighter than the most precious metal for those of us watching from the sidelines. Amy Barsen called to her daughters. "Ana, Sara, help Grandad with his rackets and bag. We're going to get going."
---
If you wish to provide a comment to the author of this Wild Cards column, please use this form. Tennis Server will forward the comment to the author.



Wild Cards Archives:
1998 - 2003 | 2004 - Present
If you have not already signed up to receive our free e-mail newsletter Tennis Server INTERACTIVE, you can sign up here. You will receive notification each month of changes at the Tennis Server and news of new columns posted on our site.
This column is copyrighted by the author, all rights reserved.
---