Learning to Win
Winning Ways for Kids
by Keith Kattan
Winning is not everything, but winning is important. "Learning to win starts off the court, with learning to learn," Coach Nick Bollettieri told Tennis magazine as he began coaching the professional from Chile, Marcelo Rios.
Winning not only requires giving your all during the match, more importantly, it means giving maximum effort preparing for the match. Start by becoming aware of your current strengths and weaknesses. Shut out unnecessary objectives and practice focusing on a few critical ones: overcoming a weak stroke, improving a specific strategy, and achieving peak physical condition in time for the competition.
Raising the Bar
At age 11, Tenille Elias had thrashed all comers and was ranked No. 1 among girls 16 and under on the family's native island of Trinidad. She was running out of serious opponents there, so her dad entered Tenille in a tournament in Mexico.
Father and daughter were in for a shock. In a field of girls from the host country and around the Caribbean, Tenille hardly shined. In fact, she was dispatched in the second round. Hoping to raise the level of her game by seeking stiffer competition, Dad moved Tenille to a tennis academy in Florida.
When the probability of winning is very high, a player's record may seem impressive but the accomplishment is clearly devalued. Tennis development is sacrificed at the altar of easy wins. Often a kid loses motivation to improve and sometimes even to play.
Experts suggest a 2-to-1 win-loss record is about right to keep a kid motivated to play and, at the same time, continue to improve. When a kid is consistently winning two matches for every loss, it's time to raise the bar. Consider entering a few tournaments in a higher age group; practice and play with grown ups; or, if possible, move to a state or region where competition is more intense.
Becoming Assertive on Court
The Merriam-Webster dictionary defines assertion as "the act to state or declare positively and often forcefully or aggressively." A player might be the nicest person in the world off-court and display excellent sportsmanship on court. To win matches, though, the player has to show assertiveness in his or her game. Being too careful or making tentative shots in a match may indicate the need for a talk with the coach about a more aggressive game.
There are many programs available at local community centers that offer assertiveness training for kids. Practicing martial arts is a great way to develop assertiveness. If little Johnny does not improve his tennis as a result, at least he will succeed in gaining new respect from the school bully.
Broadening the Definition of Winning
By definition, there is only one winner in a tennis tournament--the winning finalist. If competition is to be beneficial to kids, they have to be taught to broaden their definition of winning and success.
A kid who practices his or her down-the-line passing shot and uses it effectively to win a third-round match is a success. A junior who reaches the semi-finals for the first time is a winner. That's not to say the junior should stop striving. In fact, he or she should enter the competition preparing to win the tournament. However, if the junior loses in the final round, after winning the first three rounds of a 16-player draw, he or she is a winner three times over and must be encouraged to believe that.
"Children should be encouraged to compete against their own potential," says Dr Alan Goldberg, a renowned sports psychologist. "Boys should focus on beating Mr. Peter Potential, competing against themselves, while the girls challenge Ms. Patty Potential."
Winners are also those who handle failure better. There is a widespread belief that great players were successful throughout their careers. Actually, champions probably just coped with their setbacks and losses better than their opponents did. Andre Agassi fell from single to triple digits in the rankings between 1996 and 1997 while he put on weight and dealt with personal problems.
Then his coach, Brad Gilbert, initiated the well-known reclamation project. Gilbert convinced Agassi to work his way back into form--mentally and physically--by entering a few Challenger tournaments, which are professional tennis' minor leagues. The story of how Agassi, the once-showy superstar, had to get his own towels and flip his own scoreboard without complaining is now the stuff of legend. It is also folklore how Agassi has since regained his top ranking, winning many more Grand Slams and professional titles.
---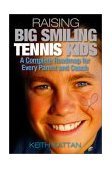 This article is an excerpt from the book Raising Big Smiling Tennis Kids: A Complete Roadmap for Every Parent and Coach, copyright 2003 Keith Kattan, all rights reserved. It is reprinted here with permission. Additional information about the book is available at http://www.MansionSelect.com.
---
Keith Kattan is an avid tennis player, father of a passionate tennis kid and author. He spent years observing the on and off court development of junior tennis players. This book is the result of his extensive research and first-hand experience. He and his wife now divide time raising their son, a rambunctious lab and helping build a tennis community in their neck of the woods.
If you wish to provide a comment to the author of this Wild Cards column, please use this form. Tennis Server will forward the comment to the author.



Wild Cards Archives:
1998 - 2003 | 2004 - Present
If you have not already signed up to receive our free e-mail newsletter Tennis Server INTERACTIVE, you can sign up here. You will receive notification each month of changes at the Tennis Server and news of new columns posted on our site.
This column is copyrighted by the author, all rights reserved.
---