Spaniard tennis star Carlos Moya had just completed a tough match against young Argentinean Guillermo Coria. Of the eight competitors at the prestigious Tennis Masters Cup, only Andre Agassi could claim more experience in year-end championship tournaments than Moya.
"Any questions in English please?" The ATP official asked the roomful of 20 or so journalists gathered in the media room adjacent the player's lounge.
One thin young Chinese raised his hand.
"Only one? Good," a Spanish reporter said in the front row.
He did not see my hand raised in the back.
"Oh, we have two. Questions in English, please," he said, eager to dispatch the English-speaking reporters from the room.
A similar scene happened the following day, when Coria, the fourth-ranked player in the world, won his first match at the Tennis Masters. When I showed up to his post-match press conference, I saw an excitable group of reporters standing up with tape recorders, huddled closely around the young 21-year-old, all asking questions in Spanish.
I would have expected this scene in Argentina or Chile. Yet this year's Masters Cup took place in the fourth largest city in the United States, in sports-crazy Houston.
Dubbed the "Final Showdown," the weeklong Tennis Masters Cup represented the year-end finale in men's professional tennis to decide who would be crowned number one in the world. Last year in Shanghai, the Tennis Masters Cup was the largest international sporting event ever held in China, televised in 146 countries.
If that was not enough to draw U.S. media attention, 2003 marked the first time the United States hosted this event since 1989. Yet during this second week in November 2003, the pressroom at the Tennis Masters Cup looked like a convention of European and South American journalists. Despite the prestige and money on the line, (the winner of this event would earn $1.5 million, more than any Grand Slam event) American journalists were, for the most point, absent from the media center at the Westside Tennis Center in Houston. Eighty percent of the media that showed up in Houston represented foreign outlets.
To make matters worse, American phenom Andy Roddick had just returned from a successful stint hosting the popular Saturday Night Live show. Roddick, who would gain the top spot in professional men's tennis during this tournament, had announced plans to move back to his boyhood home in Austin, Texas. Obviously, his popularity represented a significant story for Texas media.
Yet the Austin American-Statesman decided not to send anyone to talk to him. The Dallas Morning News was also absent from the media room. More German sports reporters came to Houston to cover the Masters Cup than Texas reporters. Outside of Texas, only four U.S. newspapers sent reporters: USA Today, Miami Herald, the Palm Beach Post, and Boston Globe... despite the fact that the Westside Tennis Center sold out of tickets daily. All total, about 150,000 people came through the gates Nov. 8-15.
"Of course we were disappointed that only a handful of national newspaper writers did come here," said J.J. Carter, director of communications for the Association of Tennis Professionals. "We would have liked papers like the New York Times to cover this, but many of them could not make it because of budgetary or staffing concerns."
"Still, this is better than the coverage we had in Shanghai (China) and Sydney (Australia)," Carter said, who added he felt a "momentum change" in national press coverage because of the renewed interest in Roddick.
Tennis analyst Bud Collins, who covered the event for the Boston Globe, was not as sanguine. "It's disheartening. I am surprised at the lack of U.S. media here," Collins said. "Where is the New York Times? Where is Chicago (Tribune)? "It's very disappointing to me. I admit I haven't covered much of the Masters' tournaments, but it's a wonderful event that deserves better."
Collins suggested that the ATP and the International Tennis Federation develop a workshop for tennis public relations professionals to work on a better marketing plan in this country.
"The ATP should get together a task force to meet with the national editors and impress on these people the importance and value of these tournaments. They should be asking: 'where are we failing them?' and 'what can we do to win them back?'"
One local Houston reporter asked Roddick after his second-round loss to German Rainer Schuettler if the lack of national media coverage bothered him.
"That's not something I pay attention to, to be honest," Roddick answered. "That's not my place to worry about it or, you know, make opinions about it. I honestly haven't noticed it that much."
Collins said it is something all American tennis players should be concerned about, because the players are somewhat responsible for insufficiently promoting their own sport.
"The players are not very accessible, and it's something they need to improve," Collins said. It's not as if the players are not marketing-savvy. Agassi and the Williams sisters spend considerable time promoting non-tennis products off the court. Both Agassi and Federer launched their own line of cologne in 2003. Some think that if tennis players can market their own fragrances, they can certainly spend a little more time marketing their own sport.
U.S. Davis Cup player Mardy Fish agrees the players need to do more.
"We need to start promoting tennis and the game," he said shortly after dousing his buddy Roddick with two bottles of champagne the day Roddick won the number one championship race.
"Outside the United States, tennis is huge, and the depth in the game right now is better than it's ever been. I don't claim to be America's tennis ambassador or anything, but we just need a lot of promoting to make sure tennis gets equal coverage," Fish said.
Fish and Roddick are two of the younger American tennis stars. Agassi, at 33 the elder statesman of American tennis players, said the charismatic Roddick should have an impact on the sport's popularity, but said it would be tough to gauge this early in his career.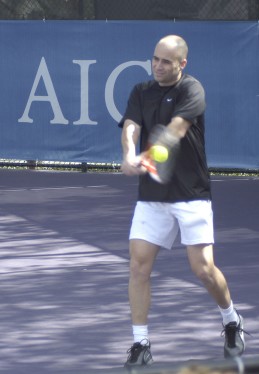 Andre Agassi at 2003 Master's Cup

Photo courtesy of Brian Kurtis
Kurtis Photography Inc.
"America is definitely a tough market," Agassi said after losing in the finals to Roger Federer. "We're coming off a pretty incredible generation of players, too. Obviously, Andy's stepping up this year is going to be great for the interest of tennis in America. It would be nice to see one or two others as well. Then you'd still be one or two shy of the group that I sort of came along with. It's been an amazing time coming off the (John) McEnroe, (Jimmy) Connors era, to myself and (Pete) Sampras and (Michael) Chang and (Jim) Courier. You know, it always had a real strong base here, and I think that's sort of lost a little bit of its depth in the American market."
Is the popularity of tennis declining? The Williams sisters have kindled interest in the sport among more minorities and inner-city youth than ever before. The top young American tennis players have seen a rise in both their rankings and in their exposure over the last three years. The U.S.T.A. has seen growing success with its national tennis programs targeting throngs of young people. More importantly, crowds are growing each year in major tournaments and in new venues like the Westside Tennis Club in Houston. For example, the U.S. Open draws more than 600,000 each year, making it the highest-attended annual sporting event in the world. According to the USTA, 85 percent of the seats for the 14-day and 12-night tournament in Arthur Ashe Stadium are sold out after opening day. Hardly a "nonpopular" event!
So how come the ATP and USTA do not make more of an effort to promote major tennis tournaments and woo major U.S. media outlets? Does the ATP give preferential treatment to foreign journalists? This may be the case, but the real question may be how to change a laissez-fare attitude that expects media outlets to cover a tennis tournament without promoting it well in advance. In America, tennis competes with several other sports--from NASCAR racing to local high school football, and promoters cannot assume sports reporters know tennis. In any sporting event, sports marketing experts send out promotional material to key contacts and follow up with personal correspondence. That simply is not being done enough in professional tennis tournaments in the United States. When I arrived in Houston, a fellow colleague at a Houston news channel did not even realize the tournament was an international event and one that had implications for the number one ranking in the world. "I didn't realize this was such a big deal," he said.
It is the job of sports marketers and public relations experts to make it a big deal. They should begin aggressively pitching these events to both local and national media months in advance. I'm sure there's not one reader of this column who does not know of a local broadcast sports anchor who rarely, if ever, covers tennis. It is the tennis PR people's job to sell tennis to that anchor (and to his boss), and explain why it is a big deal.
Yet marketing and promotion does not seem to be tennis's strong point in America. Americans are fascinated by sports personalities and sports rivalries. Tennis is a very personal and individual sport, with fans enamored with individual athletes. Many tennis fans go to tournaments to see their favorite players not only compete, but to get a close-up glimpse of them. This is another area in which the tennis PR world fails miserably. In Houston, fans looking for shirts or photos of their favorite players were out of luck, with only the Masters Cup logo embossed on tourist apparel, sans La Coste merchandise.
It is this way in most other tennis tournaments. You can't even buy a postcard with a photo of your favorite player. If professional tennis had marketing savvy promoters, personalized merchandise would not only be available, but the players would have designated autographing sessions for their fans. Players would appreciate a more structured approach to autograph signing, without being hassled at inconvenient times, and fans would appreciate the opportunity to be assured an autograph within a certain timeframe. As a kid, I distinctly remember my first baseball game--at Wrigley Field in Chicago, not because I remembered anything specific about the game itself, but because I remember standing in line to get the autograph of pitcher Ferguson Jenkins and third baseman Ron Santo. That made me a Chicago Cub fan for life. If tennis could take the lead from baseball, similar promotional opportunities could create legions of new fans.
"Americans like rivalries, and to be frank more people in the U.S. know and are interested in (Roger) Federer because he's the guy to challenge Roddick," Carter said.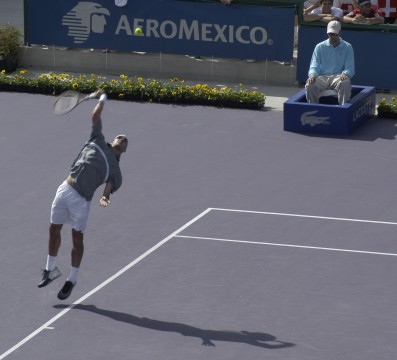 Roger Federer at 2003 Master's Cup

Photo courtesy of Brian Kurtis, Kurtis Photography Inc.
It's not as if Roddick or fellow American players are not receiving favorable publicity. PEOPLE magazine recently featured a lengthy feature on Roddick and his singer/actress girlfriend, Mandy Moore. So did TEEN PEOPLE and Men's Journal. Vogue did a piece on Fish and his Davis Cup teammates Taylor Dent and Robby Ginepri. Ebony did a spread about the rising tennis star from Yonkers, James Blake. GQ and Elle magazines published fashion articles about Roddick and Blake.
Yet don't credit the ATP or United States Tennis Association with these successes. The fashion editors contact the tennis community when they want to do a story. Take Roddick's "Got Milk" advertisements late last year, At the Masters Cup, the ATP allotted a space for the ad agency running the "Got Milk" campaign only after they got a call.
Despite the favorable publicity of a few tennis athletes as celebrities, tennis still does not receive equal coverage in the U.S. sports media. While singles matches get declining coverage, doubles fare even poorer in American newsprint. At the Houston event, most doubles matches sold out, with crowds staying for late night matches featuring the world's top doubles players. Ironically, most Houstonians could not see the doubles matches on their local television sets. Why? Because that week you could only see the best doubles players in the world on the Tennis Channel, which was not offered in most Houston cable outlets. ESPN only covered the singles matches.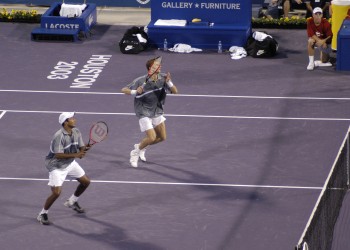 Doubles team of Max Mirnyi and Mahesh Bhupathi
at 2003 Master's Cup

Photo courtesy of Brian Kurtis, Kurtis Photography Inc.
"I've only met one person here who's seen the Tennis Channel," Collins said, who added that doubles attracted fans who could relate to the game. That was evident in Houston, where swelling crowds stayed until nearly midnight on two nights to see Bob and Mike Bryan of California successfully defend their number one ranking.
Yet most of the American media in Houston shunned the doubles teams' post-match press conferences. In the semifinal match between the French team of Michael Llardo and Fabrice Santoro vs. Bahamian Mark Knowles and Canadian Daniel Nestor, I was the lone reporter to interview the losing team. And the winning French team, who gave an impromptu appearance in the media room, only wanted to speak in French to the majority of European reporters surrounding them.
Tennis as a sport is actually more popular now than it was during the Borg-McEnroe era. Yet the single biggest threat to tennis today is not a declining interest, but a declining focus and effort on the part of the industry to promote the sport.
Collins got it right when he said the dearth of U.S. media coverage amounts to a "crisis for the game. But the sad thing is, most of the leaders in our industry don't realize it."
MICHAEL BURTON works as a public relations consultant and freelance writer based in the U.S. Virgin Islands. He is author of a biography of Texas humorist John Henry Faulk, entitled, "John Henry Faulk: The Making of a Liberated Mind" (Eakin Press, 1993).
Photographs copyright 2003 by Brian Kurtis, Kurtis Photography Inc.
If you wish to provide a comment to the author of this Wild Cards column, please use this form. Tennis Server will forward the comment to the author.
This column is copyrighted by the author, all rights reserved.
---