You Asked, They Answered:
The World's Top Pros
Answer Questions From
Tennis Server Readers
by Cliff Kurtzman
Publisher and Editor in Chief, Tennis Server
Prior to the 2004 year end tennis championships, Tennis Server readers sent in several hundred questions for me to ask the top professional tennis players in the world during the course of my coverage of the events. [If you missed our review of the events themselves, you can find it using this link.]
Both the Masters Cup and the WTA Tour Championships provided the opportunity for the press to engage in group roundtable interviews with most of the players, and press conferences were held after every match. In some cases I was able to directly ask questions submitted by our readers, while in other cases other reporters asked questions so similar to those submitted by our readers that I was able to use the responses given without re-asking the question.
And the answers are:
---
Lou Stantz of Binghamton, New York asked:
Please ask the following of Lindsay Davenport because she is intelligent, thoughtful, articulate, ladylike, decent, and kind and because her father grew up a block from where I live:

What is your opinion of the WTA's program of testing for the use of anabolic steroids by the players? That is, do you believe that it is sufficiently unexpected, comprehensive, and frequent in nature to effectively catch those who are using steroids? Or is it administered in a perfunctory fashion so as to give the players a "heads up" and thereby enable the users to avoid detection of their use?

You can ask Roger Federer the same question but with respect to the ATP. I think one could expect an honest, intelligent, and accurate assessment from Roger.
Lindsay Davenport replied:
I think they try and get it better and they have improvements but I think it could be even better. I haven't had an out-of-competition test for quite a while. They do some testing at tournaments and they are trying to get the budget to kind of extend it more.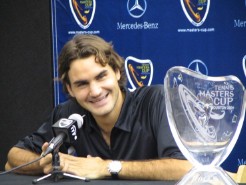 Roger Federer.
Roger Federer replied:
I've been tested 20 times last year. Well, I think you have to test quite aggressively, you know, because you want to make sure that there's no players around using something, because you want it to be a fair sport. So I think the ATP is doing sufficiently enough to do that, yeah.
And regarding the ATP's announcement of a program to offer the players safe supplements, Federer responded:
I think that's positive, you know, positive news for the players, and at least we can rely on something and not always go our own way and not be sure until suddenly you have a positive test or something. I don't know if I'm going to use that or not because I'm not using anything, but it's good to know for maybe some other players.
---
Jane Wang asked of Roger Federer:
At what point did you know that you don't need a coach any more? And what do you need to keep in mind as a no-coach player (or when you "coach yourself")?
David Lawrence in London, England asked:
Roger you don't have a coach at the moment, why do you feel you no longer need the aid of a coach, and how has the break from your coach helped you develop your game.
And David King asked:
We would like to ask Roger Federer if he will hire a coach next year...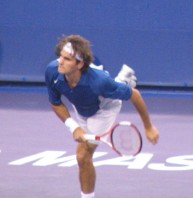 Roger Federer.
and Federer replied:
[I have] no plans [at present to hire a coach next year]. It's just that I'm happy with the way it is right now really. I don't see a reason to change it.

Yes [I plan to work with Tony Roche to prepare for the Australian Open]. Well, it's just because we, as you may know, we just had a few days together after the Bangkok [tournament] and I asked him if he had maybe just some more time at the end of the year. He said, "Yeah." I just thought about who could maybe just help me out for, you know, the practice session at the end of the year. He came to my mind. I asked him, and you know, he said it was okay. But that's all. That's probably also going to be the last practice session we're going to have together.

I think it's important, you know, still to maybe get some new ideas or just to have a setup, you know. And not always have to rely on myself. I think that's the reason. I think it makes sense.

You know, I'm surprised myself, of course. At the beginning of the season I didn't know if that was the right decision to make, you know. Looking ahead, it was difficult, because I had to make many choices myself suddenly, and suddenly the year started great, you know. I didn't feel any need for now to get a new coach or anything. I'm basically still in the same situation.

[Having a coach] could be important if suddenly my game is not working as well as now, or if people start being very negative. Maybe I need, you know, a guy who protects me a little bit and is on my side. But so far I haven't had that problem. I don't know how it's going to be.

I'm basically my own coach a little bit. I'm very secure in my decisions, and I trust my team around me. It's not like I'm traveling on my own 12 months a year. So I have my team around me, like my physio (trainer), my friend, my girlfriend, who makes sure that everything is in place. Sometimes, you know, the coach is not the most important person in tennis life. Sometimes it's a condition trainer or a physio.
---
Rickey Lamphere of Chesapeake, Virginia asked of any player:
What kind of diet do you stick to if any, or do you just limit your calorie intake to keep your weight at a specified limit?
and Karen Fricke asked:
What is your day-of-match pregame ritual, including meals, stretches, warmups and mental preparation?
Roger Federer:
Pasta, usually. A few hours--two or three hours [before a match].
Marat Safin:
[I eat] whatever they serve me. I mean, nothing special. I'm not crazy about food. I eat everything. It can be one hour, half an hour [before a match]. It depends if I'm hungry, if I'm not hungry. I don't have anything like, I'm eating two hours before, like a lot of people do. I'm more relaxed about that.
Tim Henman.
Tim Henman:
[I eat] anything. You know, I don't eat so much pasta before I play. You know, sandwich, chicken sandwich or something. I probably don't eat--I don't feel like I need to eat so much. I've always got a lot of energy. An hour and a half, two hours before I play I'll probably have something to eat. No, no [I'm not a vegetarian]. I like a good steak.

I think sort of when you're really getting close to the matches, then you're sort of tapering it down a little bit. I think the hard work has been done, you just want to make sure you're used to the conditions, you're used to the speed of the court, the balls. So the day of the match, I probably only warm up, you know, 20, 25 minutes. I think there's a difference between practicing and warming up. And, you know, day of the match, you just want to go out there, you want to make sure your body is loose and hit all the shots and make sure you've got everything prepared and then get out there and get going.
---
Anthony Campbell of Toronto Canada asked:
I would like to get Safin's opinion on the use of a challenge similar to what is being used in the NFL to challenge the call with the use of Shot Spot/the Mac Cam.

I think a player should be allowed one or two challenges per set.
Marat Safin:
Yeah [I like the idea of the instant replay and I think they are accurate to use]. But you cannot check the marks every single time. You have to have like three opportunities you are allowed to change [challenge], and you should use them. Like, for example, if five sets, you have five times; if three sets, you have three times. Otherwise, I know some people, they are checking all the marks, like from the first game. And this just--otherwise, it's going to be too much.
And on the same subject, Federer commented:
I'm fine the way it is now. I guess [the replays are accurate] because when I see the live matches on TV and I see the animation, whatever, usually they seem quite correct, you know. Having that during a tennis match, live, on center court, I think that would be very disturbing for everybody. The way it is right now, it says a very natural game, tennis. There are lines people, umpires involved. If there is only robots sitting around the court, I wouldn't feel great about it. So I'd rather have a bad call on occasions because, I mean, usually these kind of mistakes don't happen very often at such important moments. We don't usually chase the lines like Marat [Safin] does. But, no, we should keep it the way it is.

If I would have lost the match [against Safin, because of a bad line call], you know, I would have been very disappointed, very angry. But there's nothing you can do. I've grown up playing this game like this, and just because I'm No. 1 in the world, saying like, "This is how the rule should be," I don't find that correct. There are thousands of players involved in this.
---
Maniel Bains of Great Britain wrote to ask Tim Henman:
I am in my final year of doing my GCSE examinations this year I will be sixteen by the time i finish, I understand that you left school to concentrate on your tennis at this age. Did you concentrate on the mens tour straight away or did you still attempt to compete in the junior ITF circuit. I did write to you at the time of your shoulder injury via your website as i also sustained a shoulder injury at that time which did put my development back. I am now competing again and will have to start from scratch to get ITF Junior ranking points if that is the best way forward. I hope to leave school and concentrate on my tennis next year.
Tim Henman replied:
I think it's one of those things that you can always go back to education, but you can't always go back to being a 16-year-old ready to learn one's trade. Sure, you know, there's an element of risk. You don't know whether you're going to be good enough. You don't know whether you're going to lose interest. You don't know whether you're going to have injuries or not. But I think it'a a risk that's worth taking. If it works out, then it's a pretty good way to earn your living.
---
Dr. Robert Heller of Boca Raton, Florida asked of any player:
How have you learned to deal with nerves, worries and pressure? What do you do to develop the mental side of your game? Have you used the services of a sports psychologist? Why or why not? How helpful did you find it?
and Mike Bishop, Ph.D. of Arlington, Texas asked:
Many times professional athletes have emotional and psychological issues that can create self defeating behaviors on and off the court (fear of failure; fear of success, etc.). Do you use mental coaches separate and apart from your "tennis" coach and what do they do that has been helpful to your success?
Donovan Jones asked:
How do you guys deal with your pre-game nerves, so your nervousness doesn't hinder your match performance?
Johnny Glanville of Australia asked:
In what (productive and positive) ways do you express your anger when playing tennis?
Teddy Malek asked:
What is the best way to loosen up an control the nerves?
Lindsay Davenport replied:
I'm not a player that practices a lot of mental exercises, so I'm not sure... probably the wrong things, probably swearing at yourself, doing that kind of stuff isn't what someone would tell you to do. You know, it's a tough sport, it's just you up there, there's so many ups and downs through a tennis match, positive times, negative times, I mean I try and stay even, but it's pretty hard. Any match you got to know can always turn around. Try to stay calm I guess.
Anastasia Myskina:
I think that the best person you can trust is your coach, because he knows you better than anybody.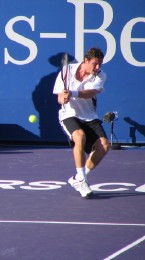 Marat Safin.
Marat Safin:
I was a little bit angry [after my first round loss at the U.S. Open]. I was a little bit pissed at myself that I couldn't really do well in such a big tournament. For me, it was a huge thing and I had a lot of expectations. But then I decided, okay, whatever. I have to really understand the situation. It's not my time right now.

I'm trying to control [my anger on the court]. That's why I'm starting to win matches, because I start to control it. [The thing that has helped me control my anger the most is] having a good coach. Having a good coach who is controlling me, trying to explain to me and try to make me not realize, but try to keep me quiet. I like to win. If I have to be quiet and I have to shut up in my matches to be able to win, then yeah, I will do that.

[Breaking my racket in my match against Andy Roddick] was one moment that I really--I was really pissed off at myself because I had opportunity on Love-40, 15-40, actually, 6-5, and he just went--when he went to the net and my forehand, he just, you know, like tried to put pressure on me. I'm such a gentleman, I tried to pass him. I should have just gone for it, for his body. Because I had basically no other choice. I chose to be a gentleman [by trying to hit a passing shot instead], and it cost me $120,000 today [that I would have won if I had won the match].

I was pretty calm [for most of the match]. Just one point, one point that just really pissed me off. I have to be a little bit more calm. That's what [coach] Lundgren tried to explain to me. I can break a racquet, but basically you have to, you know, try to keep it--try to be more calm, just it's better for me this way.
---
Maria Mas of San Jose, Costa Rica asked of Maria Sharapova:
How do you manage a rising anger during a match? Which is your positive mind talk?
and Rachel Plevinsky asked of Maria Sharapova,
When you get into a tough situation, and you start to think negative thoughts, what methods do you use to block negative thoughts out regroup yourself?
Sharapova:
It depends who you are playing. Sometimes you figure out what you are doing wrong, and you try to figure out the right way [to change your game].
---
Gabriel Salvatore of Buenos Aires, Argentina wrote to ask Guillermo Coria:
Despite having this type of injury lately, do you think you can win this tournament?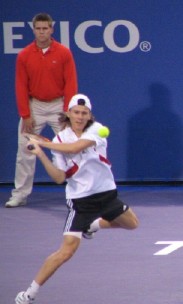 Guillermo Coria.
Guillermo Coria:
I will see, it depends on if I'm nervous and all and at the end of the first game, then I will know for sure how well I am in tennis and physically [fit]. On the physical [side], I have been training now for two months, but it's not the same when you play because the speed is different, so I'll see with Safin how I feel, but so far everything is perfect. For me this is a special tournament, [because] when I knew I was going to get the operation, I never imagined I was going to play this year at all. I was thinking I wouldn't play until next year, and well, everything came out perfectly, and this is a gift, to be here, so I will enjoy, I will come to the court and do my best, and add minutes inside of the court and play points, and focus on winning, even if I haven't been playing for a while I will do my best and play to win.

---
Ric Small of Benicia, Canada asked:
I would like to know just how burned out everyone is! This is a heck of a long season and with injuries and mental fatigue, it would interesting to see how everyone is holding out.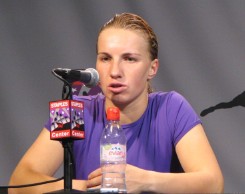 Svetlana Kuznetsova.
Svetlana Kutnestova:
After St. Petersburg it was more busy in my life I guess. I just didn't have time to eat. So I have just been going from one place to another. But I had much fun. I love to do this. But sometimes I just need to get rest. And I hopefully get one week off without any press. I am planning to go snowboarding. But you never know. I went last year to the French Alps. So I try not to so much for my health--it is a dangerous sport, right? So I don't get injured so I plan calm. I almost fell twice from the mountain. But I love doing it. And you know, when you go, you just all--you just take off all the work. It is just fresh air with your board.
Lindsay Davenport:
The overall scheduling is a little bit tough on the players. I think it doesn't really help us to play our best tennis. It is very tough to start the year with a Grand Slam. It is very tough to play Roland Garros and Wimbledon back-to-back. I think if you were to start over and really plan the four tournaments and give the players adequate preparation time for each one, I think you would find that the level of tennis would be higher and probably the number of injuries would go down, and really that is what we've been fighting lately.
---
Horace Portelli of Malta asked of Maria Sharapova:
You are considered as one of the most beautiful tennis players in circulation, how can this affect your tennis abilities when knowing that part of the general public are watching you just for the sake of your beautifulness the same thing which happened with Kournikova? Can a good tennis player fulfill her sporting duties to the full even if she enters also the world of fashion and glamour? In the meantime just give her my congratulations for the nice tennis she's showing at this moment and for being a role model for youngsters to start playing this very wonderful game.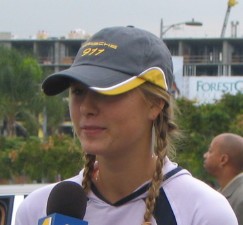 Maria Sharapova.
Sharapova:
I think that the main thing is to just enjoy what you are doing, have fun at it, and work hard so you never regret anything later.

I think that [a lost of privacy] is one of the worst [things to have to deal with because of all the attention]. Definitely, you know, a lot more people want to say hello, shake your hand while you are putting food in your mouth. I'm just like any other person, I'm the same person, except obviously I've achieved great things with hard work and my dedication but I am still a seventeen year old that does regular things. There are moments when you wanna think "why don't you just leave me alone."

You have set your priorities, you have to know what is more important to you, you have to sort of manage time.

The most important lessons I've learned this year [2004]: First of all is never give up--that I learned against Lindsay [Davenport] in the semi-finals [at Wimbledon]. I've learned you cannot be perfect all the time, you know, everyone makes mistakes, and I've definitely learned to handle popularity.
---
Joaquin of Argentina asked of Lindsay Davenport:
What do you think of your real fans, and how have they helped you throughout the years?
Have you considered having some sort of mental drawback when lately playing to reach a Grand Slam final?
What do you think it takes for you to win a Grand Slam next year?
How have you kept that inner belief throughout all these years?
Lindsay Davenport.
Davenport:
It's been probably a different year and I don't know if it has been more emotional or whatever. It was a very tough couple of years, 2002 and 2003, with being injured, trying to come back. Being in the top ten and even top five but not really feeling like the same player that I used to be. It was hard to describe that, for instance, to my husband, he goes "you are ranked [number] five!" Yeah, but I feel like I'm a shadow of the player I used to be, in results-wise and confidence-wise. And so it has been a fun journey to recapture that this year, and I feel like no matter who I am playing against, I should win, and not like dreading it, which was sometimes occurring. So it's been fun to get that back and I honestly didn't think I would necessarily get that back. I didn't think I would necessarily get the confidence and that kind of stuff back, and I was able to do it. You know, a lot of disappointment though, it is hard when I look back at this year, with not coming through at Wimbledon, or at the U.S. Open, you know I would give anything to have one of those and not be ranked [number] one.

It a tough handoff but the changes I've made in myself and as a player and the improvements and step forwards I made this year, I didn't know if I could make them, and I know I was able to, and now the next step on top of that would be to try and break through and get to a Grand Slam. You know this year it was a relief to start winning tournaments again, and getting up to seven is great, and now the next step would definitely be to win one of the four biggest ones.

The people around me can see that I enjoy it more again and have been having a lot more fun competing.

It's terrible going into a Grand Slam, when you've won some [in the past] saying "oh okay, semifinals, that's my goal." It's just a very bizarre feeling, and that's what I felt like I was doing for about 18 months or so, and so it was great this year. And even the U.S. Open, it's like, "no, I'm going to go through and do it," you know what, it didn't work out, but I gave myself every chance in the world for it to happen, and unfortunately it just didn't, but it's a lot different mindset than some of the other ones I've played.

[Support from my fans is] flattering, but truly, it has to come from the player within. If I was playing out there for anybody other than myself it probably wouldn't be the right thing and it wouldn't be successful. It's funny, when I say that, I've had tons of people come up to say "don't stop," or whatever. I'm going to play while I enjoy it, while I'm healthy, and while I'm doing well. There was a time a year-and-a-half ago [that] I wasn't enjoying it and I played. I'm happy I broke through that and got successful again, but I don't know if I could go through another slump in my career again. It would be tough mentally.
---
Becky Lawrentz of Kitty Hawk, NC asks Lindsay Davenport:
To what do you attribute your great physical condition and your great comeback year presently?
Davenport:
I'm pretty motivated, I mean just in off court training or whatever it's been a good year, it's been more intense than I've experienced in the past and I would love to be able to start the year off in January playing well again. I've just been training with a different trainer all year, for about 12 months now, his name's Todd Norman, we're concentrated a lot on footwork and balance, and just some other stuff I haven't done before, it's been fun. I practice a lot less than I work out now, and don't spend as much time on the court as I used to. I haven't really hit over an hour and a half in a day for like a year, which I think is a lot less than a lot of other players.
---
Lawrence Jeziak, TV writer for Tennis Week in Warren, Michigan asks:
How much tennis do you watch on television in the United States? On a scale of 1 (poor) to 10 (excellent) how would you rate TV tennis in the United States? What one element of United States TV coverage would you change to make it better?
Davenport:
The coverage is definitely better in Europe. If you look at ratings in sports, tennis does much better in other countries. I think it was like the 22nd most popular sport or something crazy here in the United States [where] you have a lot of sports that are covered a lot more than tennis. The coverage isn't fantastic here--they cover it and they put it on when they want to put it on, and that's kind of what we as a tennis fan deal with.
---
Loriey Peyton from Grayson, Georgia asked Lindsay Davenport:
My friend has an injury in her back and can't play tennis for a couple months, and I wanted to know if you had an injury that stopped you from playing for a little while. And how you trained when you couldn't play tennis.
Davenport:
The one time I was on crutches for nine weeks, there is not a lot physically you can do. I did some arm weights and that was about it. That was the longest I was away from tennis... eight months, and the last three or four, maybe even five, were spent trying to get back into tennis shape and get back into physical strength and all that kind of stuff. I think most players these days workout, lift weights, run sprints, run on the treadmill, run on the track, try to do anything to get an advantage.
---
And finally, Izabela Taseski wrote:
Cliff, many may have questions for the top tennis players in the world, but I have one question for you: how did you go about getting into a career like yours where you travel the world, watch tennis, and interview the Stars?
And my reply:
Izabela, it all came about because I was willing to take a chance on something that no one else was even thinking about. Ten and a half years ago, there was nothing about tennis on the Internet--not a single web site, not even a single online newspaper reporting results. I was just a guy with a lot of entrepreneurial spirit that loved the game, and decided to start the first tennis publication on the Internet, as a way to give back to the sport I loved so much. I didn't have the slightest connection to anyone or anything related to the tennis establishment--just a lot of enthusiasm and love of the sport.

And it sure has been a lot of fun to do it. I've been very fortunate to find such a great group of talented writers to help make the publication so successful, and each of our readers has made a difference as well.

I hope to find opportunities in the future to expand on the base we've built so far and do many other things that will help improve the sport of tennis and the lifestyles of those that love it. Beyond Tennis Server, I also run a management consulting company called ADASTRO Incorporated that helps business owners around the world make their businesses more profitable and valuable. It is a very intense and exciting job, and running the tennis publication gives me a welcome break at times from the work of helping my clients grow their businesses.

In the end, it all comes down to this: Be willing to take a chance and chase your dreams! Don't ever stop. Set big but meaningful goals, and reach for the stars. With a lot of effort and a bit of luck, you just might reach them!

--Cliff
---
All photographs used in this article are Copyright 2004 by Cliff Kurtzman. Please request and obtain permission prior to any reuse.
---
If you wish to provide a comment to the author of this Wild Cards column, please use this form. Tennis Server will forward the comment to the author.



Wild Cards Archives:
1998 - 2003 | 2004 - Present
If you have not already signed up to receive our free e-mail newsletter Tennis Server INTERACTIVE, you can sign up here. You will receive notification each month of changes at the Tennis Server and news of new columns posted on our site.
This column is copyrighted by the author, all rights reserved.
---