Federer Express: The Swiss Maestro Rolls Through Cincinnati
by Vince Barr
In the 1970s, a musician by the name of Ray Stevens wrote a song called "The Streak" that served as a satirical commentary on the fad of public streaking. While the song dealt with streaks of an entirely different nature than the one that the Association of Tennis Professionals (ATP) keeps tracks of, streaking in general was a very hot topic around Cincinnati during the 104th edition of a professional tennis tournament in the city. The streaks of greatest interest were the fact that (1) thus far in 2005, every time a No. 1-seeded player has reached the finals in an ATP Tour event, that person has won the title (20 tournaments) and (2) Roger Federer, who has been the No. 1-ranked player in the world for 83 consecutive weeks at the start of the 2005 U.S. Open, has not lost in a final of any kind in just over two years. That's an Open-era record of 21 consecutive final wins (22 after his Cincinnati victory this year, and 23 after his U.S. Open victory). Without cheating, can you name the last player to beat Federer in a final, and where it occurred? The answer will be at the end of this article.
Few people realize that Cincinnati tennis has roots into the 19th century and it remains one of the most fan and player-friendly professional tennis tournaments in the entire world. The city of Cincinnati is located within a two-hour flight of nearly 67% of the population in the United States and is the most important warm-up event for the U.S. Open. The event is staged for charity: the primary beneficiary of any tournament profit is the Cincinnati Children's Hospital, which is one of the leading centers worldwide for pediatric cancer care and research. In the last 20+ years, the tournament has donated over $3.5 Million to Children's.
The venue is easy to get to from the airport (about 45 minutes away with light traffic) and the facilities here are simply world class. No other professional tennis tournament (outside the Grand Slams) can boast of having three permanent stadium courts in which to watch some of the highest-quality tennis on the planet. The size of the stadiums, location of the locker rooms and practice courts virtually guarantees many opportunities to obtain player autographs. A picture of center court appears below. It seats about 10,500 people and nearly every seat is a good one from which to watch some exciting, world-class tennis! The players love to play here as well.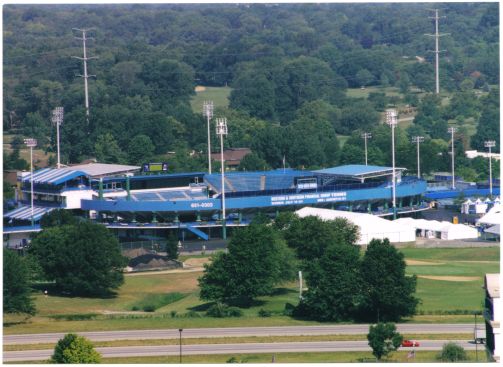 After his first-round match with Austria's Jurgen Melzer, Andy Roddick said "I've always enjoyed playing here. I think the biggest thing is (that) we're on a Monday afternoon at one o'clock, and we have a pretty big crowd out there. That's one of the biggest things for me. It's fun playing in an electric atmosphere. So, you know, I always look forward to coming and playing here." Roddick enjoyed the "home court" advantage all week long with the vast majority of the crowd pulling for the 22 year-old American. Complimentary Mercedes-Benz cars for top-ranked players to use during the week also probably makes the players feel very comfortable here.
For the visitors (and some players who happen to lose early in the tournament), there are many other things to do here. For example, an 18-hole golf course designed by Ohio native Jack Nicklaus surrounds the tennis complex. Paramount's Kings Island (a major amusement park) is located virtually next door to the tennis center. It has numerous roller coasters, a water park with many slides and a wave pool. Kings Island boasts the world's longest wooden roller coaster (called The Beast) as well as many other thrill rides such as Vortex (shown below), which features upside down loops, corkscrews and reverse corkscrews, to say nothing of a very steep drop. And another water park, called The Beach, is also close by. The tournament networks with area hotels to put together vacation packages including tickets, hotel nights and other attractions to entertain tennis fans and their families. For more information, or to order tickets for the 2006 event, which will be played from August 12-20th, call (513) 651-0303.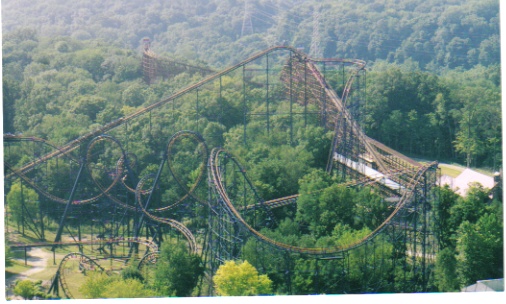 When the tournament started this year, 46 of the top 50-ranked players in the world descended on the Queen City. In this year's Masters Series-level events (the biggest tournaments on the ATP Calendar), Roger Federer and Rafael Nadal have been battling each other for supremacy. Nadal came to Cincinnati on the heels of his first Masters title on hard courts: the Rogers Cup, played in Montréal prior to the start of this event on August 13th. Nadal beat Andre Agassi in three tough sets which had the unfortunate consequence of causing Agassi to withdraw from the Western & Southern Financial Group Masters the day before the main draw started.
Agassi was the defending champion (beating Lleyton Hewitt in 2004 for the title) and everyone was disappointed to lose him. He has been dealing with a sciatic nerve problem in his lower back and said that "…10 weeks ago…when I wasn't sure about the state of my health, I made a commitment not only to myself but also to those around me that I would only play under the terms of being 100% physically." Andre noted that he wasn't dealing with just a minor ache and pain, but this injury affected his level of play "…if I have a little pain in my life, that's fine. I just don't want it on the tennis court because I work too hard to get out there and feel helpless…I can't start something anymore that I'm not convinced I can finish."
Perhaps the best match of the tournament came in the early rounds, when Rafael Nadal played the Czech Republic's Thomas Berdych in the first round. This was the feature match on Tuesday evening of the tournament. The reception that Nadal received from the female patrons in the audience probably rivaled the reception the Beatles got when they did the Ed Sullivan show, or something close to it. He has his own unique style of dress, with Capri pants that no one else could get away with on tour but which look perfect on him. Did I mention that he is a fantastic tennis player on any surface as well? He took Federer to five sets in the finals at Key Biscayne last March before beating him in the semifinals at Roland Garros this year. This match (between Berdych and Nadal) lasted very close to three hours and it was just a best of three set match with the first and last sets being decided by a tiebreaker. Nadal won the first set 7-6 (4), lost the second and third sets 2-6 and 6-7 (3).
For all of his spectacular success everywhere else, Federer had never played well in Cincinnati until winning the 2005 title. In fact, his play was nothing short of pathetic with only one win against four losses in four appearances. Roger tried to explain his historically poor play by reviewing his last several matches in Cincinnati. "Well, there's always a reason why you lose, you know," Federer said. "Last year I was close [losing in the first round to Dominik Hrbaty, 1-6, 7-6 (7), 6-4)], winning the first set and who knows what happened. I've felt that the conditions here are quite quick, so I never really could get the rhythm I wanted to have," Federer explained. "Two years ago, I lost to Nalbandian, which wasn't a great surprise, but it was a close match [7-6 (4), 7-6 (5)]. Three years ago, my former coach, a good friend of mine, passed away a week before the tournament, so mentally I wasn't here. Basically, four years ago, I was a nobody…(smiling)."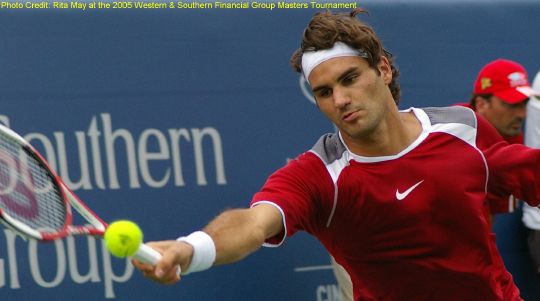 Although fatigue was not one factor that Federer cited as the reason for his lackluster record here, looking at his schedule, one would have to conclude that this had some impact in the quality of his play at the Western & Southern Financial Group (W&SFG) Masters. For instance, in the summer of 2003, he played five matches in Halle (and won that tournament) on grass to prepare for Wimbledon, won there (another seven matches), then played Gstaad immediately following Wimbledon (another five matches, on clay). Then Federer played in Canada (five matches) and got to the semifinals where he recorded his only loss to Roddick. He came to Cincinnati and beat Scott Draper only to lose to David Nalbandian in the round of 32. So, from June 9th to August 13th, 2003, Federer played in approximately 23 matches (a whopping 63 sets of tennis including 14 that went to a tiebreaker).
His 2004 schedule was nearly identical to the one from 2003. From June 7th to August 2nd he played the same events as he did in 2003, with very similar results. Federer started with a win in Halle (five matches) and Wimbledon (seven matches), Gstaad (five matches on clay) and then won in Toronto (six matches, hard court) and came here exhausted with one day of rest between winning in Toronto and his first round match with Dominik Hrbaty. That flurry of activity came to 24 matches in 64 sets, 10 of which went to a tiebreaker and three consecutive titles on different surfaces (grass, clay and hard court). Thinking about all that play in a two-month span is exhausting, to say nothing of actually playing that much. And this ignores the near-constant time zone adjustments players have to make on a routine basis on Tour, which has to have an effect on a person's play, even the top-ranked player in the world.
This year, Federer changed his preparation for the U.S. Open. He came to Cincinnati early from a six-week break after Wimbledon. "I had a two-week vacation…then started to work out, you know, mostly upper body, some running, some bike to give my feet a rest," Federer explained. "So, after four weeks, I basically started to hit with Tony [Roche] for eight days or so, then I came home, had my birthday there (he turned 24 on August 8th) and came here on Thursday (August 11th)." His first round opponent, James Blake, gave the crowd a thrill by taking the first set to a tiebreaker 7-6 (3) and lost the second set, 7-5.
Blake said that "I think he beat me with less than 100% tonight, and that's something that guys on top are able to do — come up big on breakpoints, come up big in the tiebreaker," Blake said. "He really did raise his game (which) puts a little pressure on me when I know I've got to do something special to break him or come up with something a little better…I think he will get better as the tournament goes on. That seems to be the pattern with the guys at the top; your best chance is to beat them in the first or second round. He gave me a few opportunities tonight, and now that he's gotten through that, I think he'll be even more of a nightmare for the rest of the guys in the field," Blake said.
Federer next played Nicolas Kiefer in the Round of 32 and dispatched him 4-6, 6-4, 6-4. Kiefer was asked what separates Roger from his peers and he replied, "…he's lost three matches this year. He has a lot of confidence. He knows how to play the big points." Roger's next victim, err, opponent, was his former junior doubles partner, Olivier Rochus. One of the more amusing things Rochus revealed about Federer was that "I remember him when he was 13 years old. He was always losing 6-0, 6-1 against everybody in the under-14 tournament," Rochus said. "We were almost laughing at him and now he's laughing at us!" So, how does one go from a virtual laughingstock to the world's best tennis player? "He practices hard. He had the talent, but when he was young, he was very skinny and mentally, he was not so good," Rochus explained.
In the quarterfinals, Federer played Argentina's Jose Acasuso. The two had only met once previously, with Roger winning in four sets of the 2003 U.S. Open. On this occasion, he got through it in two sets, 6-4, 6-3. That set up a semifinal encounter with American Robby Ginepri, who had been having a fairly good summer. He won Indianapolis to notch his second career title and first on hard courts, which included a quarterfinal win over his friend, Andy Roddick. He followed that up with a quarterfinal showing in Los Angeles and a Round of 16 appearance in Washington, D.C.
Due to the early entry ranking cut off (of July 4th), he needed a wild card to enter the main draw. By the start of the tournament, he was ranked 58th in the world. His path to the semifinals included an upset win over No. 10 seed Mariano Puerta in the first round, a win over David Ferrer in the 2nd round, another win over Carlos Moya (who won the 2002 title here) in the Round of 16 and a straight-set win over the No. 4 — ranked player in the world, Marat Safin of Russia in the quarters. If anything, Ginepri was not going to be intimidated by the Swiss master across the court from him. "I beat some pretty top-ranked players in the last few weeks, and I feel like I'm right up there with them," Ginepri said. "So there's no reason I should step out on the court with a losing mentality, even if it's against the best player in the world."
In his match against Federer, Robby had the crowd solidly on his side and actually took the first set from Federer, 6-4. But Roger rebounded to take the next two sets (and the match) 7-5, 6-4. Ginepri was asked if Federer's serve is underrated, noting that he does not usually hit a lot of aces (12 in this match that went three sets) and Robby agreed. "He's got so much variety and it's so tough to read it," Ginepri explained. "He spins it, kicks it, hits it flat, he mixes it up. He throws you off all the time. You've got to be ready for anything." For his part, Federer "…was surprised at how far in he was standing on the return game. But that didn't really mean I was serving bad…[it] was just a different sort of angle to the game."
Federer is now 8-2 lifetime in Masters Series finals and he is the first player to win four Masters Series titles in one season since 1990. His victory in Cincinnati (over Andy Roddick, 6-3, 7-5) gave him his fifth different Masters Series win. He is currently riding a 25-match winning streak through the conclusion of the U.S. Open, with his last loss coming to Nadal in the semifinals of the French Open. Besides Safin, who beat Roger in the Australian Open finals this year, Federer's only other 2005 loss came at the Masters Series event in Monte Carlo, where he lost in the quarterfinals to Richard Gasquet 7-6 (1), 2-6, 6-7 (10). He did not have to wait long to extract his revenge as they met again a few weeks later in Hamburg (another Masters Series event) where Roger defeated Gasquet in the finals, 6-3, 7-5, 7-6 (4). As of the end of the U.S. Open, Federer is 71-3 in terms of win / loss record this year for a winning percentage just shy of perfection (95.9%).
His opponent in the finals was Andy Roddick, who enjoyed a lot of crowd support for all six of his matches in Cincinnati. His ranking had fallen off a bit (down to No. 5 in the world) but claimed that he was purposely making some adjustments in his game in order to become a better player. One of the biggest changes in his game concerned the serve and volley. While he has made a very comfortable living hanging out on the baseline and isn't going to change that aspect of his game, he may come to the net more often in order to force his opponents to make changes in how they play him.
Roddick got to Cincinnati the day before Federer did due to his early round loss in Montréal. That gave him some time to adjust to the courts, playing conditions and the fact that this tournament uses Penn rather than the Wilson balls that are used throughout the U.S. Open (and Montréal). He beat Jurgen Melzer in straight sets 6-3, 6-4. That set up a rematch of the 2003 U.S. Open final between Roddick and Spain's Juan Carlos Ferrero. Andy lost the first set in a tiebreaker, 7-6 (3) and chose to change tactics in the 2nd and 3rd sets. "I started being more aggressive on every shot. So it was either going to be really bad and end quickly, or it was going to get me back in the match," Roddick said. The second set went to a tiebreaker, which Roddick won 7-6 (5) to force the deciding set. The key to the match was Roddick's ability to improve his forehand play and make Ferrero work harder to hold serve. "Fortunately, I was able to get my forehand going. That was probably the biggest shot for me at the end of the second set and into the third," Roddick said. Andy started the third set by holding serve and breaking Juan Carlos' first service game, then holding serve again for a 3-0 lead and he went on to win 6-2.
In the Round of 16, Roddick faced Juan Ignacio Chela, whom he had just beaten two weeks previously (also in the round of 16) in Washington, D.C. en route to the title. "He's almost had better results on hard courts than clay courts the last couple of years," Roddick said. The first set went to a tiebreaker which Andy won 7-6 (4) and then broke Chela's second and fourth service games in the second set to win, 6-2. That set up a quarterfinal showdown with Russia's Mikhail Youzhny. Their last meeting was a five setter that Roddick won in the Round of 16 in the 2003 Australian Open (this was the match just previous to his marathon five-setter with Younes El-Aynaoui in the quarterfinals). Andy's scouting report on Youzhny accounted for the fact that Mikhail "…always tries to be the aggressor. You'll see a lot of change of direction, up the line, he hits a little flatter than a lot of the people. He's pretty flashy as a shot maker, so I'll definitely have my hands full," Roddick said.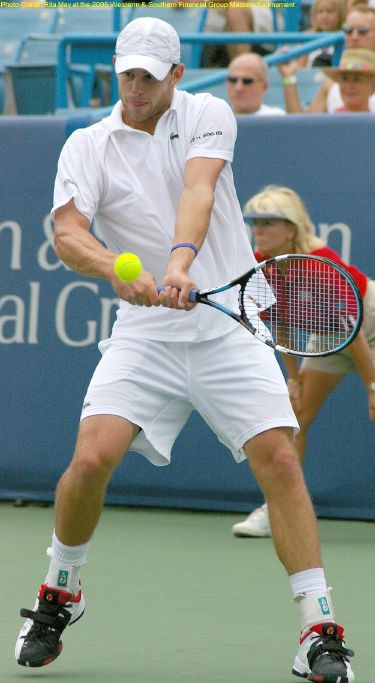 Things did not start out well for Andy as he lost his first service game in the first set and the fourth game as well to get behind in the match, 2-6. Roddick had an early break in the second set on Youzhny's second service game and won that set 6-3. In the final set, Andy broke Youzhny again in his 3rd service game to eventually win the match, 6-4. In the post-match press conference, Andy noted that the support of the crowd enabled him to come from behind. "They've definitely helped me through a couple of matches this week — against Ferrero the other night, and then they realized I needed it early on in the second set (of the Youzhny match)…It's much appreciated," Roddick said. A reporter noted that Andy came in a lot more to the net in this match than he had done previously and wondered if that was coincidental or part of his pre-match strategy. "I wanted to mix him up a little bit," Roddick explained. "He was really grooved from the baseline…stepping in, taking balls early. He was getting into a good pattern of playing to my backhand. I'd play crosscourt and he would just kind of go for broke up the line. I just wanted to give him a little bit of a different look."
Andy's semifinal match was against Lleyton Hewitt, against whom he was only 1-6 with Roddick's only previous victory coming at Queen's Club last year. The first set was pretty even until Roddick broke Hewitt's next to last service game. Andy out-aced Hewitt for the match, 23-11 and was slightly better on first serves (63% to 59%). However, Roddick won the match by seriously cutting down on his unforced errors by hitting 43 winners against 18 unforced errors. Andy won the first set 6-4 and the second went to a tiebreaker which Roddick won, 7-6 (4).
The final pitted Federer against Roddick in a rematch of this year's Wimbledon final. Roddick wasn't thinking so much about his 1-9 record against Federer going into the match, he was just trying to find a way to win. However, perhaps subconsciously, the fact that his main rival could basically take six weeks off the Tour and not miss a beat had to be somewhat demoralizing. Although the match was close, Federer prevailed in straight sets, 6-3. 7-5.
Mary Carillo of CBS-TV wanted to know how the match turned since Andy had been playing relatively well in the second set before losing. He had a slight injury at 5-5 in the second which required a medical timeout, but Andy dismissed that as a factor in the match since "... by that time, Roger was already kicking my butt." Carillo opined "It was a pretty good final, you had some looks. You had a break point chance in that first set, you broke (Federer's serve) in the second. It was shaping up to be something pretty good." Andy replied, "Yeah, it WAS..." and the crowd started laughing as he emphasized the past tense of the match he had just played, "and then Roger started being Roger again, yada, yada, yada, super." Roddick then told the crowd, "In all seriousness, he's a great champion and he carries himself even better off the court, which is a real credit to our sport, so congratulations."
Carillo then asked Andy if he wanted to thank anyone here, noting that he remains very popular with the Cincinnati crowd. Roddick didn't miss a beat and told the crowd, "I have a hard time remembering a place where I've gotten more crowd support. You guys have really helped me through a couple of matches this week, so thank you very much," Roddick concluded. Carillo then turned to Federer and wanted to know how it was possible that he could play so well despite taking so much time off the Tour in the summer. Roger laughed and jokingly told her "I've got to get away from these people -- the players, the media and the photographers -- a little bit. It was good to be away but it is also very nice to be back... This is a great place to play tennis, it was a great finals against Andy. I always enjoy playing against Andy, especially in America, and not just because I win..." Roddick hung his head in shame at the playful jab as his record against Roddick now climbs to 10-1.
Although Andy Roddick shockingly lost in the first round of the 2005 U.S. Open, he'll be ok. All great players must learn to bounce back from adversity and Andy is no different. That said, however, no one is going to catch up with Federer anytime soon, especially if he begins watching his schedule more closely and not over-committing himself like he has in years past.
Certainly, there is no doubt that Roger Federer is playing at the top of his game right now. If he keeps up this pace of major titles, he could eventually break Pete Sampras' record of 14 Grand Slam wins (when Federer won the 2005 U.S. Open, he and Sampras became tied in the number of Grand Slam singles titles won at the same age). Of course, getting to the top in men's tennis is not nearly as difficult as staying there for a long time. I think the most difficult record to break will be Pete's six consecutive year-end finishes at the No. 1 ranking position. To do something like that, a player must be both lucky and good, not to mention be relatively free of injuries over a long period of time (which is exceedingly difficult to do in modern professional tennis). Sampras might have made it seven consecutive years at No. 1 if he had not had the back injury that forced him out of the 1999 U.S. Open. He missed nearly two months of competition and still managed to finish No. 3 that year. One thing is for sure, only time will tell just how good Federer can become. I don't think that the French Open is beyond his reach, either. So he could join that rarefied club of men's tennis professionals who have won a major on all four different surfaces, something Pete was unable to do.
By the way, the last player to beat Roger Federer in a final was Jiri Novak in Gstaad, Switzerland, on July 13, 2003.
---
If you wish to provide a comment to the author of this Wild Cards column, please use this form. Tennis Server will forward the comment to the author.



Wild Cards Archives:
1998 - 2003 | 2004 - Present
If you have not already signed up to receive our free e-mail newsletter Tennis Server INTERACTIVE, you can sign up here. You will receive notification each month of changes at the Tennis Server and news of new columns posted on our site.
This column is copyrighted by the author, all rights reserved.
---