Roddick Rocks in Cincinnati
by Vince Barr
with photography by Pablo Sanfrancisco
Webster's Dictionary defines the word "renaissance" as a "rebirth of learning or culture." That term might be an apt description of the recent arc of Andy Roddick's career. Since finishing as the Number 1 ranked player in the world at the end of 2003, he ended 2004 at No. 2 and 2005 at No. 3. He lost in the first round of last year's U.S. Open, the 4th round of the 2006 Australian Open, first round at Roland Garros and the 3rd round at Wimbledon. Coaches such as Brad Gilbert and Dean Goldfine came and went and Andy was without a title since last year's victory in Lyon (France) until he won the 2006 Western & Southern Financial Group Masters Championship over Spain's Juan Carlos Ferrero, 6-3, 6-4. Various television commentators expressed disappointment with his recent play and criticized him for "underachieving" prior to his title in Cincinnati. Roddick pointed out that "...it's weird to kind of be given up on at 23 years old, which is kind of the way it felt from some corners." Criticism of his early round exit at this year's Wimbledon (he lost to Andy Murray in the 3rd round) got to be too much so he stopped watching coverage of the event after returning home. "I'm not saying it wasn't fair because I did play badly. But there is such a thing as a slump and it's happened before and it wasn't the first time [nor will it be] the last time it happens in sports, you know."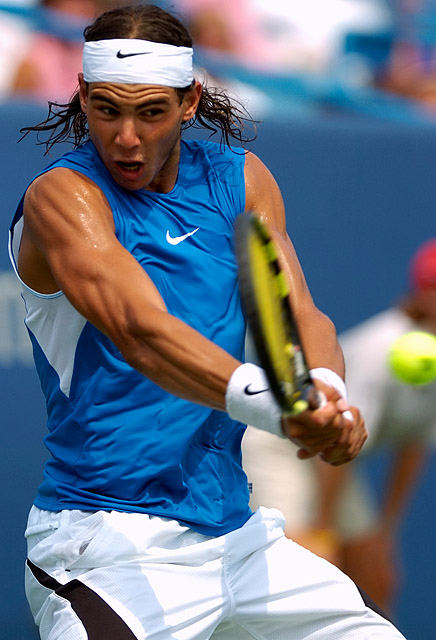 Rafael Nadal defeated Tommy Haas in Cincinnati before losing to eventual finalist Juan Carlos Ferrero

Roger Federer, who won the Western & Southern Financial Group Masters title last year, had the opposite problem -- sustaining the momentum of his incredible performance. Prior to his play here he had not lost to anyone other than world # 2 ranked Rafael Nadal of Spain and sported a 62-4 record on the year. The media made much of the fact that he had not lost in his last 54 matches in North America prior to his first round tilt with Thailand's Paradorn Srichaphan and that he had reached the finals of his last 17 tournaments that he has played in. His last loss in North America actually occurred in Cincinnati in the 2004 event where he was dispatched by Dominik Hrbaty 6-1, 6-7 (7), 4-6 in the first round.
Federer won the Rogers Cup in Toronto prior to playing in Cincinnati and beat Paradorn Srichaphan in the first round before unexpectedly losing 7-5, 6-4 to 19 year-old Andy Murray of Scotland. His match with Murray was an unmitigated disaster, he was broken SEVEN TIMES in a two-set match (has that ever happened to him before)? It was like he forgot how to play tennis. I can't recall anyone, let alone the world's No. 1-ranked player performing so poorly. I understand that even the best players have an off day now and then. CBS-TV tennis analyst Mary Carrillo accused Federer of "tanking," probably based to some extent on Roger's post-match comments. He admitted that he thought seriously about skipping the event after winning Toronto and entered the tournament here not expecting to win but hoping to get through a couple of rounds.
However, having personally seen his match with Murray, I don't believe he was tanking. In fact, I think he was just supremely frustrated. At one point after losing serve, he blasted a ball out of the stadium, which is very uncharacteristic of him. If he were tanking as Carrillo said, I would have expected him to not do much of anything to indicate his displeasure with how he was playing. Tanking a tennis match is synonymous with not caring how well (or poorly) you play and it was obvious to me that he did care about his performance. Federer is used to playing at a very high level and I think part of his outburst was embarrassment.
In the press conference, Federer noted that "...the schedule is quite tough, you know, and I knew that my expectations were not to win the tournament here; they were to survive a few rounds. So that's why I'm not disappointed after this loss. I kind of expected a result like this. I'm actually pretty happy I won a match here." So, if he felt that way, why bother showing up? "I didn't want to disappoint the fans, and the tournament and myself... but at the same time, you've got to be a bit realistic. Winning back to back Masters Series, 12 matches in 13 days... it's just basically something impossible. If they don't start changing, you know, giving the seeds byes, I don't see any point why players should play back to back Masters Series anymore."
For all the discussion about Federer's winning streak in North America, Andy Roddick had been on a streak of a different kind in the last year or so. Specifically, he had not won any major titles since his win at the U.S. Open in 2003 (over Spain's Juan Carlos Ferrero, whom he would face in the title match here). In Masters Series play, Roddick's last title was at the Nasdaq-100 in Key Biscayne, Florida, in 2004. His year-ending ranking dropped from No. 1 in 2003, to No. 2 in 2004 and No. 3 in 2005. Added to all of this was his disappointing performance in the Slams. Last year, he lost in the first round of the U.S. Open and followed that up with a fourth round exit at this year's Australian Open, a first round loss at the French and a third round exit at Wimbledon. "You know, out of all the criticism, I've said it 23 times this week, I didn't play well, that's fair. Say Andy's slumping, that's fair, I was. That's factual information," Roddick said. But, "I turn 24 this month (August). If any other American comes up right now and he's 23, then they call him an up-and-comer... I don't know if you can talk about someone in kind of past tense in terms of a career when you don't even know if they're midway through it yet," Roddick concluded.
So, what do you do, as a professional tennis player, with all the criticism and negativity? I can see three things that Andy did to help turn his year around. First, he considered the source of some of the criticism. "A lot of the people who are on ESPN talk shows and all that stuff, probably watch five tennis matches a year, so I really don't respect that opinion too much," Roddick offered. Second, he sought out Jimmy Connors as his coach. Respecting what Connors told him about his game was not an issue for the young American because it was "...coming from a guy who's been ranked No. 1 in the world (and) is an absolute legend in the game saying "I believe in you," and I know he means it," Roddick explained. "And, here's what we're gonna do, we're not changing a lot, but we're going to tweak a couple of things," Roddick said. Such as? Hitting winners from the backhand side. "We kind of retooled it and started from the basics. The technique is a little bit different. I feel a little bit more relaxed when I'm hitting it," Roddick said. Third, Andy took all the negativity and used it to his advantage. "Instead of focusing on the negative, I decided to try to use it as motivation," Roddick explained. "It was weird to me how you spend four years building up a reputation and being 1, 2 and 3 in the world and then all of a sudden in two months, it's like all for naught," Roddick said.
Andy's path to the final involved a thrilling first round match against the 63rd-ranked player in the world (as of the August 14th rankings during the week of the tournament here) -- Italy's Daniele Bracciali. Prior to their encounter in Cincinnati, they had faced each other only once previously, in 2005's second round of Wimbledon that went five sets with Roddick winning 7-5, 6-3, 6-7 (3), 4-6, 6-3. Andy was not 100% healthy coming into this match because of a rib injury he sustained several weeks previously in the Countrywide Classic in Los Angeles. Specifically, the injury was "... a little tear in a tendon that connects to my rib," Roddick explained. As a result, he could only hit but not serve for a couple of weeks. Additionally, he was unable to defend his 2005 title at the Legg Mason Championships in Washington, D.C. nor was he able to participate in the Rogers Cup in Toronto the week before the Western & Southern Financial Group Masters event here.
There were no breaks of serve in the entire match, which provided (in retrospect) an interesting contrast to Federer's match the following day against Murray. Roddick's first round match lasted two hours and 34 minutes and each set went to a tiebreaker as Roddick ultimately prevailed 6-7 (6), 7-6 (4), 7-6 (5). Roddick noted that Bracciali was difficult to play especially "...when you haven't played for three weeks or so. It's just tough getting into the flow of a match a little bit, especially against a guy who gives you... no rhythm. He's taking one ball and hitting (it) as hard as he can," Roddick said.
Andy's second round opponent was Belgium's Kristof Vliegen. Coach Connors was not pleased with Andy's performance against Bracciali and let him know it over the phone in no uncertain terms. "The first words out of his mouth were, "What the... What was that?" I really didn't have an answer for him," Roddick replied. Whatever he said to Andy over the phone apparently worked as he had no difficulty dispatching Vliegen, 6-4, 6-4. Roddick did come to the net more often in this match than he did in the first round which was part of his strategy. "(I) felt like the match was played on my terms," Roddick said. He was pleasantly surprised with his serve because "...I hadn't hit a serve for two and half, three weeks," Roddick noted. Next up was Argentina's Juan Ignacio Chela, who he faced last year. Roddick had a career head to head record of 5-1 entering his match with Chela and was never seriously threatened in a 6-3, 6-4 match, which put him on a collision course with Scotland's Andy Murray.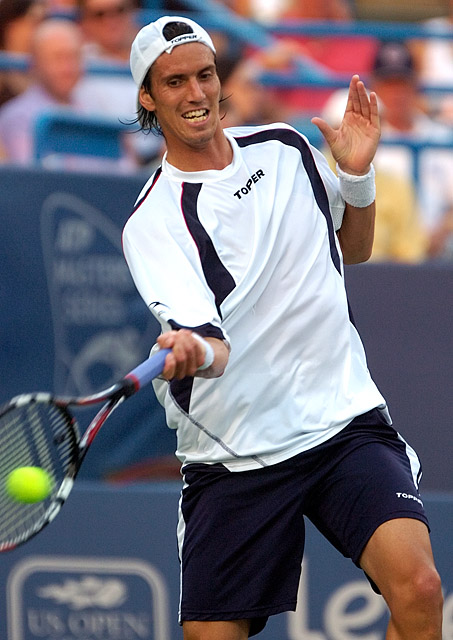 Juan Ignacio Chela was defeated by Roddick 6-3 6-4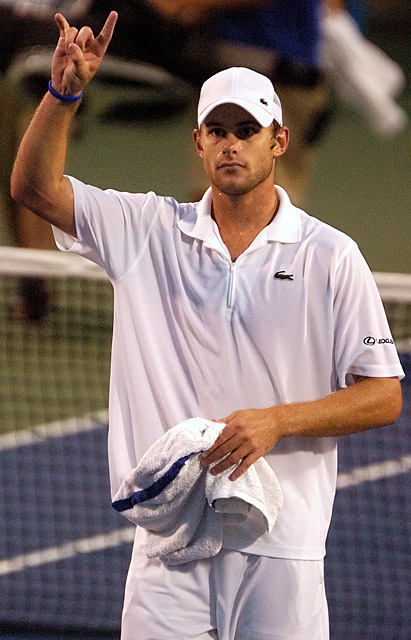 Roddick "Rocks On" after his victory over Chela

Murray had a 2-0 record against Roddick prior to this quarterfinal meeting, with both matches occurring this year (including their third round at Wimbledon). Additionally, the British Tennis Federation paid Brad Gilbert to assume coaching responsibilities for the 19 year-old as well as provide guidance and support for a number of other British tennis players. Of course, Gilbert had previously coached Roddick and the split was less than amicable, so there was a psychological angle to the match as well. Murray was not used to playing as much tennis as he had in recent weeks and was exhausted -- physically as well as emotionally -- after his highly unexpected win against Roger Federer the previous day. Roddick's serve was phenomenal, out-acing Murray 16-1, and he broke three times while getting broken only once on his service games in the match. One of the key statistics from the match was the rather large differential in first serve percentage, 67% (Roddick) to 48% (Murray).
To his credit, Murray did not dodge questions about his fatigue or physical fitness. "I wasn't going into the match expecting to win tonight," Murray explained. "I considered pulling out when I woke up this morning and about half an hour before I went on, but felt like I had one hour where I could compete with him," Murray explained. Although nothing specific felt tight or sore, Murray did notice that "...walking up stairs or when I went on the practice court, I just didn't have any spring. I couldn't move to balls that I normally can... that's one of the best parts of my game, is my defense and my passing shots," Murray said. "I played 14 matches in 17 days. You know, take any other sports people or soccer players, for example, they complain when they play two matches in a week, and I played 14 in 17 days in pretty humid conditions," Murray noted.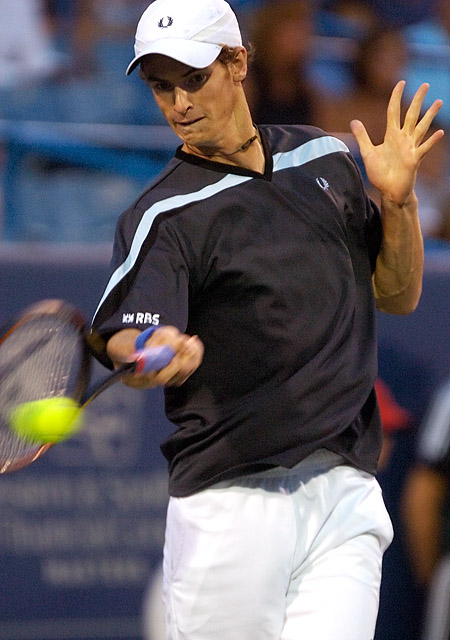 Andy Murray was defeated by Roddick 6-3 6-4

One of the more interesting questions asked of Roddick after his match with Murray was to explain why he changed his playing style this year (i.e., using aspects of the serve and volley game at key moments) as compared to his pure baseliner strategy of 2003 when he won the U.S. Open and finished the year as the No. 1-ranked player in the world. "The game constantly changes. When I was playing three or four years ago, guys were a little more aggressive hitting the ball and so you could count more errors, so I played a little bit more defense," Roddick explained. "The game's evolving into runners (particularly due to) slower conditions on tour and fitness is becoming an issue, so you see a lot more guys that run a lot... as opposed to hitters. And so I think that required me to change styles a little bit."

Roddick gets pumped up during match with Murray

Roddick's semifinal match was against Chile's Fernando Gonzalez. One of their best matches occurred here several years ago (in 2002) in a quarterfinal match that "Gonzo" won, 7-6 (4), 7-6 (6). However, since that confrontation, Roddick had gone 4-1 against Fernando (5-2 overall) with his only loss coming in the Round of 16 at the 2004 Athens Olympic games. They played twice previously this year (both matches on grass) in Davis Cup as well as at Queen's Club. Unlike 2002, Roddick broke Fernando's serve four times in a 6-3, 6-3 win, including the very first game of the match. Gonzalez noted that the rallies were very short. "He was serving huge -- winning two or three points (per game) just with his serve... He puts a lot of pressure (on your service games such that) you cannot make a mistake," Gonzalez said. That was part of Andy's game plan. "I felt that the key to the match was whoever got aggressive early in the points because we can both fire the ball a little bit," Roddick explained. "I wanted to make him resort to defense as opposed to offense (and) I felt like I did that pretty well tonight," Roddick said.

Fernando Gonzalez was defeated by Roddick 6-3 6-3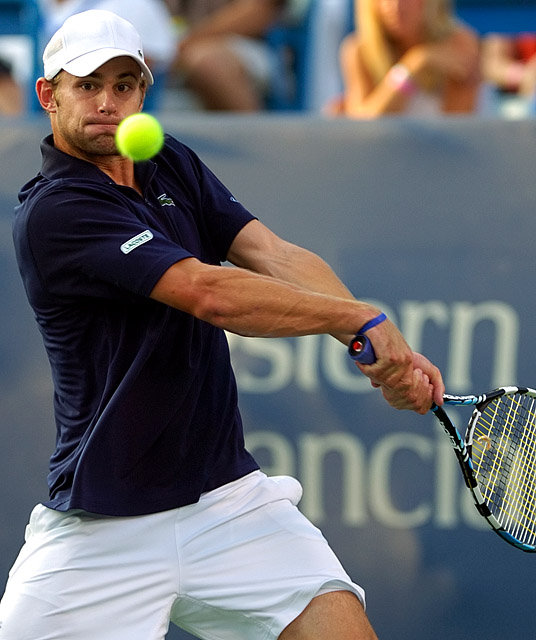 Roddick kept his eyes on the ball in defeating Gonzalez

With the win, Andy made his third finals appearance in four years here. The year he did not make the finals was 2004 when he lost to Andre Agassi 7-5, 6-7 (2), 7-6 (2) in the semifinals. That year, Andre won the title and it turned out to be his last competitive match in Cincinnati as injuries and fatigue prevented him from playing here in either 2005 or 2006. Roddick's opponent in the finals was Spain's Juan Carlos Ferrero, who preceded through the draw with little fanfare or attention, given the focus on his younger countryman, Rafael Nadal (whom he beat for the first time in his career here in the quarterfinals). Nadal deserves much of the attention he is getting because he has been the only player able to defeat Roger Federer with any degree of consistency this year on the ATP Tour. While it is true that most of Nadal's victories over Federer have come on clay, he did defeat Federer on the hard courts of Dubai this year, despite losing the first set.
However, Juan Carlos Ferrero is only 26 years old and it is way too soon to begin writing his career off given the fact that he is a former No. 1 and has battled through some injuries in recent years which have affected his ability to play at a consistently high level. During the trophy presentation, Roddick pointed out that "He doesn't get the credit he deserves and it's nice to see him playing well again."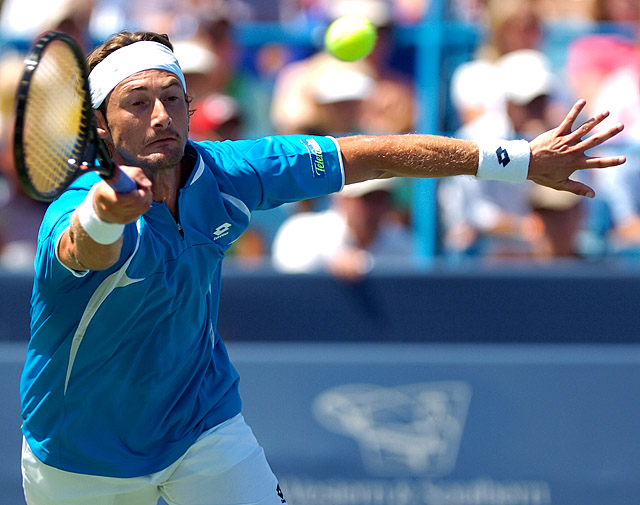 Juan Carlos Ferrero lost to Roddick in the finals 6-3 6-4

Roddick sported a 2-0 record against Ferrero with his biggest win being that 2003 U.S. Open title match. They played in the second round here last year. Both players had been serving well all week long: both had been broken only twice (Roddick in 57 service games and Ferrero in 48 service games). Andy out-aced Juan 16-9 but both players had nearly identical first serving percentages (69% for Roddick, 67% for Ferrero). The difference in the match was that Andy was able to break Juan Carlos four times in two sets while he was broken only twice in return as Roddick won 6-3, 6-4. Ferrero pointed out that Roddick was strong in his service games "He served (well) all the time, with a lot of speed (up to 143 miles per hour) and very good angles," Ferrero said. The title was Roddick's second here and 21st of his career. He was so thrilled with his victory that he actually fell to the ground and kissed the court prior to celebrating his win with the fans on center court by running around and high-fiving the spectators in the first row. Roddick said that "...this is a special place for me. I definitely wanted to share it with whomever I could in the crowd... They have given me amazing support all week. It's been a real fun experience and I look forward to competing in front of you (the Cincinnati fans) for many years to come," Roddick told the crowd.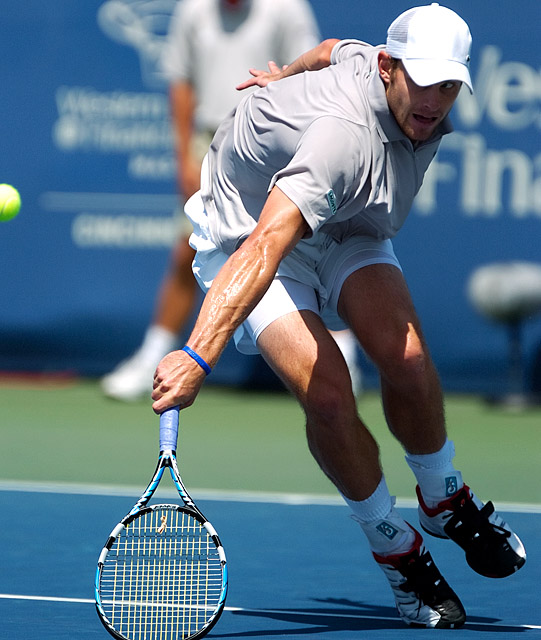 Roddick lunges for the ball in defeating Ferrero

Roddick was asked what made Cincinnati such a great place for him to play (he now has a 24-5 record here in seven appearances here for an 82.8% winning record). "With the exception of my first round, I don't know if I saw an open seat," Roddick said. "It seems like the people really enjoy the tennis here --- they're passionate about it. They have a lot going on around the grounds as well. So for me personally, it's up there with my favorite places to play." Andy had a great week serving but he thought that "...the biggest thing this week was returns and the way I was playing the points. Once I got into them, I didn't feel rushed, like I had to hit a winner." With his subsequent run to the U.S. Open finals (where he lost to Roger Federer), Roddick jumped to No. 6 in the rankings (up from No. 10 when he left Cincinnati). He won $400,000 for the title here in Cincinnati and $600,000 for his runner-up finish at the U.S. Open. Because he also was the points leader in the U.S. Open Series, he took home an additional $500,000 in bonus money making his three-week income $1.5 Million: not too bad for an underachiever!

The Champions!

---
If you wish to provide a comment to the author of this Wild Cards column, please use this form. Tennis Server will forward the comment to the author.



Wild Cards Archives:
1998 - 2003 | 2004 - Present
If you have not already signed up to receive our free e-mail newsletter Tennis Server INTERACTIVE, you can sign up here. You will receive notification each month of changes at the Tennis Server and news of new columns posted on our site.
This column is copyrighted by the author, all rights reserved.
---