Hats Off To Big John
by Jane Voigt
Tennis Program Manager
Washington Golf & Country Club, Tennis Center
Arlington, Virginia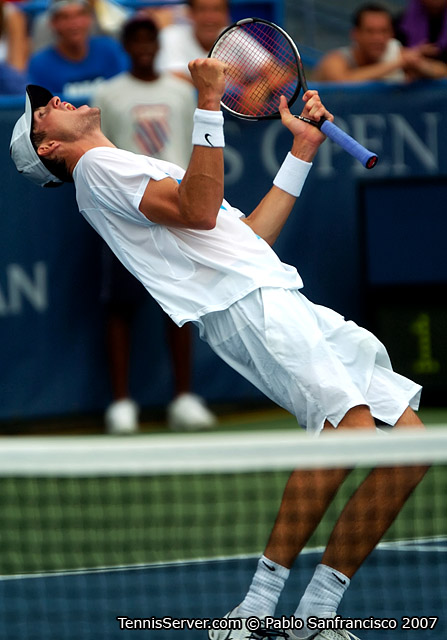 Gael Monfils (bottom) was one of many who lost a third set tiebreak
to John Isner (top) on John's way to the Legg Mason finals.
"I'm taking off next week," John Isner said, as he signed autographs and posed for pictures alongside kids and adults right after the taping of an ESPN interview with Patrick McEnroe and Cliff Drysdale Saturday at the Legg Mason Tennis Classic. No one could blame the six-foot-nine NCAA champ for taking a week off. Especially after last night's third-set tiebreak win over Frenchman Gael Monfils, where Isner seemed depleted at times, both physically and mentally. But this man, who graduated two months ago from the University of Georgia, dug deep and produced a will and determination not seen on these Rock Creek Park courts in years. He came in as a wildcard, compliments of John Noonan and Donald Dell, and will face the number one seed and number five player in the world Andy Roddick, in the finals. Where will his energy come from?
The statistics speak for themselves. Every match of Isner's, so far, in this U.S. Open Series tournament has been determined by a third-set tiebreak, the toughest to attain coming last night when Monfils had broken Isner, and served for the match. But, it's one thing to break and it's another to hold and win the match, all in one game. Monfils didn't do it. His serve spun out of control and the big man broke back, held, and fell to the court realizing that his put-away volley had clinched the match.
Washington's Mayor Adrian Fenty was on hand Saturday, taking in the crowds and building excitement. His support for the tournament, which began in 1969, was clear. "I know the Legg Mason Tennis Classic is a high-caliber tennis tournament; and, it's also a place for families to enjoy themselves in Rock Creek Park. That makes it a flagship event for DC. I'm going to continue to support the sport and event."
Talk is that John Isner's going to Sweden with The Davis Cup team and that he'll probably get a wildcard to The U.S. Open, at the end of August. We'd all like to see what he can do at a Masters Series event, before that, so who's to say he won't make another appearance before the lights go up in Flushing Meadows? There's always Cincinnati, where big guns like Rafael Nadal, James Blake, Andy Murray, and Tomas Berdych will strut their stuff. (Just in... John will play as a wildcard entry at Cincinnati.)
John says he loves playing in front of big crowds and under the lights. He wasn't bothered by the idea that millions of eyes may soon watch him on ESPN either. Fact is, the Georgia Bulldog fans rock their home arena consistently; and, John's been in that spotlight many times. ESPN might not be that big of a deal.
But here is the big deal. John Isner came in at the Legg Mason an unknown and will leave DC as a star. Just think... early Monday morning, he practiced his booming serve on a side court with maybe four people watching, including a coach. That afternoon, he defeated Tim Henman, a former Wimbledon semi-finalist and top-ten player. On Tuesday, he eighty-sixed the number eight seed, and 2004 NCAA singles title holder, Benjamin Becker. On Wednesday, he waved bye-bye to the lefty qualifier Wayne Odesnik and signed hundreds of autographs before security whisked him away. Tommy Haas, the number two seed, was next; he would certainly show John how things were done in the big league. Not so... Isner sent him packing, in another third-set tiebreak. Monfils suffered the same fate, and now we wait for the finals.
America's hats should be off to John Isner for showing us that stars can come from university graduates. That maybe diverting one's career away from academia isn't the only way to tennis glory. Congratulations, John. We're all proud of you. Way to go. Good luck in the finals.
August 5, 2007 -- Post match time... It didn't go his normal three sets, but Andy Roddick had to beat John Isner in a tiebreak -- in the second set -- to claim his third singles title at the 2007 Legg Mason Tennis Classic. John was elated he'd had such a week. Was proud of his accomplishment. And, he thanked his family and friends and fans who had stood by him, who believed in him, and who sat in the hot humid weather to support his miraculous run this week in the nation's capital.
Note from the editor:
Readers, especially juniors and parents of juniors, are invited to also visit the Tennis Server archives to read Emma Peetz's article:
Collegiate Tennis: Playing College Tennis Before Turning Pro
Extensive additional photography from the 2007 Legg Mason Tennis Classic is available in the Tennis Server Pro Tennis Showcase.
---
If you wish to provide a comment to the author of this Wild Cards column, please use this form. Tennis Server will forward the comment to the author.



Wild Cards Archives:
1998 - 2003 | 2004 - Present
If you have not already signed up to receive our free e-mail newsletter Tennis Server INTERACTIVE, you can sign up here. You will receive notification each month of changes at the Tennis Server and news of new columns posted on our site.
This column is copyrighted by the author, all rights reserved.
---