The Legends of Tennis
by Ray Bowers
The Virginia Slims Legends came to the Baltimore Arena for two nights, May 20-21. It seemed a good chance to see what's happening in senior women's pro tennis and catch up with some of our past champions.
The Legends tour has been going on since 1995. Last year, the tour visited six cities. This year it visited Pittsburgh (and Baltimore) in May, and will go to Nashville and Houston in October. The biggest attractions are Martina Navratilova and Chris Evert. Organizer Billie Jean King, who is now recovering from shoulder surgery, is a highly visible coach. The nine players are divided into two teams, captained by Navratilova and Evert, respectively. Over the two nights in Baltimore they faced one another in eight one-set matches, primarily doubles. Total games won determined the team outcome.
The format gave the fans what they most wanted to see--(1) senior tennis played at the highest level and (2) a glimpse of the great stars of the past. The crowds, numbering about 2,700 each night, appreciated what they were seeing and rewarded well-played points with lively applause and sometimes cheers. Except for the p.-a. announcer, nobody seemed to care very much which team won. But it was also obvious that each player wanted very much to perform well. This could be seen in their quickness and determination during play, and was voiced by the players themselves off court. There was camaraderie and sometimes clowning between points, but once the ball was in play things became serious. These remain very competitive people.
In the morning papers after Evening One, one writer observed that the quality of play had been sub-par during the evening's early matches. (What happened, in my opinion, was that the first match ended very quickly, before the players could fine-tune themselves to the conditions.) Interestingly, before play began on Evening Two, the players were on center court almost up to match time, pounding away heavily in simulated action. This had not happened in Evening One.
It gradually unfolded that the best doubles pair--and probably the tour's two best doubles players--were Navratilova and Zina Garrison. Garrison, the youngest of the Legends at age 34, showed the strength and athleticism that took her to the 1990 Wimbledon singles final and won for her (and Pam Shriver) Olympic gold for doubles in 1988. In the climactic match of Evening One, probably the best match of the two nights, Navratilova-Garrison played Evert-Shriver. Garrison created the match's only service break with two powerful returns of Pam Shriver serves along with a point-ending volley of amazing power. I would travel a long way to see Garrison playing as Navratilova's right-court partner in open competition.
Navratilova pleaded rustiness owing to her almost-complete absence from tennis recently, including a three-month trip to Africa. But any rust in her game wasn't terribly obvious. She looked as trim as ever, and in the event's only singles match she proved commanding whether at net or baseline, winning the last four games to close out at 6-4 a nice effort by opponent Pam Shriver. Shriver, who is the tour's best at getting people to laugh, remains a home-town favorite in Baltimore, having helped the region's tennis programs hugely and often.
It was sad to see Evonne Goolagong step aside after just one match, the victim of a knee injury. In her short appearance, one could recognize the long-familiar on-court manner--the bouncy, almost childlike carriage, and what always seemed her undisguised pleasure in being on court. I was totally charmed during a 30-minute interview with her. She still lives in Australia, where she works for the government to encourage female participation in tennis. She is especially interested in bringing sports to the some 200 Aboriginal Communities in Australia. Remembering how as a girl she spent hours batting a tennis ball against a brick wall, she said she would like to see similar walls built as inexpensive sports facilities--useful in several sports--in every Community. She is anything but boastful in her talk, but she is pleased to still be the only person since 1914 to have won Wimbledon after giving birth. She smiles in recalling how it was to travel the world tennis circuit with her small children. She takes her role in the Legends tour seriously, and each year travels to Florida for intensive training a week or so before the tour's start. She especially enjoyed her warm reception at the tour's recent event in Pittsburgh, where for several years she played for the Triangles in World Team Tennis.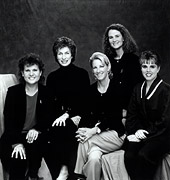 Team Evert from left: Evonne Goolagong, Virginia Wade, Chris Evert, Pam Shriver, Ilana Kloss. Copyright 1998 Jonathan Exley.


Rosie Casals, Virginia Wade, and Chris Evert were all familiar figures from past battles. Evert is still trim, and she likes telling about her present family life as a suburban Mom. Watching her closely in practice, it was nice to see power forehands consistently hit off the front foot. Evert no longer plays Navratilova regularly in singles, as she did with the Legends tour last year. Another crowd-pleaser was Australian Wendy Turnbull, who seemed the hardest server of the group. Turnbull, who holds nine Grand Slam doubles titles, showed a surprising quickness of hand and foot. Goolagong's replacement, Ilana Kloss, proved a delight. Born in South Africa, Kloss in 1976 won the U.S. Open doubles and the French Open mixed. Though her serve looked soft, she stayed out of trouble and showed good volleying ability and deceptiveness.


One illuminating episode showed the underlying competitiveness of the players. In the no-ad scoring format, once the score reaches deuce the receiving pair chooses which partner will receive serve for the game-deciding seventh point. Playing against Klass and Wade, two times--in games 4 and 6--Wendy Turnbull and partner Rosie Casals were faced with this decision. Both times, they chose that Turnbull should receive, and both times the strategy failed, both times because of a miss by Turnbull. When the score reached deuce once again, in game 10, this time it appeared that the partners disagreed. It looked as if Casals wanted to receive but that Turnbull would not to have it. If this was acting, it was certainly Academy Award stuff. Turnbull sat on the end of her racket, smilingly refusing to yield.

At length, it was Casals who gave in. For the third time, Turnbull was the receiver. And this time Turnbull pasted a strong Virginia Wade serve for a sizzling winner! (The set went on to tiebreak, and ended with a superb Turnbull volley.)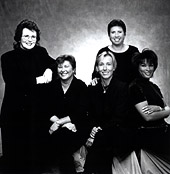 Team Navratilova from left: Billie Jean King, Wendy Turnbull, Martina Navratilova, Rosie Casals, Zina Garrison. Copyright 1998 Jonathan Exley.


Team Navratilova was a comfortable winner overall. Navratilova herself won all four of her matches, following upon a 3-1 mark in Pittsburgh. Next-best, tied at 5-3 for the tour to date, come Casals and Garrison. (In the 1997 tour, Tracy Austin achieved an 11-2 record, playing in doubles only, though Navratilova won the most total matches. Austin is away from the tour this year; having given birth to her second child in early May.)

One feature made me very happy. When I was a 12-year-old, my father took me to see the pros play at the Jersey Shore. We expected to see Budge (my idol), Perry, and Tilden. But it turned out that Budge would appear only on the second night. My not seeing Budge was a major disappointment that I long regretted. I still resent the vague advertising. But in the case of the Legends, all players play on all nights.


Will the Legends tour continue next year, or will some other format arise in senior women's tennis? According to Billie Jean King, the immediate future is unclear, as the crucial sponsorship by Virginia Slims appears to be ending. King and others are working to find answers. King becomes animated in telling about her aims--how in thinking of the young people where lies the future of tennis she is determined to develop not just sports stars but "champions in life." She is proud of the role of tennis in changing outlooks and opportunities for women in sports. She strongly believes that tennis, if it is to reverse its declining appeal in America, must make changes. It should, for example, seek to become more of a team sport, and thus might, she offers, incorporate more doubles in the Davis Cup and Fed Cup formats.

After talking with King, a thought came to mind. Years ago, when I played in Air Force tournaments, there was always an important team aspect. Players competed not only as individuals but also as members of their commands. Each match played in every round, including the consolation draw and doubles, counted for one point in the team standings. As the team tally changed from day to day, the players became caught up as much in the team standings as in their own fate. I don't know who dreamed up the idea, and I've not seen it used elsewhere except in some events I myself once organized. But it seemed to work.

Might it work for the pros? It would be hard to divide up the players--there are too many players from some countries, too few from others. But if a plausible scheme could be found--perhaps dividing up by regions (eastern Europe, South America, west US, etc.) or perhaps by different corporate sponsors--I believe fan loyalties and interest, especially among young people, would quickly rise.

I hope the Legends tour goes on and prospers. I was disappointed to see so few children in the audience, and very few members of minority groups. I can promise tennis players that they will not regret spending an evening with the Legends, and I strongly urge that children interested in tennis be given the chance to attend. They will some day tell their grandchildren that they went with you to see Navratilova and Evert. Meanwhile, they will have seen tennis as it should be played.
---
If you wish to provide a comment to the author of this Wild Cards column, please use this form.



Wild Cards Archives:
1998 - 2003 | 2004 - Present
If you have not already signed up to receive our free e-mail newsletter Tennis Server INTERACTIVE, you can sign up here. You will receive notification each month of changes at the Tennis Server and news of new columns posted on our site.
This column is copyrighted by the author, all rights reserved.
---