PLAYER OF THE YEAR 1999

Ray Bowers
Tennis Server's Player of the Year honors (1) superior achievement in top-level competition, along with (2) less-tangible contributions to the history and values of our sport. Candidates normally include the year's male and female champions as well as high achievers in international team play, in doubles, in senior pro competition, or like realms. A single triumph of surpassing distinction can be honored. Last year, we chose Jacco Eltingh of the Netherlands, who during 1998 came close to achieving a Grand Slam in men's doubles.
DAVIS AND FED CUPS
Fed Cup produced little excitement in 1999 because of the dominance of the U.S. team and the absence of the leading stars from last year's finalist nations, Spain and Switzerland. The Americans first overcame a Croatian team weakened by the absence of the young star Lucic. After that, the availability of the Williams sisters and Lindsay Davenport assured an American victory over all comers. A streamlined format for Fed Cup for year 2000, one hopes, will bring the top European players once again into the competition.

Davis Cup was a different story. In the hundredth year since its beginning, the competition produced many superb engagements and raised vast fan interest in many countries. The present format continued to enhance the Cup in its important role building the game among youth worldwide.

Reaching the Cup final in December were the French and Australian teams, in both cases largely because of a single player. For France, Cedric Pioline won all five of his meaningful singles matches enroute to the final, including critical wins over Krajicek and Kuerten. Meanwhile, with first Philippoussis and then Rafter out with injuries, Australia's teen-aged Lleyton Hewitt filled in magnificently against the U.S. and Russia. Hewitt won his three meaningful singles matches, over Courier, Safin, and Kafelnikov. Then in December, with Rafter still unavailable, Hewitt was again named. Thus it happened that the two undefeated Cup heros--Pioline and Hewitt--faced each other in the opening match in Nice. It seemed to me that if either of these stars could carry his team to final victory, then he would have completed a Davis Cup run plainly worthy of consideration for our award.

In an intense first-day encounter, it was Pioline who prevailed over Hewitt. The French veteran won all three sets, two of them extended tiebreakers. But then two days later, Pioline's remarkable Davis Cup year came to an end in a superbly played, four-set loss to the heavy-hitting Mark Philippoussis. Philippoussis's two singles victories amply redeemed his disappointing contribution in Australia's first-round meeting with Zimbabue and returned the Cup Down Under.

Meanwhile, the Americans struggled to overcome the absence of both Sampras and Agassi from singles play. The quest began brilliantly when Courier and Martin overcame the favored British hosts. But the same stars failed against the Australians in July. A new U.S. team captain was then chosen, who since then publicly (1) deprecated the Davis Cup format and, oddly, (2) called for the removal of men's doubles from the pro tour.
THE WOMEN'S CIRCUIT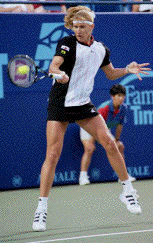 Steffi Graf.
The year was a fascinating one in women's pro tennis. Perhaps the singular achievement was Steffi Graf's, who won her sixth French Open and later gathered warm feelings worldwide in announcing her retirement from competitive play. Still later, Graf announced that she would play a worldwide tour of exhibitions.
It briefly seemed, during Wimbledon, that several very young players might now be ready to challenge the recognized stars. But instead four well-known players--Hingis, Davenport, and the Williamses--continued to dominate the women's game. These four would capture all fifteen of the year's major events other than the French (i.e., the other Slams, the Tier Ones, Grand Slam Cup, and the year-ending Chase).
Lindsay Davenport.
Hingis and Davenport finished the year #1 and #2, respectively, in the official rankings. Hingis won the Australian and was runner-up at the French and U.S. Opens and at the season-ending Chase. Her loss to Graf in the final at Garros was followed by a personal crisis including a falling-out with her mother and a first-round loss at Wimbledon. Hingis also won the German and Canadian Opens along with two other Tier Ones. Meanwhile Davenport won Wimbledon and the Chase, and was the only player in women's tennis to reach the quarters of all four Slams. In head-to-head play, Davenport won three of four meetings with Hingis, including the final of the Chase. In doubles, Hingis won the Australian, Davenport won Wimbledon. Off the court, Davenport handled better than Hingis public comments demeaning Mauresmo early in the year, while Hingis was further stained by her ungracious remarks in leaving her doubles partner of last year, Novotna.

Venus Williams.
The two Williams sisters followed in the point standings, Venus at #3 and Serena at #4. Serena won the U.S. Open along with the Tier One at Indian Wells and the Grand Slam Cup, while Venus took three Tier Ones. Playing together, the sisters won the French and U.S. Open doubles. Both contributed in Fed Cup play. They played against each other twice, Venus winning at the Lipton, Serena at Grand Slam Cup. Serena stands out because she won six of seven matches against Hingis and Davenport. (Venus's record against the two higher-ranking players was 5-6.) Serena missed Wimbledon and the Chase with physical troubles, but amply showed that when she is healthy, her powerful and athletic game can be too strong for any opponent. Clearly, Serena's greatness is at hand.
A strong case can be made here for any of the three--Serena, Hingis, or Davenport. My narrow choice among the three is Hingis, who has just turned 19 but has already won six Slams, including one in 1999. (At the same age, Graf had won five Slams, Seles seven, Evert two.) Despite her doll-like appearance and manner, she is a decidedly tough competitor, who courageously and intelligently faces disadvantages in size and strength against her foremost rivals. She improves, though in the last two years Davenport and the Williamses have improved more. Her success in making an early return after her mid-year crisis re-certified her competitive qualities. But did any of the three women make as large a mark during the year as either of the two American male superstars?
SAMPRAS AND AGASSI
It was an amazing year for Andre Agassi, who dominated the year's tennis news beginning with his triumph in the French Open. His victory at Garros was wholly unexpected, as the American had withdrawn from an event the previous week with shoulder trouble. By winning, Agassi joined a select group of players who have won all four Slam events. Almost as surprising was Agassi's Wimbledon run, where he defeated Rafter in a straight-set semi before losing to Sampras in the final.

The story of Agassi's return from seeming career-ending obscurity two years ago is, as Agassi himself explains, as much a tale of off-court determination and hard work as it is one of matches won. He gained in overall muscle strength and physical stamina even as the extra pounds came off. With his new power and endurance returned his old shotmaking and mobility, which underlie his unique court tactics.

Agassi is a remarkable champion off the court, highly intelligent and genuinely compassionate toward others. When last year a patented Agassi overhead from the baseline felled Alex Corretja at net, Agassi's extreme concern over hurting his opponent, albeit unintentionally, was obvious. Agassi was so upset that he lost his playing edge that day and the match. Yet he can also be highly opinionated and indeed intolerant of those with whom he disagrees, as in his criticisms of U.S. Davis Cup officialdom.

Pete Sampras.
Meanwhile Pete Sampras's year was spoiled by the great champion's physical troubles. He skipped Australia, then had little success in the spring events. He seemed strong in winning the Wimbledon tune-up at Queens, and at Wimbledon he won his first four matches without losing a set. In the quarters, however, he lost the first set to Philippoussis and fell behind in the second. The Australian, whose play was equalling Sampras's in power and control, then hurt his knee and was shortly forced to retire from the match. Sampras then went on to crush Henman in four sets and Agassi in three, winning his sixth Wimbledon. Sampras's magnificent first and second serves were simply too strong for Agassi, at his best, to blunt.
Sampras again prevailed over Agassi a few weeks later, in Los Angeles, in two tiebreak sets, and again in the semis at Cincinnati. A week later, however, at Indianapolis, Sampras withdrew with hip flexor trouble, though he was expected to be ready for the Open.
Meanwhile by winning the U.S. Open tune-up in Washington convincingly, defeating Kafelnikov, Agassi showed that he was at the top of his game. He talked confidently of the forthcoming Open, and that he looked forward to a week of rest. I asked him what he must do to defeat Sampras. The euphoria vanished. Agassi thought for a while and then answered. To beat Sampras, he said, he must "play well when it counts," "bring my best game," and "get a little lucky." It did not seem like a confident champion.
The climactic Sampras-Agassi confrontation would, of course, not yet be, as Sampras withdrew at the Open's outset with a fresh problem, back trouble. Agassi would win his second Slam of 1999, defeating Kafelnikov in the semis and Martin in a five-set final, earning firm grip on #1 in the rankings. During the fall Agassi would capture the Paris Open, an indoor Super Nine. Sampras entered the event but withdrew with renewed back difficulties. Thus Sampras's chances in the year-end ATP World in Hannover, Germany, seemed minute.
Tennis fans know what happened at Hannover. Agassi defeated a rusty Sampras in a round-robin match early in the week. But in the Sunday final, Sampras's heavy serving and the regained consistency in his power groundstrokes were too much for a seemingly disheartened Agassi. The reversal of the outcome three days before almost defied belief, but the message seemed clear. Sampras at his present-day best will always defeat Agassi, indeed any other player, on a fast or medium-fast surface.
THE PLAYER OF THE YEAR
Choosing the Tennis Nation of the Year is easy. The Australian recapture of the Davis Cup, more than in any case in recent memory, was clearly a team and a national victory. The U.S., which claimed two of the top three male and three of the top four female performers in the year-end singles rankings, and indeed won the 1999 Fed Cup, cannot match the quality of this achievement. Meanwhile the Aussies also won the clay-court event World Team Cup (primarily with Philippoussis and Rafter), and also won Hopman Cup (with Dokic and Philippoussis).

Choosing the Player of the Year is more difficult. It seems clear that the dominance of both Agassi and Sampras surpassed that of any of the women. But which of the two Americans should we choose? Agassi won two Slams, Sampras one plus the ATP World. Agassi led in the year-end standings but Sampras led convincingly in head-to-head play. I like Agassi's success on both fast and slow surfaces but I dislike his having shunned Davis Cup duty, though this has been partly redeemed by Agassi's announced willingness to participate next year. Sampras's absence from Cup singles (he played doubles against the Aussies) is easier to accept in view of his increasing physical difficulties.
Andre Agassi.
By the margin of his totally decent representation of tennis on the world stage, his substantial commitment to the underprivileged, and his superb example to young and old in rebuilding his career through renewed off-court effort, the choice becomes clear. The Tennis Server Player of the Year for 1999, chosen narrowly over his long-time rival and countryman, is Andre Agassi.
--Ray Bowers
Agassi and Sampras photos by Cliff Kurtzman. All other photos copyright 1999 by Ron Waite.



Between The Lines Archives:
1995 - May 1998 | August 1998 - 2003 | 2004 - 2015
If you have not already signed up to receive our free e-mail newsletter Tennis Server INTERACTIVE, you can sign up here. You will receive notification each month of changes at the Tennis Server and news of new columns posted on our site.
This column is copyrighted by Ray Bowers, all rights reserved.
Following interesting military and civilian careers, Ray became a regular competitor in the senior divisions, reaching official rank of #1 in the 75 singles in the Mid-Atlantic Section for 2002. He was boys' tennis coach for four years at Thomas Jefferson High School for Science and Technology, Virginia, where the team three times reached the state Final Four. He was named Washington Post All-Metropolitan Coach of the Year in 2003. He is now researching a history of the early pro tennis wars, working mainly at U.S. Library of Congress. A tentative chapter, which appeared on Tennis Server, won a second-place award from U.S. Tennis Writers Association.
Questions and comments about these columns can be directed to Ray by using this form.
---