"Questions from the Net:
Your Top Ten Questions to Pete Sampras"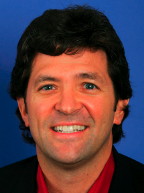 David Higdon
On a visit to Pete Sampras' home in Florida, I sat down with an impressive pile of questions submitted by Tennis Server readers and fired away at the world's No. 1 tennis player. Here are his answers to the Top Ten questions submitted:
---
Your game has been considered the perfect blend of all-court power and finesse. Do you think the new generation of tournament players is placing enough emphasis on all segments of the game, especially at the net?
Derek El Banna
Vancouver, Canada
Sampras: I think we're seeing more baseliners. You rarely see a guy coming up--maybe with the exception of [Mark] Philippoussis--who isn't a baseliner. Look at [Yevgeny] Kafelnikov, [Andrei] Medvedev, [Marcelo] Rios. Go down the list, they're all pretty much baseliners. I haven't really seen a guy coming up that has the game that can stay back or come in. Either they do one or the other.

[Baseline tennis] is an easier game to play. Since they were 8, they probably played that way. You can be pretty successful if you do it well. When you make a breakthrough at age 17 or 18, you're not going to do it serve-and-volleying. You're going to be staying back and doing that.
---
As a player of this generation, what are your thoughts on Stefan Edberg's career and his last year on the tour?
Fred Carnell
Sampras: I think he's had a phenomenal career. Consistency, winning major tournaments, being No. 1, doing it with a lot of class, a good role model for kids. He won two Wimbledons, two Opens, two Australians, finals at the French. He's had a great career.

I always looked up to the way he played. And the way he acted. You couldn't find a nicer guy in tennis than Edberg, on and off the court. You knew when you played him that you were just going to go out and play and there wasn't going to be any gamesmanship or whatever.
---
Are you Jewish?
Brian801
Sampras: I'm 75 percent Greek, 25 percent Jewish. My Dad's Jewish. My Mom was born and raised in Greece; she's 100 percent Greek. My Dad's mother was Jewish, but his father is Greek. That's where we got the Sampras name. A Greek Jew.
---
They say that playing doubles does wonders to one's performance at the net. Why don't you play doubles?
Kalyan Krishnamurthi
Memphis, Tennessee
Sampras: It gets in the way of my singles. I wish I could play more doubles, but the fact that I'm playing as much as I am and that it can be a hassle makes it difficult. I only play doubles if I haven't played a lot and I need some matches to sharpen up my serve-and-volley, to help me see the ball.

But to play at a major tournament or some big tournaments... I've experienced playing a hard singles match and then having to go out an hour later and playing a doubles match. There are times when you just want to rest. That's why I don't play. It's too much tennis. I'll play when I haven't played a lot of tennis.
---
What's more difficult for you: to get up for a morning match or a late-night match?
Phil Brandon
---
How do you prepare for a match, specifically the amount of practice and meals eaten shortly before a match?
Gordan Little
Sampras: I try to eat a good meal four hours before I play. Top it off with something small, a turkey sandwich, maybe an hour and a half, two hours before. Try to hit maybe three hours before I play. Hit for about 45 minutes.

Basically, what you see us warm up during those five minutes before a match, we do that for 45 minutes. You hit groundies, volleys, overheads, serves. Last 15 minutes, you play points, move around, break a sweat. That's it.
---
As you're lining up a down the middle ace from the ad court, do you have any compassion for the line umpire you're about to annihilate?
Perry Hines
Sampras: No. If you can't get out of the way, you shouldn't be on the court! :)
---
What match was your most humiliating loss?
Gudjon Broddi Backman
Sampras: I lost to Chang 1, 1, and 1 at the 1989 French Open. It was the year he won it. That was pretty humiliating. I was embarrassed. I had no idea what I was doing out there.
---
Who is your favorite band and what is your favorite color?
Dana Rocks
Sampras: Band, anything from Pearl Jam to REM to Tom Petty. Color: Blue.
---
Who's the toughest opponent you ever played and why?
Kalyan Krishnamurthi
Memphis, Tennessee
Sampras: There are a couple of different players. Playing Goran [Ivanisevic] on grass, playing [Sergi] Bruguera and [Jim] Courier on clay. Those are extremes because Goran serves so well and his serve is pretty much impossible to break. Bruguera and Courier just kind of grinded me down over the course of matches. That's really it. Those are extreme cases. But I really don't fear anyone.



Higdon's Net Game / Between The Lines Archives:
1995 - May 1998 | August 1998 - 2002 | 2003 - 2007
If you have not already signed up to receive our free e-mail newsletter Tennis Server INTERACTIVE, you can sign up here. You will receive notification each month of changes at the Tennis Server and news of new columns posted on our site.
This column is copyrighted by David Higdon, all rights reserved.
David Higdon was named a senior writer of Tennis Magazine (U.S.) beginning with the December 1994 issue, which featured David's cover story on Andre Agassi. David worked for the magazine since August 1988, when he was hired by the magazine as a senior editor. In September 1991, he left his full-time editing position with the magazine to become a contributing editor, moving from Connecticut to Portland, Oregon. He currently works as a freelance writer, writing regularly not only for Tennis but also for publications such as Sports Illustrated for Kids, The New York Times, Self, Boys' Life and USAir Magazine. He also serves as editor of Rip City Magazine, the official publication of the NBA's Portland Trail Blazers.
---