"1995 Season Wrap-Up"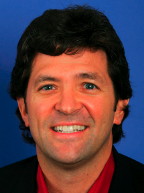 David Higdon
Pronounced DOA not so long ago by Sports Illustrated, the sport of tennis came roaring back to life in 1995 with all the gusto and glamour of an "ER" patient. From the drama Down Under to the Davis Cup in Russia, tennis enjoyed a glorious season, complete with comeback kids (Thomas Muster and Monica Seles), tabloid fodder (Jeff Tarango and Steffi Graf) and a budding rivalry for the ages (Pete Sampras and Andre Agassi). We had the best women's match in recent memory (Graf and Arantxa Sanchez Vicario in the Wimbledon final) and the most emotional, intriguing men's match of the 1990s (Sampras vs. Jim Courier in the Australian Open quarterfinals). Here are the Highs and the Lows of the 1995 tennis season, and my early Grand Slam predictions for 1996:
No. 1 Without a Doubt: Sampras and Graf ended the year atop their respective computers, and no one could argue. Sampras won two Grand Slams, reached the final of another and led his team to the Davis Cup; Graf won all but two matches the entire year, capturing all three Grand Slam events that she entered. However, the fact that one-trick clay-court pony Thomas Muster actually had a chance to overtake Sampras for the No. 1 spot at the IMB/ATP Tour World Championships speaks volumes about the deficiencies of the men's computer program.
Fight the Good Fight: Sampras' impressive on-court performance was fueled in large part by his desire to "win for Gully." His coach, Tim Gullikson, currently is battling brain cancer. Donations for the Tim & Tom Gullikson Cancer Research Foundation can be sent to The Northern Trust Company, P.O. Box 92119, Chicago, IL 60675-2119.
Awesome Andre: Ultimately, Sampras had the better year, but it was Agassi who performed better on a more consistent basis. Beginning with his Australian Open victory all the way up through his loss to an overpowering Sampras at the U.S. Open, Agassi played superbly and never showed the lapses in concentration that had blemished his career. Let's hope this professional attitude remains instilled in Agassi for the years ahead.
Injured Andre?: I say "hope" in the previous sentence because Agassi's chest injury, apparently occuring during his match against Mats Wilander during the Davis Cup semifinals, sounds a bit dubious to me. I'll give him the benefit of the doubt, but the word coming out of Las Vegas, where he was serving as unofficial host at the Davis Cup tie, was that the injury provided him with a convenient excuse for pulling out of a match that he feared losing to Thomas Enqvist in front of his hometown fans. Agassi hates the lengthy tennis season (a sentiment to which I relate), so pulling out of the last tournaments of the year, including the Davis Cup final, didn't really bother him. He was clearly burned out after the U.S. Open and needed time off.
Shut Up Already!: First, Boris Becker insinuated that Thomas Muster took drugs to help him recover from a match. Then he claimed Wimbledon caved in to pressure from Nike to play Andre Agassi on center court all the time. What's next: Keanu Reeves ripped off his hair style?
Cool Coaches: A number of pro coaches deserve acknowledgements for their fine work in 1995, including Heinz Gunthardt (Graf), Carlos Kirmayr (Conchita Martinez), Brad Gilbert (Agassi), Ronnie Leitgeb (Muster) and, last but not least, Paul Annacone (Sampras'substitute for Gullikson), who handled a tricky situation with grace and dignity.
Gone but Not Forgotten: Fred Perry, Pancho Gonzalez and Bobby Riggs.
Wham! Bam! Thank you, Slam!: Mary Pierce won her first Grand Slam, the 1995 Australian Open, then spent the rest of the year returning to the all-stroke, no-strategy play that always had handcuffed her in big matches.
Nike Diplomacy: During the filming of a TV commercial for the shoe company, Agassi convinced Sampras to reconsider playing Davis Cup this year.
Quote of the Year: In February, I asked Sampras whether he would rather dominate the game like he did in 1993 and much of 1994, or be embroiled in a fierce, dramatic rivalry like the one that had developed between he and Agassi. His answer: "I'd rather dominate the rivalry."
Michael Jordan Syndrome: Zina Garrison Jackson announced her retirement, then announced her non-retirement. At least she didn't blame the media for her first decision.
Most Misunderstood Slogan: Tennis Sucks.
No, the ATP Tour Rankings Suck: Arnaud Boetsch, a Frenchman with few distinguishing playing characteristics besides persistence, finished the season ranked No. 14 in the world by playing 34 tournaments, thereby making more than half of his results meaningless under the Best-of-14 system. For comparison sake, No. 2 Agassi played 16 ATP Tour tournaments, No. 4 Becker 18 and No. 1 Sampras 20.
On the Rise: Greg Rusedski, Brenda Schultz-McCarthy, Marcelo Rios, Maggie Maleeva, Mark Philippoussis, Venus Williams, Martina Hingis, Thomas Enqvist and Chanda Rubin.
Best Advertising Stunt: Perching Juan Valdez, Cafe De Columbia's living logo, in the baseline seats at seemingly every single center court match at the U.S. Open.
Welcome, Mats: Former No. 1 player Mats Wilander played 18 ATP Tour events in 1995, caring little about his ranking or how it would effect his place in history. He only wants to enjoy playing tennis for a living.
Fess Up, Murph: Half of the game's most intriguing doubles team, Murphy "sneaking with Sally down the alley" Jensen, failed to appear for a Wimbledon mixed doubles match and then disappeared. He claims it was an immature act by an embarrassed player, but we all know that he got lost in the London subway and couldn't find anyone down there who could speak his language...
Remember Wimbledon?: Ivan Lendl, who retired from tennis because of chronic back problems, reportedly is playing hours and hours of golf daily, hoping to one day earn a spot on the Senior PGA Tour.
Worst So-Called Match: The "Return of the Champions" exhibition in Atlantic City between Martina Navratilova and Monica Seles, billed as her comeback event, nearly sent women's tennis back ten years. Mark Preston of Tennis Magazine accurately called it the "Bored Walk on the Boardwalk."
The War Must End: The on-going power struggle between the ATP Tour and the ITF, which escalated this year when the ITF nearly started their own competing tour, is all about greed and inflated egos and continues to hamper the growth of the men's game. Growth, though, might be an ill-chosen word. The ITF is correct in believing that the ATP Tour's 87 tournaments are supporting too many players with too many tournaments.
The Cup Must Change: The Davis Cup format is so overdue for an overhaul that it makes major league baseball look like a progressive sport. The players are right: It should be held only every two years. It should not be made up of four rounds of "ties" scattered all over the world throughout the year. Get a grip on it and maybe fans will start paying attention again.
Feminist Uprising: Women pros are incensed that the Australian Open plans to pay them less then the men in 1996. While they should be upset, the solution isn't agreeing to play best-of-five sets, as has been suggested. That would be a disaster. I believe the men's game would be improved if all tournaments were best-of-three; too often, the middle sets during five-setters are tank jobs when one player or the other gets down a break. The women pros already made a mistake by ridding their Federation Cup event of its compact, one-week format and spreading it out over several weeks like the outdated Davis Cup.
Meaningless Category of theYear: Bohdan Ulihrach (who?) was the IBM/ATP Tour leader in the Points Won Returning First Serve category, winning 36 percent of his opponent's first serve.
More Reason to Hate the ATP Tour Rankings: Household name Ulihrach finished the season ranked No. 28 in the world, thanks to his participation in 29 tournaments.
Stop Already!: The tennis season goes on about two months too long, as evidenced by lackluster performances in all tournaments after the U.S. Open and through the tour championships. Proof: Muster actually won a non-clay court event when every other player in the tournament showed up with what could only be described as a tennis hangover.
Stop Already II!: I'll take my own advice and finish up with some early so-don't-hold-them-against-me predictions for 1996.
Australian Open: Sampras and Graf
French Open: Muster and Seles
Wimbledon: Sampras and Graf
U.S. Open: Agassi and Seles



Higdon's Net Game / Between The Lines Archives:
1995 - May 1998 | August 1998 - 2002 | 2003 - 2007
If you have not already signed up to receive our free e-mail newsletter Tennis Server INTERACTIVE, you can sign up here. You will receive notification each month of changes at the Tennis Server and news of new columns posted on our site.
This column is copyrighted by David Higdon, all rights reserved.
David Higdon was named a senior writer of Tennis Magazine (U.S.) beginning with the December 1994 issue, which featured David's cover story on Andre Agassi. David worked for the magazine since August 1988, when he was hired by the magazine as a senior editor. In September 1991, he left his full-time editing position with the magazine to become a contributing editor, moving from Connecticut to Portland, Oregon. He currently works as a freelance writer, writing regularly not only for Tennis but also for publications such as Sports Illustrated for Kids, The New York Times, Self, Boys' Life and USAir Magazine. He also serves as editor of Rip City Magazine, the official publication of the NBA's Portland Trail Blazers.
---