"1997 Australian Open Preview"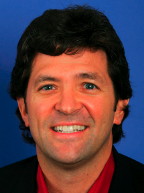 David Higdon
With apologies to Monday Night Football... Are you ready for some pro tennis?
Well, ready or not, the 1997 season's first Grand Slam kicks off Down Under on January 13. A familiar couple of favorites (Pete Sampras and Steffi Graf) hope to take advantage of the absence of their rivals (Andre Agassi and Monica Seles) even as they attempt to keep the game's most exciting young colts (Mark Philippoussis and Martina Hingis) at bay.
While Seles, the defending Australian Open champion, nurses a broken finger, Agassi does the same to his shattered confidence, the result of a Slamless 1996. Expect both to bounce back strong this season, as they have in the past, but the tours and their fans must get through the first month of the year without them.
But as they say in Australia, "no worries." There will be plenty of other stars in the Melbourne sky. Here are my predictions on the ones who will shine the brightest.
Men's Singles
Winner: Pete Sampras
The solo season for Sampras begins. Pistol Pete returns to Melbourne with neither Tim Gullikson, the coach who guided him to his only victory here in 1994, nor his long-time girlfriend, De Laina Mulcahy (the two split this past fall). But he retains his fighting spirit and fear-inducing all-court game. That should be enough to garner the game's No. 1 player his eighth career Grand Slam title.
Finalist: Boris Becker
Last year's champ either will arrive in Melbourne rarin' to go, fresh from a late-season return to peak form, or fried from several months of intense indoor play. I think he's still got the legs to get him back to the second Sunday, but not enough to topple Sampras in a final.
Semifinalists: Jim Courier, Michael Chang
There's often an initial burst of energy and enthusiasm when a pro player changes coaches, and Courier, who has left long-time skipper Jose Higueras to work with Harold Solomon, seems to be reaping the rewards of a recent switch. Watch for a rematch of the emotional 1995 Australian Open quarterfinal between Courier and Sampras, during which Sampras broke down in tears, with a familiar result. Ditto if Chang, last year's finalist, and Becker meet again in Melbourne.
Quarterfinalists: Wayne Ferreira, Goran Ivanisevic, Todd Woodbridge, Thomas Enqvist
Ferreira and Enqvist always have been solid, consistent players who tend to underachieve at the major events. I think they'll perform better Down Under than they have in the past, but they're more likely to get bounced in an earlier round than crack the final Four. (Note: Enqvist was considering pulling out of the event due to blisters when this was filed. If he bails, I'll take Marcelo Rios.) Ivanisevic never has gotten beyond the quarterfinals of the season's first Slam. He seems like the kind of guy who doesn't get out of bed too early either. Woodbridge keeps the Aussie fans happy after their top gun, Philippoussis, exits early.
Early-round follies:
Remember last year when Philippoussis upset Sampras, then got dinked to death by fellow Aussie Mark Woodforde in the next round? This year, Woody probably gets a more savvy Sampras in the second round. Paul Haarhuis, who plays as up and down as the infamous overhead-lob exchange in which he engaged Jimmy Connors at Flushing Meadow in 1992, could cause Ivanisevic fits in the second round--if he gets past Karol Kucera in round one. Wish I Was There Live Potential Showdown: Thomas Muster vs. Jim Courier, fourth round. Grrrrrrr! The most intriguing first round match pits two young players on the rise: Philippoussis and Tim Henman. The survivor likely will face Chang in the third round.
Women's Singles
Winner: Steffi Graf
When someone finally beats her, then I might consider not picking her.
Finalist: Martina Hingis
It's tough to predict the Australian Open for several reasons, most notably because no one knows for sure whether the players have been training hard this past month or so, or sunning themselves on a beach in Brazil. My men's finalists were the two hottest players on the tour at the end of the year, and I believe the momentum swing that Hingis was enjoying in late 1996 also will carry over Down Under. Could she beat Graf? Sure. Will she? See above.
Semifinalists: Arantxa Sanchez Vicario, Conchita Martinez
The Spanish duo both went down in the Australian Open quarterfinals last year. Both had uncharacteristically inconsistent seasons in 1996. Both will go one round deeper in Melbourne this year. Ole!
Quarterfinalists: Lindsay Davenport, Mary Pierce, Jennifer Capriati, Iva Majoli
Davenport had a breakthrough season in 1996 (she was Tennis Magazine's Most Improved Female Pro), but she hit the wall big-time, both physically and mentally, at the end of the year. She should bounce back fine this month. The perplexing Pierce draws a seed (No. 13 Elena Likhovtseva) in the first round, putting her on alert from the get-go. She'll either be home before we know it, or get a boost of confidence that will carry her into the second week. Capriati's going to be the talk of the tourney, with a good draw (the first two seeds she would face are No. 9 Karina Habsudova and No. 8 Irina Spirlea) and a bounce in her step. My fingers are crossed for a quarterfinal match between Capriati and Hingis. Iva Majoli rounds out the rest of the elite Eight.
Early-round Follies:
Is the future now for Anna Kournikova? If so, she'd better be ready. Her first round opponent, No. 12 seed Amanda Coetzer, reached the semifinals in Melbourne last year. Coetzer then lost to 1996 finalist Anke Huber, who was riding the wave of confidence she mounted as a finalist at the year-end 1995 WTA Tour Championships. She's fallen off since then, and faces a formidable challenge in the first round against Amy Frazier. Chanda Rubin pulled out a memorable three-setter against Arantxa Sanchez-Vicario last year, winning 16-14 in the third to reach the semifinals. If they meet in the fourth round as expected this month, it won't be close and the result will be reversed.

David Higdon's next column for the Tennis Server will be an Australian Open Wrap-Up on or around January 27.




Higdon's Net Game / Between The Lines Archives:
1995 - May 1998 | August 1998 - 2002 | 2003 - 2007
If you have not already signed up to receive our free e-mail newsletter Tennis Server INTERACTIVE, you can sign up here. You will receive notification each month of changes at the Tennis Server and news of new columns posted on our site.
This column is copyrighted by David Higdon, all rights reserved.
David Higdon was named a senior writer of Tennis Magazine (U.S.) beginning with the December 1994 issue, which featured David's cover story on Andre Agassi. David worked for the magazine since August 1988, when he was hired by the magazine as a senior editor. In September 1991, he left his full-time editing position with the magazine to become a contributing editor, moving from Connecticut to Portland, Oregon. He currently works as a freelance writer, writing regularly not only for Tennis but also for publications such as Sports Illustrated for Kids, The New York Times, Self, Boys' Life and USAir Magazine. He also serves as editor of Rip City Magazine, the official publication of the NBA's Portland Trail Blazers.
---