"1997 Australian Open Review"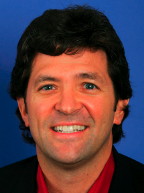 David Higdon
Doesn't it always seem odd watching the pro tennis proceedings in Oz? Whether you're in Melbourne or watching the Australian Open on TV, the tournament takes on a certain surreal look and feel, from the blaring sun that coats the players like a layer of white paint to the ubiquitous upsets that turn the draw into a free-for-all.
The tournament not only illuminates the players, it provides us with our first clear look at the season ahead. Here's what I think the Australian Open taught us about the following ten players:
Men
Pete Sampras: Though a bit rusty early, par for the course Down Under, Sampras never was threatened in Melbourne, and sends a clear signal to his peers that his personal travails are behind him. I still don't think he can win in Paris unless everything falls perfectly, but he'll be the clear-cut favorite at both Wimbledon and the U.S. Open this year.

Boris Becker: Though I picked Becker to reach the final (see 1997 Australian Open Preview), I hedged my bets when I wrote: "Last year's champ either will arrive in Melbourne rarin' to go... or fried from several months of intense indoor play." It turned out to be the latter. Though Carlos Moya's surprising run to the finals somewhat vindicated Becker for his first-round loss to the impressive young Spaniard, he simply wasn't prepared for a long two weeks in the hot sun. Last year, injuries kept him on the sidelines for much of the season, ultimately inspiring him late in the year. I wonder what will keep him pushing now, particularly after his early loss dropped him out of the top ten. He'll be looking at tough draws all year now.

Thomas Muster: Tougher than tough, Muster has his critics (including me), but no one will say he doesn't come to play. His defeat of Jim Courier in the fourth round and Goran Ivanisevic in the quarters will boost his already sky-high confidence. He's my early pick favorite to win the French, particularly because everyone will be focused on another clay-court stallion (Moya).

Carlos Moya: An unknown to many, Moya has been a player to watch for more than a year now. He was Tennis Magazine's 1996 Rookie of the Year, compiling a sparkling 36-19 record on clay. There's no doubt the slower balls helped baseline players in Melbourne (Six quarterfinalists--Moya, Muster, Michael Chang, Alberto Costa, Felix Mantilla and Marcello Rios--are backcourt players). He's a comer, but I wonder how he'll hold up to the now intense scrutiny as he sets his sights on Paris.

Michael Chang: Will this guy ever win a second Grand Slam? He not only can't seem to beat Sampras, he's got a host of Spaniards nipping at his tail.
Women
Martina Hingis: I never bought into the hype surrounding Jennifer Capriati, bothered by both off-court circumstances (her father always made me shiver) and on-court deficiencies (she doesn't move very well), but I'm sold on this New Sensation. Hingis had a game plan before she had a game, the opposite of her overmatched opponent in the final, Mary Pierce, who's all power and no poise. Most young women tennis players surface with big forehands and big familial entourages; Hingis showed up on tour without a serve. She's feeding off the power players now.

Steffi Graf: Inevitably, Graf had to run out of gas. She finally did so against Amanda Coetzer in the quarterfinals. A few days later, her father was sentenced to nearly four years in prison. So what will happen to Ms. Graf? She'll bounce back from these twin blows to her professional and personal life, and find inspiration in the form of the aforementioned New Sensation.

Mary Pierce: The draw was custom-made for the hard-hitting Pierce to blast her way into the final, but when she got there, she had to face someone who wasn't going to pound back ball after ball after ball. The ill-advised drop shot from the baseline on break point in the second set of the final says all you need to know about the Nike-painted Pierce. She's a rebel without a clue.

Chanda Rubin: Last year's New Sensation fell in the fourth round to Dominique van Roost, and continues to drop in the rankings since her high point last season when she reached the Australian Open semifinals. Rubin moves well and hits hard, but lacks a weapon and doesn't appear to have the win-or-die ambition of many of her peers.

Lindsay Davenport: A truly likable character off the court, Davenport's on-court prospects are hampered by her lack of movement. Though power can overcome many deficiencies, I still believe good court movement remains a necessary element to any player who expects to stake his or her claim on a Grand Slam title.
Picks of the Litter
In the men's tournament, I picked the winner (Sampras), two semifinalists (Sampras and Chang) and three quarterfinalists (Sampras, Chang and Goran Ivanisevic). I'm not complaining--or taking any lip from Net Game readers... I also was pleased that Muster and Courier produced my "Wish I Was There Live Showdown." Apparently, there still are testosterone stains left on the court from that match.

As for the women, I was one year off. I had Pierce losing in the final--in 1996. Sometimes it takes awhile for the game to catch up to my ambitious picks. This year, I did pick Hingis to reach the final, but expected her to lose to Graf once she got there. My Spaniard semifinalists were a big disappointment, as were Davenport and Capriati, two Americans I thought would reach the quarterfinals. "Capriati's going to be the talk of the tourney," I wrote. Obviously, I meant to write Hingis. It's hard to keep track of which Next Chris Evert everyone's talking about.




Higdon's Net Game / Between The Lines Archives:
1995 - May 1998 | August 1998 - 2002 | 2003 - 2007
If you have not already signed up to receive our free e-mail newsletter Tennis Server INTERACTIVE, you can sign up here. You will receive notification each month of changes at the Tennis Server and news of new columns posted on our site.
This column is copyrighted by David Higdon, all rights reserved.
David Higdon was named a senior writer of Tennis Magazine (U.S.) beginning with the December 1994 issue, which featured David's cover story on Andre Agassi. David worked for the magazine since August 1988, when he was hired by the magazine as a senior editor. In September 1991, he left his full-time editing position with the magazine to become a contributing editor, moving from Connecticut to Portland, Oregon. He currently works as a freelance writer, writing regularly not only for Tennis but also for publications such as Sports Illustrated for Kids, The New York Times, Self, Boys' Life and USAir Magazine. He also serves as editor of Rip City Magazine, the official publication of the NBA's Portland Trail Blazers.
---