"Hingis' Hopes, Muster's Ranking, Chang's Chances, etc."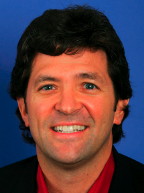 David Higdon
A special thanks to all the readers who have fired off e-mail questions to me. I regret I can't answer them all, having to draw the line when someone asks if I have a suggestion on how to improve his or her backhand passing shot. Still, there have been plenty of intriguing questions to pull from my In Box for this month's column.
Martina, the Sequel
What do you think of Martina Hingis? I have read about her for the last few years and am really excited about her and her future in tennis. I feel her approach to tennis, with her parent's guidance, is the correct way. I only wish the best for her in the coming years and look forward to watching her game progress. She's one of the most composed players I have seen come along in quite some time.
--Gerard McNeill
Hingis impresses me, too. She's got a beautiful, classic game modeled more on the players of the past, such as Chris Evert and Tracy Austin, than on today's big hitters. So far, though, her lack of strength and power has hurt her. I watched her simply get overpowered by Anke Huber at Philadelphia last year. Still, a smart player at such a young age (she's only 15) can only get better.

Hingis also is incredibly competitive, if not cutthroat. She reminds me of Monica Seles that way. She might be all smiles off court, but when she's playing, she looking to trash, not just beat, her opponent.
To Be Frank
Do you know the whereabouts of umpire Frank Hammond? He slowly faded from the tennis scene. My wife and I were talking about him the other day, and wondered what he is doing. With his roller coaster weight loss/gain cycles, it appeared as if he might have had some serious health problems.
--Irv Ellner
The controversial Hammond, the first full-time professional linesman and umpire, died of Lou Gehrig's disease on November 23 at the age of 66. Known mainly for his bulk and bark, Hammond earned a reputation for handling big stars. At the 1979 U.S. Open, however, Hammond lost control of a match between Ilie Nastase and John McEnroe, and, after several loud verbal exchanges with the combatants, disqualified Nastase for stalling. Yet Hammond was overruled by the tournament referee and Nastase was reinstated. Generally, Hammond was well-liked by both fans and players, and should be remembered as the person who first brought professionalism to the umpire's chair.
Chang's Chances
What do you think of Michael Chang's chances of winning another Grand Slam or maybe go farther up the ranking? Does he have what it takes?
--Reilly Cheung
You two would make a great doubles team: Chang and Cheung. Too bad Michael remains focused on singles, where he's desperately trying to cop a second career Grand Slam title. He's been close over the past year, reaching the finals at both the 1995 French Open and 1996 Australian Open. I sometimes feel the game has passed Chang by, but he keeps plugging away, and has been willing to alter his game (his volley and serve are much improved) and experiment with new technology (he was the first big-name pro to embrace a longer racquet). As he pointed out after the loss to Boris Becker in Melbourne, he's also still young, turning 24 this week (Feb. 22).

With nine years on the pro circuit, though, he's more a seasoned veteran than a young blood. He's performed well lately not because he's got fresh legs but because he's more wily than ever. A distressing fact for him: Both Becker and Thomas Muster, the 1995 French champion, overwhelmed him. Big hitters on a roll know they can outhit him.

Chang's currently ranked No. 5 in the world. He'll have trouble moving up, however, unless he performs well on the upcoming U.S. hard court events (Indian Wells and Lipton) and duplicates--or betters--his recent success in Paris.
Muster Mash
I just read your "1995 Season Wrap-Up" and I must say that I have seldom seen so much crap piled up in one place. I'm tired of ignorant Americans who think that the ATP Tour exists only for them. The constant complaining about Thomas Muster is becoming increasingly unbearable. I'm sure that if Agassi had won 11 tournaments on hard courts in 1995, including every big one, you would treat him like a God. And, by the way, on how many surfaces has Agassi won tournaments in 1995?

I sincerely hope that come March 25th (after Key Biscayne), Muster will be No. 1, because he deserves it. Maybe you don't know it, but the reason he plays so few tournaments on hard courts is because a drunken idiot almost destroyed his knee in Key Biscayne in 1989.

P.S. If you never heard of Bohdan Ulihrach, it's your problem and not his or the ATP Tour.

P.P.S. The worst thing about the ATP is that 1,000,000 clowns (mostly from the USA) can earn their living playing meaningless doubles.
--A tennis fan from Innsbruck, Austria (not Australia)
My, my, my: Such an impassioned, jingoistic letter! Let me respond to your comments one by one. First, regarding the pile of stench masquerading as my column, you obviously have never been to Los Angeles. Second, the ATP Tour does not favor any one nationality, but only one group of people: The players, particularly, as you note in your P.P.S., the clowns playing doubles. Tennis fans are a low priority.

Third, Muster's an admirable, gutsy player, but he doesn't deserve the No. 1 ranking. That's ludicrous. The ATP Tour computer is designed to reward quantity, not quality, of play, and slights the Grand Slams, which are run by the ITF (International Tennis Federation), the ATP Tour's hated political rival. For more details on my opinion, check out my column in the April issue of Tennis Magazine. I'm sure you'll have even more reason to complain after reading it.

Fourth, if Agassi had won 11 hard court tournaments in 1995 (as opposed to the seven he did win), including all the big ones, I admit I would have been extremely impressed. He was close: Winning seven hard-court events, including the Australian Open, and reaching the final of the U.S. Open. He also reached the semifinals of Wimbledon (grass) and the quarterfinals of the French Open (clay). Hard to argue with a year like that.

Fifth, you got your wish: Muster's No. 1. What a joke! Sixth, I am aware of Muster's misfortune in Key Biscayne. Even if his rehabilitated knee does limit his hard-court and grass-court play (which I don't totally buy), it doesn't explain how a player who bombs out in all but one 1995 Grand Slam (and lost all three of his matches at the 1995 ATP Tour Championship) can soar to the top in the second month of 1996.

Seventh, regarding Ulihrach, you're right: I'm going to have to start spending more time reading the agate type in sports sections. And, last but not least, regarding your P.P.S. about doubles players: I totally agree with you! I'm on your side! We might make a better doubles team than Chang and Cheung!
Measuring Monica
This might be considered as a frivolous matter, but in my household, it's a serious matter, with quite a bit at stake. How tall is Monica Seles?
--Phil Guptill
Nothing's too frivolous for Reader Rally! Monica stands 5-feet-10 1/2 inches (or 1.79 meters). So, what was at stake--and do I get my 15 percent?
Five Quickies
Is Monica's giggle real or a 'face saver' to appeal to the public? Can Mary Pierce win another Grand Slam? Is Arantxa Sanchez-Vicario on the way out? Does Conchita Martinez remind you of Martina Navratilova early in her career? What is stopping Lindsay Davenport from climbing up the rankings?
--Anonymous
1. It's--hee-hee-hee-hee-hee--real.

2. No.

3. No!

4. No!!

5. A lack of mobility and a game grounded in a counterpunching mentality rather than an aggressive, serve-and-volley style better suited for a person of her size (She's 6-feet-3, 165 pounds).
Counting Adams' Apples
What were Katrina Adams 1995 earnings?
--Anonymous
The always funny and charming Ms. Adams, who once told me she was suffering from "Supreme Butt," the term she used to describe the pain in the glutes that pros often encounter after playing on an indoor Supreme court surface, earned $129,552 on the WTA Tour last year. More than $80,000 came from her play in doubles, though she did win her first U.S. Open singles match last year, advancing to the third round. She also earned another $11,920 playing World TeamTennis with the Atlanta Thunder. The former Northwestern University star mainly played doubles with Zina Garrison-Jackson, though she teamed with Brenda Schultz-McCarthy to reach the finals at Oklahoma City.
Austin Inquiry
I think your question/answer facility is great. My question concerns Tracy Austin: What is she up to now, and any info on her personal details would be great. I understand that she is doing some commentating but I now live in Australia, so I don't get to see her in action at all.
--Anonymous
Austin occasionally pops up at pro tournaments, often with husband Scott Holt, whom she married in 1993. They're always amiable and eager to swap gossip. They live in Los Angeles, where Austin juggles occasional TV commentating assignments, speaking engagements, etc. I spoke with her a couple of years ago when she was consulting for a short-lived (thankfully!) TV show called "Phenom" which revolved around a young girl and her Nick Bollettieri-like tennis coach. We also collaborated on a 1994 column for Tennis Magazine in which she argued that the WTA Tour's decision to raise its age guidelines to 14 was misguided. At the time, she was attempting a comeback, but abandoned it after a year. I feel she needed to get it out of her system once and for all and is more content now with her place in tennis history.



Higdon's Net Game / Between The Lines Archives:
1995 - May 1998 | August 1998 - 2002 | 2003 - 2007
If you have not already signed up to receive our free e-mail newsletter Tennis Server INTERACTIVE, you can sign up here. You will receive notification each month of changes at the Tennis Server and news of new columns posted on our site.
This column is copyrighted by David Higdon, all rights reserved.
David Higdon was named a senior writer of Tennis Magazine (U.S.) beginning with the December 1994 issue, which featured David's cover story on Andre Agassi. David worked for the magazine since August 1988, when he was hired by the magazine as a senior editor. In September 1991, he left his full-time editing position with the magazine to become a contributing editor, moving from Connecticut to Portland, Oregon. He currently works as a freelance writer, writing regularly not only for Tennis but also for publications such as Sports Illustrated for Kids, The New York Times, Self, Boys' Life and USAir Magazine. He also serves as editor of Rip City Magazine, the official publication of the NBA's Portland Trail Blazers.
---