"Down But Never Out"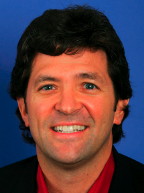 David Higdon
I recently attended the ATP Tour's Champions Cup and the WTA Tour's Evert Cup, where Michael Chang and Lindsay Davenport captured the singles titles. Not faring as well was Debbie Graham, the 1990 NCAA singles champion who was recipient of the WTA Tour's Most Impressive Newcomer Award in 1992. During a doubles match, Graham faked a poach at the net, but her left ankle didn't cooperate and it rolled over. She tore ligaments in her knee and was carried off the court.
My e-mail found her nursing the injury at home in Newport Beach, California. Several years ago, as a promising young pro, Graham would have been devastated by such a career setback. Today, she considers herself lucky to be alive.
In 1995, Graham suffered a massive pulmonary thromboembolism on her way home from Wimbledon. A blood clot in her left leg traveled to her heart and lungs. "My heart stopped in the ambulance on the way to the hospital and the paramedics thought they had lost me," she wrote. "The doctors said I survived because I was in such good shape and have such a strong heart."
Graham flirted with death for a week in intensive care. "When I became conscious, the first question on my mind was when will I get to play tennis again. The doctors just looked at me in disbelief and told me I would just be lucky to resume a normal lifestyle again. Of course, being the stubborn person I am, I didn't believe them.
"After two and a half weeks in the hospital, I finally got to go home. I am a very independent person and while I was in the hospital, I could not do anything for myself: brush my teeth, eat, walk and, for a long while, breathe on my own. My stay in the hospital made me appreciate the basic things in life we take for granted, like waking up in the morning and being able to walk to the bathroom."
For 10 months, Graham was administered an oral blood thinner. "Some days I would feel great," she wrote, "and sometimes I would feel like a truck ran over me." Not knowing whether she would return to the WTA Tour, Graham took a preparation class for the GMATs, worked at a New Jersey tennis event and took a position in the corporate offices of Smith's Foods in Irvine, Calfornia. "This was my first `real' job," she said, "and the novelty wore off pretty fast."
Graham returned to the courts in February 1996. "It is difficult for me to get so wrapped up in tennis like I used to. Losing a match does not mean the end of the world to me like it does for so many other players. I sometimes sit at tournaments and feel sorry for other players who have no idea that there is more to life than tennis."
Graham currently is in a walking cast, which allows her to ride a stationary bike twice a day. She's also taking yoga to increase the flexibility and strength of her muscles. When not training, she's surfing (the Internet, not the nearby Pacific Ocean) and taking cooking classes. "I would never wish any illness like I had on anyone, but I am almost glad it happened to me," she concluded. "It opened my senses and awareness to life around me that I was just ignoring before."
Clearly, pro tennis needs Debbie Graham more than she needs it.




Higdon's Net Game / Between The Lines Archives:
1995 - May 1998 | August 1998 - 2002 | 2003 - 2007
If you have not already signed up to receive our free e-mail newsletter Tennis Server INTERACTIVE, you can sign up here. You will receive notification each month of changes at the Tennis Server and news of new columns posted on our site.
This column is copyrighted by David Higdon, all rights reserved.
David Higdon was named a senior writer of Tennis Magazine (U.S.) beginning with the December 1994 issue, which featured David's cover story on Andre Agassi. David worked for the magazine since August 1988, when he was hired by the magazine as a senior editor. In September 1991, he left his full-time editing position with the magazine to become a contributing editor, moving from Connecticut to Portland, Oregon. He currently works as a freelance writer, writing regularly not only for Tennis but also for publications such as Sports Illustrated for Kids, The New York Times, Self, Boys' Life and USAir Magazine. He also serves as editor of Rip City Magazine, the official publication of the NBA's Portland Trail Blazers.
---