"More From the Masses"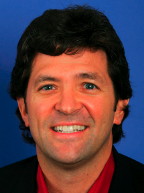 David Higdon
Like Hollywood, I'm not above an occasional sequel. This month, I'm following up my last column, which featured letters from Higdon's Net Game readers, with one featuring a similar structure but different storyline. We'll update you on Steffi Graf, ponder the complexities of Goran Ivanisevic and discuss the attributes of a man called Mats.
First, though, an addendum to last month's question about the whereabouts of Tracy Austin. I've been informed that she and her husband, Scott Holt, are expecting their first child in April. Congratulations! I hope she'll be able to wobble her way out of Los Angeles to Indian Wells, California, when both the men and women compete in the desert this month. The women's State Farm Evert Cup runs March 8-17, while the men's Newsweek Champions Cup begins a few days later, on March 11. I'll be there for most of the event, but before I leave, let's take another peek into my In Box...
Graf is Back
I am a big fan of Steffi Graf and I am wondering if you know when is the earliest possible time she will be back on the Corel WTA Tour. How is she doing after her foot surgery, and has she been practicing lately?
--Wanto Wijaya
Graf will be back this week at the Evert Cup, and her agent, Phil de Picciotto, informs me that she's strong, healthy and eager to return. But enough about Steffi: What I want to know, Wanto, is where you got such a cool name?
Is Mal Content?
What is going on with MaliVai Washington? His ranking has really dropped. Is he playing less? Worse? Getting tough draws? What's the word on this guy?
--Mike Lyde
Washington finished the 1995 tennis season ranked near where he finished the previous two years: in the top 30. During his best year, 1992, he nearly cracked the top ten in October before ending the season at No. 13. He sank out of the top 50 last year until a good showing at a fall tournament in Essen, where he beat Andre Agassi and Thomas Enqvist, vaulted him back into his familiar rankings spot.

Washington's situation is not all that dissimilar from many other players on the tour: He can post some impressive results during the year, but falters come Grand Slam time. He's only reached the quarterfinals at one Slam (1994 Australian Open) since turning pro in 1989, and didn't get past the second round at any Slam in 1995.

Why? Two reasons come immediately to mind. For one, he lacks a weapon, a shot that can hurt the top guns on a regular basis. Second, he's an athletic fireplug, but I don't believe he's 5-feet-11 (1.80m), as he's listed in the ATP Tour Player Guide. He's more Chang's size (5-feet-9, or 1.75m), but doesn't have the consistency or mental fortitude of his American peer. He's a tough competitor, no question, but only a select few (including Chang, Thomas Muster and the player we're about to discuss below) can overcome physical limitations to compete with the gifted likes of Andre Agassi, Boris Becker and Pete Sampras.
Mats is the Man
How did Mats Wilander EVER get to No. 1 in the world with NO weapons in his game?
--Dennis Schaub, New York, NY
You're right: Wilander had no identifiable stroke weapon, but that doesn't mean he went into battle ill-equipped. In fact, one of his biggest strengths was his lack of a weakness. He was solid on both wings, possessed a decent volley, could place his serve with pinpoint accuracy (though not with bullet-like pace). He also was incredibly well-conditioned, never faltering during long matches and always maintaining a positive state of mind. These attributes put tremendous pressure on his opponents, who needed to perform at top level from the first through the last point. Most importantly, though, Wilander may have been one of the greatest court tacticians of all-time. He worked a point like Michelangelo painted ceilings.

Wilander reached No. 1 in 1988 the old-fashioned way: He earned it (unlike the most recent member of the No. 1 club). He won the Australian and French Opens, reached the quarterfinals on the grass at Wimbledon (a Grand Slam performance almost as impressive as the wins in Melbourne and Paris), then faced Ivan Lendl, the No. 1 player for the past 156 weeks, in the U.S. Open final with the top spot at stake. I'm often asked: What's the best tennis match you've ever seen? My answer is this oft-forgotten Slam final. "Perhaps it was the thin air," I once wrote for TENNIS Magazine, "but I believe the view from the stadium nose-bleeds provided me with the perfect seat upon which to sit and relish this riveting final. Two baseliners, moving each other from side to side, front to back, for nearly five hours on a perfect Sunday afternoon, proved absolutely intoxicating. It was like watching two frantic mice scurrying to free themselves from a box."

No man, by the way, has won three Grand Slams in a calendar year since.
Oink!
My husband and I were trying to figure out if Billie Jean King had an advantage in the famous match against Bobby Riggs. My husband said she was able to use the doubles court, and Bobby Riggs only had one serve.
--Sophia
Tell your MCP hubbie that King whipped Riggs' butt without any gimmicks or rule changes.
Goran, Goran, Gone?
I'm a big fan of Goran Ivanisevic and as you probably understand, I'm very frustrated at the moment. About two years ago, I saw Goran as a future No.1, but today I see him falling down the rankings. Is it true, like my friends say, that Goran is just a server and nothing more? I constantly argue that he is one of the most talented players on the tour, but the results tell another story. Will Goran Ivanisevic ever win a Grand Slam - or will he be remembered as a two-time Wimbledon finalist and one-time No.2 in the world?
--Frustrated

I repeatedly tell my friends that Goran "The Gunslinger" is one of the best tennis players ever born, but it seems impossible for him to get the stability that's needed to become a real high-class player. Will he ever win a Grand Slam title and/or become No. 1 in the world, the position where I think he belongs?
--Frustrated Too
The enigmatic Ivanisevic's place in history is yet to be determined. If he retired today, most fans would barely remember his accomplishments in the game, even at Wimbledon.

That's where he'll establish his lifelong reputation, good or bad. Ivanisevic nearly made it to a Wimbledon final for the third time last year, falling in a tough five-setter to eventual champion Sampras. John McEnroe may have said it best afterwards: "Goran basically defined the big difference between a really good player and a great one. His errors were just unacceptable."

The same thing could have been said about his first Wimbledon final, against Agassi in 1992. He was playing near flawless tennis until his last service game, when he inexplicably played too loose (likely the result of feeling too tight), shanking a couple of easy volleys. At Wimbledon, where Ivanisevic has the best chance of copping a Grand Slam title, one or two points always seem to determine the big matches. Ivanisevic has yet to cash in on those big points. Until he does, he'll remain a "really good" player.

My opinion? I think he's got a great chance to keep Bjorn Borg's record five consecutive Wimbledon titles safe from Sampras' assault. (Sampras goes after his fourth consecutive Wimbledon title this year.) But he'll never have the year-long consistent play needed to climb to No. 1. If he wins Wimbledon, though, he could care less what the computer says.
Big Bill
How many Wimbledon and other major titles did Bill Tilden win? How many titles all together did he win? I also have a 1925 card of him from Willards chocolate "champions of sport" in Mint condition. Do you have any idea what it could be worth?
--Anonymous
"Big Bill" Tilden won three Wimbledon singles titles and seven U.S. Open titles. As an amateur between 1912-30, he won 138 of 192 tournaments, losing in 28 finals and compiling an impressive 907-62 match record, a .936 average. In "Bud Collins' Modern Encyclopedia of Tennis," the author writes: "If a player's value is measured by the dominance and influence he exercises over a sport, then William Tatem "Big Bill" Tilden II could be considered the greatest player in the history of tennis. From 1920 through 1926, he dominated the game as has no other player before or since."

As for your mint chocolate question (yuck, yuck, yuck...), I have no clue. As one of my card-collecting friends says: "If you wouldn't take $10,000 for it, then that's what it's worth to you." Value is in the eye of the beholder.
That's Zal, Folks
I was looking at your fantastic web page and I wanted to tell you that within the next two years, my name will be right up there, above Sampras and Agassi. I will be No. 1. You haven't heard my name yet, for I am only 15, but keep a close eye on the tennis picture, and remember I am going straight to the top.
--Zal Phiroz
Your name's already above Sampras and Agassi in my book, though you've still got a way to go before replacing the great Wanto Wijaya among my favorite Higdon's Net Game readers. Good luck in your quest to be the best!



Higdon's Net Game / Between The Lines Archives:
1995 - May 1998 | August 1998 - 2002 | 2003 - 2007
If you have not already signed up to receive our free e-mail newsletter Tennis Server INTERACTIVE, you can sign up here. You will receive notification each month of changes at the Tennis Server and news of new columns posted on our site.
This column is copyrighted by David Higdon, all rights reserved.
David Higdon was named a senior writer of Tennis Magazine (U.S.) beginning with the December 1994 issue, which featured David's cover story on Andre Agassi. David worked for the magazine since August 1988, when he was hired by the magazine as a senior editor. In September 1991, he left his full-time editing position with the magazine to become a contributing editor, moving from Connecticut to Portland, Oregon. He currently works as a freelance writer, writing regularly not only for Tennis but also for publications such as Sports Illustrated for Kids, The New York Times, Self, Boys' Life and USAir Magazine. He also serves as editor of Rip City Magazine, the official publication of the NBA's Portland Trail Blazers.
---